Abstract
Aim
This survey assessed the attitude of paediatric dental EAPD members toward using "knee-to-knee" positioning for dental examinations and minor procedures in infants and toddlers.
Methods
An anonymous electronic online questionnaire was distributed among EAPD members. The survey consisted of 12 questions and assessed demographic characteristics, professional experience and attitudes toward the use of the "knee-to-knee" position.
Results
Of the 162 respondents, 148 (91%) reported using "knee-to-knee" positioning for dental examination. In addition, 97 (63%) reported performing other procedures in the "knee-to-knee" position. Fluoride application and oral hygiene instructions were the most common procedures performed in the "knee-to-knee" position.
Conclusions
Most of the paediatric dentists who responded to this survey reported performing dental examinations in toddlers up to 2 years old using the "knee-to-knee" position. Majority of respondents also used this position to instruct parents regarding oral hygiene and to apply fluoride varnish.
This is a preview of subscription content, log in to check access.
Access options
Buy single article
Instant access to the full article PDF.
US$ 39.95
Price includes VAT for USA
Subscribe to journal
Immediate online access to all issues from 2019. Subscription will auto renew annually.
US$ 99
This is the net price. Taxes to be calculated in checkout.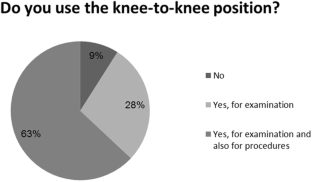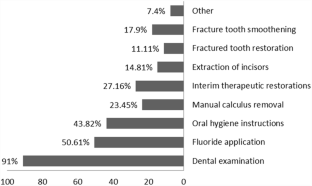 References
American Dental Association on behalf of the Dental Quality Alliance. Guidance on caries risk assessment in children. 2018. https://www.ada.org/~/media/ADA/DQA/CRA_Report.pdf?la=en. Accessed 15 July 2019.

Dean JA. Examination of the mouth and other relevant structures, Chapter 1. In: Dean J, Jones J, Vinson L, McDonald R, editors. Avery's dentistry for the child and adolescent. St. Louis: Elsevier; 2016. p. 12–3.

Douglass JM, Douglass AB, Silk HJ. A practical guide to infant oral health. Am Fam Phys. 2004;70:2113–20.

Fuks AB, Kupietzky A. Establishing a dental home, Chapter 5. In: Wright GZ, Kupietzky A, editors. Behavior management in dentistry for children. Hoboken: Wiley; 2014. p. 57.

Fung MHT, Duangthip D, Wong MCM, Lo ECM, Chu CH. Arresting dentine caries with different concentration and periodicity of silver diamine fluoride. JDR Clin Trans Res. 2016;1:143–52.

Fux N, Shmueli A, Halperson E, Ram D, Moskovitz M. Attitudes of pediatric dentists in Israel toward using the "knee-to-knee" position for minor procedures in infants and toddlers—dentists Attitudes. J Clin Pediatr Dent. 2019. https://doi.org/10.17796/1053-4625-43.2.3.

Gao SS, Zhao IS, Hiraishi N, Duangthip D, Mei ML, Lo ECM, Chu CH. Clinical trials of silver diamine fluoride in arresting caries among children: a systematic review. JDR Clin Trans Res. 2016;1:201–10.

American Academy of Pediatric Dentistry. Guideline on caries-risk assessment and management for infants, children, and adolescents. Pediatr Dent. 2016;38:142–9.

Guidelines on prevention of early childhood caries: An EAPD Policy Document. 2019. https://www.eapd.eu/uploads/1722F50D_file.pdf. Accessed 15 July 2019.

Muthu MS, Farzan JM, Prathibha KM. A new and simple infant assessment table. Indian J Dent Res. 2013;24:515–7.

Tinanoff N, Baez RJ, Diaz Guillory C, Donly KJ, Feldens CA, McGrath C, Phantumvanit P, Pitts NB, Seow WK, Sharkov N, Songpaisan Y, Twetman S. Early childhood caries epidemiology, aetiology, risk assessment, societal burden, management, education, and policy: global perspective. Int J Paediatr Dent. 2019;29:238–48.
Ethics declarations
Conflict of interest
The authors declare that they have no conflict of interest.
Additional information
Publisher's Note
Springer Nature remains neutral with regard to jurisdictional claims in published maps and institutional affiliations.
About this article
Cite this article
Fux-Noy, A., Shmueli, A., Herzog, K. et al. Attitudes of EAPD members toward using the "knee-to-knee" position. Eur Arch Paediatr Dent (2020). https://doi.org/10.1007/s40368-020-00514-0
Received:

Accepted:

Published:
Keywords
"Knee-to-knee" position

Dental examination

Infants and toddlers

Dentists' attitudes