Precise orbit determination and accuracy analysis of HY-2A satellite using DORIS Doppler data
Abstract
HY-2A is the first ocean dynamic environment monitoring satellite of China, and its precise radial orbit is a critical factor to its scientific research application, for example, its orbit can serve as a reference frame for altimeter measurement. In order to realize precise orbit determination, HY-2A is equipped with Doppler orbitography and radiopositioning integrated by satellite (DORIS), retro-reflector array for the satellite laser ranging (SLR) and global positioning system tracking systems. In this study, DORIS Doppler data is used for its good reputation for precise orbit positioning. We described the strategy of orbit determination using dynamic models in detail, and particularly analyzed the relationship between arc length, orbital determination accuracy, and consumed time, and then concluded that 3-day is the optimal arc length. We carried out detail accuracy assessments of external orbit comparison, overlap orbit validation and SLR range validation. Experimental results show that the radial accuracy can reach 0.0154 m for the 3-day arc, and the radial overlap validation accuracy is better than 0.0223 m, and the accuracy of SLR range validation is better than 0.0964 m. Results demonstrate that the DORIS system meets the orbit precision specifications of HY-2A satellite.
Graphical abstract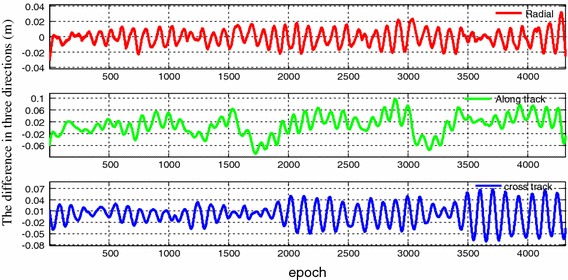 Difference between computed orbit and the SSALTO orbit in the radial, along track, and cross track directions from 00:00:25 on September 8 to 00:00:25 on September11, 2012 using DORIS Doppler data.
Keywords
HY-2A 
Precise orbit determination 
Orbit assessment 
DORIS 
Notes
Acknowledgments
We wish to thank the anonymous reviewers for their valuable comments and suggestions. We thank CNES for providing SSALTO precise orbit and thank CDDIS for providing DORIS Doppler data. We thank Prof. Han Litao for his remark. This work was supported partially by the National Natural Science Foundation of China (Grant No. 41374009 & 41201381), Supported by SDUST Research Fund, and Joint Innovative Center for Safe And Effective Mining Technology and Equipment of Coal Resources, Shandong Province, the Public Benefit Scientific Research Project of China (Grant No. 201412001), the Shandong Natural Science Foundation of China (Grant No. ZR2013DM009), the Key Laboratory of Surveying and Mapping Technology on Island and Reef of NASMG, China (Grant No. 2012B02), and the Key Laboratory of Advanced Engineering Surveying of NASMG, China (grant No. TJES1203).