Technological Pedagogical Content Knowledge (TPACK) and Design Thinking: A Framework to Support ICT Lesson Design for 21st Century Learning
Abstract
This conceptual paper argues that to develop students' twenty first century competencies, teachers need to consider how technological pedagogical content knowledge (TPACK) can be applied through design thinking processes. It proposes a conceptual framework articulating various TPACK considerations and how these various forms of TPACK can be used as epistemic resources to support design thinking for developing ICT-integrated lessons targeted at twenty first century learning. This framework provides an initial vocabulary for describing how teachers create TPACK through design, which is a critical gap in extant TPACK research. Implications for teachers' design of ICT-integrated lessons as well as future directions of research are discussed.
Keywords
Design thinking 
TPACK 
Teacher education 
Twenty first century competencies 
Twenty first century learning 
Introduction
To meet the challenges of the knowledge economy, teachers are under pressure to design lessons that engage students in the exploitation of information and communications technology (ICT) for problem-solving, collaboration, and knowledge construction (P21 2007). These kinds of twenty first century learning (21CL) experiences are intended to help students develop twenty first century competencies (Howland et al. 2012). However, studies of classroom practices show that teachers are designing ICT-integrated lessons for information transmission and drill-and-practice (e.g., Starkey 2010). Windschitl (2002) observed that many teachers have difficulties with constructivist-oriented pedagogies such as those described under 21CL because these tend to be in conflict with their pedagogical practices. In response, Tsai and Chai (2012) have suggested that design thinking could be used to transform teachers' pedagogical beliefs and practices.
Design is the act of creating new products, services, or experiences (Cross 2004; Rowe 1991). Design thinking describes the reasoning processes used to manage the various demands underlying such acts of creation (Dorst 2006; Schön 1983). It has been adopted for complex problem-solving in engineering, architecture, and business (Dym et al. 2005). In education, it is increasingly being recognized that designing for pedagogical change is an important competency required of teachers (Laurillard 2012).
This paper argues that in the context of achieving 21CL, teachers should construct their technological pedagogical content knowledge (TPACK) using design thinking as a strategy to address the complex factors surrounding ICT-integrated lesson design. It examines the features of design thinking and proposes a framework for weaving it into teachers' ICT-integrated lesson design process together with their TPACK. The implications of this framework for ICT lesson design as well as future directions of research are discussed.
Contextual Factors Framing Teachers' Design Thinking
For teachers, the design of ICT-integrated lessons for 21CL can be challenging as they need to keep up with the rapid proliferation of ICT tools. Teachers' design decisions are further complicated by the demands of educational legislation, school administration, classroom culture, and student characteristics in a multilevel education ecosystem (Chai et al. 2014).
Design Models for ICT Integration
ICT-integrated lesson design may be seen as a systematic process with defined stages. An example of this process is ASSURE which proposes six stages: (1) Analyze learners; (2) State standards and objectives; (3) Select strategies, technology, media, and materials; (4) Utilize technology, media, and materials; (5) Require learner participation; and (6) Evaluate and revise (Heinich et al. 1999). ASSURE is an instructional design model that follows the analyze–design–develop–implement–evaluate (ADDIE) process. Summerville and Reid-Griffin (2008) found that ICT-integrated lesson design processes involve the iterative performance of ADDIE-type tasks but not necessarily according to any specific procedure. The actual design of ICT-integrated lessons may not proceed according to the stages recommended by ADDIE-type models. While these ADDIE-type models can provide some initial framework for teachers to engage in ICT-integrated lesson design, they are limited in addressing the contextual challenges highlighted in the previous section.
Recent education literature has recognized TPACK as a distinct type of knowledge needed for ICT-integrated lesson design. Mishra and Koehler (2006) argue that TPACK is created when teachers employ their technological knowledge, pedagogical knowledge, and content knowledge to create specific ICT-integration strategies. Teachers' ICT-integration strategies reflect their consideration of content, pedagogy, learners' characteristics, and technology in relation to school and classroom contexts (Angeli and Valanides 2009). Empirical studies have found TPACK to be a kind of knowledge that emerges as teachers engage in the design of ICT-integrated lessons (Koehler et al. 2007). Mishra and Koehler (2006) theorize that teachers' TPACK emerges through connections among multiple forms of knowledge. For example, teachers can develop technological pedagogical knowledge (TPK) as an intermediary knowledge source to connect their technological knowledge (TK) with their pedagogical knowledge (PK), and TPK can in turn be synthesized with content knowledge (CK) to form TPACK. Studies based on the TPACK framework theorized by Mishra and Koehler have found that teachers' perceived confidence for intermediary knowledge sources like TPK and technological content knowledge (TCK) are significant positive predictors of their perceived confidence for TPACK (e.g., Koh et al. 2013). Studies that could not validate the TPACK factor structure argue that the individual TPACK constructs are not easily distinguished by teachers because TPACK has a transformative nature, existing as a unique form of knowledge (e.g., Archambault & Barnett 2010). In contrast, the integrative view sees TPACK as a synthesis of different knowledge components rather than a new form of knowledge (Angeli & Valanides 2009). While the statistical validation of the TPACK framework and its epistemological nature are still being researched, a more pressing weakness of the framework is its practical contribution toward better lesson design by teachers (Cox & Graham 2009). To date, little is understood of how teachers can transform different forms of TPACK as well as their contextual knowledge into good ICT-integrated lesson designs. Conceptions of design thinking can enhance this gap of the TPACK framework.
The Need for Design Thinking During ICT-Integrated Lesson Design
What is Design Thinking?
Design thinking is implicit in intentional acts that lead to the creation or improvement of products, services, and experiences. Because design is ubiquitous, there is no single definition or method that captures the design thinking process. There have been attempts to give expression to certain professional views of the design thinking process (Cross 2001; Dorst 2011; Simon 1996). Most of these characterize it as a disciplined process that should not be reduced to or confused with the scientific method (Grant 1979; Lawson 1997). Lawson and Dorst (2009) identified five kinds of activities associated with design thinking: formulating, representing, moving, evaluating, and managing. However, these activities should not be seen as stages in a linear process. Design thinking often moves back and forth among these activities in an iterative manner.
According to Schön (
1983
), designers often engage in reflective conversations with the design situation. They do so in order to get a sense of what the problems are and how to come up with possible solutions. Schön called this dynamic process 'reflection-in-action':
The practitioner allows himself to experience surprise, puzzlement, or confusion in a situation which he finds uncertain or unique. He reflects on the phenomenon before him, and on the prior understandings which have been implicit in his behavior. He carries out an experiment which serves to generate both a new understanding of the phenomenon and a change in the situation. (Schön 1983, p. 68)
This experimental and open-ended aspect of design thinking is particularly useful in dealing with complex or wicked problems for which there are no definitive solutions (Coyne 2005; Rittel & Webber 1973). Indeed, solutions to wicked problems often depend on how the problems are initially understood or 'framed'(Dorst 2011; Schön 1983). Multiple perspectives are useful in the problem-framing process, and this often relies on the imagination and skill of the designers. An important skill among designers is their ability to engage deeply with people who are going to be affected or benefitted by the products they design. Recently, there has been increased attention paid to the user-centered features of design thinking, and the way they help to foster qualities and dispositions like empathy and interpersonal skills (Brown 2009).
Design Thinking and Teachers
Current literature in the learning sciences promotes the benefits of integrating ICT into lesson design to help students develop twenty first century competencies (Lin et al. 1999; Zhang et al. 2011). However, teachers often experience difficulties in developing lessons that can engender 21CL. Bereiter and Scardamalia (2006) argue that teachers tend to operate on the 'belief mode of thinking' based on the traditional view of knowledge as justified true belief. This mode of thinking focuses on instructional goals targeted at knowledge and skills acquisition, pre-specified in curriculum or textbooks. This could explain the "cognitive dissonance" described by Windschitl (2002) as teachers attempt to change their pedagogical practices.
Design thinking focuses on what can be done in practice; accordingly, it enables teachers to transcend the belief mode of thinking, and to work creatively with ideas that yield practical solutions. Design thinking can be utilized as a means to exploit TPACK to engender 21CL. Furthermore, it can lead teachers to become more flexible and adaptive in their approach to teaching and learning.
A Design Thinking Framework for ICT-Integrated Lessons to Support 21CL
Drawing upon existing processes for ICT-integrated lesson design, TPACK, and design thinking, we propose a 21CL ICT design thinking framework (21CL-ICT DT) as illustrated in Fig. 
1
. The fluid and reflective nature of design is incompatible with processes that are rigid and sequential. Accordingly, the approach to design thinking advanced here is structured around the core activities of design thinking outlined in the "What is design thinking?" section: developing frames and ideas, designing lesson materials to engage students, implementing the lesson, and engaging in reflection-in-action. A transformative view of TPACK is being proposed as design thinking involves teachers drawing upon various forms of TPACK to create new forms of TPACK for 21CL. The various elements of TPACK can be activated through the guiding questions to enhance and broaden teachers' design thinking beyond what they might naturally consider. In practice, some TPACK design models adopting a transformative view have recognized the importance of considering different forms of knowledge when integrating ICT (e.g., Jang & Chen
2010
). We describe the interplay between TPACK and design thinking in the following sections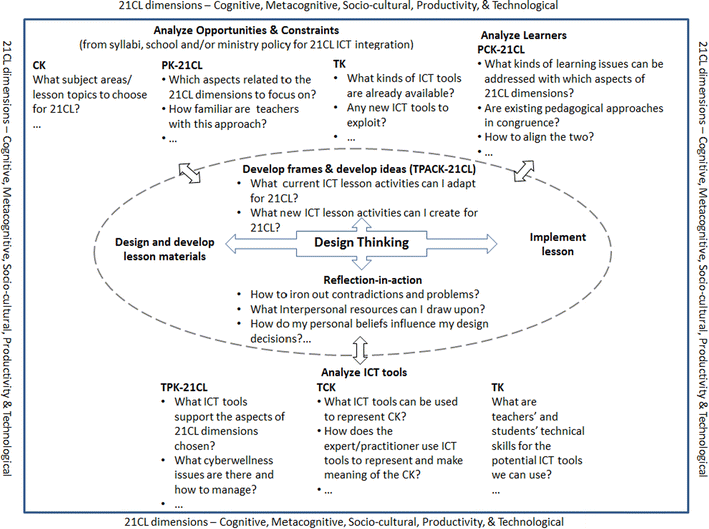 21CL Dimensions
Teachers' designs of ICT-integrated lessons need to be centered upon the critical dimensions of 21CL. From Fig. 1, we propose that teachers' design thinking be framed with these dimensions, illustrated as an outer border. Drawing upon summary studies of twenty first century competencies (e.g., Voogt & Roblin 2012), these can be generically grouped into five dimensions: Cognitive, metacognitive, sociocultural, productivity, and technological.
The cognitive dimension emphasizes the engagement of students' critical and creative thinking with complex real-world problems. Frameworks such as enGauge (MetiriGroup & NCREL 2003) also emphasize that 21CL embodies a metacognitive dimension to support students' engagement in the self-regulation required for learning-to-learn. These competencies can help students to develop the required dispositions for life-long learning. The third dimension is sociocultural in nature, emphasizing learning experiences that help students to develop competencies for communication, collaboration, and conflict resolution beyond their cultural contexts. The fourth dimension recommends that 21CL experiences embody real-world expectations and outcomes so that students learn how to develop productive and efficient work processes. The competencies described are important for preparing students to become twenty first century knowledge workers. Finally, as emphasized in all the twenty first century frameworks, technological competencies play a critical role in supporting 21CL. Through technology-enabled learning, students are being prepared with the necessary media literacy to make responsible and intelligent use of ICT as an enabler of productive work.
As shown in Fig. 1, our framework foregrounds these dimensions for teachers to consider as they design students' learning experiences. These dimensions also inform how teachers can articulate the role of ICT. 21CL necessitates the meaningful use of ICT as cognitive tools that help students to develop understanding of real-world issues and problems, to identify and fix performance gaps, and to engage in social learning. Such kinds of learning emphasize "learning with technology" rather than "learning from technology" (Howland et al. 2012).
TPACK as Epistemic Resources
Mishra and Koehler (
2006
) defined TPACK as teachers' body of knowledge for ICT integration. Teachers' existing TPACK are epistemic resources that frame teachers' ongoing TPACK creation. The notion of epistemic resources is drawn from studies in personal epistemology (Rosenberg et al.
2006
) which emphasizes that epistemic framing shapes the outcomes of one's knowledge construction activities. Koh et al. (
2014
) recent study reported how teachers' view about the context constitutes epistemic frames that influences the kinds of TPACK created through co-design. We assert that when teachers adopt epistemic views that contextual barriers and opportunities can be respectively reconfigured and exploited through design, they will be more amenable to engage in the construction of TPACK. This can better support the creation of lesson designs that exploit the potential of using ICT for 21CL. This framework thus proposes that teachers' know-how for developing lessons targeting the 21CL dimensions should be separately indicated as specialized forms of TPACK for 21CL (TPACK-21CL). Mishra and Koehler's definition of TPACK provide the following forms of TPACK-21CL for teachers:
1.

Technological knowledge (TK)—knowledge of technology tools.

 

2.

Pedagogical knowledge for 21CL (PK-21CL)—knowledge of student learning issues and the use of teaching methods to support 21CL dimensions.

 

3.

Content knowledge (CK)—knowledge of subject matter.

 

4.

Technological content knowledge (TCK)—knowledge of subject matter representation with technology.

 

5.

Technological pedagogical knowledge for 21CL (TPK-21CL)—knowledge of using technology to implement different teaching methods to support 21CL dimensions.

 

6.

Pedagogical content knowledge for 21CL(PCK-21CL)—knowledge of teaching methods with respect to subject matter content to support 21CL dimensions without using technology.

 

7.

Technological pedagogical content knowledge for 21CL (TPACK-21CL)—knowledge of using technology to implement teaching methods to support 21CL dimensions for different types of subject matter content.

 
Teachers' TK and CK are generic sources of knowledge. However, 21CL dimensions connote specific conceptions of pedagogy which necessitates the redefinition of the pedagogical-related TPACK constructs of PK, PCK, TPK, and TPACK as PK-21CL, PCK-21CL, TPK-21CL, and TPACK-21CL respectively. This also implies that teachers need to develop pedagogical stances for 21CL which are the forms of knowledge needed to support their design of new pedagogical practices.
We propose that teachers use their existing TPACK as frames to help them to analyze instructional problems and to create or adapt ICT-integrated lesson strategies. On the basis of Mishra and Koehler's (2006) conception of TPACK, we propose that teachers draw upon their TPACK as epistemic resources (Sandoval 2003) to engage in three forms of analyses when designing ICT-integrated lessons. Taking reference models such as ASSURE and ADDIE as well as the TPACK lesson design guide from Chai et al. (2012), these tasks are (1) analyze opportunities and constraints, (2) analyze learners, and (3) analyze ICT tools.
Analyze opportunities and constraints
This task scaffolds teachers to consider the macro-level and school-level factors of their context through a strategic analysis of the opportunities and constraints within syllabi, school, and the education policies. In Heinich et al. (1999) and Summerville and Reid-Griffin (2008), the requirements of national and state curriculums are important aspects for consideration during lesson planning as they determine the content to be covered. Government and school policies for 21CL along with demands of state examinations are examples of factors (Levin & Wadmany 2008) that could promote or impede innovative pedagogies supporting 21CL dimensions. Furthermore, teachers may not be able to cover all aspects of 21CL dimensions in their lesson planning. Therefore, teachers need to draw upon their CK and PK-21CL to identify aspects in each dimension that could be most promising within the curriculum context.
Teachers can also consider their TK in terms of the broad developments of technology and how new kinds of ICT tools can be used to support the 21CL dimensions that they have chosen. Essentially, this process describes how teachers can draw upon their general understanding of TK, PK-21CL, and CK to identify possible opportunities and constraints in terms of technology, pedagogy, and content.
Analyze learners
Angeli and Valanides (2009) emphasize that ICT integration needs to address learner difficulties. Therefore, when designing 21CL, teachers need to consider how its associated dimensions can be exploited to address specific learning issues as well as to enhance students' understanding in ways that conventional pedagogies are unable to. Shulman (1999) considered PCK as teachers' reasoning of how particular pedagogical approaches can be used to address specific learner difficulties. When teachers analyze learners, they need to tap on their PCK-21CL to target the 21CL dimensions that are efficacious for specific aspects of student learning. Zhao and Frank (2003) emphasize the need for an ecological approach when considering school-based innovation. As teachers consider 21CL for some aspects of learner difficulties, its congruence and continuity across the curriculum needs to be considered. Therefore, teachers may also need to draw upon their PCK for such purposes. Needless to say, these activities can be carried out in conjunction with active feedback from students.
Analyze ICT tools
For Mishra and Koehler (2006), teachers' competencies for ICT-integrated lesson design are encapsulated in the intermediary forms of TPACK. As teachers analyze the potential of ICT tools, the framework guides them to consider specific ways of using technology to support particular content and pedagogies. The framework provides three strategies. First, teachers may draw upon their TPK-21CL to consider the kinds of ICT tools that can support the aspects of 21CL dimensions that they have identified. Second, teachers may draw upon their TCK to consider the kinds of ICT tools that can be used to represent lesson content they plan to cover. The third strategy relates to teachers' and students' readiness to use the ICT tools that are being considered. As they scan for suitable ICT tools, teachers need also to use their TK to consider if potential technical difficulties associated with the use of these tools can be dealt with.
These three analytic tasks capture key considerations that teachers need to make as they attempt to design ICT-integrated pedagogies for 21CL. Yet, as described in our earlier review, design processes tend not to be well-ordered and structured. In reality, teachers may focus more on particular areas of analyses than others, using these to develop design frames that form the basis of their design thinking.
ICT Design Thinking Process
While Cox and Graham (2009) describe ICT-integrated lesson ideas as expressions of teachers' TPACK, our framework draws upon conceptions of design thinking to articulate how teachers could synthesize their various forms of TPACK into concrete and implementable lesson ideas for 21CL, that is, TPACK-21CL. As shown in Fig. 1, the design processes in this framework are modeled around the key activities of design thinking.
Teachers begin by setting frames to identify key foci of their ICT- integrated lesson designs and use these to explore the feasibility of their ideas. The three kinds of analyses described previously can be drawn upon to frame the ICT-integrated lessons. Reflection-in-action occurs in the course of dealing with problems arising from mismatches between technology, pedagogy, and content in the lesson design or mismatches between the lesson design and contextual factors such as student profile. The need to consider interpersonal factors such as availability of support from peers and stakeholders as well as the influences of their personal beliefs may also surface. At times, reflection-in-action could lead teachers into deeper consideration of one or more kinds of analysis as described earlier. These are suggestions of how teachers can generate and assess the "talk-back" (Schön 1983) to refine their problem-framing and initial solutions. We suggest that teachers can evoke various forms of TPACK dynamically and iteratively as epistemic resources to support this process.
Intertwined with framing and ideas development are teachers' attempts at design, development, and implementation. Teachers can move iteratively between playing with ideas and developing lesson materials to articulate their ideas. Reflection-in-action can be engaged as teachers find themselves being confronted with problems that lead them to work and rework their lesson artefacts. It may also result in a reconsideration of design frames and ideas. Similarly, design thinking can also be carried out during lesson implementation as teachers are being confronted with "talk-back" when they encounter the realities of their implemented designs.
The episodic nature of design is being depicted in Fig. 1 as interrelated events where teachers can develop frames, design materials, implement lessons, and engage in reflection-in-action iteratively. This is indicated by the double arrows for the different design thinking activities. Notably, design episodes can occur without any prescribed order and for as many cycles as needed for sustained lesson improvement. However, these characteristics of design thinking can be challenging to enact as they lack specificity and can be tacit in nature. Rather than focusing on predefined and sequenced steps, we propose to provide guidance for teachers by scaffolding the quality of their design decision-making. In Fig. 1, this takes the form of guiding questions articulated within the different constructs as metacognitive scaffolds for teachers. Such kinds of scaffolds can be used to influence the epistemic framing of teachers. These guiding questions are by no means exhaustive and can be adapted for specific contexts of design.
Implications for Practice and Future Directions
Teachers' design capacities are manifested in their application and creation of TPACK in relation to the school context. The proposed framework contributes to teachers' practice of ICT-integrated lesson design in two ways. First, it emphasizes the need for teachers to apply various forms of TPACK in consideration of contextual factors that may facilitate or impede their lesson design for 21CL. Each enactment of TPACK to create ICT-integrated lessons is a localized form of knowledge creation achieved through the teacher's iterative efforts in making sense of the constraints and opportunities offered by the socio-technological–cultural contexts. Second, it attempts to describe the process of TPACK creation by drawing upon design literature. It suggests that teachers draw upon their various forms of TPACK to create design frames that can be continually developed and improved through reflection-in-action as teachers create lesson artifacts and implement lessons. By doing so, it attempts to create an initial vocabulary that articulates how teachers transform their existing TPACK into new forms of TPACK through design. This shows how Mishra and Koehler's (2006) TPACK framework can be made more relevant for teachers' design of pedagogical improvement.
Nevertheless, the complex and dynamic nature of design thinking often makes it challenging to articulate design thinking models. We conclude with a few considerations for future research to further develop the framework. As the purpose of this paper is to explicate the theoretical considerations of an ICT lesson design process that integrates both TPACK and design thinking, we recognize the lack of empirical validation in this paper. Therefore, we would first like to propose the need for empirical studies of how design thinking features in ICT lesson design, especially how reflection-in-action occurs in relation to contextual and intrapersonal factors. This would contribute to the validation of the effectiveness of the proposed framework. Second, we need to examine methodologies that can help teacher educators facilitate the development of design thinking in teachers. In the field of engineering, Lawson (1997) maintains that design education should help students to acquire knowledge and experiences but not prescribe specific processes as this would curtail students' creativity. In disciplines such as engineering, Dym et al. (2005) proposed that real-world projects could foster design thinking whereas Oxman (1999) recommended that architecture students learn by building resources to represent problem types and generic solutions. In educational research, Hong and Sullivan (2009) advocate principle-based design in which students are provided with principles rather than prescriptive instructional design processes. These instructional methodologies can be further examined. Finally, just as sketching and modeling are common means for architects and product developers to externalize and refine their design ideas (Cross 2011), there is also a need to explore systems that help teachers externalize their lesson design ideas. An example would be the Learning Activity Management System (LAMS) (Cameron 2006) that allows teachers to create and refine activity structures. Such systems can help teachers engage in reflection-in-action as they undertake various design episodes by generating digitized artifacts that could scaffold the talk-back processes. The development of systems supporting teachers' design of ICT-integrated lessons for different subject areas can and should also be further explored.
We suggest that design competence can be fostered through iterative practice (Rowland 2004). Teachers need to see themselves as part of a knowledge-creating culture that values design capacity for the construction and sustained improvement of their own theories and understanding (Hong et al. 2009). The integrative consideration of TPACK and design thinking can help teachers to create the desired practices needed to successfully deliver 21CL.
Copyright information
© De La Salle University 2015