Abstract
Background
Single-stranded DNA (ssDNA) libraries have been shown to enrich shorter and more degraded DNA fragments than double-stranded DNA (dsDNA) libraries.
Objective
In this study, we evaluated whether ssDNA libraries captured more circulating tumor DNA (ctDNA) in plasma cell-free DNA (cfDNA).
Methods
We prepared dsDNA, ssDNA and pure-ssDNA (capture the preexisting ssDNA) libraries using ten plasma cfDNA samples. After low-pass whole genome sequencing, we calculated a duplicate rate to estimate library complexity and compared the library insert sizes between the different library methods. Finally, we estimated the ctDNA content and plasma genomic abnormality (PGA) score, an indicator of ctDNA burden.
Results
27 libraries were prepared and sequenced from the ten cfDNA samples. The duplicate rate in the ssDNA and pure-ssDNA libraries was significantly lower than in the dsDNA libraries (p < 0.001 and p < 0.01, respectively). ctDNA content and PGA scores were consistently higher in the ssDNA and pure-ssDNA libraries than in the matched dsDNA libraries (p < 0.005). The higher ctDNA content in ssDNA libraries was associated with smaller library insert size.
Conclusions
ssDNA libraries preserve more diversity and capture more ctDNA than dsDNA libraries. The ssDNA library method is preferred when performing genomic analysis of ctDNA.
This is a preview of subscription content, log in to check access.
Access options
Buy single article
Instant access to the full article PDF.
US$ 49.95
Price includes VAT for USA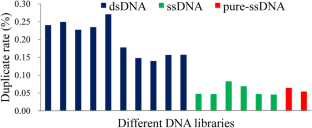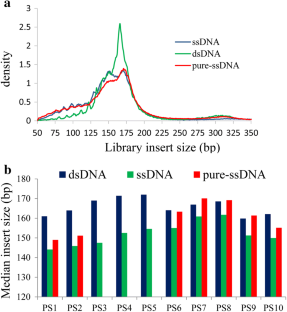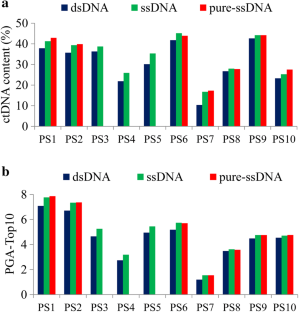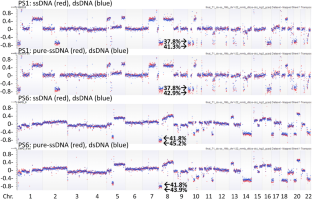 References
1.

Thierry AR, El Messaoudi S, Gahan PB, Anker P, Stroun M. Origins, structures, and functions of circulating DNA in oncology. Cancer Metastasis Rev. 2016;35(3):347–76.

2.

Siravegna G, Marsoni S, Siena S, Bardelli A. Integrating liquid biopsies into the management of cancer. Nat Rev Clin Oncol. 2017;14(9):531–48.

3.

Corcoran RB, Chabner BA. Application of cell-free DNA analysis to cancer treatment. N Engl J Med. 2018;379(18):1754–65.

4.

Heitzer E, Ulz P, Geigl JB. Circulating tumor DNA as a liquid biopsy for cancer. Clin Chem. 2015;61(1):112–23.

5.

Otandault A, Anker P, Dache AAZ, Guillaumon V, Meddeb R, Pastor B, et al. Recent advances in circulating nucleic acids in oncology. Ann Oncol. 2019;30(3):374–84.

6.

Gorgannezhad L, Umer M, Islam MN, Nguyen NT, Shiddiky MJA. Circulating tumor DNA and liquid biopsy: opportunities, challenges, and recent advances in detection technologies. Lab Chip. 2018;18(8):1174–96.

7.

Gansauge MT, Meyer M. Single-stranded DNA library preparation for the sequencing of ancient or damaged DNA. Nat Protoc. 2013;8(4):737–48.

8.

Burnham P, Kim MS, Agbor-Enoh S, Luikart H, Valantine HA, Khush KK, et al. Single-stranded DNA library preparation uncovers the origin and diversity of ultrashort cell-free DNA in plasma. Sci Rep. 2016;6:27859.

9.

Stiller M, Sucker A, Griewank K, Aust D, Baretton GB, Schadendorf D, et al. Single-strand DNA library preparation improves sequencing of formalin-fixed and paraffin-embedded (FFPE) cancer DNA. Oncotarget. 2016;7(37):59115–28.

10.

Mouliere F, Robert B, Arnau Peyrotte E, Del Rio M, Ychou M, Molina F, et al. High fragmentation characterizes tumour-derived circulating DNA. PLoS One. 2011;6(9):e23418.

11.

Underhill HR, Kitzman JO, Hellwig S, Welker NC, Daza R, Baker DN, et al. Fragment Length of Circulating Tumor DNA. PLoS Genet. 2016;12(7):e1006162.

12.

Jiang P, Chan CW, Chan KC, Cheng SH, Wong J, Wong VW, et al. Lengthening and shortening of plasma DNA in hepatocellular carcinoma patients. Proc Natl Acad Sci USA. 2015;112(11):E1317–25.

13.

Mouliere F, Chandrananda D, Piskorz AM, Moore EK, Morris J, Ahlborn LB, et al. Enhanced detection of circulating tumor DNA by fragment size analysis. Sci Transl Med. 2018;10(466):eaat4921.

14.

Xia S, Kohli M, Du M, Dittmar RL, Lee A, Nandy D, et al. Plasma genetic and genomic abnormalities predict treatment response and clinical outcome in advanced prostate cancer. Oncotarget. 2015;6(18):16411–21.

15.

Li J, Dittmar RL, Xia S, Zhang H, Du M, Huang CC, et al. Cell-free DNA copy number variations in plasma from colorectal cancer patients. Mol Oncol. 2017;11(8):1099–111.

16.

Diskin SJ, Li M, Hou C, Yang S, Glessner J, Hakonarson H, et al. Adjustment of genomic waves in signal intensities from whole-genome SNP genotyping platforms. Nucleic Acids Res. 2008;36(19):e126.

17.

Xia S, Huang CC, Le M, Dittmar R, Du M, Yuan T, et al. Genomic variations in plasma cell free DNA differentiate early stage lung cancers from normal controls. Lung Cancer. 2015;90(1):78–84.

18.

Vagner T, Spinelli C, Minciacchi VR, Balaj L, Zandian M, Conley A, et al. Large extracellular vesicles carry most of the tumour DNA circulating in prostate cancer patient plasma. J Extracell Vesicles. 2018;7(1):1505403.

19.

Sanchez C, Snyder MW, Tanos R, Shendure J, Thierry AR. New insights into structural features and optimal detection of circulating tumor DNA determined by single-strand DNA analysis. NPJ Genom Med. 2018;3:31.

20.

Moser T, Ulz P, Zhou Q, Perakis S, Geigl JB, Speicher MR, et al. Single-stranded DNA library preparation does not preferentially enrich circulating tumor DNA. Clin Chem. 2017;63(10):1656–9.

21.

Vong JSL, Tsang JCH, Jiang P, Lee WS, Leung TY, Chan KCA, et al. Single-stranded DNA library preparation preferentially enriches short maternal DNA in maternal plasma. Clin Chem. 2017;63(5):1031–7.

22.

Snyder MW, Kircher M, Hill AJ, Daza RM, Shendure J. Cell-free dna comprises an in vivo nucleosome footprint that informs its tissues-of-origin. Cell. 2016;164(1–2):57–68.
Acknowledgments
The authors thank Molecular Pathology Core in Medical College of Wisconsin for timely sequencing service. We acknowledge the scholarship from the China Scholarship Council (CSC) (201508230031 to JZ).
Ethics declarations
Funding
This research was supported by the National Institute of Health (R01CA212097) to LW; the University Nursing Program for Young Scholars with Creative Talents in Heilongjiang Province (UNPYSCT-2017056), Natural Science Foundation of Heilongjiang Province (YQ2019H002) and the Fund Program of Heilongjiang Province for Selected Returned Overseas Professionals to JZ.
Conflict of Interest
JZ, JH, PZ, QL, MK, CH and LW have no conflicts of interest.
Electronic supplementary material
Below is the link to the electronic supplementary material.
About this article
Cite this article
Zhu, J., Huang, J., Zhang, P. et al. Advantages of Single-Stranded DNA Over Double-Stranded DNA Library Preparation for Capturing Cell-Free Tumor DNA in Plasma. Mol Diagn Ther 24, 95–101 (2020). https://doi.org/10.1007/s40291-019-00429-7