An Eye on Age-Related Macular Degeneration: The Role of MicroRNAs in Disease Pathology
Open Access
Review Article
Abstract
Age-related macular degeneration (AMD) is the primary cause of blindness in developed countries, and is the third leading cause worldwide. Emerging evidence suggests that beside environmental and genetic factors, epigenetic mechanisms, such as microRNA (miRNA) regulation of gene expression, are relevant to AMD providing an exciting new avenue for research and therapy. MiRNAs are short, non-coding RNAs thought to be imperative for coping with cellular stress. Numerous studies have analyzed miRNA dysregulation in AMD patients, although with varying outcomes. Four studies which profiled dysregulated circulating miRNAs in AMD yielded unique sets, and there is only minimal overlap in ocular miRNA profiling of AMD. Mouse models of AMD, including oxygen-induced retinopathy and laser-induced choroidal neovascularization, showed similarities to some extent with miRNA patterns in AMD. For example, miR-146a is an extensively researched miRNA thought to modulate inflammation, and was found to be upregulated in AMD mice and cellular systems, but also in human AMD retinae and vitreous humor. Similarly, mir-17, miR-125b and miR-155 were dysregulated in multiple AMD mouse models as well as in human AMD plasma or retinae. These miRNAs are thought to regulate angiogenesis, apoptosis, phagocytosis, and inflammation. A promising avenue of research is the modulation of such miRNAs, as the phenotype of AMD mice could be ameliorated with antagomirs or miRNA-mimic treatment. However, before meaningful strides can be made to develop miRNAs as a diagnostic or therapeutic tool, reproducible miRNA profiles need to be established for the various clinical outcomes of AMD.
Keywords
Vascular Endothelial Growth Factor 
Retinal Pigment Epithelium 
Retinal Pigment Epithelium Cell 
Human Retinal Pigment Epithelium Cell 
Superficial Capillary Plexus 
These keywords were added by machine and not by the authors. This process is experimental and the keywords may be updated as the learning algorithm improves.
Key Points
Several studies of microRNA, small non-protein coding RNA molecules, were conducted in blood and vitreous humor of AMD patients, but revealed few microRNAs consistently dysregulated in multiple studies.
Similar profiling studies were reported in mouse models of distinct AMD features and demonstrated some similarities with the human AMD findings, including miR-146a, miR-17, miR-125b, and miR-155.
Alteration of the levels of these miRNA in mice revealed an amelioration of the AMD-related damage, providing a promise for novel therapeutic approaches for this devastating blinding disease.
1

Introduction
1.1

MicroRNAs: An Historical Perspective

MicroRNAs (miRNAs) are 19-24 nucleotide non-coding RNAs, which negatively regulate gene expression. Although miRNAs were not discovered until 1993, the idea that non-coding RNA molecules could interfere with gene expression, was first suggested in the late 1970s and early 1980s, when multiple groups found that exogenous oligonucleotides complementary to ribosomal RNA interfere with ribosome function [1, 2, 3].

Ironically, the motivation behind the project which ultimately lead to the discovery of miRNAs had only little to do with the field of noncoding RNAs or antisense gene regulation, but instead started with the study of neural development in microscopic worms [4, 5]. In the 1970s, Brenner [6] discovered a line of mutant lin-4(e912) Caenorhabditis elegans with remarkable developmental timing defects [7]. The "adult" larvae contained many cell types ordinarily only present during an early larval stage, and were devoid of many of the cell types and morphological structures typical of wild-type adults [4, 8].

In 1984, Ferguson et al. [9] discovered a C. elegans worm with nearly normal morphology in a culture of the lin-4 strain, and determined that a previously unknown gene, lin-14 was the responsible suppressor mutation. Animals with null alleles of lin-14 were shown to have developmental timing defects opposite to those of lin-4 [10]. These findings suggested an epistatic interaction between lin-4 and lin-14, and it was theorized that lin-4 encodes a protein which negatively regulates lin-14 [5]. In 1993, almost four years after the initial findings, two articles were published in the same issue of the Cell journal which elucidated the molecular relationship between lin-14 and lin-4. Lee et al. [4] showed that lin-4 is not a protein-encoding gene, but instead a 22nt non-coding RNA transcript and a 60nt hairpin structure. The second study reported that seven nucleotides in the 3′ untranslated region (UTR) of lin-14 are complementary to the lin-4 small RNAs, and suggested that lin-4 downregulates lin-14 translation through RNA-mediated gene expression [11].
1.2

MiRNAs and Ocular Pathogenesis

It is difficult to understate the importance of miRNAs, as they regulate proper cell growth, development, and differentiation [12]. Much of the early work on miRNAs focused on their roles in tissue and organ development [4, 13]. In this context, loss of miRNA function produced gross phenotypic defects, and their impact was unmistakable [13]. As technology advanced, researchers began uncovering the function of miRNAs in the mature tissue of higher eukaryotes. In recent years, the theory emerged that miRNA in mature organisms and tissues tend not to affect the primary function of cells, but are imperative for coping with various forms of cellular and organismal stress [13, 14, 15, 16]. To date, miRNAs are thought to buffer against fluctuations in gene expression due to either stochastic modulation or environmental stress, in an effort to maintain cellular homeostasis [13, 17, 18, 19]. To facilitate their function, miRNAs are specifically incorporated into the RNA-induced silencing complex (RISC) and bind to transcripts in the cytosol. This binding either results in the degradation of the transcript by nucleases associated with the RIS complex or lead to reduced translation speed by influencing the ribosomal machinery.

As photoreceptors and retinal pigment epithelium (RPE) cells of the retina must maintain their function under exceptionally high rates of metabolism and protein synthesis, there is arguably no system under more stress [13]. Specifically, in pathological conditions of the eye, the intense stress overwhelms the cells' coping mechanisms resulting in photoreceptor death ultimately causing blindness. This makes the retina a highly interesting organ to elucidate the pathological repercussions of miRNA dysregulation in mature tissue.
1.3

Age-Related Macular Degeneration (AMD)

AMD is a complex disease of the central retina and the primary cause of blindness in developed countries, as well as the third leading cause worldwide [20]. Estimates put the number of people suffering from the late stage of the disease worldwide at 11 million by 2020 [21]. In a healthy eye, light is transduced to a chemical signal by the highly specialized photoreceptors, which have a multifaceted support system. In AMD, the dysfunction of this support system causes progressive damage to the photoreceptors, and ultimately results in vision loss in one or both eyes [22].

Although the pathogenesis of AMD is currently not completely understood, the complex etiology has been linked to cellular, biochemical, and molecular events and is influenced by multiple components involving both environmental factors and genetic predisposition [22, 23, 24]. Genome-wide association studies and large scale re-sequencing projects have identified a number of single nucleotide variants (SNVs) enriched in complement and complement-related genes that confer a strong risk for AMD [25, 26, 27, 28]. Recent efforts have increased the number of independent genetic signals associated with AMD risk to 52 at 34 different loci [27], explaining around half of the genomic heritability of the disease. Six out of those 34 loci harbor one or more complement or complement-related genes. Together, the known genetic risk factors point to the involvement of oxidative stress, lipid metabolism, extracellular matrix biology, inflammation and dysregulation of the complement cascade and other immune responses in the pathogenesis of the disease.

Early stages of AMD are characterized by an abnormal RPE pigment distribution in the macula, and the formation of drusen-containing lipids and an array of proteins in the space between the basal lamina of the RPE and the inner collagenous layer of Bruch's membrane [22, 29, 30, 31]. Early AMD is usually asymptomatic, but may cause a modest decline in visual acuity and function resulting in delayed dark adaptation [22].

Early AMD can progress to late-stage AMD, characterized by geographic atrophy (GA AMD) and choroidal or, less common, retinal neovascularization (both forms subsumed as NV AMD). GA AMD is defined by well-demarcated areas of RPE atrophy, which is followed by degeneration of the corresponding photoreceptors and choroidal capillaries [32]. Disease progression in GA AMD is usually slow, although it can result in significant visual deficits in reading, night vision, and dark adaptation [33, 34]. There is currently no approved or effective treatment to prevent the onset or progression of GA [24, 35].

The hallmark of NV AMD is the growth of new blood vessels generally sprouting from the choroid, penetrating the overlying Bruch's membrane, and growing within the subretinal pigment epithelium space or the subretinal space [36, 37]. In NV AMD the growing neovascular membrane is initially capillary-like [36], and these fenestrated and friable vessels frequently leak serous fluid, lipid, and blood into the retina and surrounding spaces. The neovascularization is accompanied by the infiltration of macrophages and other inflammatory, matrix metalloproteinases producing cells, enabling the growing membrane to digest through tissue planes [38]. Macrophages release a range of other mediators, including pro-inflammatory and proangiogenic factors. At some point, the balance between growth factors and inflammatory mediators shifts toward an antiangiogenic, anti-proteolytic, and anti-migratory state, and the CNV lesion becomes fibrosed [36, 37]. This process is known as disciform scar formation, and is associated with irreversible visual loss [36]. Untreated patients with NV AMD experience a consistent, steady deterioration in visual acuity over the first few years following onset of neovascularization, with 75 % of patients reaching legal blindness within 3 years [39].

Choroidal neovascularization can be treated but not cured with inhibitors of vascular endothelial growth factor (VEGF) [40]. In the pathogenesis of NV AMD, increased VEGF production is a defensive response by the tissue to oxidative stress or hypoxia, triggering the proliferation of newly formed blood vessels and damaging the retinal tissues, especially the photoreceptors [41]. In the past several years, the inhibition of VEGF has become the gold standard in the treatment of NV AMD, but is far from an ideal therapy. Monthly injections of VEGF inhibitors are burdensome to patients and a major challenge to healthcare systems worldwide [42]. Additionally, AMD patients with NV exhibit a great deal of variability in response to anti-VEGF treatments, some patients even lose visual acuity during treatment [40, 43].

Despite advances in the prevention and treatment of the disease, the number of afflicted patients is expected to increase due to a rapidly growing elderly population [20]. In many cases, the damage is not contained to the photoreceptors and RPE cells, the mental health of these patients may also suffer. Depression affects 30 % of older adults with visual impairment, and those with AMD seem to be at particular risk with 39 % affected [44]. The mental deterioration is thought to stem from the frustration and hopelessness elderly patients can feel when the loss of functional capacity becomes apparent [44]. In a national opinion poll of US adults, when asked which disease is the worst that could happen to them, African Americans and Non-Hispanic Whites said that blindness was worse than cancer and HIV/AIDS [45]. This underscores the urgent need for an effective AMD treatment.

The purpose of this review is to inventory the work that has been done to profile miRNA dysregulation in AMD, and further summarize the miRNA work done in well-established mouse models of AMD (Fig. 

1

). The question arises whether miRNA-based approaches to treatment could be feasible to ameliorate AMD-related tissue damage in the retina and consequently to prevent vision impairment or even blindness.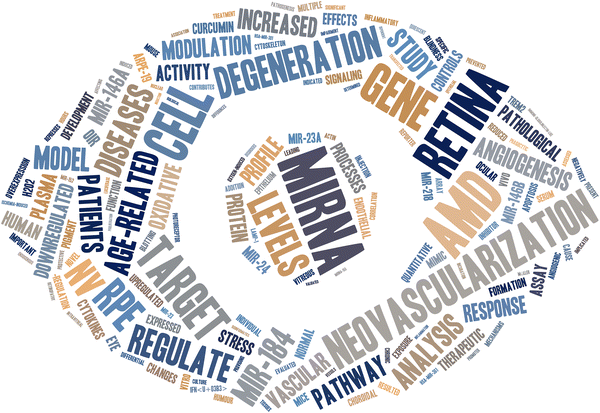 3

Conclusions

Taken together, increasing research efforts on small RNAs suggests that dysregulated miRNAs may regulate key aspects of AMD pathology. While data on circulating miRNA in AMD are still scarce, findings on dysregulated ocular miRNA show more promise. For example, mir-146a and miR-155 are regulators of inflammation and microglial activation state in response to stress, and are both dysregulated in AMD retinae. Furthermore, angiogenesis and response to varying oxygen levels is likely modulated by miR125b, and miR-17, which may also regulate apoptosis. These key candidate miRNAs could be useful as novel therapeutic approaches in AMD, as exemplified by miR-155 which was shown to modulate damage in AMD mouse models in vivo. Still, studies in mouse models are not ideal in the long term, and must be complemented by comprehensive studies establishing miRNA profiles in AMD development and progression.
Notes
Compliance with Ethical Standards
Conflict of interest
The authors Patricia Berber, Felix Grassmann, Christina Kiel, and Bernhard HF Weber declare no conflict of interest.
Funding
The work and open access publication was funded in part by the institutional budget for Research and Teaching from the Freestate of Bavaria to BHFW.
Copyright information
© The Author(s) 2016
Open AccessThis article is distributed under the terms of the Creative Commons Attribution-NonCommercial 4.0 International License (http://creativecommons.org/licenses/by-nc/4.0/), which permits any noncommercial use, distribution, and reproduction in any medium, provided you give appropriate credit to the original author(s) and the source, provide a link to the Creative Commons license, and indicate if changes were made.