This is a preview of subscription content, log in to check access.
Access options
Buy single article
Instant unlimited access to the full article PDF.
US$ 49.95
Price includes VAT for USA
Subscribe to journal
Immediate online access to all issues from 2019. Subscription will auto renew annually.
US$ 199
This is the net price. Taxes to be calculated in checkout.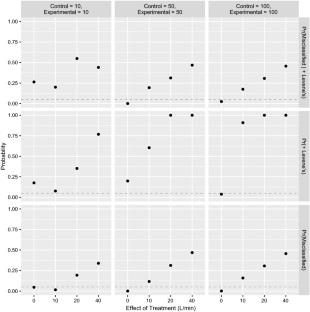 References
1.

Dankel SJ, Loenneke JP. A method to stop analyzing random error and start analyzing differential responders to exercise. Sports Med. 2019. https://doi.org/10.1007/s40279-019-01147-0.

2.

Snapinn Steven M, Jiang Qi. Responder analyses and the assessment of a clinically relevant treatment effect. Trials. 2007;8(1):31.

3.

Senn Stephen. Individual response to treatment: is it a valid assumption? BMJ. 2004;329(7472):966–8.

4.

Crouter Scott E, Antczak Amanda, Hudak Jonathan R, DellaValle Diane M, Haas Jere D. Accuracy and reliability of the parvomedics trueone 2400 and medgraphics vo2000 metabolic systems. Eur J Appl Physiol. 2006;98(2):139–51.

5.

Tenan Matthew S. A statistical method and tool to account for indirect calorimetry differential measurement error in a single-subject analysis. Front Physiol. 2016;7:172.

6.

Barnes K, Kilding A, Blagrove R, Howatson G, Boone Jan, Bourgois Jan, Fletcher J, Macintosh B, Gonzalez-Mohino F. Commentaries on viewpoint: use aerobic energy expenditure instead of oxygen uptake to quantify exercise intensity and predict endurance performance. J Appl Physiol. 2018;125(2):676–82.

7.

Tenan Matthew S, Bohannon Addison W, Macfarlane Duncan J, Crouter Scott E. Determining day-to-day human variation in indirect calorimetry using Bayesian decision theory. Exp Physiol. 2018;103(12):1579–85.

8.

Uryniak Tom, Chan Ivan SF, Fedorov Valerii V, Jiang Qi, Oppenheimer Leonard, Snapinn Steven M, Teng Chi-Hse, Zhang John. Responder analyses—a PhRMA position paper. Stat Biopharm Res. 2011;3(3):476–87.

9.

Hecksteden Anne, Kraushaar Jochen, Scharhag-Rosenberger Friederike, Theisen Daniel, Senn Stephen, Meyer Tim. Individual response to exercise training—a statistical perspective. J Appl Physiol. 2015;118(12):1450–9.

10.

Senn Stephen, Rolfe Katie, Julious Steven A. Investigating variability in patient response to treatment—a case study from a replicate cross-over study. Stat Methods Med Res. 2011;20(6):657–66.

11.

Fuller Wayne A. Measurement error models, vol. 305. New York: Wiley; 2009.

12.

Wager E, Barbour V, Yentis S, Kleinert S, on behalf of COPE Council. Guidelines for retracting articles. version 1. 2009. https://doi.org/10.24318/cope.2019.1.4.
Acknowledgements
We would like to acknowledge Kristin Sainani and Blake McShane for their thoughtful comments.
Ethics declarations
Funding
No financial support was received for the conduct of this study or preparation of this manuscript.
Conflict of interest
Matthew Tenan, Andrew Vigotsky, and Aaron Caldwell declare that they have no conflict of interest.
About this article
Cite this article
Tenan, M.S., Vigotsky, A.D. & Caldwell, A.R. Comment on: "A Method to Stop Analyzing Random Error and Start Analyzing Differential Responders to Exercise". Sports Med (2019) doi:10.1007/s40279-019-01249-9