Abstract
Background
During the period from 1999 to 2016, more than 350,000 Americans died from overdoses related to the use of prescription opioids. To the extent that supply is directly related to overprescribing, policy interventions aimed at changing prescriber behavior, such as the recent Centers for Disease Control and Prevention guideline, are clearly warranted. Although these could plausibly reduce the prevalence of opioid overuse and dependency, little is known about their economic and health-related impacts.
Objective
The aim of this study was to quantify the efficacy of a policy intervention aimed at reducing the length of initial opioid prescriptions.
Study Design and Methods
A Markov decision process model was fitted on a retrospective cohort of 827,265 patients, and patient cost and health trajectories were simulated over a 24-month period. The model's parameters were based on patients who received short (≤ 3 days) or long (> 7 days) initial opioid prescriptions, matched using propensity score methods.
Study Population
All active-duty US Army soldiers from 2011 to 2014; the data contained detailed medical and administrative information on over 11 million soldier-months corresponding to 827,265 individual soldiers.
Main Outcome Measure
Overall costs of a policy change, quality-adjusted life-years (QALYs) gained, and $/QALY gained.
Results
Over a 2-year horizon, a reassignment of 10,000 patients to short initial duration would generate a cost saving in the vicinity of $3.1 million (excluding program costs), and would also lead to an estimated 4451 additional opioid-free months, i.e. months without any opioid prescriptions.
Conclusion
The analysis found that efforts to change prescriber behavior can be cost effective, and further studies into the implementation of such policies are warranted.
This is a preview of subscription content, log in to check access.
Access options
Buy single article
Instant unlimited access to the full article PDF.
US$ 49.95
Price includes VAT for USA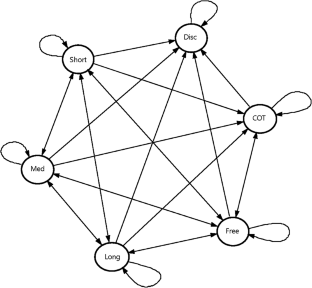 Data Availability Statement
This study uses proprietary data that are not available to other researchers.
Notes
1.

Our primary goal was to compare the effects of a reassignment from Long to Short. We include Medium as an intermediate state to account for all possible outcomes in subsequent months.

2.

The transition probabilities are of the order of 10-6 or smaller, except in the case of the transitions from COT to death, which was still of the order of 10-4. In some simulations we ran with this state, transitions to this state never occurred. Therefore, as a practical matter, including this state would have no effect on the results.

3.
References
1.

Seth P, Scholl L, Rudd RA, et al. Overdose deaths involving opioids, cocaine, and psychostimulants—United States, 2015–2016. MMWR Morb Mortal Wkly Rep. 2018;67(12):349–58.

2.

Nelson LS, Juurlink DN, Perrone J. Addressing the opioid epidemic. JAMA. 2015;314(14):1453–4.

3.

Compton WM, Jones CM, Baldwin GT. Relationship between nonmedical prescription-opioid use and heroin use. N Engl J Med. 2016;374(2):154–63.

4.

Castlight Health. The Opioid Crisis in America's Workforce. https://content.castlighthealth.com/Opioid-Research-Report_LP.html. 2016. Accessed 9 Mar 2019.

5.

Lipari RN, Hughes A. How people obtain the prescription pain relievers they misuse. The CBHSQ Report. Center for Behavioral Health Statistics and Quality, Substance Abuse and Mental Health Services Administration; 2017. https://www.ncbi.nlm.nih.gov/books/NBK424785/. Accessed 9 Mar 2019.

6.

CNN Library: Opioid Crisis Fast Facts. https://www.cnn.com/2017/09/18/health/opioid-crisis-fast-facts/index.html. Accessed 9 Mar 2019.

7.

Murphy SM, Polsky D. Economic evaluations of opioid use disorder interventions. Pharmacoeconomics. 2016;34(9):863–87.

8.

Dowell D, Haegerich TM, Chou R. CDC guideline for prescribing opioids for chronic pain—United States, 2016. MMWR Recomm Rep. 2016;65(No. RR-1):1–49.

9.

Shah A, Hayes CJ, Martin BC. Characteristics of initial prescription episodes and likelihood of long-term opioid use—United States, 2006–2015. MMWR Morb Mortal Wkly Rep. 2017;66:265–9.

10.

Deyo RA, Hallvik SE, Hildebran C, et al. Association between initial opioid prescribing patterns and subsequent long-term use among opioid-naïve patients: a statewide retrospective cohort study. J Gen Intern Med. 2017;32(1):21–7.

11.

Radcliffe S. Will limiting opioid prescriptions to 7 days have an impact? Health News; 2017. https://www.healthline.com/health-news/will-limiting-opioid-prescriptions-have-impact#1. Accessed 9 Mar 2019.

12.

Doran CM. Economic evaluation of interventions to treat opiate dependence. Pharmacoeconomics. 2008;26(5):371–93.

13.

Chetty M, Kenworthy JJ, Langham S, et al. A systematic review of health economic models of opioid agonist therapies in maintenance treatment of non-prescription opioid dependence. Addict Sci Clin Pract. 2017;12(1):6.

14.

Rosenbaum PR, Rubin DB. The central role of the propensity score in observational studies for causal effects. Biometrika. 1983;70(1):41–55.

15.

Ciesielski T, Iyengar R, Bothra A, et al. A tool to assess risk of de novo opioid abuse or dependence. Am J Med. 2016;129(7):699–705.

16.

Dunn KM, Saunders KW, Rutter CM, et al. Opioid prescriptions for chronic pain and overdose: a cohort study. Ann Intern Med. 2010;152(2):85–92.

17.

Whitehead SJ, Ali A. Health outcomes in economic evaluation: the QALY and utilities. Br Med Bull. 2010;96(1):5–21.

18.

U.S. Army Recruiting Command. https://recruiting.army.mil/. Accessed 15 Jan 2018.

19.

War and Sacrifice in the Post-9/11 Era. Washington, DC: Pew Research Center; 2011.

20.

QALY. Segen's Medical Dictionary; 2011. https://medical-dictionary.thefreedictionary.com/QALY. Accessed 27 Oct 2018.

21.

Schackman BR, Leff JA, Moore DBA, et al. Cost-effectiveness of long-term outpatient buprenorphine-naloxone treatment for opioid dependence in primary care. J Gen Int Med. 2012;27(6):669–76.

22.

Nosyk B, Guh DP, Bansback NJ, et al. Cost-effectiveness of diacetylmorphine versus methadone for chronic opioid dependence refractory to treatment. CMAJ. 2012;184(6):E317–28.

23.

Price MJ, Briggs AH. Development of an economic model to assess the cost effectiveness of asthma management strategies. Pharmacoeconomics. 2002;20(3):183–94.

24.

Neumann PJ, Sanders GD, Russel LB, Siegel JE, Ganiats TG, editors. Cost-effectiveness in health and medicine. 2nd ed. New York: Oxford University Press; 2017.

25.

Freedman-Weiss MR, Chiu AS, Solomon DG, et al. Opioid prescribing habits of general versus pediatric surgeons after uncomplicated laparoscopic appendectomy. J Surg Res. 2019;235:404–9.

26.

Scully RE, Schoenfeld AJ, Jiang W, et al. Defining optimal length of opioid pain medication prescription after common surgical procedures. JAMA Surg. 2018;153(1):37–43.

27.

Institute for Clinical and Economic Review. Institute for Clinical and Economic Review posts revised value assessment framework for public comment; 2017. https://icer-review.org/announcements/vaf-revision-public-comment/. Accessed 9 Mar 2019.

28.

US Army. Army Regulation 40-501. Standards of Medical Fitness; 2017. https://armypubs.army.mil/epubs/DR_pubs/DR_a/pdf/web/ARN3801_AR40-501_Web_FINAL.pdf. Accessed 9 Mar 2019.

29.

Centers for Disease Control and Prevention. Prescription Opioid data; 2018. https://www.cdc.gov/drugoverdose/data/prescribing.html. Accessed 13 Mar 2019.

30.

Inciardi JA, Surratt HL, Lugo Y, et al. The diversion of prescription opioid analgesics. Law Enforc Exec Forum. 2007;7(7):127–41.

31.

Greenwood BN, Agarwal R, Agarwal R, Gopal A. The role of individual and organizational expertise in the adoption of new practices. Org Sci 2019;30(1):191–213.

32.

Thaler R, Sunstein C. Nudge: improving decisions about health, wealth, and Happiness. New Haven: Yale University Press; 2008.

33.

Wechsler H, Nelson TE, Lee JE, et al. Perception and reality: a national evaluation of social norms marketing interventions to reduce college students' heavy alcohol use. J Stud Alcohol. 2003;64(4):484–94.

34.

Schultz PW, Nolan JM, Cialdini RB, et al. The constructive, destructive, and reconstructive power of social norms. Psychol Sci. 2007;18(5):429–34.
Acknowledgements
The authors gratefully acknowledge the support of the National Institute for Healthcare Management (NIHCM) Foundation to the Principal Investigator, Ritu Agarwal.
Ethics declarations
Conflict of interest
Margret V. Bjarnadottir, David Anderson, Kislaya Prasad, Al Nelson, and Ritu Agarwal have no other conflicts of interest to declare.
Electronic supplementary material
Below is the link to the electronic supplementary material.
About this article
Cite this article
Bjarnadóttir, M.V., Anderson, D.R., Prasad, K. et al. The Value of Shorter Initial Opioid Prescriptions: A Simulation Evaluation. PharmacoEconomics 38, 109–119 (2020). https://doi.org/10.1007/s40273-019-00847-9