Development of a Discrete-Choice Experiment (DCE) to Elicit Adolescent and Parent Preferences for Hypodontia Treatment
Open Access
Original Research Article
Abstract
Objective
Our objective was to develop and test a discrete-choice experiment (DCE) survey to elicit adolescent and parent preferences for dental care for hypodontia (a developmental condition where one or more teeth fail to develop).
Methods
This was a mixed-methods study. Participants were adolescents (aged 12–16 years) with hypodontia and their parents and the dentists providing hypodontia care. Stage one entailed attribute development, as follows. (1) Attribute identification: systematic review of hypodontia literature; interviews with adolescents with hypodontia (n = 8) and parents (n = 8); observation of hypodontia clinical consultations (n = 5); environmental scan of hypodontia patient information resources (n = 30); and systematic analysis of social media posts (n = 176). (2) Attribute selection: stakeholder consultation to develop items for a questionnaire; rating and ranking questionnaire for adolescents with hypodontia and parents (n = 18); further stakeholder consultation. Stage two involved the development of the DCE survey, and stage three included the pre-testing using cognitive interviews with adolescents (n = 12) and parents (n = 8) to assess face and content validity.
Results
The attribute long list included 27 attributes focusing on service delivery and treatment outcome, from which seven 'important' attributes were selected for pre-testing. Cognitive interviewing suggested adolescents found the DCE choice tasks challenging to understand; the survey was modified to enhance its acceptability. One attribute was excluded as it showed poor validity with adolescents. Pre-testing suggested DCE choice tasks encouraged thinking and discussion about preferences for treatment.
Conclusions
Including the target respondent group in all stages of DCE development ensured the final DCE survey was valid and acceptable. DCE methods appear to be a useful tool for exploring joint decision making alongside conventional preference elicitation.
Key Points for Decision Makers
Including the target population at all stages of the discrete-choice experiment (DCE) development optimised the identification and selection of valid and relevant attributes.
The mixed-methods approach to pre-testing provided rich data to guide modifications to the DCE to improve its validity and suitability for use with adolescents.
The proposed use of the DCE survey to observe joint adolescent–parent preference elicitation and decision-making processes is supported by evidence gained from this study.
1

Introduction

Hypodontia is the developmental absence of one or more teeth, excluding third molars. It affects 3.5–6.5% of the population in the permanent dentition and is a life-long condition [1]. Diagnosis usually occurs in adolescence, necessitating treatment planning between young patients, their parents and the dental team. Often, more than one treatment option is available, each with differing outcomes and a range of long-term impacts [2]. Understanding adolescent preferences is fundamental to supporting effective decision making and provision of evidence-based care [3]. To date, no studies have explored adolescent and parent preferences for dental treatment for hypodontia or their joint decision-making processes.

Discrete-choice experiments (DCEs) enable preferences to be estimated for complex goods/services using constructed hypothetical scenarios; this enables manipulation and control over the choice situation [4]. This paper reports the studies involved in the development of a DCE survey to elicit adolescent, parent and joint adolescent–parent preferences for hypodontia care. DCE methods have been widely used in healthcare [5, 6, 7], but their application in dentistry is more limited [8]. Preference elicitation using DCEs with adolescents is an emerging area; however, to date, only six studies in healthcare have included respondents aged < 18 years [9, 10, 11, 12, 13, 14]. Previous DCE studies have measured joint preferences, but these have been advocate preferences, for example, a parent selecting preferences for their child [15, 16, 17], health professionals choosing for their patients [18] or a comparison of preferences between independent respondent groups [19, 20]. Only one healthcare study used DCEs to measure preferences of related respondents [21], and this was a pilot study with only nine parent–child dyads. Outside healthcare, one study reported using DCE methods to compare the individual and joint preferences of 45 couples for beaches; however, no qualitative information was obtained to understand the negotiation process [22].

This research aims to develop a DCE survey to elicit preferences for hypodontia care from adolescents and adolescent–parent dyads. The DCE survey was tested to establish its validity for use with adolescents and the feasibility of using the DCE as a tool to explore joint decision-making processes.
2

Methods

A number of multi-attribute stated-preference-elicitation methods exist, but little robust evidence is available to determine which is most appropriate. DCE was chosen because the underlying task—in this case choosing between alternative treatments—more accurately reflects the real-world decision context than other methods, such as best–worst scaling, where the best and worst attributes are selected. Furthermore, this study provided a valuable opportunity to examine the suitability of DCEs for eliciting joint and adolescent preferences and to explore whether DCEs have scope to encourage adolescent and parent engagement in decision making.

DCE development was undertaken in sequential steps (Fig. 

1

) following best practice guidance [

23

,

24

,

25

]. Particular attention was given to the intended use of the survey for adolescent and joint adolescent–parent preference elicitation. Qualitative methods were incorporated at all stages of the DCE development to ensure adolescent and parent perspectives were represented [

26

,

27

,

28

,

29

]. The methods and approach for analysis for each stage are summarised in the following sections.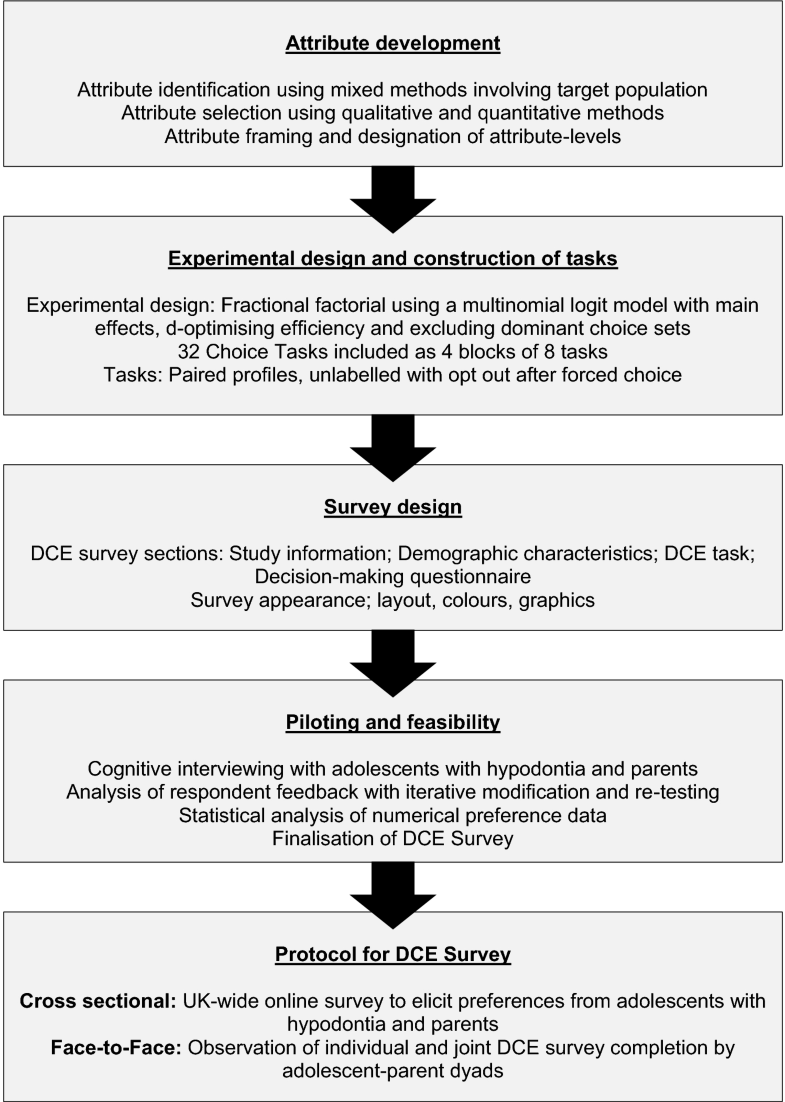 3

Results
3.1

Stage One: Attribute Development

Attribute identification methods resulted in the identification of five attribute concepts relating to service delivery and six attribute concepts relating to treatment outcome and impact (Table 1). Each concept included multiple attributes, and different descriptions were used within each attribute, for example, the attribute 'bite' was described as ability to bite, ability to chew, confidence to bite, ability to eat hard food, avoidance of certain foods. The source of each attribute is provided in Table 1; this demonstrates the value in using mixed methods to ensure comprehensive attribute identification. Many of the attributes identified in the literature review were clinical markers that allow objective measurement of dental health and treatment effect by dental professionals, but these were difficult for adolescents and parents to understand and interpret. Clinical consultations and patient information resources rarely included comprehensive information relating to patient experience and outcome measures.

Initial elimination of inappropriate attributes resulted in a long list of 27 attributes relating to treatment process (n = 16) and treatment outcome (n = 11) (Table 1 in the ESM). These were included in a rating and raking questionnaire, which was completed in October–November 2017 by 11 parents (two fathers, eight mothers and a guardian) and eight adolescents. The adolescent respondents showed a spread of age ranges and an equal sex balance but a disproportionately high number of people with severe hypodontia. The questionnaire showed differences in adolescent and parent scores (Fig. 1 in the ESM); however, general trends were identified, and these were used to discuss with stakeholders which attributes were most important to include. The selection process identified seven attributes representing different attribute concepts that were agreed to be important to both adolescents and parents. Stakeholder input was sought regarding appropriate ranges for the attribute levels based on best available evidence identified in the literature review and clinical experience. Adolescent and parent advice regarding language and framing of attribute levels to convey their intended meaning accurately to respondents was followed.
3.2

Stage Two: Survey Development

The attributes and attribute levels included in the DCE choice tasks for pre-testing are described in Table 2 in the ESM. The approach and rationale for survey development is described in Sect. 2.3. An example of the full survey is available on request.
3.3

Stage Three: Pre-Testing

Pre-testing explored the acceptability of the DCE survey method, the validity of the attributes, and the ability of the method to encourage respondents to consider what is important to them.
3.3.1

Acceptability of DCE Survey Method

The DCE survey method required modification to improve acceptability, as both adolescents and parents experienced difficulties understanding the purpose and method of the choice tasks. Adolescents in particular asked for ways to help process the task, such as highlighting the 'better' attribute in each scenario or a function to allow the preferred attribute in each scenario to be selected individually rather than having to make a choice between the whole profile. The ability to perform the DCE choice task appeared to be related to respondents' ability to understand the concept of trading off attributes rather than the age of the respondent. Different approaches were trialled until respondents demonstrated understanding of the choice tasks and the concept of trading-off.
3.3.2

Validity of Attributes

The validity of the DCE method was assessed by comparing verbal feedback and preference estimates derived from the choices made in the DCE tasks. Statistical analysis of the preference data found most attribute coefficient signs behaved as expected based on the verbal feedback; that is, attribute levels that were perceived to be beneficial showed a positive sign, indicating a gain in utility, whereas those perceived as detrimental had a negative sign, indicating a loss in utility (Table 2 in the ESM). Compromised appearance caused the greatest reduction in utility, followed by severe problems during treatment and no improvement in bite, which reflected respondent feedback that these were highly unfavourable.

Importantly, the verbal feedback and preference estimates for 'waiting time' and 'discomfort' were not in agreement. The positive attribute coefficient associated with increased waiting time suggested adolescent and parent respondents gained utility from waiting, but this was contradicted by the verbal feedback, which suggested increased waiting time is not at all desirable. Similarly, for the parent group, there was a gain in utility for severe discomfort, but parents reported a preference for avoiding discomfort. It is likely that these results arose erroneously because of the small sample size; as a result, the attributes are to undergo further testing.

'Cost of dental treatment in the future' was shown to be problematic for adolescents in both the verbal feedback and the preference estimates. Adolescents reported little understanding or interest in cost, and there was little awareness that certain dental treatments will carry future costs. The attribute coefficients for adolescents suggested slightly more utility loss from a future cost of £50 per year than £250 a year, which suggests an irrational response to the cost attribute. On the other hand, parents' response to cost was as expected, with the highest cost demonstrating the greatest reduction in utility.

The disparity between the qualitative feedback and preference estimates emphasise the importance of including detailed pre-testing to examine attribute validity. In this study, reliance on preference estimates only would have misinformed attribute selection.
3.3.3

Validity of DCE Tasks

Cognitive interviewing and the additional probing questions during pre-testing provided evidence that the DCE tasks encouraged respondents to consider what is important to them. Completion of the DCE choice tasks by adolescent–parent dyads promoted greater discussion around preferences, treatment choices and willingness to compromise. The attributes provided prompts and a shared language to help adolescents articulate their concerns and priorities more effectively. Adolescents reported that outcome was most important and that they would 'put up' with less favourable process attribute levels. Parents placed value on appearance after treatment and avoiding problems during treatment. Two parents of adolescents near the end of treatment or post-treatment commented that talking through the tasks helped them realise their child's values had changed throughout the course of dental treatment.
3.4

Future Study
3.4.1

Modifications to the DCE Survey

The findings from the pre-testing, combined with further stakeholder input, have been used to revise the DCE survey to optimise its validity for use with the target respondents (Table 3 in the ESM). Contradictory results for 'waiting time' and 'discomfort' mean both will be included in the final DCE for further investigation. 'Future cost of dental treatment' was excluded based on the evidence from both methods of pre-testing, which indicated cost is not valid for the approach with adolescent respondents.

Estimates of attribute coefficients from analysis of the preliminary DCE preference data were used to improve the efficiency of the experimental design. To address the dominance of appearance, the design produced overlaps in the appearance attribute between profiles in 18 of the 28 choice tasks. The final survey contains five parts: introduction (including screening and consent); demographic questions; DCE choice task; background questions; and closure (including sources of support). The presentation of choice tasks was simplified as much as possible, and full descriptions of each attribute were made easily accessible through information buttons throughout the tasks (Fig. 2 in the ESM).
3.4.2

Planned Data Collection

Evidence from this study has been used to inform the future principal DCE survey methods ("

Box 1

"). This will involve both a face-to-face survey using cognitive interview methods to observe individual and joint decision making between adolescent–parent dyads alongside a traditional cross-sectional online survey method to elicit preferences from adolescents and parents (Table 

2

).

Table 2

Description of the pilot and final survey
 

Pilot survey

Final survey

Attributes and levels

Seven attributes

Six attributes

Two to three levels

Two to three levels

Construction of tasks

Full profile

Full profile

Paired profiles

Paired profiles

Inclusion of opt-out after forced choice

Inclusion of opt-out after forced choice

Generic labelling

Generic labelling

Experimental design

Partial factorial (full factorial gives 972 profiles)

Partial factorial (full factorial gives 324 profiles)

Experimental design—d-optimising efficiency, MNL main effects

Experimental design—d-optimising efficiency, MNL main effects, excluding dominant profiles, allowing overlap

Use of co-efficient priors from pilot to improve the efficiency

32 tasks as four blocks of eight

28 tasks as four blocks of seven (plus one repeat task per block)

Preference elicitation

Motivation given at start of survey

Motivation given at start of survey and before choice task

Explanation prior to choice task with practice task

Explanation prior to choice task with non-dental example and annotated instructions for completion

Choice between pairs

Choice between pairs

Strength of preference and self-reported dfficulty of choice (5-point Likert)

Self-reported difficulty of choice elicited with 3-point categorical scale

Instrument design

Respondent demographics: age, sex, ethnicity, geographical location, number and location of missing teeth, general and dental health, education, income

Respondent demographics: age, sex, ethnicity, geographical location, number and location of missing teeth, education

Background information: knowledge, beliefs about dental treatment, decision making, anxiety, impact of hypodontia on quality of life, experience of dental care

Background information: decision making, anxiety, impact of hypodontia on quality of life, experience of dental care

Contextual information: full description of attributes and levels before task

Contextual information: description of attributes before task, attribute levels given in information box

Level of burden: 30–45 minutes to complete

Level of burden: < 30 minutes to complete; mapping screens and colour coding to aid orientation
4

Discussion

This systematic research approach provided evidence to inform the design of a DCE that is acceptable to adolescents with hypodontia and their parents for preference elicitation. The methods and data that were key to informing the design of the DCE tasks and survey are reported, and we are confident that—by including the target population during research development [44, 45, 46] and using patient-centred research methods during attribute identification, selection and testing—we have ensured the attributes are relevant to the target audience. The cognitive interview method effectively tested respondents' understanding of attributes, the number of tasks that could be managed and different approaches for explaining the attribute levels and task concept. This approach provided more information than would have been gained by a larger-scale online pilot, which would only have provided preference data, and addressed issues arising from the lack of guiding evidence for DCE use with adolescents. For example, cognitive interviewing emphasised that 'waiting time' and 'discomfort' had not behaved as expected and should be included for further testing and confirmed that 'cost of dental treatment in the future' was a problematic concept for adolescents and should not be included in the final DCE. It may be argued that cost was valid for parents and its inclusion would have been beneficial to assess its importance for parents; however, the copayment system for dental care in the UK presents challenges for valid interpretation of willingness-to-pay estimates and—although another DCE study has managed this by using DCE designs with and without a cost attribute [47]—this was infeasible within this study.

We acknowledged that the data presented were elicited from a small sample and, although this is appropriate for the development phase of a DCE, further data collection and analysis with a larger sample is required to describe preferences that are representative of adolescents and parents making decisions about hypodontia treatment. Furthermore, the validity of DCE methods for use with adolescent respondents requires careful evaluation; a number of complementary methods to investigate reliability and validity [48, 49] have been included in the future DCE survey (Table 4 in the ESM).

This study provides useful insight into the future work needed to address service and patient needs. Attribute identification demonstrated discrepancies in which aspects of care adolescents, parents and clinicians considered important. For example, outcomes identified in the literature review included clinical markers of treatment effect but few patient-centred outcomes, such as impact of treatment on everyday activities. Future research into treatment efficacy and delivery needs to ensure outcome measures are used that will contribute to an evidence base that is relevant to patients. Pre-testing highlighted that patients and families have inadequate understanding of certain treatment attributes and there is a clear need for more decision support for patients and families to help them identify their own preferences.

The authors' proposed use of the DCE developed by this process as a tool for exploring decision making between family members is novel. With appropriate use of qualitative methods, this approach should provide insight into how people with hypodontia and their families make treatment trade-offs; this may support changes to the consultation process and clinical care delivery. Our findings suggest that age is not a reliable indicator of whether or not adolescents have the capacity to be involved in complex decision making about treatment. The ability of adolescents of different ages to conceptualise short- and long-term consequences and trade-off of their treatment varied. This highlights one of the challenges for dental staff when attempting to involve people with hypodontia and parents in clinical decision making.
5

Conclusions

Mixed methods were essential to identify and select attributes that are important to adolescents with hypodontia and their parents. Use of cognitive interviewing during pre-testing of the DCE survey tool enabled deeper exploration of adolescent and parent experience and understanding. Pre-testing highlighted that 'future cost' is not a valid attribute for adolescents and that DCE choice tasks can be complex for both adolescents and parents. The protocol for the principal DCE survey draws on the findings from the pre-testing stage: alongside a traditional cross-sectional online survey method to elicit adolescent and parent preferences, a face-to-face survey using cognitive interview methods is planned to observe joint decision making in adolescent–parent dyads and to further explore the validity of DCE methods.
Notes
Author Contributions
SB was responsible for participant recruitment, data collection, primary analysis and manuscript preparation. DM provided statistical support. All authors contributed to the study design and protocol development, data analysis and revision of the manuscript.
Compliance with Ethical Standards
Conflicts of interest
Sophy Barber, Hilary Bekker, Joachim Marti, Sue Pavitt, Balvinder Khambay and David Meads have no financial or other conflicts of interest.
Funding
Sophy Barber is funded through the NIHR Doctoral Research Fellowship (DRF-2015-08-052). The research is supported by the NIHR infrastructure at Leeds. The views expressed are those of the authors and not necessarily those of the NHS, the NIHR or the Department of Health and Social Care.
Data availability statement
The software code and model are provided in the ESM. The full dataset is available from the authors on request.
Copyright information
© The Author(s) 2018
Open AccessThis article is distributed under the terms of the Creative Commons Attribution-NonCommercial 4.0 International License (http://creativecommons.org/licenses/by-nc/4.0/), which permits any noncommercial use, distribution, and reproduction in any medium, provided you give appropriate credit to the original author(s) and the source, provide a link to the Creative Commons license, and indicate if changes were made.