Abstract
Glaucoma is a leading cause of bilateral blindness. Phosphodiesterase type 5 inhibitors (PDE5Is; e.g. avanafil, sildenafil, tadalafil and vardenafil) may increase blood flow to the ciliary body, thereby elevating intraocular pressure and increasing the risk of glaucoma. PDE5Is are commonly used to treat erectile dysfunction, as well as benign prostatic hyperplasia (tadalafil) and pulmonary hypertension (sildenafil). Patients receiving PDE5Is require glaucoma education and ongoing screening, especially if they are taking a high dosage of a daily PDE5I or have risk factors for glaucoma (e.g. increased age, African-American or Hispanic race, hypertension, intraocular pressure > 21 mm Hg, diabetes, suspicious eye changes or a family history of glaucoma).
This is a preview of subscription content, log in to check access.
Access options
Buy single article
Instant access to the full article PDF.
US$ 49.95
Price includes VAT for USA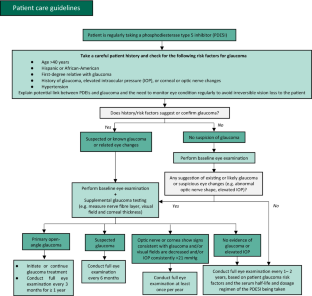 References
1.

Baker JC, Fintelmann R, Sharifi R, et al. Precautions and monitoring of patients taking phosphodiesterase type 5 inhibitors who are at risk of increased intraocular pressure. Drugs Aging. 2019;36(11):991–7.

2.

Laties AM, Fraunfelder FT. Ocular safety of Viagra (sildenafil citrate). Trans Am Ophthalmol Soc. 1999;97:115–25.

3.

Ramasamy B, Rowe F, Nayak H, et al. Acute angle closure glaucoma following sildenafil citrate-aided sexual intercourse. Acta Ophthalmol Scand. 2007;85(2):229–30.

4.

Goldstein I, Lue TF, Padma-Nathan H, et al. Oral sildenafil in the treatment of erectile dysfunction. Sildenafil Study Group. N Engl J Med. 1998;338(20):1397–404.

5.

Gerometta R, Alvarez LJ, Candia OA. Effects of sildenafil and tadalafil on intraocular pressure in sheep: implications for aqueous humor dynamics. Invest Ophthalmol Vis Sci. 2010;51(6):3139–44.

6.

Gautam N, Kaur S, Kaushik S, et al. Postural and diurnal fluctuations in intraocular pressure across the spectrum of glaucoma. Br J Ophthalmol. 2016;100(4):537–41.

7.

Kouvelas D, Goulas A, Papazisis G, et al. PDE5 inhibitors: in vitro and in vivo pharmacological profile. Curr Pharm Des. 2009;15(30):3464–75.

8.

Damar E, Toklu Y, Tuncel A, et al. Does therapeutic dose of sildenafil citrate treatment lead to central serous chorioretinopathy in patients with erectile dysfunction? Am J Mens Health. 2013;7(5):439–43.

9.

Ermis SS, Inan UU, Samli M, et al. Acute effects of sildenafil on Humphrey visual field and intraocular pressure. Int Ophthalmol. 2004;25(2):69–72.

10.

Taner P, Basar MM, Unal B, et al. Effects of vardenafil on intraocular pressure and orbital hemodynamics. J Ocul Pharmacol Ther. 2007;23(3):275–9.

11.

Dundar SO, Dundar M, Kocak I, et al. Effects of sildenafil on ocular haemodynamics. Eye. 2001;15(Part 4):507–10.

12.

Grunwald JE, Siu KK, Jacob SS, et al. Effect of sildenafil citrate (Viagra) on the ocular circulation. Am J Ophthalmol. 2001;131(6):751–5.

13.

Yajima T, Yajima Y, Koppiker N, et al. No clinically important effects on intraocular pressure after short-term administration of sildenafil citrate (Viagra). Am J Ophthalmol. 2000;129(5):675–6.

14.

Gerometta R, Alvarez LJ, Candia OA. Effect of sildenafil citrate on intraocular pressure and blood pressure in human volunteers. Exp Eye Res. 2011;93(1):103–7.

15.

Dundar SO, Dayanir Y, Topaloglu A, et al. Effect of sildenafil on ocular hemodynamics in 3 months regular use. Int J Impot Res. 2006;18(3):282–6.

16.

Nazari A, Tabrizi YT, Mokhtaree M. Effect of periodic sildenafil dosage on intraocular pressure in patients with erectile dysfunction. Electr Phys. 2017;9(9):5229–32.

17.

Cordell WH, Maturi R, Costigan TM, et al. Retinal effects of 6 months of daily use of tadalafil or sildenafil. Arch Opthalmol. 2009;127(4):367–73.

18.

Chen SP, Singh K, Lin SC. Use of phosphodiesterase inhibitors and prevalence of self-reported glaucoma in the United States. PLoS One. 2017;12(8):e0183388. https://doi.org/10.1371/journal.pone.0183388.

19.

Fingeret M, American Optometric Association. Optometric clinical practice guideline: care of the patient with open angle glaucoma. St Louis (MO): American Optometric Association; 2011.

20.

Zhao D, Cho J, Kim MH, et al. The association of blood pressure and primary open-angle glaucoma: a meta-analysis. Am J Ophthalmol. 2014;158(3):615–27.
Ethics declarations
Conflict of interest
The authors declare no conflicts of interest.
Funding
The preparation of this review was not supported by any external funding.
About this article
Cite this article
Monitor recipients of phosphodiesterase type 5 inhibitors for glaucoma, pending more clinical evidence of risk. Drugs Ther Perspect (2020). https://doi.org/10.1007/s40267-020-00709-x