Abstract
Background
The use of immune checkpoint inhibitors (ICI) in melanoma and non-small cell lung cancer patients is associated with the onset of vitiligo. However, previous studies have suggested conflicting results on the conditions of occurrence of ICI-induced vitiligo.
Objective
The aim of this study was to describe the occurrences and outcomes of several cases of ICI-induced vitiligo.
Methods
A retrospective study was carried out using the French Pharmacovigilance Database (FPD) between the beginning of the commercialization of ICI in France and 1 January 2019, selecting for analysis the vitiligo reactions of patients due to treatment with ICI.
Results
Among the 95 case patients identified in the FPD, the median times to onset of vitiligo after the start of pembrolizumab, nivolumab and ipilimumab therapies were 5.4, 5.0, and 3.8 months, respectively. Furthermore, 37 patients (45%) discontinued ICI treatment due to disease progression. The median follow-up time of all patients was 33 months (interquartile range 2–56).
Conclusions
This study provided an overall picture of ICI-induced vitiligo in daily medical practice on a large number of pharmacovigilance observations of case patients. Among the observations of ICI-induced vitiligo, the diagnosed cancer was melanoma for almost all patients. Most patients in the study experienced other associated adverse drug reactions (ADRs), such as colitis, pruritus, hypothyroidism, hyperthyroidism, thyroiditis, pancreatitis, and gastritis. Furthermore, our data suggest that the resolution of pembrolizumab- or nivolumab-induced vitiligo could be a marker of disease progression. Future studies evaluating vitiligo outcomes are warranted.
This is a preview of subscription content, log in to check access.
Access options
Buy single article
Instant access to the full article PDF.
US$ 49.95
Price includes VAT for USA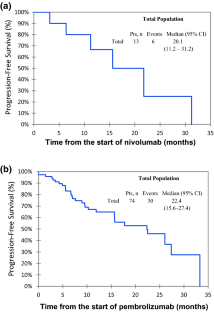 Data availability
The datasets generated and/or analyzed during the current study are available from the corresponding author upon reasonable request.
References
1.

Danlos FX, Voisin AL, Dyevre V, et al. Safety and efficacy of anti-programmed death 1 antibodies in patients with cancer and pre-existing autoimmune or inflammatory disease. Eur J Cancer. 2018;91:21–9.

2.

Michot JM, Bigenwald C, Champiat S, et al. Immune-related adverse events with immune checkpoint blockade: a comprehensive review. Eur J Cancer. 2016;54:139–48.

3.

Teulings HE, Limpens J, Jansen SN, et al. Vitiligo-like depigmentation in patients with stage III-IV melanoma receiving immunotherapy and its association with survival: a systematic review and meta-analysis. J Clin Oncol. 2015;33:773–81.

4.

Hua C, Boussemart L, Mateus C, et al. Association of vitiligo with tumor response in patients with metastatic melanoma treated with pembrolizumab. JAMA Dermatol. 2016;152:45–51.

5.

Quaglino P, Marenco F, Osella-Abate S, et al. Vitiligo is an independent favourable prognostic factor in stage III and IV metastatic melanoma patients: results from a single-institution hospital-based observational cohort study. Ann Oncol. 2010;21:409–14.

6.

Nakamura Y, Tanaka R, Asami Y, et al. Correlation between vitiligo occurrence and clinical benefit in advanced melanoma patients treated with nivolumab: a multi-institutional retrospective study. J Dermatol. 2017;44:117–22.

7.

Boniface K, Dutriaux C, Prey S, et al. Vitiligo-like lesions in patients receiving antieprogrammed cell death-1 therapies are distinct from spontaneously occurring active vitiligo. J Am Acad Dermatol. 2018;78:e17–8.

8.

Yin E, Totonchy M, Leventhal J. Nivolumab-associated vitiligo-like depigmentation in a patient with acute myeloid leukemia: a novel finding. JAAD Case Rep. 2017;3(2):90–2.

9.

Kosche C, Mohindra N, Choi JN. Vitiligo in a patient undergoing nivolumab treatment for non-small cell lung cancer. JAAD Case Rep. 2018;4:1042–4.

10.

Spreux A, Baldin B, Chichmanian RM. Pharmacovigilance in practice. Transfus Clin Biol. 1999;6:254–9.

11.

Brown EG, Wood L, Wood S. The medical dictionary for regulatory activities (MedDRA). Drug Saf. 1999;20:109–17.

12.

Uenami T, Hosono Y, Ishijima M, et al. Vitiligo in a patient with lung adenocarcinoma treated with nivolumab: a case report. Lung Cancer. 2017;109:42–4.

13.

Polat M, Yalçin B, Alli N. Vitiligo at the site of radiotherapy for nasopharyngeal carcinoma. Am J Clin Dermatol. 2007;8:247–9.

14.

Phiske M. Radiotherapy induced keobernisation of vitiligo. Indian Dermatol Online J. 2013;4:254–5.

15.

Schachter J, Ribas A, Long GV, et al. Pembrolizumab versus ipilimumab for advanced melanoma: final overall survival results of a multicentre, randomised, open-label phase 3 study (KEYNOTE-006). Lancet. 2017;390:1853–62.

16.

Rosenberg SA, White DE. Vitiligo in patients with melanoma: normal tissue antigens can be targets for cancer immunotherapy. J Immunother Emphasis Tumor Immunol. 1996;19:81–4.

17.

Scheibenbogen C, Hunstein W, Keilholz U. Vitiligo-like lesions following immunotherapy with IFN alpha and IL-2 in melanoma patients. Eur J Cancer. 1994;30A:1209–11.

18.

Baldini E, Odorisio T, Sorrenti S, et al. Vitiligo and autoimmune thyroid disorders. Front Endocrinol (Lausanne). 2017;8:290.

19.

Teufel A, Zhan T, Härtel N, et al. Management of immune related adverse events induced by immune checkpoint inhibition. Cancer Lett. 2019;456:80–7.

20.

Myers G. Immune-related adverse events of immune checkpoint inhibitors: a brief review. Curr Oncol. 2018;25:342–7.

21.

De Velasco G, Je Y, Bossé D, et al. Comprehensive meta-analysis of key immune-related adverse events from CTLA-4 and PD-1/PD-L1 inhibitors in cancer patients. Cancer Immunol Res. 2017;5:312–8.

22.

Indini A, Di Guardo L, Cimminiello C, et al. Immune-related adverse events correlate with improved survival in patients undergoing anti-PD1 immunotherapy for metastatic melanoma. J Cancer Res Clin Oncol. 2019;145:511–21.

23.

The reorganisation of European pharmacovigilance. Part 2. From spontaneous reports to agency reviews and decisions. Prescrire Int. 2015;24(157):50–4.

24.

© Les immunothérapies spécifiques dans le traitement des cancers—rapport. France. Collection états des lieux et des connaissances, INCa (Institut national du cancer); 2018.

25.

Berthet S, Olivier P, Montastruc JL, Lapeyre-Mestre M. Drug safety of rosiglitazone and pioglitazone in France: a study using the French PharmacoVigilance database. Clin Pharmacol. 2011;11:5.

26.

Moulis G, Sommet A, Durrieu G, et al. Trends of reporting of 'serious' vs. 'non-serious' adverse drug reactions over time: a study in the French PharmacoVigilance Database. Br J Clin Pharmacol. 2012;74(1):201–4.

27.

Gavaza P, Brown CM, Lawson KA, et al. Influence of attitudes on pharmacists' intention to report serious adverse drug events to the Food and Drug Administration. Br J Clin Pharmacol. 2011;72(1):143–52.
Acknowledgements
Khaled Ezzedine contributed to the study concept and design; Bernard Begaud and Peter Pitts analyzed and interpreted the data, and critically revised the article for important intellectual content. The authors acknowledge the assistance of all 31 regional centers of the French Pharmacovigilance System.
Ethics declarations
Funding
No sources of funding were used to assist in the preparation of this study.
Conflict of interest
Samy Babai, Anne-Laure Voisin, Célia Bertin, Amandine Gouverneur and Hervé Le Louet have no conflicts of interest that are directly relevant to the content of this article.
About this article
Cite this article
Babai, S., Voisin, A., Bertin, C. et al. Occurrences and Outcomes of Immune Checkpoint Inhibitors-Induced Vitiligo in Cancer Patients: A Retrospective Cohort Study. Drug Saf 43, 111–117 (2020). https://doi.org/10.1007/s40264-019-00875-6