Pharmacokinetic Aspects of the Two Novel Oral Drugs Used for Metastatic Castration-Resistant Prostate Cancer: Abiraterone Acetate and Enzalutamide
Open Access
Review Article
Abstract
Two novel oral drugs that target androgen signaling have recently become available for the treatment of metastatic castration-resistant prostate cancer (mCRPC). Abiraterone acetate inhibits the synthesis of the natural ligands of the androgen receptor, whereas enzalutamide directly inhibits the androgen receptor by several mechanisms. Abiraterone acetate and enzalutamide appear to be equally effective for patients with mCRPC pre- and postchemotherapy. Rational decision making for either one of these drugs is therefore potentially driven by individual patient characteristics. In this review, an overview of the pharmacokinetic characteristics is given for both drugs and potential and proven drug–drug interactions are presented. Additionally, the effect of patient-related factors on drug disposition are summarized and the limited data on the exposure–response relationships are described. The most important pharmacological feature of enzalutamide that needs to be recognized is its capacity to induce several key enzymes in drug metabolism. The potency to cause drug–drug interactions needs to be addressed in patients who are treated with multiple drugs simultaneously. Abiraterone has a much smaller drug–drug interaction potential; however, it is poorly absorbed, which is affected by food intake, and a large interpatient variability in drug exposure is observed. Dose reductions of abiraterone or, alternatively, the selection of enzalutamide, should be considered in patients with hepatic dysfunction. Understanding the pharmacological characteristics and challenges of both drugs could facilitate decision making for either one of the drugs.
Keywords
Androgen Receptor 
Breast Cancer Resistance Protein 
Dextromethorphan 
Abiraterone 
Enzalutamide 
These keywords were added by machine and not by the authors. This process is experimental and the keywords may be updated as the learning algorithm improves.
Key Points
Understanding the pharmacology of abiraterone and enzalutamide could facilitate rational therapeutic decision making for either one of the drugs based on patient-specific factors.
Abiraterone bioavailability is low and is majorly affected by food intake.
Enzalutamide affects the activity of multiple hepatic enzymes and is therefore prone to cause drug interactions.
1

Introduction

Prostate cancer is the second most commonly diagnosed cancer in men and one of the most common causes of death related to cancer in men [1]. After primary treatment with chemical or surgical castration, most patients progress to a state of the disease termed metastatic castration-resistant prostate cancer (mCRPC), with a median survival of <2 years [2]. Until recently, only docetaxel chemotherapy provided prolongation of survival in this stage of the disease [3]. The understanding of the remaining dependency of prostate cancer on the androgen receptor pathway was an incentive to develop targeted therapies for extra-gonadal androgen signaling [4, 5, 6]. Two novel oral androgen receptor targeted drugs, abiraterone acetate and enzalutamide, have recently become available and can substantially prolong survival [5, 7, 8, 9, 10].

Abiraterone acetate (Zytiga®), a prodrug of abiraterone, is a selective and irreversible blocker of the cytochrome P450 (CYP) C17 enzyme (CYP17), a crucial enzyme in testosterone and estrogen synthesis, resulting in virtually undetectable serum and intratumoral androgen levels [11, 12]. Abiraterone acetate is registered in combination with low-dose prednisolone because the inhibition of CYP17 decreases the production of endogenous glucocorticoids.

Enzalutamide (Xtandi®) is a potent androgen signaling receptor inhibitor and acts in multiple ways on the androgen pathway. Enzalutamide (1) competitively inhibits the binding of androgen to the androgen receptor; (2) inhibits nuclear translocation and recruitment of cofactors; and (3) inhibits the association of the activated androgen receptor with DNA [6]. The active metabolite N-desmethyl enzalutamide is equipotent to the parent compound in vitro, and is present in plasma at the same concentration level as enzalutamide, which may add to the antitumor activity of enzalutamide in patients treated with this drug [13].

Both of these novel drugs are administered orally once daily in a fixed dose, are well tolerated [14, 15], and appear to be equipotent in the pre- and postchemotherapy setting [7, 8, 9, 10, 16]. Since these drugs show comparable efficacy, other characteristics might drive rational therapeutic decision making. A better understanding of the pharmacology of these drugs in relation to awareness of patient-specific conditions (e.g. comedication, comorbidities) could facilitate the choice for either one of these drugs.

The aim of this review is to give an overview of the pharmacokinetic characteristics of abiraterone acetate and enzalutamide. Moreover, results from additional studies on potential drug–drug interactions, the involvement of drug transporters, and data on the exposure–response relationship have been incorporated in this overview. Finally, the effect of specific patient characteristics on drug disposition will be discussed.
2

Search Strategy

PubMed and EMBASE searches were performed using the following search terms: 'Abiraterone OR Zytiga OR abiraterone acetate OR CB7630' OR 'Enzalutamide OR MDV3100 OR Xtandi OR N-desmethylenzalutamide' in combination with 'Excretion' OR 'Distribution' OR 'Absorption' OR 'Bioavailability' OR 'availability' OR 'pharmacokinetics' OR 'metabolism' OR 'biotransformation' OR 'cytochrome p450 enzyme' OR 'drug–drug interaction' OR 'transporter'. In addition, citation snowballing was used to find other relevant studies. Registration information from the European Medicines Agency (EMA) and the US FDA was used, and results reported in ClinicalTrials.gov were screened. Results were limited to studies in humans and English language full-text articles published until 22 February 2016.

Our search revealed 491 hits: 142 articles did not contain pharmacokinetic data, 170 articles were reviews that did not obtain original data, 18 articles were not accessible through our library, 35 articles were not in English, 40 articles described data not in humans, 39 articles represented expert opinions, letters, and editorials, and 25 articles did not contain data on abiraterone acetate and enzalutamide. The remaining 22 original articles regarding the pharmacokinetics of enzalutamide and abiraterone were included in this study. For both drugs, the most recent drug label of the EMA and FDA was included.

An overview of the pharmacokinetic properties of abiraterone, enzalutamide and

N

-desmethyl enzalutamide is presented in Table 

1

, while Table 

2

describes the effect of renal and hepatic impairment. Table 

3

shows an overview of hepatic enzymes that are involved in the metabolism of abiraterone and enzalutamide, as well as hepatic enzymes that are inhibited or induced by these drugs. Tables 

4

and

5

summarize drug–drug interactions, and Table 

6

shows examples of frequently used drugs that are potentially affected by enzalutamide and abiraterone. Figures 

1

and

2

show the metabolism of abiraterone acetate and enzalutamide, respectively.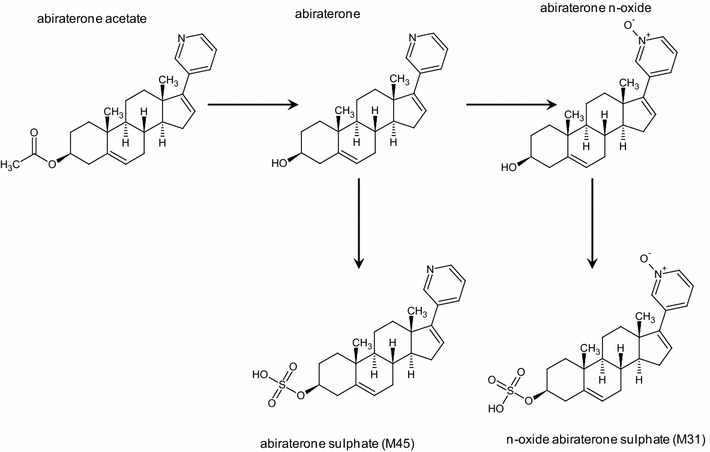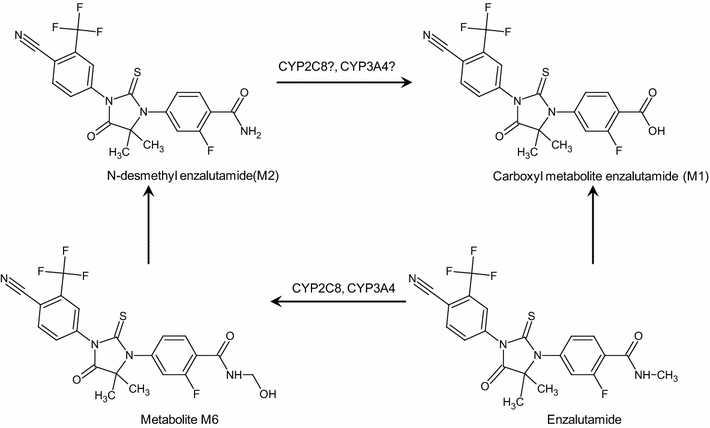 5

Conclusions

Both abiraterone and enzalutamide have pharmacokinetic characteristics that need to be recognized in order to adequately treat patients with mCRPC. Abiraterone is moderately absorbed, and its bioavailability is majorly increased by food, while enzalutamide is well absorbed and has no food interference. Abiraterone is registered in combination with low-dose prednisolone in order to overcome side effects due to CYP17 blockade. Patients who experience nausea around drug intake, or for whom fasting around drug intake is difficult, might prefer treatment with enzalutamide. Both drugs are primarily metabolized in the liver, and the influence of mild, moderate, and severe liver impairment has been described for the pharmacokinetics of both drugs. Abiraterone requires dose reduction in patients with impaired liver function, whereas no dose adjustment is required for enzalutamide. Abiraterone is mainly excreted in feces, while enzalutamide is predominantly excreted in urine as inactive metabolite. Enzalutamide causes drug–drug interactions since it induces several CYP enzymes for which many potential coadministered drugs are substrates. Caution should be taken when coadministering enzalutamide with antiepileptic drugs as the pharmacokinetic exposure of these drugs can be lowered by induction of hepatic enzymes. In addition, in the phase III trial, seizures (0.9 %) were reported as an adverse event in a cohort of patients without a known seizure disorder. Abiraterone has a much smaller drug–drug interaction potential, and this aspect should be considered in patients who are using comedication. Furthermore, exposure–effect relationships have been studied for both drugs. For abiraterone, an exposure–efficacy relationship has been described.

A better understanding of the pharmacokinetics of abiraterone may facilitate dose optimization for the individual patient which may beneficially affect treatment outcome. For enzalutamide, no difference in efficacy was shown across the concentration/exposure range when administered at a single fixed dose of 160 mg daily, which may imply that enzalutamide is administered at the higher end of the exposure–response curve. These results warrant further research in order to apply this knowledge for personalized therapy in the future.

Both drugs appear to be equipotent in the treatment of patients with mCRPC pre- and postchemotherapy. The therapeutic choice might therefore be driven by patient-specific features (e.g. comorbidities, comedication). This review describes the presently available pharmacokinetic data of abiraterone acetate and enzalutamide, and provides an overview of the pharmacological aspects and challenges involved in adequate treatment with these drugs.
Notes
Compliance with Ethical Standards
Funding
No sources of funding were used to assist in the preparation of this review.
Conflict of interest
Guillemette E. Benoist, Rianne J. Hendriks, Peter F. A. Mulders, Winald R. Gerritsen, Diederik M. Somford, Jack A. Schalken, Inge M. van Oort, David M. Burger, and Nielka P. van Erp have no conflicts of interest that are directly relevant to the content of this review.
Copyright information
© The Author(s) 2016
Open AccessThis article is distributed under the terms of the Creative Commons Attribution-NonCommercial 4.0 International License (http://creativecommons.org/licenses/by-nc/4.0/), which permits any noncommercial use, distribution, and reproduction in any medium, provided you give appropriate credit to the original author(s) and the source, provide a link to the Creative Commons license, and indicate if changes were made.