Abstract
Introduction
Hypertension is an important public health challenge. The purpose of clinical practice guidelines (CPGs) is to provide explicit recommendations for clinical practice, reduce inadequate variations, optimize results, minimize risks, and promote cost-effective practice. Therefore, a highly methodological quality development process for CPGs is more likely to yield a CPG that contains relevant and appropriate recommendations.
Method
To assess the quality of CPGs for the prevention and treatment of hypertension, a systematic search was performed using the following literature databases: PubMed, Excerpta Medica Database (EMBASE), Web of Science, the National Guideline Clearinghouse (NGC), Chinese National Knowledge Infrastructure (CNKI), Wan fang Data, VIP, and Chinese Biomedical Literature Database (CBM). Then the Appraisal of Guidelines for Research and Evaluation II (AGREE II) instrument was used to assess the quality of the CPGs.
Results
Forty-one CPGs were identified (ten CPGs in Chinese and 31 CPGs in English). The results for the overall recommendation were as follows: strongly recommended (15 %), recommended (29 %), weakly recommended (51 %), and not recommended (5 %). The scores for all domains (mean ± standard deviations) were "scope and purpose" (58.65 ± 12.67 %), "stakeholder involvement" (48.07 ± 11.41 %), "rigor of development" (27.31 ± 12.29 %), "clarity of presentation" (53.89 ± 11.09 %), "applicability" (40.10 ± 13.33 %), and "editorial independence" (38.75 ± 16.43 %). All differences were statistically insignificant for all domains (P > 0.05) according to publication time. CPGs using an evidence-based (EB) method were of a higher quality than non-EBs for all domains, but the differences were significant for the following domains: "Scope and Purpose," "Rigor of Development," "Applicability," and "Editorial Independence" (P < 0.05). The scores for the CPGs developed based on associations and society appeared slightly higher than those developed by individuals. However, the differences were insignificant for all domains (P > 0.05).
Conclusion
A more systematic approach for the development and report of these guidelines is recommended. The AGREE II instrument can be a useful tool to improve the quality of guidelines.
This is a preview of subscription content, log in to check access.
Access options
Buy single article
Instant unlimited access to the full article PDF.
US$ 49.95
Price includes VAT for USA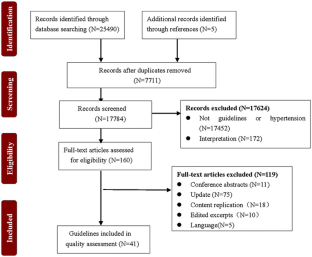 References
1.

World Health Organization. Hypertension. http://www.who.int/topics/hypertension/en/. Accessed 31 July 2015.

2.

Liu LS, Writing group of 2010 Chinese Guidelines for the Management of Hypertension. 2010 Chinese guidelines for the management of hypertension. Chin J Hypertens. 2011;19:701–8.

3.

Watts C, Cairncross S. Should the GBD risk factor rankings be used to guide policy? Lancet. 2012;380:2060–1.

4.

Field MJ, Lohr KN. Guidelines for clinical practice: from development to use. National Academies Press: Washington, D.C; 1992.

5.

Boluyt N, Lincke CR, Offringa M. Quality of evidence-based pediatric guidelines. Pediatrics. 2005;115:1378–91.

6.

Ward JE, Grieco V. Why we need guidelines for guidelines: a study of the quality of clinical practice guidelines in Australia. Med J Aust. 1996;165:574–6.

7.

Woolf SH, Grol R, Hutchinson A, Eccles M, Grimshaw J. Clinical guidelines: potential benefits, limitations, and harms of clinical guidelines. Brit Med J. 1999;318:527.

8.

Graham ID, Beardall S, Carter AO, Glennie J, Hébert PC, Tetroe JM, McAlister FA, Visentin S, Anderson GM. What is the quality of drug therapy clinical practice guidelines in Canada? Can Med Assoc J. 2001;165:157–63.

9.

Grilli R, Magrini N, Penna A, Mura G, Liberati A. Practice guidelines developed by specialty societies: the need for a critical appraisal. Lancet. 2000;355:103–6.

10.

Shaneyfelt TM, Mayo-Smith MF, Rothwangl J. Are guidelines following guidelines? The methodological quality of clinical practice guidelines in the peer-reviewed medical literature. JAMA. 1999;281:1900–5.

11.

Fretheim A, Williams JW Jr, Oxman AD, Herrin J. The relation between methods and recommendations in clinical practice guidelines for hypertension and hyperlipidemia. J Fam Practice. 2002;51:963–7.

12.

Vlayen J, Aertgeerts B, Hannes K, Sermeus W, Ramaekers D. A systematic review of appraisal tools for clinical practice guidelines: multiple similarities and one common deficit. Int J Qual Health. C. 2005;17:235–42.

13.

Terrace L. Development and validation of an international appraisal instrument for assessing the quality of clinical practice guidelines: the AGREE project. Qual Saf Health Care. 2003;12:18–23.

14.

Brouwers MC, Kho ME, Browman GP, Burgers JS, Cluzeau F, Feder G, Fervers B, Graham ID, Grimshaw J, Hanna SE. AGREE II: advancing guideline development, reporting and evaluation in health care. Can Med Assoc J. 2010;182:e839–42.

15.

Al-Ansary LA, Tricco AC, Adi Y, Bawazeer G, Perrier L, Al-Ghonaim M, AlYousefi N, Tashkandi M, Straus SE. A systematic review of recent clinical practice guidelines on the diagnosis, assessment and management of hypertension. PLoS One. 2013;8:e53744.

16.

Zhang Z, Guo J, Su G, Li J, Wu H, Xie X. Evaluation of the quality of guidelines for Myasthenia Gravis with the AGREE II Instrument. PLoS One. 2014;9:e111796.

17.

Association of Physicians of Indian. Physicians of Indian. Indian guidelines on hypertension (I.G.H.)—III. 2013. J Assoc Phys India. 2013;61:6–36.

18.

Chinese Medical Doctor Association. Chinese consensus on β blockers for the treatment of hypertension. Prev Treat Cardio Cerebral Vasc Dis. 2008;8:147–50.

19.

Daskalopoulou SS, Rabi DM, Zarnke KB, Dasgupta K, Nerenberg K, Cloutier L, Gelfer M, Lamarre-Cliche M, Milot A, Bolli P, McKay DW, Tremblay G, McLean D, Tobe SW, Ruzicka M, Burns KD, Vallee M, Ramesh Prasad GV, Lebel M, Feldman RD, Selby P, Pipe A, Schiffrin EL, McFarlane PA, Oh P, Hegele RA, Khara M, Wilson TW, Brian Penner S, Burgess E, Herman RJ, Bacon SL, Rabkin SW, Gilbert RE, Campbell TS, Grover S, Honos G, Lindsay P, Hill MD, Coutts SB, Gubitz G, Campbell NRC, Moe GW, Howlett JG, Boulanger JM, Prebtani A, Larochelle P, Leiter LA, Jones C, Ogilvie RI, Woo V, Kaczorowski J, Trudeau L, Petrella RJ, Hiremath S, Stone JA, Drouin D, Lavoie KL, Hamet P, Fodor G, Gregoire JC, Fournier A, Lewanczuk R, Dresser GK, Sharma M, Reid D, Benoit G, Feber J, Harris KC, Poirier L, Padwal RS. The 2015 Canadian Hypertension Education Program recommendations for blood pressure measurement, diagnosis, assessment of risk, prevention, and treatment of hypertension. Can J Cardiol. 2015;31:549–68.

20.

Dionne JM. Evidence-based guidelines for the management of hypertension in children with chronic kidney disease. Pediatr Nephrol. 2015;30:1919–27.

21.

El-Deeb MH, Sulaiman KJ, Al-Riyami AA, Mohsin N, Al-Mukhaini M, Al-Lamki M, Al-Busaidi N, Al-Salmi I, Al-Lawati J, Al-Rawahi N, Al-Riyami MB, Abdul-Rahman S, Al-Hinai S, Jaffer B, Al-Wahaebi A, Al-Khalili H, Al-Zadjali M. 2015 Oman Heart Association guidelines for the management of hypertension: practical recommendations from the Oman Heart Association (OHA). High Blood Press Cardiov Prev. 2015;22:83–97.

22.

Emergency Physicians Branch of Chinese Medical Doctor Association. Chinese consensus on the management of emergency hypertension. Chin J Crit C Med. 2010;30:865–76.

23.

Expert Group of the Eighth Chinese Society of Nephrology in the Treatment of Hypertension with Chronic Kidney Disease. Clinical practical guidelines of α/β blockers in the treatment of high blood pressure with chronic kidney disease. Natl Med J China. 2013;93:3812–6.

24.

González-Juanatey JR, Ramos PM, Arcos FS, Alonso VB, Padial LR, Martínez VB. 2003 update of the Guidelines of the Spanish Society of Cardiology on High Blood Pressure. Revista Española Cardiol. 2003;56:487–97.

25.

Hsu CH, Ho WL, Huang WC, Chiu YW, Hsu TS, Kuo PH, Hsu HH, Chang JK, Cheng CC, Lai CL, Liang KW, Lin SL, Sung SH, Tsai WC, Weng KP, Hsieh KS, Yin WH, Lin SJ, Wang KY. 2014 Guidelines of Taiwan Society of Cardiology (TSOC) for the management of pulmonary arterial hypertension. Acta Cardiol Sin. 2014;30:401–44.

26.

Hu DY, Liu ML, Guo YF. 2011 Chinese consensus for the elder hypertension diagnosis and treatment. Chin J FrontMed Sci. 2012;4: 31–39.

27.

Hypertension Group of Chinese Society of Cardiology. Chinese consensus on the treatment of hypertension with diuretics. Chin J Hypertens. 2011;19:219.

28.

Ibrahim MM. The Egyptian Hypertension Society: Egyptian hypertension guidelines. Egypt Heart J. 2014;66:79–132.

29.

James PA. 2014 Evidence-based guideline for the management of high blood pressure in adults: report from the panel members appointed to the Eighth Joint National Committee (JNC 8). Jama J Am Med Assoc. 2014;311:1809–1809.

30.

Lobo MD, de Belder MA, Cleveland T, Collier D, Dasgupta I, Deanfield J, Kapil V, Knight C, Matson M, Moss J, Paton JF, Poulter N, Simpson I, Williams B, Caulfield MJ. Joint UK societies' 2014 consensus statement on renal denervation for resistant hypertension. Heart. 2015;101:10–6.

31.

Lowe SA, Bowyer L, Lust K, McMahon L, Morton M, North RA, et al. The SOMANZ guidelines for the management of hypertensive disorders of pregnancy 2014. Aust Nz J Obstet Gyn. 2015;55:11–16.

32.

Mancia G, Fagard R, Narkiewicz K, Redon J, Zanchetti A, Boehm M, Christiaens T, Cifkova R, De Backer G, Dominiczak A, Galderisi M, Grobbee DE, Jaarsma T, Kirchhof P, Kjeldsen SE, Laurent S, Manolis AJ, Nilsson PM, Ruilope LM, Schmieder RE, Sirnes PA, Sleight P, Viigimaa M, Waeber B, Zannad F, Task Force M. 2013 ESH/ESC guidelines for the management of arterial hypertension. Eur Heart J. 2013;34:2159–219.

33.

McCormack T, Krause T, O'Flynn N. Management of hypertension in adults in primary care: NICE guideline. Br J Gen Pract. 2012;62:163–4.

34.

McLaughlin VV, Archer SL, Badesch DB, Barst RJ, Farber HW, Lindner JR, Mathier MA, McGoon MD, Park MH, Rosenson RS. ACCF/AHA 2009 expert consensus document on pulmonary hypertension: a report of the American College of Cardiology Foundation Task Force on Expert Consensus Documents and the American Heart Association developed in collaboration with the American College of Chest Physicians; American Thoracic Society, Inc.; and the Pulmonary Hypertension Association. J Am Coll Cardiol. 2009;53:1573–619.

35.

Mion D Jr, Machado CA, Gomes MAM, et al. IV Brazilian guidelines in arterial hypertension. Arq Bras Cardiol. 2004;82(Suppl 4):7–22.

36.

National Clinical Guideline Centre. Hypertension: The Clinical Management of Primary Hypertension in Adults: Update of Clinical Guidelines 18 and 34. National Clinical Guideline Centre (UK):London; 2011.

37.

Noohi F, Sarrafzadegan N, Khosravi A, Andalib E. The first Iranian recommendations on prevention, evaluation and management of high blood pressure. ARYA Atheroscler. 2012;8:97–118.

38.

Obstetrics and Gynaecology Gestational Hypertension Disease Group of Chinese Medical Association. 2012 guidelines on the management of pregnancy hypertension. Chin J Obstet Gynecol. 2012;47:476–80.

39.

Ogihara T, Hiwada K, Morimoto S, Matsuoka H, Matsumoto M, Takishita S, Shimamoto K, Shimada K, Abe I, Ouchi Y, Tsukiyama H, Katayama S, Imai Y, Suzuki H, Kohara K, Okaishi K, Mikami H. Guidelines for treatment of hypertension in the elderly—2002 revised version. Hypertens Res. 2003;26:1–36.

40.

Petrella RJ. Lifestyle approaches to managing high blood pressure—new Canadian guidelines. Can Fam Physician. 1999;45:1750–5.

41.

Sanchez RA, Ayala M, Baglivo H, Velazquez C, Burlando G, Kohlmann O, Jimenez J, Jaramillo PL, Brandao A, Valdes G, Alcocer L, Bendersky M, Ramirez AJ, Zanchetti A. Latin American guidelines on hypertension. Latin American Expert Group. J Hypertens. 2009;27:905–22.

42.

Seedat YK, Rayner BL, Veriava Y, Hypertension Guideline Working Group. South African hypertension practice guideline 2014. Cardiovasc J Afr. 2014;25:288–94.

43.

Shammas NW, Sica DA, Toth PP. A guide to the management of blood pressure in the diabetic hypertensive patient. Am J Cardiovasc Drugs. 2009;9:149–162.

44.

Shimamoto K, Ando K, Fujita T, Hasebe N, Higaki J, Horiuchi M, Imai Y, Imaizumi T, Ishimitsu T, Ito M, Ito S, Itoh H, Iwao H, Kai H, Kario K, Kashihara N, Kawano Y, Kim-Mitsuyama S, Kimura G, Kohara K, Komuro I, Kumagai H, Matsuura H, Miura K, Morishita R, Naruse M, Node K, Ohya Y, Rakugi H, Saito I, Saitoh S, Shimada K, Shimosawa T, Suzuki H, Tamura K, Tanahashi N, Tsuchihashi T, Uchiyama M, Ueda S, Umemura S. Japanese Society of Hypertension Committee for Guidelines for the Management of Hypertension. The Japanese Society of Hypertension guidelines for the management of hypertension (JSH 2014). Hypertens Res. 2014;37:253–390.

45.

Sun NL, Huo Y, Wang JG, Li NG, Tao J, Li Y, Yan XW, Jiang XJ, Li XW. Chinese consensus for the diagnosis and treatment of resistant hypertension. Chin J Hypertens. 2013;21:321–326.

46.

Taylor AT, Fletcher JW, Nally JV, Blaufox MD, Dubovsky EV, Fine EJ, Kahn D, Morton KA, Russell CD, Sfakianakis GN, Aurell M, Dondi M, Fommei E, Geyskes G, Granerus G, Oei HY. Procedure guideline for diagnosis of renovascular hypertension. J Nucl Med. 1998;39:1297–302.

47.

Verloop WL, Agema WR, Allaart CP, Blankestijn PJ, Khan M, Meuwissen M, Muijs van de Moer WM, Rensing BJ, Spiering W, Voskuil M, Doevendans PA. Renal denervation for the treatment of hypertension: the Dutch consensus. Neth J Med. 2014;72:449–54.

48.

Volpe M, Rosei EA, Ambrosioni E, Cottone S, Cuspidi C, Borghi C, De Luca N, Fallo F, Ferri C, Morganti A, Muiesan ML, Sarzani R, Sechi L, Virdis A, Tocci G, Trimarco B, Filippi A, Mancia G. 2012 consensus document of the Italian Society of Hypertension (SIIA): strategies to improve blood pressure control in Italy: from global cardiovascular risk stratification to combination therapy. High Blood Press Cardiovasc Prev. 2013;20:45–52.

49.

Volpe M, Trimarco B, Battistoni A, Mancia G. Clinical management of coronary heart disease in hypertension: practical recommendations from the Italian Society of Hypertension (SIIA). High Blood Press Cardiovasc Prev. 2013;20:129–34.

50.

Watson RE. Management of hypertension in patients with ischemic heart disease: new guidelines. J Cardiometab Synd. 2007;2:213–6.

51.

Weber MA, Schiffrin EL, White WB, Mann S, Lindholm LH, Kenerson JG, Flack JM, Carter BL, Materson BJ, Ram CV, Cohen DL, Cadet JC, Jean-Charles RR, Taler S, Kountz D, Townsend R, Chalmers J, Ramirez AJ, Bakris GL, Wang J, Schutte AE, Bisognano JD, Touyz RM, Sica D, Harrap SB. Clinical practice guidelines for the management of hypertension in the community a statement by the American Society of Hypertension and the International Society of Hypertension. J Hypertens. 2014;32:3–15.

52.

Whitworth JA, Chalmers J. World Health Organization-International Society of Hypertension (WHO/ISH) hypertension guidelines. Clin Exp Hypertens. 2004;26:747–52.

53.

Williams B, Poulter N, Brown M, Davis M, McInnes G, Potter J, Sever P, Thom SM. Guidelines for management of hypertension: report of the fourth working party of the British Hypertension Society, 2004-BHS IV. J human hypertens. 2004;18:139–85.

54.

Hypertension Professional Committee of Chinese Medical Association. Chinese consensus on the management of pregnancy hypertension. Chin J Hypertens 2012;20:1023–1027.

55.

Wang W, Revision Committee of Chinese Guidelines for the Management of Hypertension. 2014 Chinese guidelines for the management of hypertension (primary care version). Chin J Hypertens. 2015;2015:24–43.

56.

Wuerzner G, Muller O, Erne P, Cook S, Sudano I, Luscher TF, Noll G, Kaufmann U, Rickli H, Waeber B, Kaiser C, Sticherling C, Pechere-Bertschi A, Baumgartner I, Jacob AL, Burnier M, Qanadli SD. Transcatheter renal denervation for the treatment of resistant arterial hypertension: the Swiss expert consensus. Swiss Med Wkly. 2014;144:w13913.

57.

Marín R, De la Sierra A, Armario P, Campo C, Banegas J, Gorostidi M. 2005 Spanish guidelines in diagnosis and treatment of arterial hypertension. Med Clin. 2005;125:24.

58.

Sociedade BDH, Cardiologia SBD, Nefrologia SBD. VI Brazilian guidelines on hypertension. Arq Bras Cardiol. 2010;95:1.

59.

Lim W, Arnold DM, Bachanova V, Haspel RL, Rosovsky RP, Shustov AR, Crowther MA. Evidence-based guidelines--an introduction. Hematology. 2008;13:26-30.

60.

Lexchin J, Bero LA, Djulbegovic B, Clark O. Pharmaceutical industry sponsorship and research outcome and quality: systematic review. Brit Med J. 2003;326:1167–70.

61.

Hurwitz B. Clinical guidelines: legal and political considerations of clinical practice guidelines. Brit Med J. 1999;318:661.
Acknowledgments
This work was supported by the West Light Foundation of The Chinese Academy of Sciences, the Natural Science Foundation of Gansu Province (Funding NO.1501RJZA003) and the Science Projects of Lanzhou City (Funding NO.2015-2-51).
Ethics declarations
Conflict of interest
Xiaowei Zhang, Kun Zhao, Zhenggang Bai, Jing Yu, and Feng Bai declare that they have no conflict of interest that might be relevant to the contents of this manuscript.
About this article
Cite this article
Zhang, X., Zhao, K., Bai, Z. et al. Clinical Practice Guidelines for Hypertension: Evaluation of Quality Using the AGREE II Instrument. Am J Cardiovasc Drugs 16, 439–451 (2016) doi:10.1007/s40256-016-0183-2
Keywords
Standard Deviation

Domain Score

Stakeholder Involvement

Chinese National Knowledge Infrastructure

Editorial Independence