Abstract
Purpose
This study aimed to determine radon concentrations in mines, stone processing factories, residential houses, and public areas, as well as calculating its effective dose in Neyriz, Iran.
Method
A total of 74 alpha Track detectors (CR-39 detector) were installed at the desired locations based on the US-EPA's protocol. After 3 months the detectors were collected and delivered to a Radon Reference Laboratory for analyzing.
Results
Mean ± SD, minimum and maximum radon concentrations in the sampling buildings were 29.93 ± 12.63, 10.33, and 66.76 Bq/m3, respectively. The effective annual dose was calculated to be 0.75 mSv/year, which was lower than the recommended value. Significant positive correlations were found between radon concentrations and some studied variables including smoking cigarettes, number of cigarettes smoked, duration of smoking, building's age, number of floors, having cracks, use of colors in the building, use of ceramic for flooring, use of stone for flooring, and gas consumption. The number of cigarettes smoked by the residents was the most important predictor of radon concentrations. Radon concentrations were lower than standard values in all sampling locations.
Conclusion
It is necessary to conduct further studies in the field of regional geology and determine the sources that release radon in these areas to prevent further increases in radon concentration due to the proximity and plurality of mines and factories.
This is a preview of subscription content, log in to check access.
Access options
Buy single article
Instant unlimited access to the full article PDF.
US$ 39.95
Price includes VAT for USA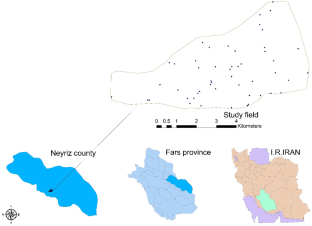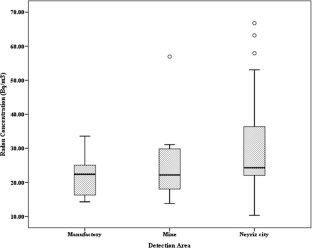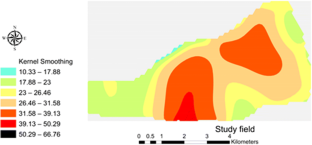 References
1.

Mohammadfam I, Sajedi A, Mahmoudi S, Mohammadfam F. Application of Hazard and operability study (HAZOP) in evaluation of health, safety and environmental (HSE) hazards. Int J Occup Hyg. 2012;4(2):17–20.

2.

Dehghani M, Kamali Y, Shamsedini N, Ghanbarian M. A study of the relationship between indoor/outdoor particleconcentration in Dena Hospital in Shiraz. J Health Res Commun. 2015;1(1):49–55.

3.

Shahsavani S, Hoseini M, Dehghani M, Fararouei M. Characterisation and potential source identification of polycyclic aromatic hydrocarbons in atmospheric particles (PM10) from urban and suburban residential areas in shiraz. Iran Chemosp. 2017;183:557–64.

4.

Shahsavani S, Dehghani M, Hoseini M, Fararouei M. Biological monitoring of urinary 1-hydroxypyrene by PAHs exposure among primary school students in shiraz, Iran. Int Arch Occup Environ Health. 2017;90(2):179–87. https://doi.org/10.1007/s00420-016-1184-9.

5.

Naddafi K, Jabbari H, Hoseini M, Nabizadeh R, Rahbar M, Yunesian M. Investigation of indoor and outdoor air bacterial density in Tehran subway system. Iranian J Environ Health Sci Eng. 2011;8(4):381–6.

6.

Kamani H, Mahvi AH, Seyedsalehi M, Jaafari J, Hoseini M, Safari GH, et al. Contamination and ecological risk assessment of heavy metals in street dust of Tehran, Iran. Int J Environ Sci Technol. 2017;14(12):2675–82.

7.

Song S-K, Shon Z-H, Kang Y-H, Kim K-H, Han S-B, Kang M, et al. Source apportionment of VOCs and their impact on air quality and health in the megacity of Seoul. Environ Pollut. 2019;247:763–74.

8.

Shoeib MY, Thabayneh KM. Assessment of natural radiation exposure and radon exhalation rate in various samples of Egyptian building materials. J Radiat Res Appl Sci. 2014;7:174–81.

9.

Alzimami K, Maghraby AM, Abo-Elmagd M. Radon levels and the expected population mortality in dwellings of Al-Kharj, Saudi Arabia. J Radiat Res Appl Sci. 2014;7:572–6.

10.

Loiselle JJ, Kneea JM, Sutherland LC. Human lung epithelial cells cultured in the presence of radon-emitting rock experience gene expression changes similar to those associated with tobacco smoke exposure. J Environ Radioact. 2019;196:64–81.

11.

Kropat G, Bochud F, Murith C, Gruson MP, Baechler S. Modeling of geogenic radon in Switzerland based on ordered logistic regression. J Environ Radioact. 2017;166:376–81.

12.

Cinelli G, Tondeur F, Dehandschutter B, Bossew P, Tollefsen T, Cort MD. Mapping uranium concentration in soil: Belgian experience towards a European map. J Environ Radioact. 2017;166:220–34.

13.

Yarahmadi M, Shahsavani A, Mahmoudian MH, Shamsedini N, Rastkari N, Kermani M, et al. Estimation of the residential radon levels and the annual effective dose in dwellings of shiraz, Iran, in 2015. Electron Physician. 2015;8(6):2497–505.

14.

Poorhabib Z, Binesh A, Mohammadi S. Investigation of radioactive materials of radon and radium in Ramsar rivers and drinking water by PRASSI method. Iran J Phys Res. 2012;11(4):397–403.

15.

Nakhli L. Environmental and radon gas. Nucl Energy. 1998;119:19.

16.

Haddadi G. Assessment of radon level in dwellings of Tabriz. J Fasa Univ Med Sci. 2011;1(1):9–13.

17.

UNSCEAR. Source and effect of ionizing radiation. United Nation Scientific Committee the Effect of Atomic Radiation Report to general assembly with annexes. New York, NY: UNSCEAR; 2000. p. 186–235.

18.

Casey J, Ogburn E, Rasmussen S, Irving J, Pollak J, Locke P. Predictors of indoor radon concentrations in Pennsylvania, 1989–2013. Environ Health Perspect. 2015;123:1130–7.

19.

Zeeb H, Shannoun F. WHO handbook in indoor radon: a public health perspective. Geneva: World Health Organization (WHO); 2009.

20.

Firoozabadi A, Bozarjomhari F, Ghahari M, Parch A, Lotfi M, Zare M. Measurement of radon gas concentrations in lead and zinc mines of Yazd province. Health Tool. 2016;14(6):94–102.

21.

Song G, Zhang B. Indoor radon levels in selected hot spring hotels in Guangdong. China Sci Total Environ. 2005;339:63–70.

22.

Celik N, Cevik U. Determination of indoor radon and soil radioactivity levels in Giresun. Turkey J Environ Radioactivity. 2008;99:1349–54.

23.

Vuckovic B, Gulan L, Milenkovic B, Stajic JM, Milic G. Indoor radon and thoron concentrations in some towns of central and South Serbia. J Environ Manage. 2016;183:938–44.

24.

Bekteshi S, Kabashi S, Ahmetaj S, Xhafa B, Hodolli G, Kadiri S, et al. Radon concentrations and exposure levels in the Trepça underground mine: a comparative study. J Clean Prod. 2017;155:198–203.

25.

Espinosa G, Golzarri J, Chavarria A, Castaño V. Indoor radon measurement via nuclear track methodology: a comparative study. Radiat Meas. 2013;50:127–9.

26.

Yousefi Z, Naddafi K, Tahamtan M, Zazouli MA, Koushki Z. Indoor radon concentration in Gorgan dwellings using CR-39 detector. J Mazandaran Univ Med Sci. 2014;24(113):2–10.

27.

Radiation UNSCotEoA. Sources and effects of ionizing radiation: sources. New York, NY: United Nations Publications; 2000.

28.

Hadad K, Mokhtari J. Indoor radon variations in Central Iran and its geostatistical map. Atmos Environ. 2015;102:220–7.

29.

Ghorbani A, Mohammadi M, Mohammadi Z. Water quality evaluation of Torghabeh River of Mashhad using combination of NSFWQI index and geographic information system. Int J Adv Biol Biomed Res. 2014;2(8):2416–30.

30.

Shahbazi Sehrani M, Boudaqpoor S, Mirmohammadi M. Measurement of indoor radon gas concentration and assessment of health risk in Tehran, Iran. Int J Environ Sci Technol. 2019;16(6):2619–26.

31.

Rahimi A, Nikpour B. Measurement of radon concentration of air samples and estimating radiation dose from radon in SARI Province. Univ J Public Health. 2013;1:26–31.

32.

Fahiminia M, Fard RF, Ardani R, Naddafi K, Hassanvand M, Mohammadbeigi A. Indoor radon measurements in residential dwellings in Qom, Iran. Int J Radiat Res. 2016;14(4):331–9.

33.

Gillmore G, Jabarivasal N. A reconnaissance study of radon concentrations in Hamadan City, Iran. Nat Hazards Earth Syst Sci. 2010;10(4):857–63.

34.

Mowlavi AA, Fornasier MR, Binesh A, De Denaro M. Indoor radon measurement and effective dose assessment of 150 apartments in Mashhad, Iran. Environ Monit Assess. 2012;184(2):1085–8.

35.

Bouzarjomehri F, Ehrampoosh M. Radon level in dwellings basement of Yazd-Iran. Iran J Radiat Res. 2008;6(3):141–4.

36.

Barros-Diosa JM, Ruano-Ravinaa A, Gastelu-Iturrid J, Figueirasa A. Factors underlying residential radon concentration: results from Galicia. Spain Environ Res. 2007;103:185–90.

37.

Lehmann R, Kemski J, Siehl A, Stegemann R, Valdivia-Manchego M. The regional distribution of indoor radon concentration in Germany. Int Congr Ser. 2002;1225:55–61.

38.

Denman AR, Crockett RGM, Groves-Kirkby CJ. An assessment of the effectiveness of UK building regulations for new homes in radon affected areas. J Environ Radioact. 2018;192:166–71.

39.

Vogeltanz-Holm N, Schwartz GG. Radon and lung cancer: what does the public really know? J Environ Radioact. 2018;192:26–31.

40.

Hazar N, Karbakhsh M, Yunesian M, Nedjat S, Naddafi K. Perceived risk of exposure to indoor residential radon and its relationship to willingness to test among health care providers in Tehran. J Environ Health Sci Eng. 2014;12(1):118.

41.

Hassanvand H, Hassanvand MS, Birjandi M. Indoor radon measurement in dwellings of Khorramabad City, Iran. Iran J Med Phys. 2018;15(1):19–27.

42.

Rezazadeh A. Radon concentrations in public water supplies in Tehran and evaluation of radiation dose. Iran J Radiat Res. 2005;3(2):79–83.

43.

Henriksen M. Radiation and health. Abingdon: Taylor & Francis; 2011.

44.

Duggal V, Rani A, Mehra R. A study of seasonal variations of radon levels in different types of dwellings in Sri Ganganagar district, Rajasthan. J Radiat Res Appl Sci. 2014;7:201–6.

45.

Mokarrami H, Khavanin A. Investigating the risks of radon gas and its entry routs into residential buildings. J Educ Dev. 2015;12(44):13–7.

46.

Abdel-Ghany H, Shabaan D. Does natural gas increase the indoor radon levels? Ядерна фізика та енергетика. 2015;16(3):310–5.

47.

Hodolli G, Bekteshi S, Kadiri S, Xhafa B, Dollani K. Radon concentration and gamma exposure in some Kosovo underground mines. Int J Radiat Res. 2015;13(4):369–72.
Acknowledgements
The authors would like to thank the Research Vice-chancellor of Shiraz University of Medical Sciences for financially supporting the research (proposal No. 13448). They would also like to appreciate Ms. A. Keivanshekouh at the Research Improvement Center of Shiraz University of Medical Sciences for improving the use of English in the manuscript.
Funding information
This study was funded by the Research Vice-chancellor of Shiraz University of Medical Sciences, Shiraz, Iran.
Ethics declarations
Conflict of interest
None declared.
Additional information
Publisher's note
Springer Nature remains neutral with regard to jurisdictional claims in published maps and institutional affiliations.
About this article
Cite this article
Shahsavani, S., Shamsedini, N., Tabatabaei, H.R. et al. Indoor radon concentrations in residential houses, processing factories, and mines in Neyriz, Iran. J Environ Health Sci Engineer (2020) doi:10.1007/s40201-019-00413-7
Received:

Accepted:

Published:
Keywords
Air pollutants

Radioactive carcinogen

Chemicals and drugs

Inorganic chemicals

Gases

Radon