Synthesis of reduced graphene oxide/ZnO nanocomposites using grape fruit extract and Eichhornia crassipes leaf extract and a comparative study of their photocatalytic property in degrading Rhodamine B dye
Abstract
In the present work, we report the comparative study of photocatalytic degradation of Rhodamine B (RhB) dye in aqueous solution by using ZnO-graphene nanaocomposites obtained using two different natural reducing agents namely Grape and Eichhornia crassipes. Graphene oxide (GO) was synthesized by Hummer's method followed by reduction of the graphene oxide using natural reducing agents Grape and Eichhornia crassipes. The two samples of graphene oxide (Gr-rGO and Ei-rGO) were treated with ZnO to form a rGO-ZnO nanocomposites. The dye degradation was observed by the decrease in the absorption and decolorization in the presence of visible light. The degradation efficiency was found to be dependent on the concentration of rGO-ZnO nanocomposites added to the dye solution. The Ei-rGO has a higher adsorbing capacity due to its large surface area. A degradation efficiency of 67% was achieved by ZnO alone, whereas with the rGO-ZnO nanocomposite, the photocatalytic degradation efficiency for removal of RhB dye was found to be enhanced. The degradation efficiency was 70.0% and 97.5% with Gr-rGO-ZnO and Ei-rGO-ZnO nanocomposites respectively. The enhanced photocatalytic activity of Ei-rGO-ZnO composites could be attributed to the strong interaction with the ZnO and the defect sites available in Ei-rGO.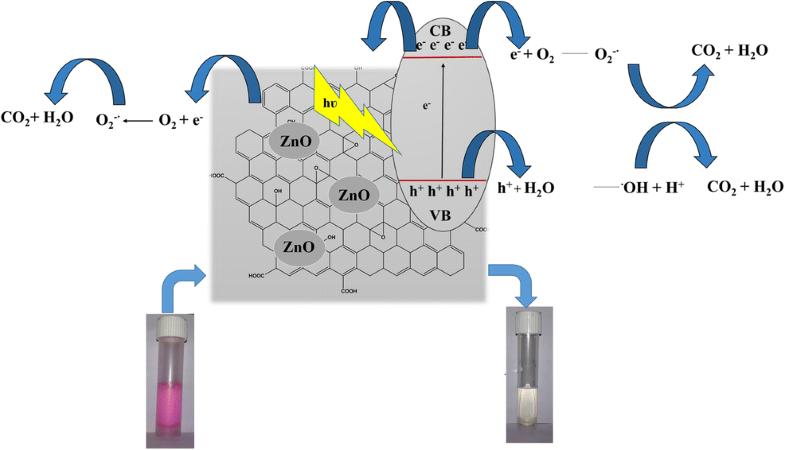 Keywords
Photocatalytic degradation 
Rhodamine B dye 
Reduced graphene oxide 
Grape 
Eichhornia crassipes
Nanocomposites 
Notes
Acknowledgements
The authors thank the Management and Administration of Karunya University for their support and help. The authors are grateful to Department of Science and Technology, Govt. of India for their financial support.
Author contributions
All authors read and approved the final manuscript.
Compliance with ethical standards
Competing interests
The authors declare that they have no competing interests.
Copyright information
© Springer Nature Switzerland AG 2019