Abstract
Purpose
Childhood overweight/ obesity is one of critical public health concern. It has been suggested that there is a link between breakfast skipping and obesity. However, results are conflicting. The aim of the present study was to summarize the association between breakfast skipping and overweight/obesity in children and adolescent.
Methods
We performed a literature search using Pubmed/Medline, Scopus, Web of Science and EMBASE electronic databases from 2000 through 28 February 2018 without language limitation. Observational studies in which risk measures were reported regarding the link between breakfast skipping and obesity in children and adolescent were included. Studies with at least the score of 5 from Newcastle-Ottawa Scale were considered as low risk of bias. Random effect model was used for data synthesis.
Results
Of 3276 publications, finally 16 studies (14 cross-sectional studies, 2 cohort studies) were included for meta-analysis. Based on cross-sectional studies, we found a positive association between breakfast skipping and obesity (Odd ratio (OR) trim & fill: 1.43; 95%CI: 1.32, 1.54), while cohort studies showed no significant link (OR:1.01, 95%CI: 0.93, 1.11; I2: 48%, p = 0.14). Subgroup analysis in cross-sectional studies showed that the association between breakfast skipping and the risk of obesity in boys was OR: 1.64; 95% CI: 1.38, 1.95; I2: 38.3%, p = 0.18, while it was 1.56 (95% CI: 1.38, 1.77, I2: 0.0%, p = 0.49) in girls.
Conclusion
The risk of obesity in children and adolescents who skipped breakfast was 43% greater than those who ate breakfast regularly in cross-sectional studies, while no significant link was found in cohort studies. However, due to high heterogeneity and limited cohort studies, findings should be interpreted by caution.
This is a preview of subscription content, log in to check access.
Access options
Buy single article
Instant unlimited access to the full article PDF.
US$ 39.95
Price includes VAT for USA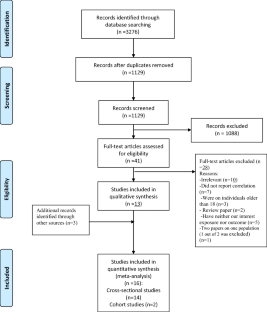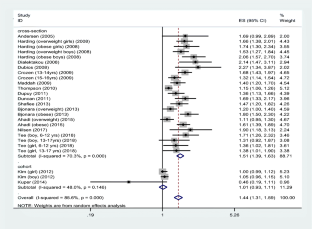 References
1.

World health organization. Global Strategy on Diet, Physical Activity and Health.

2.

World health organization. Tenfold increase in childhood and adolescent obesity in four decades: new study by Imperial College London and WHO. 2018.

3.

Reilly JJ, Kelly J. Long-term impact of overweight and obesity in childhood and adolescence on morbidity and premature mortality in adulthood: systematic review. Int J Obes. 2011;35(7):891.

4.

Azadbakht L, Haghighatdoost F, Feizi A, Esmaillzadeh A. Breakfast eating pattern and its association with dietary quality indices and anthropometric measurements in young women in Isfahan. Nutrition. 2013;29(2):420–5.

5.

Esmaillzadeh A, Azadbakht L. Major dietary patterns in relation to general obesity and central adiposity among Iranian women. J Nutr. 2008;138(2):358–63.

6.

Schröder H, Marrugat J, Vila J, Covas MI, Elosua R. Adherence to the traditional Mediterranean diet is inversely associated with body mass index and obesity in a Spanish population. J Nutr. 2004;134(12):3355–61.

7.

Horikawa C, Kodama S, Yachi Y, Heianza Y, Hirasawa R, Ibe Y, et al. Skipping breakfast and prevalence of overweight and obesity in Asian and Pacific regions: a meta-analysis. Prev Med. 2011;53(4-5):260–7.

8.

Potter C, Griggs RL, Brunstrom JM, Rogers PJ. Breaking the fast: meal patterns and beliefs about healthy eating style are associated with adherence to intermittent fasting diets. Appetite. 2019;133:32–9.

9.

Rampersaud GC, Pereira MA, Girard BL, Adams J, Metzl JD. Breakfast habits, nutritional status, body weight, and academic performance in children and adolescents. J Am Diet Assoc. 2005;105(5):743–60.

10.

Croezen S, Visscher T, Ter Bogt N, Veling M, Haveman-Nies A. Skipping breakfast, alcohol consumption and physical inactivity as risk factors for overweight and obesity in adolescents: results of the E-MOVO project. Eur J Clin Nutr. 2009;63(3):405.

11.

Dialektakou KD, Vranas PB. Breakfast skipping and body mass index among adolescents in Greece: whether an association exists depends on how breakfast skipping is defined. J Am Diet Assoc. 2008;108(9):1517–25.

12.

Dubois L, Girard M, Kent MP, Farmer A, Tatone-Tokuda F. Breakfast skipping is associated with differences in meal patterns, macronutrient intakes and overweight among pre-school children. Public Health Nutr. 2008;12(1):19–28.

13.

Harding S, Teyhan A, Maynard MJ, Cruickshank JK. Ethnic differences in overweight and obesity in early adolescence in the MRC DASH study: the role of adolescent and parental lifestyle. Int J Epidemiol. 2008;37(1):162–72.

14.

Maddah M, Nikooyeh B. Factors associated with overweight in children in Rasht, Iran: gender, maternal education, skipping breakfast and parental obesity. Public Health Nutr. 2009;13(2):196–200.

15.

Thompson-McCormick JJ, Thomas JJ, Bainivualiku A, Khan AN, Becker AE. Breakfast skipping as a risk correlate of overweight and obesity in school-going ethnic Fijian adolescent girls. Asia Pac J Clin Nutr. 2010;19(3):372.

16.

Andersen LF, Lillegaard ITL, Øverby N, Lytle L, Klepp K-I, Johansson L. Overweight and obesity among Norwegian schoolchildren: changes from 1993 to 2000. Scandinavian journal of public health. 2005;33(2):99–106.

17.

Kim J-H, So W-Y. Association between frequency of breakfast eating and obesity in Korean adolescents. Iran J Public Health. 2012;41(6):50.

18.

Küpers L, De Pijper J, Sauer P, Stolk R, Corpeleijn E. Skipping breakfast and overweight in 2-and 5-year-old Dutch children—the GECKO Drenthe cohort. Int J Obes. 2014;38(4):569.

19.

Peterson J, Welch V, Losos M, Tugwell P. The Newcastle-Ottawa scale (NOS) for assessing the quality of nonrandomised studies in meta-analyses. Ottawa: Ottawa Hospital Research Institute; 2011.

20.

Ahadi Z, Qorbani M, Kelishadi R, Ardalan G, Motlagh M, Asayesh H, et al. Association between breakfast intake with anthropometric measurements, blood pressure and food consumption behaviors among Iranian children and adolescents: the CASPIAN-IV study. Public Health. 2015;129(6):740–7.

21.

Duncan S, Duncan EK, Fernandes RA, Buonani C, Bastos KD, Segatto AF, et al. Modifiable risk factors for overweight and obesity in children and adolescents from São Paulo, Brazil. BMC Public Health. 2011;11(1):585.

22.

Dupuy M, Godeau E, Vignes C, Ahluwalia N. Socio-demographic and lifestyle factors associated with overweight in a representative sample of 11-15 year olds in France: results from the WHO-collaborative health behaviour in school-aged children (HBSC) cross-sectional study. BMC Public Health. 2011;11(1):442.

23.

Nilsen BB, Yngve A, Monteagudo C, Tellström R, Scander H, Werner B. Reported habitual intake of breakfast and selected foods in relation to overweight status among seven-to nine-year-old Swedish children. Scand J Public Health. 2017;45(8):886–94.

24.

Shafiee G, Kelishadi R, Qorbani M, Motlagh ME, Taheri M, Ardalan G, et al. Association of breakfast intake with cardiometabolic risk factors. J Pediatr. 2013;89(6):575–82.

25.

Tee ES, Nurliyana AR, Karim NA, Jan Mohamed HJB, Tan SY, Appukutty M, et al. Breakfast consumption among Malaysian primary and secondary school children and relationship with body weight status-findings from the MyBreakfast study. Asia Pac J Clin Nutr. 2018;27(2):421.

26.

Bjørnarå HB, Vik FN, Brug J, Manios Y, De Bourdeaudhuij I, Jan N, et al. The association of breakfast skipping and television viewing at breakfast with weight status among parents of 10–12-year-olds in eight European countries; the ENERGY (EuropeaN Energy balance research to prevent excessive weight gain among youth) cross-sectional study. Public Health Nutr. 2014;17(4):906–14.
Availability of data and materials
Ethics declarations
Conflict of interest
The authors declare that they have no conflict interests.
Ethics approval and consent to participate
Not applicable
Additional information
Publisher's note
Springer Nature remains neutral with regard to jurisdictional claims in published maps and institutional affiliations.
About this article
Cite this article
Ardeshirlarijani, E., Namazi, N., Jabbari, M. et al. The link between breakfast skipping and overweigh/obesity in children and adolescents: a meta-analysis of observational studies. J Diabetes Metab Disord 18, 657–664 (2019). https://doi.org/10.1007/s40200-019-00446-7
Received:

Accepted:

Published:

Issue Date:
Keywords
Breakfast skipping

Child

Adolescent

Obesity