S2P peptide-conjugated PLGA-Maleimide-PEG nanoparticles containing Imatinib for targeting drug delivery to atherosclerotic plaques
Abstract
Background
Imatinib is a platelet-derived growth factor receptor (PDGFR) inhibitor with very low water solubility. Previous studies in atherosclerosis have shown that PDGFR activity has an egregious effect on vascular disease and progression of atherosclerosis. Specific ligands of atherosclerotic plaques can be used for targeting of nanoparticles. Studies in atherosclerosis proved that stabilin-2 is a glycoprotein which exists abundantly in atherosclerotic plaques and it is produced from both macrophages and endothelial cells.
Objectives
The objective of this study is the targeting drug delivery to atherosclerotic plaques by using imatinib-loaded nanoparticles modified by S2P peptide.
Methods
The imatinib-loaded nanoparticles were fabricated through a modified emulsion/solvent evaporation technique. After fabricating PLGA nanoparticles, maleimide PEG was used as linker between PLGA nanoparticles and S2P peptide. Because of presence cysteine in both side of S2P peptide, maleimide formed a thiolether linkage by thiol group of cysteine. Then the physicochemical analysis like H-NMR, FT-IR, DSC, SEM, particle size, zeta potential, and drug release were studied.
Results
Stabilin-2 peptide with sequence of CRTLTVRKC is a specific ligand to stabilin-2, so it was synthesized for using as the targeting agent for atherosclerosis. S2P peptide conjugation to the surface of nanoparticles was proved by H-NMR and FT-IR, and the percentage of S2P peptide in nanoparticles was 1.3%. The final nanoparticles were spherical and their size were 183 nm. The loading capacity of the imatinib-loaded nanoparticles was 5.05%. The sustained release profile was observed for peptide targeted nanoparticles.
Conclusion
The chosen method was simple, reproducible, and specific in peptide conjugation of nanoparticles for targeting delivery to atherosclerotic regions.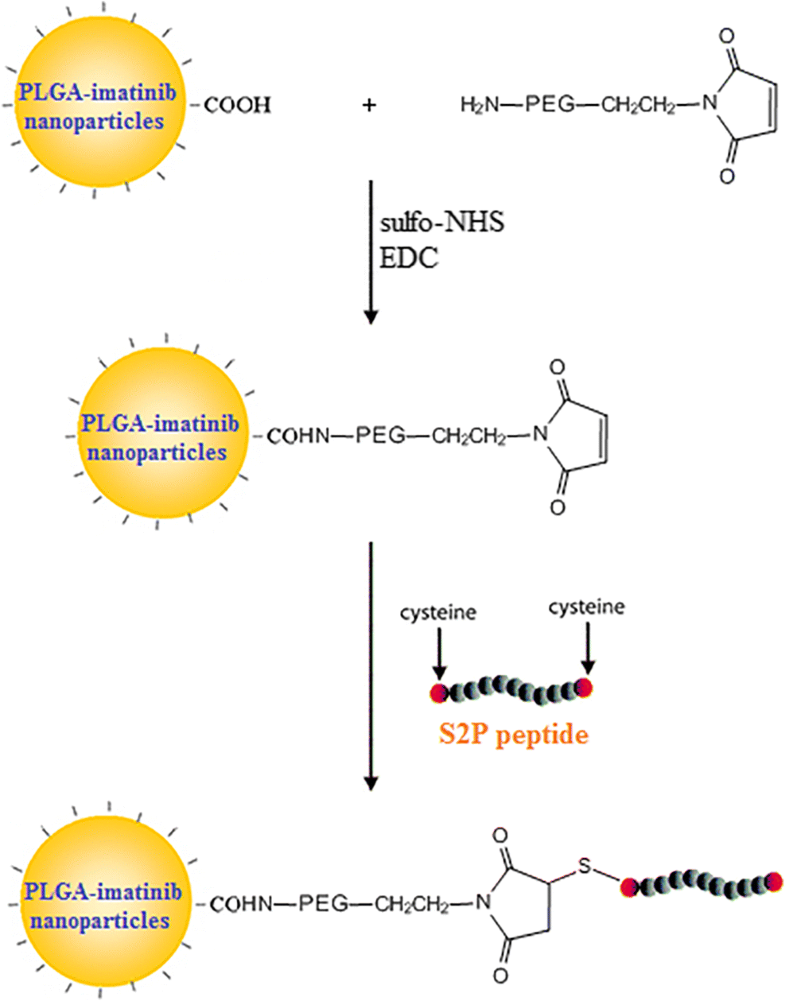 Keywords
Nanomedicine 
Surface conjugation 
S2P peptide 
Imatinib 
Atherosclerosis 
Notes
Acknowledgements
The authors are grateful to Nanotechnology Research Center of Tehran University of Medical Sciences (Tehran, Iran) for financial support.
Compliance with ethical standards
Conflict of interest
The authors report no conflicts of interest in this work.
Copyright information
© Springer Nature Switzerland AG 2020