Medicinal plants and their isolated phytochemicals for the management of chemotherapy-induced neuropathy: therapeutic targets and clinical perspective
Abstract
Background
Chemotherapy, as one of the main approaches of cancer treatment, is accompanied with several adverse effects, including chemotherapy-induced peripheral neuropathy (CIPN). Since current methods to control the condition are not completely effective, new treatment options should be introduced. Medicinal plants can be suitable candidates to be assessed regarding their effects in CIPN. Current paper reviews the available preclinical and clinical studies on the efficacy of herbal medicines in CIPN.
Methods
Electronic databases including PubMed, Scopus, and Cochrane library were searched with the keywords "neuropathy" in the title/abstract and "plant", "extract", or "herb" in the whole text. Data were collected from inception until April 2018.
Results
Plants such as chamomile (Matricaria chamomilla L.), sage (Salvia officinalis L.), cinnamon (Cinnamomum cassia (L.) D. Don), and sweet flag (Acorus calamus L.) as well as phytochemicals like matrine, curcumin, and thioctic acid have demonstrated beneficial effects in animal models of CIPN via prevention of axonal degeneration, decrease in total calcium level, improvement of endogenous antioxidant defense mechanisms such as superoxide dismutase and reduced glutathione, and regulation of neural cell apoptosis, nuclear factor-ĸB, cyclooxygenase-2, and nitric oxide signaling. Also, five clinical trials have evaluated the effect of herbal products in patients with CIPN.
Conclusions
There are currently limited clinical evidence on medicinal plants for CIPN which shows the necessity of future mechanistic studies, as well as well-designed clinical trial for further confirmation of the safety and efficacy of herbal medicines in CIPN.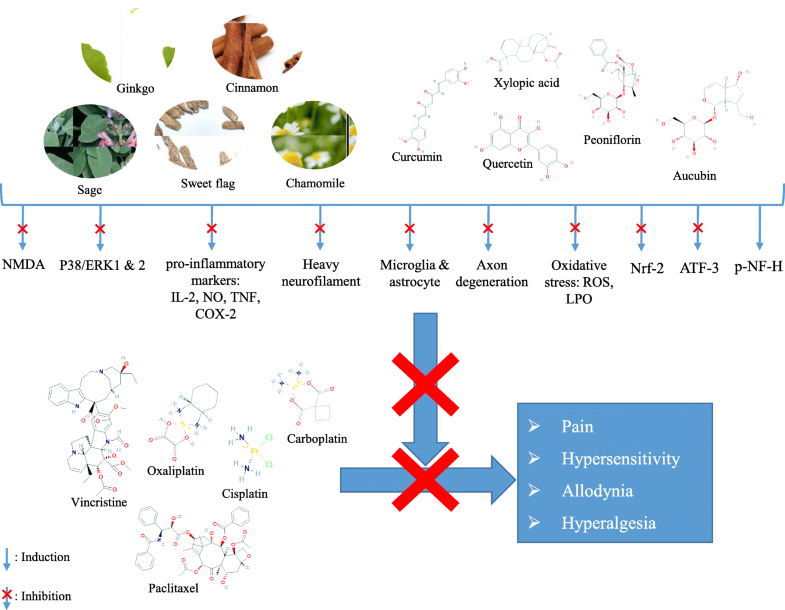 Keywords
Pain 
Neuropathy 
Phytotherapy 
Chemotherapeutic agents 
Inflammation 
Phytochemicals 
Medicinal plants 
Clinical studies 
Notes
Compliance with ethical standards
Conflict of interest
Authors declare that they have no conflicts of interest.
Copyright information
© Springer Nature Switzerland AG 2019