Adsorption and in vitro release study of curcumin form polyethyleneglycol functionalized multi walled carbon nanotube: kinetic and isotherm study
Abstract
Polyethylene glycol functionalized with oxygenated multi-walled carbon nanotubes (O-PEG-MWCNTs) as an efficient nanomaterial for the in vitro adsorption/release of curcumin (CUR) anticancer agent. The synthesized material was morphologically characterized using scanning electron microscopy, Fourier transform infrared spectroscopy and transmission electron microscopy. In addition, the CUR adsorption process was assessed with kinetic and isotherm models fitting well with pseudo-second order and Langmuir isotherms. The results showed that the proposed O-PEG-MWCNTs has a high adsorption capacity for CUR (2.0 × 103 mg/g) based on the Langmuir model. The in vitro release of CUR from O-PEG-MWCNTs was studied in simulating human body fluids with different pHs (ABS pH 5, intestinal fluid pH 6.6 and body fluid pH 7.4). Lastly, to confirm the success compliance of the O-PEG-MWCNT nanocomposite as a drug delivery system, the parameters affecting the CUR release such as temperature and PEG content were investigated. As a result, the proposed nanocomposite could be used as an efficient carrier for CUR delivery with an enhanced prolonged release property.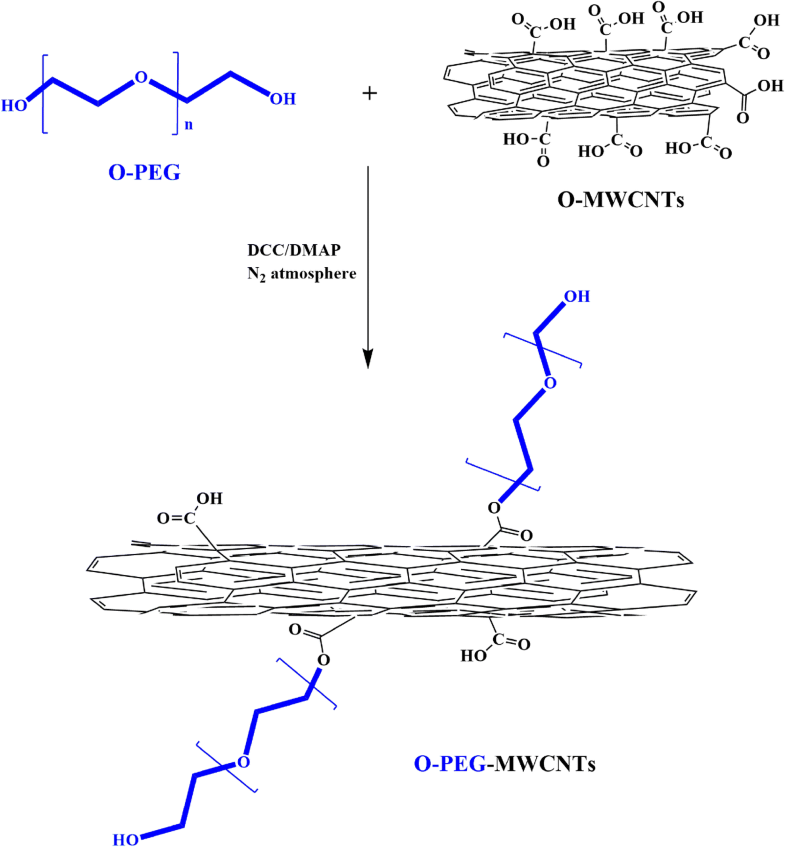 Keywords
Multi walled carbon nanotubes 
Curcumin 
Adsorption isotherm 
Release 
Drug delivery 
Notes
Acknowledgments
Authors would like to thanks Universiti Teknologi Malaysia (UTM) for the facilities and financial support.
Compliance with ethical standards
Conflict of interest
"Authors declare that there is no conflict of interest".
Copyright information
© Springer Nature Switzerland AG 2018