N-substituted piperazinyl sarafloxacin derivatives: synthesis and in vitro antibacterial evaluation
Abstract
Background
Fluoroquinolones (FQs) are compounds of major interest with broad antimicrobial activities against community and hospital-acquired infections such as respiratory tract infections (nosocomial pneumonia, chronic bronchitis and tuberculosis), skin and soft tissue infections, bone and joint infections, intra-abdominal infections and sexually transmitted diseases. This broad range of activities along with favorable pharmacokinetic and low toxicity introduced this class of compounds as important antimicrobial chemotherapy agents. The rapid increase in prevalence of FQs resistant microbes in environment motivated medicinal chemists to discover new quinolone-based compounds with potent activities against Gram-positive bacteria.
Methods
The designed compounds were prepared through the two-component reaction between aromatic α-haloketones or α-halooximes and sarafloxacin in the presence of NaHCO3 in DMF, affording the corresponding N-[2-(aryl-3-yl) ethyl] piperazinyl quinolone derivatives in good yields. All synthesized compounds were evaluated for antibacterial activities against Gram-positive [Staphylococcus aureus ATCC 6538p, Micrococcus luteus, ATCC 1110, Staphylococcus epidermidis ATCC 12228 and Bacillus subtilis ATCC 6633] and Gram-negative [Escherichia coli ATCC 8739, Klebsiella pneumoniae ATCC 10031 Pseudomonas aeruginosa ATCC 9027 and Serratia marcescens PTCC 1111] bacteria.
Results
The antibacterial activities of 24 new compounds were reported as MIC values in comparison to sarafloxacin. The most active compound, 4 g, exhibited similar inhibitory activity against Gram-positive bacteria including S. aureus, S. epidermidis and B. subtilis compared to positive control. Furthermore, benzyloxime incorporated derivatives (4 s-4x) showed poor activity against all tested strains, except 4x.
Conclusion
The obtained results indicated that the synthesized compounds containing substituted piperazine moiety at the C-7 position displayed same or weak inhibitory activities compared to sarafloxacin.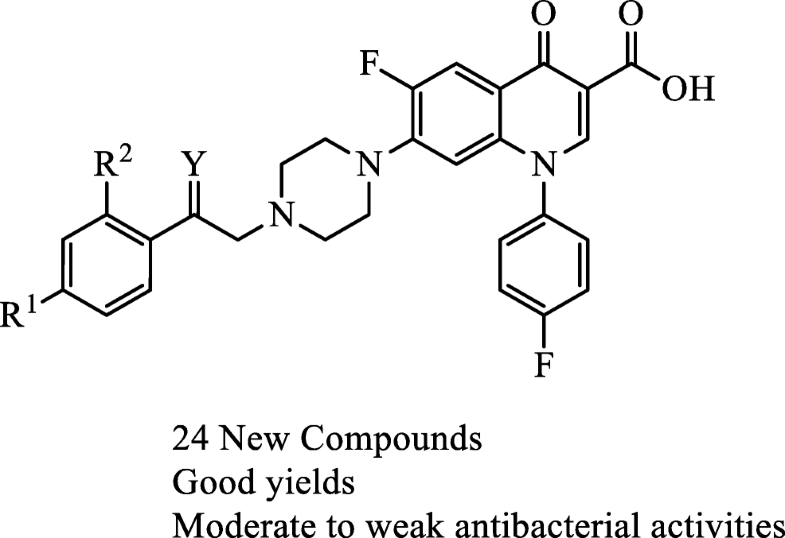 Keywords
Antibacterial activity 
Quinolones 
Synthesis 
Gram-positive bacteria 
Notes
Acknowledgments
The authors declare no conflict of interests. This work was supported by a grant from the Iranian National Science Foundation (INSF); Grant no. 93023097.
Copyright information
© Springer Nature Switzerland AG 2018