Neuroprotective, antidiabetic and antioxidant effect of Hedera nepalensis and lupeol against STZ + AlCl3 induced rats model
Abstract
Purpose
This study was aimed to evaluate the effect of Hedera nepalensis crude extract (HNC) and its isolated compound lupeol on antioxidant defence system, biochemical parameters and behavioural indices of Alzheimer disease generated in diabetic rats.
Methods
To evaluate the effect of the plant extract and lupeol, symptoms of Alzheimer and diabetes were induced in rats by STZ + AlCl3 treatment. Glucose level was measured with glucometer followed by antioxidant and biochemical assessment of the treated and untreated animals. Behavioural response of the rats was determined by Elevated Plus Maze (EPM) test and Morris Water Maze (MWM) test followed by determination of brain neurotransmitters by HPLC.
Results
HNC significantly reduced blood glucose level in a time dependent manner and elevated liver function markers were significantly (P < 0.05) reinstated to normal levels. HNC showed increase in level of catalase (CAT), superoxide dismutase (SOD) and reduced glutathione (GSH). HPLC quantification revealed that HNC treatment led to significant (p < 0.001) elevation in the level of neurotransmitters (dopamine and serotonin) in the midbrain region as compared to Alzheimer control (AC) group. EPM and MWM test showed decrease in cognitive and memory impairment in a rat group treated with HNC as compared to AC group.
Conclusion
Overall, results showed that H. nepalensis has therapeutic potential for the treatment of diseases like Alzheimer and diabetes.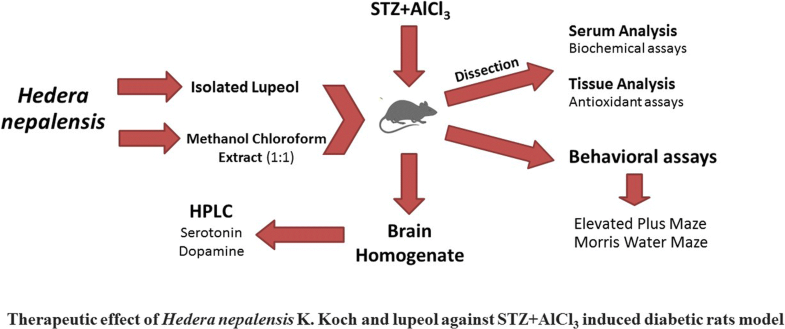 Keywords
Alzheimer disease 
Antioxidant 
Diabetes mellitus 
HPLC 
Lupeol 
Neurotransmitters 
Notes
Acknowledgements
The authors are highly grateful to the animal house staff for their support.
Authors' Contributions
WJH and HI conducted all the assays and experimental work. BM conceived the study design and supervised the study. FR contributed in animal dissection. HI and WJH drafted the manuscript and all authors proof read the final version.
Compliance with ethical standards
Competing interests
The authors declare that they have no conflict of interest.
Copyright information
© Springer Nature Switzerland AG 2018