Anticancer potential of Ferula hezarlalehzarica Y. Ajani fraction in Raji lymphoma cell line: induction of apoptosis, cell cycle arrest, and changes in mitochondrial membrane potential
Abstract
Background
Cancer is a major cause of mortality. The present study evaluates the antitumor effects of Ferula hezarlalehzarica Y. Ajani fractions on various cancer cell lines, including the Raji Burkitt's lymphoma cells.
Methods
We evaluated the cytotoxic activity of various fractions of F. hezarlalehzarica against tumor cell lines by the MTT assay. Annexin V-PE/7-AAD and cell cycle analysis were assessed by flow cytometry. Expressions of genes associated with cell death and proliferation (Bax, Bcl-2, Fas, and c-Myc) were determined using real-time PCR. Alteration in mitochondrial membrane potential (MMP) was examined by JC-1 dye staining.
Results
The hexane fraction of F. hezarlalehzarica showed the highest degree of cytotoxicity against Raji cells (IC50 = 31.6 μg/ml). Flow cytometry analysis showed that 200 μg/ml of the fraction induced apoptosis in >96% of Raji cells after 24 h. In cell cycle analysis, at the same concentration, the percentage of apoptotic cells in the sub G1phase increased to 95.25 ± 1.76% at 48 h of treatment. The fraction induced cell cycle arrestat the G0/G1phase. Exposure to 100 μg/ml of the fraction after 48 h increased the percentage of G0/G1 cells (76.3 ± 6.08%) compared to the negative control (<50%). Treatment with75μg/ml of fraction reduced the expressions of Bcl-2 (0.23 ± 0.008-fold) and c-Myc (0.68 ± 0.07-fold) and increased Bax (1.75 ± 0.31-fold) and Fas (5.02 ± 0.74-fold; p < 0.01). We observed a decrease in MMP (≈0.4, p < 0.05) at ≥100 μg/ml and this effect remained almost unchanged until 48 h.
Conclusions
The F. hezarlalehzarica hexane fraction induced apoptosis in Raji cells by changing the expression of apoptosis-related genes, cell cycle distribution, and MMP. These data suggested a potential effectiveness of F. hezarlalehzarica for inducing cell death in lymphoma cells.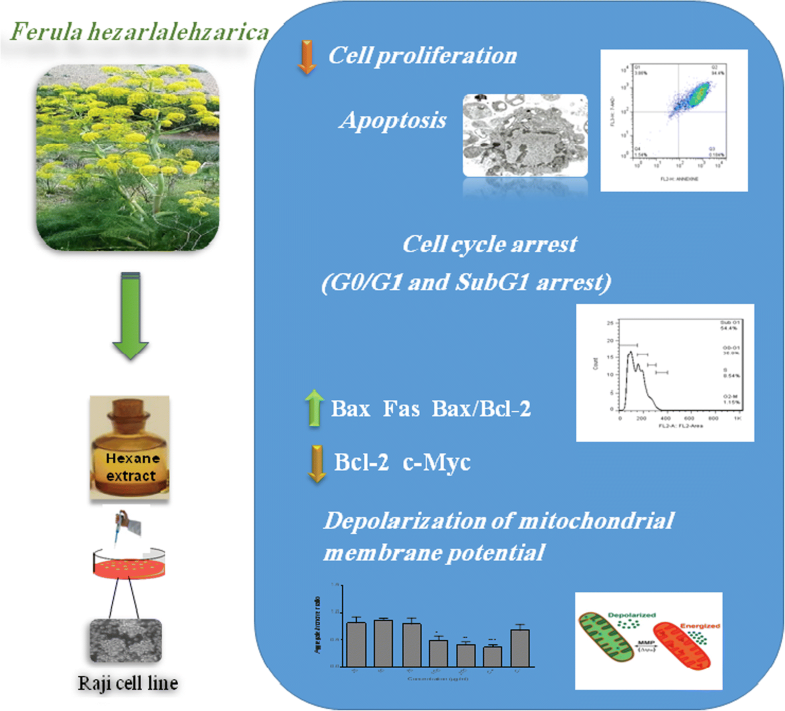 Keywords
Ferula hezarlalehzarica
Apoptosis 
Raji cell line 
Lymphoma 
Notes
Acknowledgements
This work was extracted from the thesis written by one of the authors, Y. Asemani, and was supported by grants no 12203 and 12239 from Shiraz University of Medical Sciences.
Compliance with ethical standards
Conflicts of interest
The authors declare no conflicts of interest.
Copyright information
© Springer Nature Switzerland AG 2018