Abstract
Resistance element welding (REW) is an appropriate thermal-based joining method for joining hybrid materials with other structural steel grades, e.g. high-strength steels. Due to insufficient knowledge on the application of this joining process in combination with these new hybrid materials, deeper investigations were done regarding the suitability of the process and specific boundary conditions. This article introduces by giving a summary of the material properties, the boundary conditions and the welding process itself. Afterwards, the pre-assembly step of the elements and the resulting handling strength of the pre-assembled elements are discussed for two different hybrid material thicknesses. Weldability lobes are compared for REW with and without additional adhesives so that appropriate process parameters are defined. Due to a possible industrial application, relevant production-related disturbance variables are addressed as well. Therefore, the impact on the resulting joint properties, e.g. nugget size, is evaluated for different offsets of the electrodes and different gap sizes between the sheets as well as for both orientations of the polarity. The article closes with a comparison of the resulting load-bearing capacities of the REW-joints with those manufactured by resistance spot shunt welding and self-pierce riveting with semi-hollow rivets.
This is a preview of subscription content, log in to check access.
Access options
Buy single article
Instant unlimited access to the full article PDF.
US$ 39.95
Price includes VAT for USA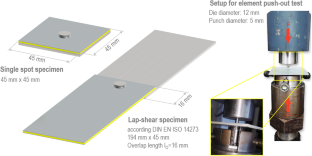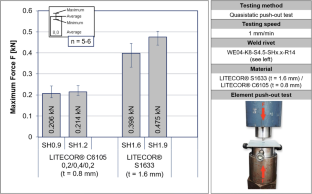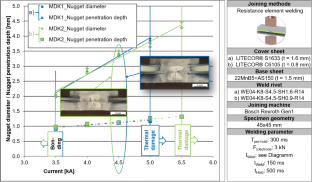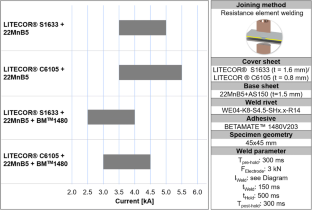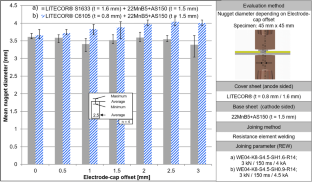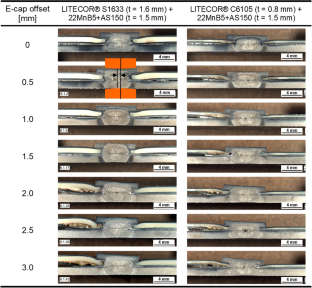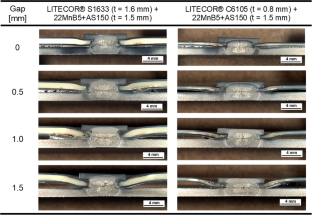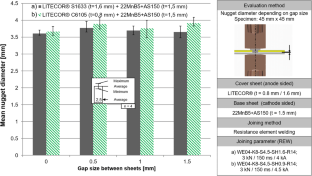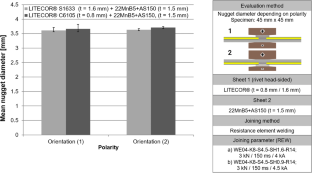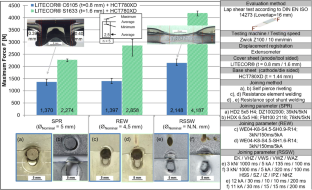 References
1.

Friedrich H (2013) Leichtbau der Fahrzeugtechnik. Springer Vieweg, Wiesbaden

2.

Paul C, Wiedemann S, Wetterau H-J et al (2017) Final report LEIKA – Effiziente Mischbauweisen für Leichtbau-Karosserien, funding code 02PJ2770 – 02PJ2781. Plattform FOREL 2017

3.

Bolay M et al. 2013 Innovative Schichtverbundwerkstoffe mit textiler Einlage für den Karosseriebau. Tagungsband T36 des 33. EFB-Kolloquiums Blechverarbeitung, Europäische Gesellschaft für Blechverarbeitung e.V. Hannover, 16.-17.04., Fellbach, 2013

4.

Hufenbach W et al (2008) Numerical and experimental investigations on HYLITE sandwich sheets as an alternative sheet metal. Arch Civ Mech Eng 8(2):67–80

5.

N.N.: Hylite presentation. http://www.jtmconsultancy.nl/pdf/hylite_presentation.pdf, aufgerufen am 15.04.2013

6.

ThyssenKrupp ATZextra, Karosserie A (2017) Einsatzpotenzial von LITECOR in der Karosserie; Springer Verlag, pp. 108–111, 2017

7.

N.N.: BONDAL® Körperschalldämpfender Verbundwerkstoff. Produktbroschüre ThyssenKrupp Steel Europe, 2001

8.

Schöneburg R, Kopp G (2013) Verbund- und Sandwichlösungen. In: Friedrich H (ed) (Hrsg.): Leichtbau der Fahrzeugtechnik, S. Springer Vieweg Verlag, Wiesbaden, pp 519–533

9.

Pickin CG, Young K, Tuersley I 2007 Joining of lightweight sandwich sheets to aluminium using self-pierce riveting. In: Science Direct, Materials & Design, No. 28, S. 2361–2365

10.

Chergui A, Renner U 2014 Joining of steel/polymer/steel laminates - a challenge? Manuscr SCT 2014, 15.06.2014

11.

Holtschke N, Jüttner S (2016) Joining lightweight components by short-time resistance spot welding. Weld World. https://doi.org/10.1007/s40194-016-0398-5

12.

Meschut G, Schmal C 2017 Mechanisches Fügen und Hybridfügen von Metall-Kunststoff-Hybriden mit Metallen, Final report to IGF-Project No. 18799 N/1, Paderborn University, EFB

13.

ATZextra: Das Projekt ThyssenKrupp InCar plus. (S. 110 ff) Springer Vieweg, Wies-baden, 2014

14.

Chergui A: Patent DE10 2011 100 495 B4: "Verfahren und Vorrichtung zum Fügen eines Verbundblechteils"; Date of filing: 04.05.2011 , Publication: 31.01.2013

15.

Graul M, Jüttner S, Koppe K, Rudolf H 2004 Method for joining surface materials by using a joining element such as bolts or nuts, comprises welding the joining element with the surface material under mechanical load by resistance heating or inductive heating (DE102004025492 A1)

16.

Meschut G, Schmal C, Olfermann T (2017) Process characteristics and load-bearing capacities of joints welded with elements for the application in multi-material design. Weld World 61:435–442. https://doi.org/10.1007/s40194-017-0431-3

17.

Meschut G, Olfermann T, Janzen V, Matzke M 2013 Vergleich innovativer thermischer Fügeverfahren zum Verbinden von ultrahöchstfesten Stählen in Mischbaustrukturen. In: DVS-Berichte, Band 296, DVS Media GmbH, Düsseldorf

18.

Meschut G, Meyer C 2016 Weiterentwicklung des Widerstandselementschweißens für den Einsatz in der automobilen Serienfertigung. In: LWF-Schriftenreihe, Band 118, Shaker Verlag, Aachen
Additional information
Publisher's note
Springer Nature remains neutral with regard to jurisdictional claims in published maps and institutional affiliations.
Recommended for publication by Commission III - Resistance Welding, Solid State Welding, and Allied Joining Process
About this article
Cite this article
Schmal, C., Meschut, G. Process characteristics and influences of production-related disturbances in resistance element welding of hybrid materials with steel cover sheets and polymer core. Weld World (2020). https://doi.org/10.1007/s40194-019-00842-w
Received:

Accepted:

Published:
Keywords
Hybrid materials

High-strength steel grades

Resistance element welding

Production-related disturbance values