Abstract
Inspection is an integral part of the quality control system in welded fabrication. In New Zealand's steel construction, the specified type and level of inspection are based on a risk-based approach of the structural steelwork fabrication and erection standard AS/NZS 5131 [1]. This approach translates into a fit for-purpose assessment that ensures that the fabrication and erection of steel structures are based on a rational risk assessment, recognizing the importance of the structure, what maintenance and inspection measures will be in place, the consequences of failure, and the complexity of the fabrication and erection. The inspection requirements have been developed from international best practice and provide an effective means to achieve fit for-purpose steel structures. While inspection is an important step in the quality control system of welded fabrication, it also adds a significant cost factor. Recognizing the need for risk mitigation in a seismic environment, the New Zealand steel construction industry established the Steel Fabrication Certification Scheme (SFC) that requires fabricators to comply with AS/NZS 5131 including AS/NZS ISO 3834.2 [2]. However, the current inspection requirements do not consider a fabricator's quality management effort and track record. The objective of this study was to examine the rate of weld repairs (also referred to as the non-compliance rate or defect rate) in recent structural steel projects and to establish key parameters influencing the weld quality levels. The study is based on data from 37 completed structural steelwork projects provided by eight New Zealand steel fabricators. It was made available in the form of third party inspection reports for all welds that were inspected in individual projects. Further information was made available on the project details. The projects covered in this report include various levels of size and complexity. This paper summarizes the results of the study and makes recommendations for further research work to optimize inspection requirements based on the defect data analysis with the aim of optimizing inspection efforts.
This is a preview of subscription content, log in to check access.
Access options
Buy single article
Instant unlimited access to the full article PDF.
US$ 39.95
Price includes VAT for USA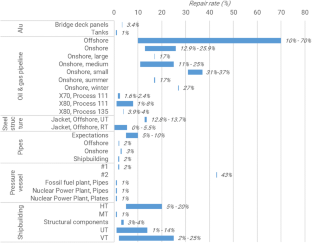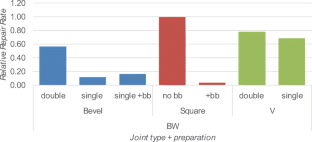 References
1.

AS/NZS 5131 Structural Steelwork - Fabrication and Erection, Standards Australia / Standards New Zealand, 2016

2.

ISO 3834-2 Quality requirements for fusion welding of metallic materials. Comprehensive quality requirements, International Organization for Standards, 2005

3.

NZS 3404.1: Steel structures Standard - Materials, fabrication, and construction, Standards New Zealand, 1997

4.

ISO 9712 Non-destructive testing – Qualification and certification of NDT personnel, International Organization for Standards, 2012

5.

AS 2561 Guide to the determination and the use of quality costs, Standards Australia, 2010

6.

Cullison A., Irving B. (1991), M.R. Johnsen, Controlling Weld Quality: It Is One Tough Job. Welding Journal

7.

Consonni M, Wee CF (2012) Repair rates in welded construction: an analysis of industry trends. Weldina and Cutting 1:33–35

8.

Wagner M.J., Patchett B.M. (1991), Girth weld defects in mechanized GMA Field-Welded Pipelines., 70 75–82. Welding Journal

9.

Felber S (2008) Mechanical-technological and fracture mechanical properties of the high grade pipeline-steel X80 with results of different pipeline-projects. Welding in the World 52:42–50

10.

ISO 4063 Welding and allied processes-nomenclature of processes and reference numbers, International Organization for Standards, 2009

11.

Cousin V., Baguley R. (1992), Enhancing pipeline reliability: a Contractor's perspective, in: International Conference Pipeline Reliability.

12.

Howard JL, Kvamsdal RS, Naesheim K (1977) Building and operating experience of spherical-tank LNG carriers. Mar Technol Soc J 14:158–174

13.

Salter G.R., Gethin J.W. (1974), An analysis of defects in pressure vessel main seams, CEGB London

14.

Sander L.W. (1981), The national shipbuilding research program: navy weld defect tolerance study, Sun Ship Inc, Chester, Pennsylvania

15.

Still JR, Rae G (1984) Laybarge inspection of submarine pipelines. Metalconstruction. 16:268–273 275

16.

Thurlbeck S.D., Stacey A., Sharp J.V., Nichols N.W. (1996), Welding fabrication defects in two offshore steel jacket structures, in:14. international conference on offshore mechanics arctic engineering(OMAE)

17.

Duke power cites training, electrodes for low weld reject rate, Welding Journal. 57 (1992) 35–36

18.

Record low reject rate at Arizona welding, Canadian Welder Fabricator. 70 (1978) 24

19.

IAB-337r2–13 IIW Manufacturer Certification Scheme for the Management of Quality in Welding, (2013)

20.

BS EN 1090–2 Execution of steel structures and aluminium structures. Technical requirements for steel structures, The British Standards Institution, 2008

21.

Karpenko M. (2017), The cost of quality, in: New Zealand Metals Conference

22.

Crittenden G. (2016), The impact of robotics on welding, Australian Welding

23.

ISO 6520-1 Welding and allied processes – classification of geometric imperfections in metallic materials – Part 1: Fusion welding, International Organization for Standards, 2007
Acknowledgments
The authors wish to thank to all New Zealand fabricators who supported this project by supplying project information and NDT data.
Funding information
This project was made possible thanks to funding from the Heavy Engineering Research Association (HERA).
Additional information
Publisher's note
Springer Nature remains neutral with regard to jurisdictional claims in published maps and institutional affiliations.
Recommended for publication by Commission XVIII - Quality Management in Welding and Allied Processes
About this article
Cite this article
Karpenko, M., Heinzel, H., Broderson, T. et al. Repair rates in structural steel fabrication. Weld World (2020) doi:10.1007/s40194-019-00822-0
Received:

Accepted:

Published:
Keywords
Structural steel

Welding Inspection

Repair

Defect

Quality

Welding