miRNA-Based Therapeutic Strategies
miRNA in Pathobiology (T Patel, Section Editor)
Abstract
Micro-RNAs (miRNAs) are short, non-coding RNA species, thought to act primarily through downregulation of target mRNA species with subsequent decrease in encoded proteins. Recent studies revealed that miRNAs play pivotal roles in physiology and disease, and therapeutic targeting has started being investigated. Generally, the upregulation of miRNAs is achieved through administration of synthetic miRNAs or administration of miRNA expressing vectors. The downregulation of miRNAs is achieved through administration of anti-sense nucleotides, often chemically modified to ensure stability and specificity. There are multiple potential limitations associated with the development and testing of miRNA-based therapeutics. These issues include, but are not limited to, off-target effect, avoidance from internal nucleases, and toxicity for miRNA therapy. In this review, we will discuss recent advances in miRNA based therapeutic strategies.
Keywords
MicroRNA 
Therapy 
Antagomir 
OncomiRNAs 
Cancer 
Introduction
MicroRNAs (miRNAs) are short (~22 nucleotides), single stranded, non-coding RNA species that were first reported to have a function in 1993 [1]. It is believed that miRNAs exert their function mainly through binding of 6–8 nucleotide sequences (miRNA seed) to complementary sequences in target messenger RNA (mRNA), resulting in transcript degradation or translation inhibition, with the net effect of decreasing target protein amount [2•]. While some miRNA species are transcribed independently, others originate in introns or exons of genes and are transcribed in concert with mRNA species [3]. The transcribed RNA (pri-miRNA) contains the mature miRNA sequence (guide strand) as well as the complementary sequence (passenger strand). Within the nucleus, the enzyme Drosha cuts the pri-miRNA to pre-miRNA [4], which is then transferred out of the nucleus by a carrier protein, Exportin-5 [5]. Within the cytoplasm, pre-miRNA is processed by the enzyme Dicer to 20-25 base mature miRNAs [6]. Mature miRNA is then incorporated into the RNA-induced silencing complex (RISC), and interacts with target messenger RNA species [7]. Following initial reports of miRNA function, a plethora of studies identified salient roles for miRNAs in regulating a variety of physiologic and pathologic states. As the mechanism and role of miRNAs in human disease is gradually unraveled, recent studies also started exploring the role of miRNAs as therapeutics.
miRNA-based Therapeutic Strategies: Design, Pitfalls and Challenges
The process of developing miRNA-based therapeutics is somewhat similar to conventional drug discovery and testing protocols. An overview of miRNA-based therapeutic strategies is shown in Fig. 
1
. From a historical perspective, the development of conventional drugs generally starts with large screening tests, without preexisting hypotheses regarding mechanism of action. In contrast, most efforts to date to select miRNAs as targets for therapy were based on prior knowledge regarding disease specific miRNA dysregulation [
8
]. Although hypothesis-free screening of miRNAs as therapeutics can hypothetically be employed, the strategies used so far are likely based on the fact that miRNAs are intrinsic regulatory molecules, with defined, physiological functions. For example, miRNA-34 was found to have tumor suppressive roles in a variety of human tumors, and later became the focus of miRNA-based therapeutics [
9
,
10
]. Following identification of miRNA species dysregulated in cancer, the next step usually entails functional characterization of the candidate miRNA species in vitro and in vivo through gain or loss of function studies. Gain of function can be accomplished through introduction of synthetic miRNA (either transfection or viral transduction). Loss of function can be accomplished by employing complementary antisense oligonucleotides, usually modified chemically to ensure stability and specificity.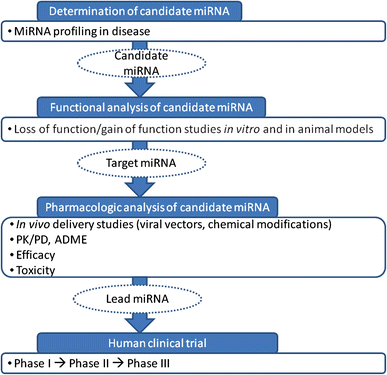 Specific miRNA-based Therapeutic Advances
Conclusion
miRNA-based therapeutics is an emerging field showing significant promise. Studies in mice, non-human primates and early trials in humans clearly demonstrate that there is potential for developing miRNAs into valuable therapeutics. There are, however, multiple areas of concern that deserve further investigation. For example, it is not entirely clear if miRNAs should be viewed similarly to siRNAs or chemical compounds in terms of off-target effects. miRNAs appear to be built-in regulatory molecules, designed to exert global modulation through moderate effects on a multitude of targets. Therefore, development of miRNAs into therapeutics may be less prone to true off-target effects. Nonetheless, while true off target effects could be rare, the same cannot be stated regarding side effects. There are several examples (miRNA-21, miRNA-122, and others) where downregulation in a diseased tissue appears beneficial, but data from a different tissue or disease indicate severe potential side effects of decreasing same miRNA levels, probably in particular if chronic treatment is necessary. Other areas of further research include efficient in vivo delivery. In vivo miRNA upregulation has been attempted by employing viral vectors, however, care must be exercised, similar to other viral-based in vivo gene therapy efforts. In addition, while some specificity can be attained based on the AAV serotype, further efforts are necessary to increase delivery specificity to the organ of interest alone, or, even to the cell of interest. However, given the relatively short period of time since discovery of miRNAs, the progress appears sufficient to justify optimism regarding developing novel therapeutics based on miRNAs.
Notes
Conflicts of interest
No potential conflicts of interest relevant to this article were reported.
Copyright information
© Springer Science+Business Media New York 2012