Abstract
Purpose of Review
Malleostapedotomy (MS) is a challenging otologic surgical technique involving complex anatomic relationships and nuanced technical considerations. Over the past few decades, MS has been refined by development of customized prostheses and enhanced understanding of relevant ossicular anatomic dimensions. This article presents outcomes with a self-crimping angulated malleostapedotomy piston and reviews recent published advancements relevant to MS surgery.
Recent Findings
Excellent results are reported with a self-crimping angulated nitinol piston including AB gap closure < 20 dB in the majority of cases and < 10 dB in many cases. Innovations in surgical technique include consideration for shifting the crimp site to the malleus neck, possible repositioning of the malleus, and use of an endoscope. Prosthesis sizing may be optimized by specialized instruments or preoperative 3D radiologic imaging.
Summary
Malleostapedotomy remains a viable option for management of stapes fixation when traditional incus-grip techniques are not possible. Ongoing innovation in technique and prosthesis may further advance hearing outcomes in to the future.
This is a preview of subscription content, log in to check access.
Access options
Buy single article
Instant unlimited access to the full article PDF.
US$ 39.95
Price includes VAT for USA
Subscribe to journal
Immediate online access to all issues from 2019. Subscription will auto renew annually.
US$ 99
This is the net price. Taxes to be calculated in checkout.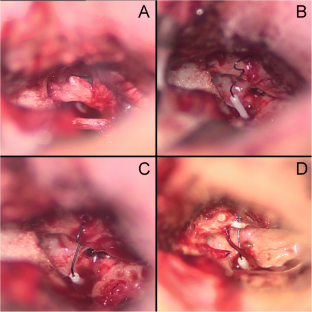 References
Papers of particular interest, published recently, have been highlighted as: • Of importance
1.

Fisch U, Acar GO, Huber AM. Malleostapedotomy in revision surgery for otosclerosis. Otol Neurotol. 2001;22:776–85.

2.

Fisch U, May JS, Linder T. Tympanoplasty, mastoidectomy, and stapes surgery, 2nd edn. Ann R Coll Surg Engl. 2010;92:81.

3.

Gluth MB, Motakef S, Friedland PL, Atlas MD. Incus replacement malleostapedotomy in quiescent chronic otitis media with a mobile stapes footplate: an alternative to TORP in select cases. Otol Neurotol. 2011;32:242–5.

4.

Gluth MB, Cohen MA, Friedland PL, Dornhoffer JL, Atlas MD. Malleostapedotomy prosthesis size and shape: key measurements from a temporal bone study. Otol Neurotol. 2012;33:518–22.

5.

Rambousek A, Schlegel CH, Linder TE. From incus bypass to malleostapedotomy: technical improvements and results. J Laryngol Otol. 2012;126:995–1002.

6.

Kwok P, Fisch U, Nussbaumer M, Herkenhoff S, Strutz J. Morphology of the malleus handle and the comparison of different prostheses for malleostapedotomy. Otol Neurotol. 2009;30:1175–85.

7.

• Kaftan H, Böhme A, Martin H. Is the prosthesis length in malleostapedotomy for otosclerosis revision surgery predictable? Otol Neurotol. 2014;35:1150–5. Findings from this study suggest that 3D analysis of micro-CT scans and the functional length of a prior stapes prosthesis can be used to estimate the distance between malleus and stapes footplate for a malleostapedotomy prosthesis.

8.

• Kaftan H, Blaurock M, Kaftan S. Design-dependent calculation of the prosthesis length in malleostapedotomy. Ann Otol Rhinol Laryngol. 2015;124:728–33. This study validates the previously proposed method of calculating malleostapedotomy prosthesis length through the insertion of prostheses into cadaveric specimens.

9.

Sarac S, McKenna MJ, Mikulec AA, Rauch SD, Nadol JB, Merchant SN. Results after revision stapedectomy with malleus grip prosthesis. Ann Otol Rhinol Laryngol. 2006;115:317–22.

10.

Vallejo-Valdezate LA, Herrero-Calvo D, Garrosa-García M. Vascularization of the long process of the malleus: surgical implications. Eur Arch Oto-Rhino-Laryngol. 2016;273:2335–42.

11.

Vallejo Valdezate LA, Hidalgo Otamendi A, Hernández A, Lobo F, Gil-Carcedo Sañudo E, Gil-Carcedo García LM. Design and experimental analysis of a new malleovestibulopexy prosthesis using a finite element model of the human middle ear. Acta Otorrinolaringol Engl Ed. 2015;66:16–27.

12.

Gil-Carcedo E, Pérez López B, Vallejo LA, Gil-Carcedo LM, Montoya F. Modelo computadorizado 3-D para el estudio de la biomecánica del oído medio con el método de los elementos finitos (Mef). Acta Otorrinolaringológica Esp. 2002;53:527–37.

13.

Vallejo LA, Manzano MT, Hidalgo A, Hernández A, Sabas J, Lara H, et al. A new malleostapedotomy prosthesis. Experimental analysis by laser doppler vibrometer in fresh cadaver temporal bones. Acta Otorrinolaringol Esp. 2017;68:69–79.

14.

• Chen Z, Sun X, Zhou H, Shi H, Wu Y, Yin S. Comparison of hearing results of malleovestibulopexy and total ossicular replacement prosthesis for chronic otitis media patients with a mobile stapes footplate. Ann Otol Rhinol Laryngol. 2014;123:343–6. This randomized study found that malleostapedotomy (MS) and total ossicular replacement prosthesis result in comparable percentages of patients who obtain ABG closure < 10 dB and < 20 dB, although the mean post-operative gain was higher among patients who underwent MS.

15.

Pitiot V, Hermann R, Tringali S, Dubreuil C, Truy E. Revision stapes surgery for lysis of the long process of the incus: comparing hydroxyapatite bone cement versus malleovestibulopexy and total ossicular replacement prosthesis. Eur Arch Oto-Rhino-Laryngol. 2016;273:2515–21.

16.

Todd NW. Orientation of the manubrium mallei: inexplicably widely variable. Laryngoscope. 2005;115:1548–52.

17.

Chang M, Jang J, Song J-J, Han K-H, Lee J, Oh S, et al. Malleus neck-anchoring malleostapedotomy: preliminary results. Otol Neurotol. 2012;33:1477–81.

18.

• Park M, Song J-J, Chang MY, Lee JH, Oh SH, Chang SO. Malleostapedotomy revisited: the advantages of malleus neck-anchoring malleostapedotomy. Otol Neurotol. 2014;35:1504–8. This retrospective study found no differences in hearing outcomes following malleostapedotomy with prosthesis attachment to the malleus handle versus neck.

19.

Ghonim M, Shabana Y, Ashraf B, Salem M. Revision stapedectomy with necrosis of the long process of the incus: does the degree of necrosis matter? A retrospective clinical study. J Int Adv Otol. 2017;13:28–31.

20.

Ghonim MR, Shabana YK, Elkotb MY. Outcome of malleo-stapedotomy using the malleus relocation technique during revision stapes surgery. J Laryngol Otol. 2011;125:441–4.

21.

Burggraaf J, Mylanus EAM, Pennings RJE, Cremers C. Malleostapedotomy with the self-fixing and articulated titanium piston. Eur Arch Otorhinolaryngol. 2018;275:1715–22.

22.

Häusler R, Steinhart U. A new self-fixing and articulated malleus grip stapedectomy prosthesis. Adv Otorhinolaryngol. 2007;65:197–201.

23.

• Iannella G, Angeletti D, Manno A, Pasquariello B, Re M, Magliulo G. Malleostapedotomy in stapes revision surgery: is an endoscopic approach possible? Laryngoscope. 2018;128:2611–4. This case series described the positive audiological outcomes and low complication rates related to the exclusive use of endoscopic ear surgery for malleostapedotomy, which is reported to offer excellent visualization of middle ear structures.

24.

Iannella G, Magliulo G. Endoscopic versus microscopic approach in stapes surgery: are operative times and learning curve important for making the choice? Otol Neurotol. 2016;37:1350–7.
Ethics declarations
Conflict of Interest
Lucy J. Xu declares that she has no conflict of interest.
Michael B. Gluth reports personal fees from Osler Otolaryngology Review. He also designed the prosthesis involved with the case series presented; however, he does not and never has received any royalties or other compensation whatsoever from the manufacturer (Grace Medical) for this work.
Human and Animal Rights and Informed Consent
IRB approval was obtained at the University of Chicago: #18-1713.
Additional information
Publisher's Note
Springer Nature remains neutral with regard to jurisdictional claims in published maps and institutional affiliations.
This article is part of the Topical Collection on Ossicular Chain Reconstruction
About this article
Cite this article
Xu, L.J., Gluth, M.B. Malleostapedotomy: Recent Innovations and Surgical Outcomes. Curr Otorhinolaryngol Rep (2020). https://doi.org/10.1007/s40136-020-00265-y
Keywords
Malleostapedotomy

Malleovestibulopexy

Malleus-grip stapedotomy

Otosclerosis

Tympanosclerosis

Conductive hearing loss