Deep Learning and Neurology: A Systematic Review
Abstract
Deciphering the massive volume of complex electronic data that has been compiled by hospital systems over the past decades has the potential to revolutionize modern medicine, as well as present significant challenges. Deep learning is uniquely suited to address these challenges, and recent advances in techniques and hardware have poised the field of medical machine learning for transformational growth. The clinical neurosciences are particularly well positioned to benefit from these advances given the subtle presentation of symptoms typical of neurologic disease. Here we review the various domains in which deep learning algorithms have already provided impetus for change—areas such as medical image analysis for the improved diagnosis of Alzheimer's disease and the early detection of acute neurologic events; medical image segmentation for quantitative evaluation of neuroanatomy and vasculature; connectome mapping for the diagnosis of Alzheimer's, autism spectrum disorder, and attention deficit hyperactivity disorder; and mining of microscopic electroencephalogram signals and granular genetic signatures. We additionally note important challenges in the integration of deep learning tools in the clinical setting and discuss the barriers to tackling the challenges that currently exist.
Keywords
Artificial intelligence 
Biomedical informatics 
Computer vision 
Connectome mapping 
Deep learning 
Genomics 
Machine learning 
Neurology 
Neuroscience 
Introduction
Twenty-first century healthcare is marked by an abundance of biomedical data and the development of high-performance computing tools capable of analyzing these data. The availability of data and increased speed and power of computer systems together present both opportunities and challenges to researchers and healthcare professionals. Most significantly, they provide the potential to discover new disease correlates and translate these insights into new data-driven medical tools that can improve the quality and delivery of care. However, such advancements require the navigation of high-dimensional, unstructured, sparse, and often incomplete data sources, with the outcomes being cumbersome to track. Identifying novel clinical patterns amidst this complexity is definitely not a trivial task [1, 2, 3].
Modern representation learning methods enable the automatic discovery of representations needed to generate insights from raw data [
4
]. Deep learning algorithms are an example of such representation learning approaches that hierarchically compose nonlinear functions to transform raw input data into more sophisticated features that enable the identification of novel patterns [
5
]. Such approaches have proved to be essential in modern engineering breakthroughs—from face recognition and self-driving cars to chat-bots and language translation [
6
,
7
,
8
,
9
,
10
,
11
,
12
]. In medicine, the successful application of deep learning algorithms to routine tasks has enabled a flood of academic and commercial research, with publications on various applications growing from 125 published papers identified as machine learning publications in arXiv, the electronic scientific and engineering paper archive, in 2000, to more than 3600 by November of 2018 (see Fig. 
1
).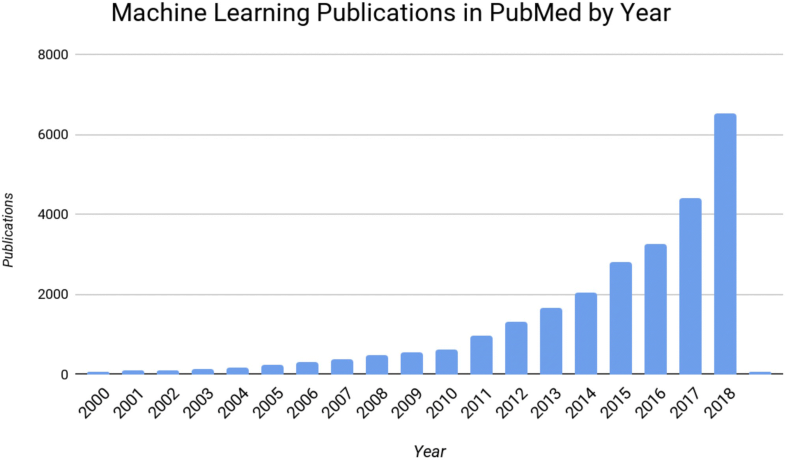 The multidiscipline of clinical neurosciences has similarly experienced the beginnings of an impact from deep learning, with movement towards the development of novel diagnostic and prognostic tools. Deep learning techniques are particularly promising in the neurosciences where clinical diagnoses often rely on subtle symptoms and complicated neuroimaging modalities with granular and high-dimensional signals. In this article, we discuss the applications of deep learning in neurology and the ongoing challenges, with an emphasis on aspects relevant to the diagnosis of common neurologic disorders. However, our aim is not to provide comprehensive technical details of deep learning or its broader applications. We begin with a brief overview of deep learning techniques followed by a review of applications in the clinical neuroscience field. We conclude the review with a short discussion on existing challenges and a look to the future. This article is based on previously conducted studies and does not contain any studies with human participants or animals performed by any of the authors.
Fundamentals of Deep Learning
Machine learning is a subset of artificial intelligence that learns complex relationships among variables in data [
14
]. The power of machine learning comes from its ability to derive predictive models from large amounts of data with minimal or, in some cases, entirely without the need for prior knowledge of the data or any assumptions about the data. One of the most widely discussed modern machine learning algorithms, the artificial neural network (ANN), draws inspiration from biological neural networks that constitute mammalian brains. The functional unit of the ANN is the perceptron, which partitions input data into separable categories or classes [
15
]. When hierarchically composed into a network, the perceptron becomes an essential building block for modern deep neural networks (DNNs), such as multilayer perceptron classifiers. Similar examples of commonly used traditional machine learning algorithms include linear regression (LR), logistic regression, support vector machines (SVMs), and the Naïve Bayes classifier (Fig. 
2
).

These traditional machine learning methods have been important in furthering advancements in medicine and genomics. As an example, LR has proven useful in the search for complex, multigene signatures that can be indicative of disease onset and prognosis, tasks which are otherwise too intricate and cumbersome even for researchers with professional training [16]. Although such tools have been very effective in parsing massive datasets and identifying relationships between variables of interest, traditional machine learning techniques often require manual feature engineering and suffer from overhead that limits their utility in scenarios that require near real-time decision-making.
Deep learning differs from traditional machine learning in how representations are automatically discovered from raw data. In contrast to ANNs, which are shallow feature learning techniques, deep learning algorithms employ multiple, deep layers of perceptrons that capture both low- and high-level representations of data, enabling them to learn richer abstractions of inputs [5]. This obviates the need for manual engineering of features and allows deep learning models to naturally uncover previously unknown patterns and generalize better to novel data. Variants of these algorithms have been employed across numerous domains in engineering and medicine.
Convolutional neural networks (CNNs) have garnered particular attention within computer vision and imaging-based medical research [17, 18]. CNNs gather representations across multiple layers, each of which learns specific features of the image, much like the human visual cortex is arranged into hierarchical layers, including the primary visual cortex (edge detection), secondary visual cortex (shape detection), and so forth [19]. CNNs consist of convolutional layers in which data features are learned: pooling layers, which reduce the number of features, and therefore computational demand, by aggregating similar or redundant features; dropout layers, which selectively turn off perceptrons to avoid over-reliance on a single component of the network; and a final output layer, which collates the learned features into a score or class decision, i.e., whether or not a given radiograph shows signs of ischemia. These algorithms have achieved rapid profound success in image classification tasks and, in some cases, have matched board-certified human performance [20, 21, 22, 23, 24].
Recurrent neural networks and variants, such as long short-term memory (LSTM) and gated recurrent units, have revolutionized the analysis of time-series data that can be found in videos, speech, and texts [25]. These algorithms sequentially analyze each element of input data and employ a gating mechanism to determine whether to maintain or discard information from prior elements when generating outputs. In this manner, they efficiently capture long-term dependencies and have revolutionized machine translation, speech processing, and text analysis.
Autoencoders (AEs) are a class of unsupervised learning algorithms that discover meaningful representations of data by learning a lower-dimensional mapping from inputs to outputs [26, 27]. They are composed of an encoder, which learns a latent representation of the input, and a decoder, which reconstructs the input from the latent representation. By constraining the latent representation to a lower dimensionality than the input, AEs are able to learn a compressed representation of data that contains only the features necessary to reconstruct the input. Such algorithms are often employed to learn features that can be subsequently utilized in conjunction with the deep learning techniques previously discussed.
Generative adversarial networks are a newer class of algorithms aimed at generating novel data that statistically mimic input data by approximating a latent distribution for the data [28]. Such algorithms are composed of two competing ("adversarial") networks: a generator, which produces synthetic data from noise by sampling from an approximated distribution, and a discriminator, which aims to differentiate between real and synthetic instances of data. As the two networks engage in this adversarial process, the fidelity of the generated data gradually improves. In some contexts, the resulting data have been utilized to augment existing datasets [29].
These strides in deep learning are largely due to breakthroughs in computing capabilities and the open-source nature of research in the field. The application of graphics processing units to deep learning research has dramatically accelerated the size and complexity of algorithm architectures and simultaneously reduced the time to train such algorithms from months to the order of days. The consequence has been high-throughput research characterized by rapid experimentation, ultimately enabling more efficacious algorithms. In addition, the rise of open-source deep learning frameworks, such as TensorFlow, Keras, PyTorch, Caffe, and others, has increased accessibility to technical advances and facilitated the sharing of ideas and their rapid application across various domains [30, 31]. The truly collaborative nature of deep learning research has led to surprising innovations and changed the landscape of medical research and care.
Literature Review
In this article, we review and summarize published literature on the application of deep learning to the clinical neurosciences. We used search engines and repositories such as Google Scholar, PubMed, ScienceDirect, and arXiv to identify and review existing literature and performed keyword searches of these databases using the following terms: "deep learning," "machine learning," "neurology," "brain," and "MRI." Following a comprehensive review of the literature initially retrieved, we identified 312 articles as containing one or more keywords associated with our queries. Of these articles, 134 were subsequently identified as being relevant to the subject of this review. Following collation of the relevant articles, we grouped articles first into broad modalities, namely image classification, image segmentation, functional connectivity and classification of brain disorders, and risk prognostication. Within these areas, we then grouped publications into disease applications. We focused our discussion on the clinical implications of the developments in the field.
Deep Learning in Neurology
The deep learning techniques described above are playing an increasingly crucial role in neurological research, tackling problems within several subdomains. First, radiological image classification and segmentation has been a traditional locus of deep learning development efforts. Image classification and segmentation tasks are uniquely suited to deep learning due to the high-dimensional nature of neuroimaging data which is unfavorable to manual analysis, combined with the naturally digital nature of most modern imaging. Secondly, deep learning has been applied to functional brain mapping and correlational studies using functional magnetic resonance imaging (fMRI) data for tasks such as prediction of postoperative seizure. Lastly, diagnostic prognostication with deep learning using multiple data types, including lab values, images, notes, among others, has been used to assign disease risk. In the following sections, we discuss the successes and challenges inherent in the deep learning approaches adopted towards these tasks, as well as the limitations and difficulties that such methods face within the field of neurology and within medicine as a whole.
Challenges
Despite the profound biomedical advances due to deep learning algorithms, there remain significant challenges that must be addressed before such applications gain widespread use. We discuss some of the most critical hurdles in the following sections.
Data Volume
Deep neural networks are computationally intensive, multilayered algorithms with parameters on the order of millions. Convergence of such algorithms requires data commensurate with the number of parameters. Although there are no strict rules governing the amount of data required to optimally train DNNs, empirical studies suggest that tenfold more training data relative to the number of parameters is required to produce an effective model. It is no surprise then that domains, such as computer vision and natural language processing, have seen the most rapid progress due to deep learning given the wide availability of images, videos, and free-form text on the Internet.
Biomedical data on the other hand is mostly decentralized—stored locally within hospital systems—and subject to privacy constraints that make such data less readily accessible for research. Furthermore, given the complexity of patient presentations and disease processes, reliable ground truth labels for biomedical applications are extremely expensive to obtain, often requiring the efforts of multiple highly specialized domain experts. This paucity of labeled data remains an important bottleneck in the development of deep learning applications in medicine.
Data Quality
Healthcare data are fundamentally ill-suited for deep learning applications. Electronic medical records are highly heterogeneous, being composed of clinical notes, a miscellany of various codes, and other patient details that may often be missing or incomplete. Clinical notes consist of nuanced language and acronyms that often vary by specialty and contain redundant information that provides an inaccurate temporal representation of disease onset or progression. Diagnosis codes suffer from a similar fate as they track billing for insurance purposes instead of health outcomes. This inherent complexity makes it impossible for deep learning algorithms to parse signal from noise.
Generalizability
Although existing deep learning applications have garnered success in silico, their widespread adoption in real-world clinical settings remains limited due to concerns over their efficacy across clinical contexts. Much of the concern is based on the tendency of deep learning algorithms to overfit to the statistical characteristics of the training data, rendering them hyper-specialized for a hospital or certain patient demographic and less effective on the population at-large [81, 82]. The siloed existence of healthcare data in hospitals and the heterogeneity of data across healthcare systems make the task of developing generalizable models even more difficult. And even when multi-institutional data are acquired, the data are often retrospective in nature, which prevents practical assessment of algorithm performance.
Interpretability
The power of deep learning algorithms to map complex, nonlinear functions can render them difficult to interpret. This becomes an important consideration in healthcare applications where the ability to identify drivers of outcomes becomes just as important as the ability to accurately predict the outcome itself. In the clinical setting, where clinical decision support systems are designed to augment the decision-making capacity of healthcare professionals, interpretability is critical to convince healthcare professionals to rely on the recommendations made by algorithms and enable their widespread adoption. As such, major efforts within the deep learning community to tackle problems of interpretability and explainability have the potential to be particularly beneficial for facilitating the use of deep learning methods in healthcare.
Legal
Medical malpractice rules govern standards of clinical practice in order to ensure the appropriate care of patients. However, to date, no standards have been established to assign culpability in contexts where algorithms provide poor predictions or substandard treatment recommendations. The establishment of such regulations is a necessary prerequisite for the widespread adoption of deep learning algorithms in clinical contexts.
Ethical
Incidental introduction of bias must be carefully evaluated in the application of deep learning in medicine. As discussed previously, deep learning algorithms are uniquely adept at fitting to the characteristics of the data on which they are trained. Such algorithms have the capability to perpetuate inequities against populations underrepresented in medicine and, by extension, in the very healthcare data used to train the algorithms. Furthermore, recent research evaluating algorithmic bias in a commercial healthcare algorithm provides a cautionary tale on the importance of critically evaluating the very outcomes algorithms are trained to predict [83].
Conclusion
Deep learning has the potential to fundamentally alter the practice of medicine. The clinical neurosciences in particular are uniquely situated to benefit given the subtle presentation of symptoms typical of neurologic disease. Here, we reviewed the various domains in which deep learning algorithms have already provided impetus for change—areas such as medical image analysis for improved diagnosis of AD and the early detection of acute neurologic events; medical image segmentation for quantitative evaluation of neuroanatomy and vasculature; connectome mapping for the diagnosis of AD, ASD, and ADHD; and mining of microscopic EEG signals and granular genetic signatures. Amidst these advances, however, important challenges remain a barrier to integration of deep learning tools in the clinical setting. While technical challenges surrounding the generalizability and interpretability of models are active areas of research and progress, more difficult challenges surrounding data privacy, accessibility, and ownership will necessitate conversations in the healthcare environment and society in general to arrive at solutions that benefit all relevant stakeholders. The challenge of data quality, in particular, may prove to be a uniquely suitable target for addressing using deep learning techniques that have already demonstrated efficacy in image analysis and natural language processing. Overcoming these hurdles will require the efforts of interdisciplinary teams of physicians, computer scientists, engineers, legal experts, and ethicists working in concert. It is only in this manner that we will truly realize the potential of deep learning in medicine to augment the capability of physicians and enhance the delivery of care to patients.
Notes
Acknowledgements
Funding
No funding or sponsorship was received for this study or publication of this article.
Authorship
All named authors meet the International Committee of Medical Journal Editors (ICMJE) criteria for authorship for this article, take responsibility for the integrity of the work as a whole, and have given their approval for this version to be published.
Disclosures
Aly Al-Amyn Valliani, Daniel Ranti and Eric Karl Oermann have nothing to disclose.
Compliance with Ethics Guidelines
This article is based on previously conducted studies and does not contain any studies with human participants or animals performed by any of the authors.
Data availability
Data sharing is not applicable to this article as no datasets were generated or analyzed during the current study.
Open Access
This article is distributed under the terms of the Creative Commons Attribution-NonCommercial 4.0 International License (http://creativecommons.org/licenses/by-nc/4.0/), which permits any noncommercial use, distribution, and reproduction in any medium, provided you give appropriate credit to the original author(s) and the source, provide a link to the Creative Commons license, and indicate if changes were made.