Synthesis and catalytic applications of metal–organic frameworks: a review on recent literature
Abstract
Metal–organic frameworks (MOFs) are an emerging class of porous materials created by the assembly of inorganic connectors and organic linkers. They have potential applications in fields such as gas storage as well as separation, sensing, catalysis, and drug delivery due to its properties such as flexibility, porosity, high surface area and functionality. Among the various synthetic approaches for the preparation of MOFs, solvothermal and microwave-assisted methods are of particular importance, and hence have been used frequently. They have been recently used as heterogeneous catalysts in Friedel–Crafts reactions, condensations reactions, oxidations, coupling reactions, etc. However, owing to the low thermal stability and moisture sensitivity, their catalytic applications are limited. This short review covers recent developments in the synthetic methods employed for the preparation of MOFs as well as their catalytic applications.
Keywords
Metal–organic framework 
Synthesis techniques 
Stability 
Heterogeneous catalyst 
Abbreviations
H22,3-pydc

Pyridine-2,3-dicarboxylic acid

bpp

1,3-Bis(4-pyridyl)propane

H2bpabdc

2,5-Bis(phenylamino)-1,4-benzenedicarboxylic acid

H2tdc

Thiophene-2,5-dicarboxylic acid

H4abtc

3,3′,5,5′-Azobenzene-tetracarboxylic acid

ad

Adenine

H3btc

1,3,5-Benzene tricarboxylic acid

H2bdc

1,4-Benzenedicarboxylic acid

pdc

2,6-Pyridinedicarboxylate

DMI

1,3-Dimethyl-2-imidazolidinone

DMA

N,N′-Dimethylacetamide

DMF

N,N′-Dimethyl formamide

THF

Tetrahydrofuran

TBHP

tert-Butyl hydroperoxide

DMI

1,3-Dimethy-2-imidazolidinone
Introduction
Metal–organic frameworks (MOFs) are a novel class of porous materials recently developed by material scientists. They are crystalline, organic–inorganic hybrid compounds in which metal ions and organic multidentate ligands are linked together by coordinate bonds. MOFs exhibit high surface areas with tunable functionality and pore size, enhanced activity than base metal oxides, shape/size selectivity. As a result, they have been used as hosts for a variety of guest molecules [1, 2, 3]. They also find applications in adsorption, catalysis, magnetism, sensing and drug delivery [4, 5, 6]. The physical properties of MOFs such as magnetic susceptibility, conductivity and optical characteristics are decided by the nature of metal–organic framework as a solid [7].
Over the last two decades, a lot of research work has been done on MOFs. Transition metals, alkaline earth metals, p-block elements, actinides and even mix metals are used for the synthesis of MOFs. N-containing aromatics or multivalent aromatic carboxylic acids are commonly used organic linkers in MOFs. Based on the size of inorganic building units and ligands as well as framework connectivity, pores and open channels with sizes ranging from angstroms to nanometers can be present [7]. Traditionally used porous materials such as zeolites possess small pore size and silicate materials have too large large. MOFs bridge the gap between these two classes of porous materials. MOFs with pore sizes ranging from ultramicropores to mesopores have been reported in literature. However, compared to oxides, MOFs show lower chemical, thermal, and hydrothermal stability [8]. This short review attempts to consolidate the recent developments in the field of MOF synthesis and their catalytic applications.
Synthesis of MOFs
Many methods are available for the synthesis of MOFs. Majority of these occur in liquid phase, where the metal salt and ligand solutions are prepared separately and mixed together or solvent is added to a mixture of solid salt and ligand. Selection of solvent is crucial for the synthesis of MOFs with better characteristics and usually depends on different features like redox potential, reactivity, stability constant, solubility, etc.
Stability of MOFs
Stability is the most crucial factor in the design of MOFs. A MOF must be stable for characterization and for varied application such as sensing, adsorption and catalysis. Stability of MOF means chemical, thermal, hydrothermal and mechanical stabilities. All these stabilities are connected with metal–ligand bond strength. Chemical stability of MOFs can be increased by means of high valence metal ions, such as Cr3+, Fe3+, and Zr4+ and by the interactions between soft ligands such as triazolates, imidazolates and tetrazolates. Other nitrogen containing heterocycles can also be used with softer metal ions such as Zn2+, Co2+. The relative stabilities of azolate MOFs are due to strong metal–nitrogen bonds. Divalent metal ions create strong bonds with nitrogen linkers, whereas trivalent metal ions generate strong bonds with oxygen anion-terminated linkers. These MOFs show excellent stability in water [39, 40]. Thermal degradation of MOFs occurs due to node-linker bond breakage, followed by linker combustion. The thermal stability can be increased by oxy-anion-terminated linkers with higher-valency metal centers. TGA and PXRD can be used to analyze thermal stability. Hydro-thermal stability means stability in the presence of moisture at elevated temperatures. Intermolecular or intramolecular forces, hydrophobic functional groups, perfluorinated linkers, etc. within MOF structure can increase the hydrothermal stability [41, 42, 43]. Mechanical stability of MOFs is connected to their extra-ordinary porosity. Mechanical stability decreases with the increase of porosity. Solvent-filled MOFs are found to be mechanically more stable than MOFs with empty pores [44, 45, 46, 47, 48].
MOFs as heterogeneous catalysts
MOFs have been employed in a wide variety of applications such as gas storage, gas separation, catalysis, luminescence, drug delivery, etc. They are found to be highly useful in catalysis due to its porous nature. Heterogeneous catalysis is one of the vital solutions of our developed society, as many chemical processes can be brought about cost effectively using heterogeneous catalyst. MOFs possess fascinating and tailorable properties such as high surface area, permanent porosity and multifunctional ligands. The most important characteristic responsible for their catalytic ability is lack of non-accessible volume. Advantages of MOFs as heterogeneous catalyst are enhanced catalyst reactivity, flexibility, easy tunability, etc. These catalysts possess size, shape, and enantioselectivity. However, due to their low chemical and thermal stability, these are not applicable for reactions that require severe conditions [
3
,
7
,
49
,
50
]. MOFs were used as a catalyst or catalyst supports for a diversity of organic transformations including Friedel–Crafts reactions [
51
,
52
,
53
,
54
,
55
], Knoevenagel condensation [
56
,
57
,
58
,
59
,
60
], aldol condensation [
61
,
62
,
63
], oxidation [
64
,
65
,
66
,
67
], coupling reactions [
68
,
69
,
70
,
71
,
72
,
73
,
74
,
75
], cyano silylation [
15
,
76
,
77
], carbon dioxide fixation [
78
,
79
], etc (Fig. 
1
).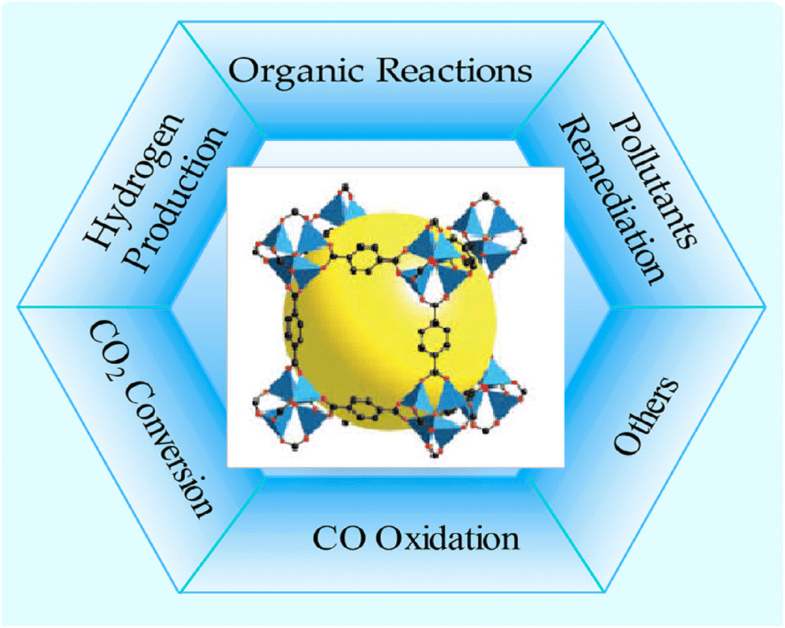 Conclusions
In recent years, MOF materials have become increasingly relevant in chemical industry. The field has been expanding suddenly with the aim of developing new compounds with new structures and fascinating properties. Though different synthetic methods and unlimited number of MOFs with different combinations of linker molecules and metal ions are possible, divalent metal ions with nitrogen linkers and trivalent metal ions with oxygen anion-terminated linkers show comparatively excellent stability. Greener synthesis techniques such as microwave- and sono-assisted methods are gaining momentum. The application of MOFs as heterogeneous catalysts in organic transformations is a developing area of research. They have been widely employed for several transformations such as Friedel–Crafts reactions, condensation reactions, oxidations, coupling reactions, carbon dioxide fixation, etc. to name a few. Recently, the thrust has shifted to shape selective catalysis owing to their regular structure and porosity.
Notes
Complaince with ethical standards
Conflict of interest
On behalf of all authors, the corresponding author states that there is no conflict of interest.
Copyright information
© The Author(s) 2018
Open AccessThis article is distributed under the terms of the Creative Commons Attribution 4.0 International License (http://creativecommons.org/licenses/by/4.0/), which permits unrestricted use, distribution, and reproduction in any medium, provided you give appropriate credit to the original author(s) and the source, provide a link to the Creative Commons license, and indicate if changes were made.