Abstract
A study was carried out to assess tree diversity, forest carbon stock and carbon dioxide (CO2) sequestration in Nambor tropical semi-evergreen forest. A total of 53 tree species from 47 genera and 32 families were recorded in the forest. Vatica lanceifolia was the dominant tree species with maximum 33.78 importance value index (IVI), 0.30 Shannon diversity index (H′) and 0.03 Simpson's index (D) followed by Lagerstroemia reginae (20.75 IVI, 0.18 H′ and 0.004 D), Dysoxylum excelsum (17.70 IVI, 0.20 H′ and 0.006 D), Sterculia villosa (14.15 IVI, 0.09 H′ and 0.0007 D) and Toona ciliata (11.60 IVI, 0.07 H′ and 0.0004 D) as codominant species. Among the forest carbon pools, maximum 50.32% carbon was stored in soil followed by 39.42% in above ground biomass and 10.21, 0.03 and 0.02% in below ground, leaf litter and dead debris pools, respectively. Total ecosystem carbon stock in Nambor forest was estimated to be 244.78 Mg ha−1. The estimated carbon stock was extrapolated over 3700 hectare area and found to be 905186.50 Mg. The total forest carbon stock was also converted into CO2 equivalents and estimated as 3,322,034.46 Mg. The study observed that forest ecosystem offsets significant amount of atmospheric CO2; therefore, conservation and management of forest resources are imperative to combat global climate change.
This is a preview of subscription content, log in to check access.
Access options
Buy single article
Instant access to the full article PDF.
US$ 39.95
Price includes VAT for USA
Subscribe to journal
Immediate online access to all issues from 2019. Subscription will auto renew annually.
US$ 99
This is the net price. Taxes to be calculated in checkout.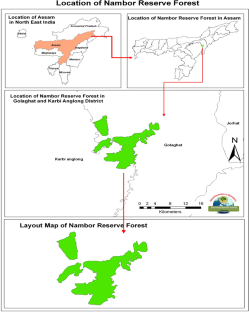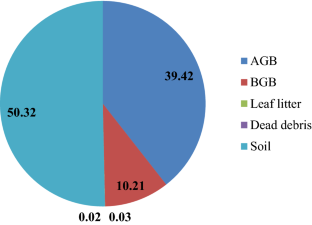 References
1.

Malhi Y, Baldocchi DD, Jarvis PG (1999) The carbon balance of tropical, temperate and boreal forests. Plant, Cell Environ 22:712–740

2.

https://www.climate.gov/news-features/understanding-climate/climate-change-global-temperature. Accessed on 5 July, 2018

3.

Sharma CM, Baduni NP, Gairola S, Ghildiyal SK, Suyal S (2010) Tree diversity and carbon stocks of some major forest types of Garhwal Himalaya, India. For Ecol Manag 260:2170–2179

4.

Birdsey RA, Heath LS (2001) Forest inventory data, models and assumption for monitoring carbon flux. Soil carbon sequestration and the greenhouse effects. SSSA special publication no 57. Soil Science Society of America, Madison, WI

5.

Saatchi SS, Harris NL, Brown S, Lefsky M, Mitchard ETA, Salas W, Zutta BR, Buermann W, Lewis SL, Hagen S, Petrova S, White L, Silman M, More A (2011) Benchmark map of forest carbon stocks in tropical regions across three continents. Proc Natl Acad Sci USA 108:9899–9904

6.

Batjes NH (1996) Total carbon and nitrogen in the soils of the world. Eur J Soil Sci 47:151–163

7.

Brown S, Lugo AE (1982) The storage and production of organic matter in tropical forests and their role in the global carbon cycle. Biotropica 14:61–187

8.

Ketterings QM, Coe R, van Noordwijk M, Ambagau Y, Palm CA (2001) Reducing uncertainty in the use of allometric biomass equations for predicting above-ground tree biomass in mixed secondary forests. For Ecol Manag 146:199–209

9.

Brown SL, Schroeder P, Kern JS (1999) Spatial distribution of biomass in forests of the eastern USA. For Ecol Manag 123:81–90

10.

Rabha D, Borah N, Das AK (2014) Assessment of aboveground and soil organic carbon stocks in Dipterocarpus forests of Barak Valley, Assam, Northeast India. Int J Ecol Environ Sci 40(1):29–40

11.

ISFR (2011) India state of forest report, Forest Survey of India, Dehradun, Ministry of Environment and Forests, Government of India

12.

IPCC Good practice guidance for land use, land-use change and forestry (2006)

13.

Ravindranath NH, Ostwald M (2008) Carbon inventory methods: handbook for greenhouse gas inventory, carbon mitigation and roundwood production projects, vol 29. Springer, New York

14.

Curtis JT, McIntosh RP (1950) The interrelations of certain analytic and synthetic phytosociological characters. Ecology 31:434–455

15.

FSI (1996) Volume equations for forests of India, Nepal and Bhutan. Forest Survey of India, Dehradun, Ministry of Environment and Forests, Govt. of India. pp. 249

16.

Zanne AE, Lopez-Gonzalez G, Coomes DA, Ilic J, Jansen S, Lewis SL, Miller RB, Swenson NG, Wiemann M, Chave J (2009) Global wood density database. https://doi.org/10.5061/dryad.234/1

17.

Haripriya GS (2000) Estimation of biomass in Indian Forests. Biomass Bioenergy 19:245–258

18.

Dixon RK, Brown S, Solomon RA, Trexler MC, Wisniewski J (1994) Carbon pools and flux of global forest ecosystems. Science 263:185–190

19.

Walkley A, Black IA (1934) An examination of the Degljareff method for determining soil organic matter and a proposed modification of the chromic acid titration method. Soil Sci 37:9–38

20.

Pearson TR, Brown SL, Birdseye RA (2007) Measurement guidelines for the sequestration of forest carbon. Northern Research Station, Department of Agriculture, US

21.

Kumar KS, Benjongwapang A, Khanduri VP, Gautam PK, Singh D, Singh SK (2013) Assessment of soil nutrients (N, P, and K) status along with tree diversity in different land use systems at Mokokchung, Nagaland, India. Sci Technol J 1(2):42–48

22.

Ramachandran A, Jayakumar S, Haroon RM, Bhaskaran A, Arockiasamy DI (2007) Carbon sequestration: estimation of carbon stock in natural forests using geospatial technology in the Eastern Ghats of Tamil Nadu, India. Curr Sci 92(3):323–331

23.

Devi LS, Yadava PS (2009) Above ground biomass and net primary production of semi-evergreen tropical forest of Manipur, North-Eastern India. J For Res 20(2):151–155

24.

Ullah MR, Al-Amin M (2012) Above- and below-ground carbon stock estimation in a natural forest of Bangladesh. J For Sci 58:372–379

25.

Borah N, Nath AJ, Das AK (2013) Above ground biomass and carbon stocks of tree species in tropical forests of Cachar district, Assam, Northeast India. Int J Ecol Environ Sci 39(2):97–106

26.

Thokchom A, Yadava PS (2013) Biomass and carbon stock assessment in the sub-tropical forests of Manipur, North East India. Int J Ecol Environ Sci 39(2):107–113

27.

Devagiri GM, Money S, Singh S, Dadhwal VK, Patil P, Khaple A, Devakumr AS, Hubballi S (2013) Assessment of above ground biomass and carbon pool in different vegetation types of south western part of Karnataka, India using spectral modelling. Trop Ecol 54(2):49–165

28.

Mohanraj R, Saravanan J, Dhanakumar S (2011) Carbon stock in Kolli forests, Eastern Ghats (India) with emphasis on above ground biomass, litter, woody debris and soils. iForest 4:61–65

29.

Bhattacharyya T, Pal DK, Mandal C, Velayutham M (2000) Organic carbon stock in Indian soils and their geographical distribution. Cur Sci 79(5):655–660

30.

Singh OP, Datta B (1983) Characteristics of some hill soils of Mizoram in relation to altitude. J Ind Soc Soil Sci 31:657–667
Acknowledgements
This study was funded by the Indian Council of Forestry Research and Education, Dehradun, under National Forestry Research Programme, Grant number No. RFRI/2013-14/SCD-08. The authors are thankful to the Department of Environment and Forests, Govt. of Assam, for granting permission to carry out the research work. All the necessary facilities provided by the Director, Rain Forest Research Institute, Jorhat, Assam, are gratefully acknowledged. The authors are also grateful to anonymous reviewer for providing valuable suggestions to improve the overall quality and readability of the manuscript.
Ethics declarations
Conflict of interest
The authors declare no conflict of interest to publish this manuscript.
Additional information
Significance Statement
Forest carbon stock estimation studies have been carried out across the country and in most of the reports only above ground tree biomass and soil carbon stock is accounted. In the present study all the five carbon pools were studied to assess the carbon stock of Nambor forest ecosystem.
About this article
Cite this article
Giri, K., Buragohain, P., Konwar, S. et al. Tree Diversity and Ecosystem Carbon Stock Assessment in Nambor Wildlife Sanctuary, Assam. Proc. Natl. Acad. Sci., India, Sect. B Biol. Sci. 89, 1421–1428 (2019). https://doi.org/10.1007/s40011-018-01072-8
Received:

Revised:

Accepted:

Published:

Issue Date:
Keywords
Nambor Wildlife Sanctuary

Forest carbon pools

CO2 offsetting

Climate change mitigation