Abstract
Field demonstrations were conducted during rabi season for two years in seven locations of Tiruppur District, Tamil Nadu state to study the weed density under drip fertigation and conventional method of cultivation (Farmer's practice). Nine weed species emerged with a frequency of more than 50% irrespective of the locations. Drip fertigation with recommended dose of fertilizers (RDF) produced the highest bulb yield of onion when compared with the conventional method of cultivation. Total population of weeds and weed dry weight were minimum under drip fertigation.
This is a preview of subscription content, log in to check access.
Access options
Buy single article
Instant access to the full article PDF.
US$ 39.95
Price includes VAT for USA
Subscribe to journal
Immediate online access to all issues from 2019. Subscription will auto renew annually.
US$ 99
This is the net price. Taxes to be calculated in checkout.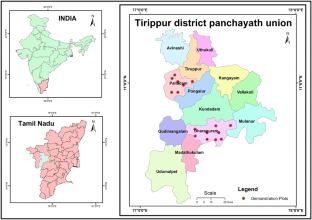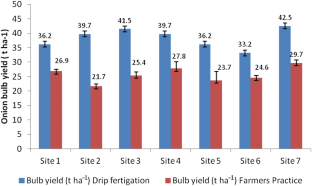 References
1.

Bagali AN, Patil HB, Guled MB, Patil RV (2012) Effect of scheduling of drip irrigation on growth, yield and water use efficiency of onion (Allium cepa L.). Karnataka J Agric Sci 25(1):116–119

2.

Kumar P, Joshi PK, Mittal S (2016) Demand vs supply of food in India-futuristic projection. Proc Indian Natl Sci Acad 82(5):1579–1586

3.

Surendran U, Sandeep O, George M, Joseph EJ (2013) A novel technique of magnetic treatment of saline and hard water for irrigation and its impact on cow pea growth and water properties. Int J Agric Environ Biotechnol 6(1):85–92

4.

Surendran U, Sushanth CM, George M, Joseph EJ (2014) Modelling the impacts of increase in temperature on irrigation water requirements in Palakkad district: a case study in humid tropical Kerala. J Water Clim Change 5(3):471–487. https://doi.org/10.2166/wcc.2014.108

5.

Muhammad M, Ashfaq A, Aftab W, Tasneem K, Bakhsh A (2013) Evaluating CSM-CERES-Maize model for irrigation scheduling in semi-arid conditions of Punjab, Pakistan. Int J Agric Biol 15:1–10

6.

Zhi Z, Wang W, Wu Y, Huang X (2012) Yield and water use efficiency of pear trees under drip irrigation with different surface wetted percentages. Int J Agric Biol 14:887–889

7.

Bar-Yosef B (1999) Advances in fertigation. Adv Agron 65:1–70

8.

Jayakumar M, Surendran U, Manickasundaram P (2014) Drip fertigation effects on yield, nutrient uptake and soil fertility of Bt Cotton in semi arid tropics. Int J Plant Prod 8(3):375–390

9.

Jayakumar M, Surendran U, Manickasundaram P (2015) Drip fertigation program on growth, crop productivity, water, and fertilizer-use efficiency of Bt cotton in semiarid tropical region of India. Commun Soil Sci Plant Anal 46(3):293–304. https://doi.org/10.1080/00103624.2014.969403

10.

Ozer Z, Kadioglu Đ, Onen H, Herboloji TN (1997) (Yabancı ot Bilimi), (Weed Science) Gaziosmanpasa Üniversitesi. Ziraat FakültesiYayınları NoKitaplar Serisi 20(10):388

11.

Kizilkaya A, Onen H, Ozer Z (2001) Sogan Verimine Yabancı Ot Rekabetinin Etkileri Üzerine Arastırmalar (Researches on the effects of weed competition on onion yield) Türkiye Herboloji Dergisi. J Turk Weed Sci 4(2):58–65

12.

Ghosheh HZ (2004) Single herbicide treatments for control of broadleaved weeds in onion (Allium cepa). Crop Prot 23:539–542

13.

Qasem JR (2006) Chemical weed control in seedbed sown onion (Allium cepa L.). Crop Prot 25:618–622

14.

Melander B, Hartvig P (1997) Yield responses of weed free seeded onions (Allium cepa L.), to hoeing close to the row. Crop Prot 16:687–691

15.

Mattar MA (2007) Irrigation systems effect on growth and productivity in Mango orchard. Misr J Ag Eng 24(1):103–121
Acknowledgements
The authors wish to express gratitude to Tamil Nadu Irrigated Agriculture Modernization and Water Bodies Restoration & Management (TN-IAMWARM) project funded by World bank and Water Technology Centre, Tamil Nadu Agricultural University, Coimbatore for providing financial support for the study. Besides, authors wish to thank the anonymous reviewers and editor for fine tuning the paper and their comments.
Additional information
Publisher's Note
Springer Nature remains neutral with regard to jurisdictional claims in published maps and institutional affiliations.
About this article
Cite this article
Jayakumar, M., Rajavel, M. & Surendran, U. Impact of Drip Fertigation on Weed Population, Dry Weight and Yield of Onion in Semiarid Tropical Region of India. Natl. Acad. Sci. Lett. (2020). https://doi.org/10.1007/s40009-020-00963-7
Received:

Revised:

Accepted:

Published:
Keywords
Drip fertigation

Weed population

Weed intensity

Yield

Onion