Abstract
The aim of this work was to optimize the formulations for wheat-based pasta incorporated with pearl millet flour and vegetables. A blend of wheat and pearl millet flour (9:1) with vegetable paste (2 % dry solids) was extruded. Incorporation of pearl millet flour and vegetable resulted in nutritionally rich pasta as compared to control due to increased mineral content viz., calcium (23.5–40.9 mg/100 g), iron (2.7–4.3 mg/100 g), phosphorous (121–244 mg/100 g), potassium (130–190 mg/100 g), and sodium (8.9–21.1 mg/100 g). Vegetable incorporation improved the textural attributes i.e., increased firmness and decreased stickiness significantly (p ≤ 0.05) and caused significant (p ≤ 0.05) reduction in gruel loss. Based on the nutritional, textural and sensory acceptability, spinach incorporated pasta was most acceptable. The effect of storage time was not significant on pasta quality parameters, indicating that pasta was acceptable up to 3 months stored in polyethylene bags (50 μ) without any preservative under ambient conditions.
This is a preview of subscription content, log in to check access.
Access options
Buy single article
Instant access to the full article PDF.
US$ 39.95
Price includes VAT for USA
Subscribe to journal
Immediate online access to all issues from 2019. Subscription will auto renew annually.
US$ 99
This is the net price. Taxes to be calculated in checkout.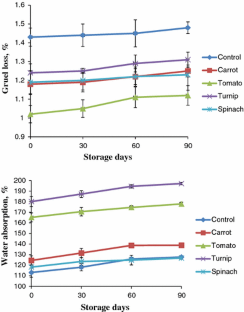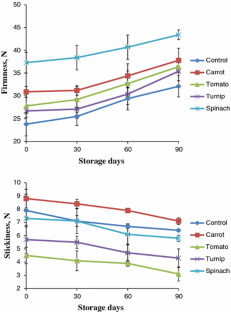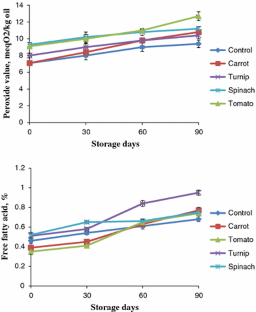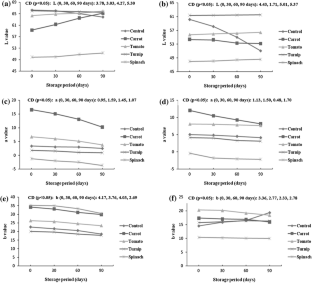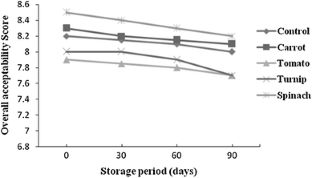 References
1.

AACC (2000) Approved methods of the AACC, 10th edn. American Association of Cereal Chemists

2.

AOAC (1995) Official methods of analysis, 16th edn. Association of Official Analytical Chemists, Arlington

3.

AOCS (1990) Official methods and recommended practices of the American oil chemists' society. Vol. 1, 4th edn, Champaign IL

4.

Asp NG, Johansson CG, Hallma H, Siljestron M (1983) Rapid enzymatic assay of insoluble and soluble dietary fiber. J Agric Food Chem 31:476–482

5.

Badi SM, Hoseney RC, Finney PL (1976) Pearl millet II: partial characterization of starch and use of millet flour in bread making. Cereal Chem 53:718

6.

Carini E, Curti E, Cassotta F, Najm NEO, Vittadini E (2013) Physico-chemical properties of ready to eat, shelf-stable pasta during storage. Food Chem. doi: org/10.1016/j.foodchem.2013.02.117

7.

Chen H, Rubenthaler L, Leung HK, Baranowski JD (1988) Chemical, physical and baking properties of apple fiber compared with wheat and oat bran. Cereal Chem 65(3):244–247

8.

Giese J (1992) Pasta: new twists on an old product. Food Technol 46:118–126

9.

Harringan WF, Mccance ME (1976) Laboratory methods in food microbiology. Academic Press, London

10.

Kaur G, Sharma S, Nadi HPS, Dar BN (2012) Functional properties of pasta enriched with variable cereal brans. J Food Sci Technol 49:467–474

11.

Larmond E (1977) Laboratory methods for sensory evaluation of foods. Publication No. 1637, Department of Agriculture, Ottawa, Canada, pp 17–22

12.

Manthey FA, Sinha S, Wolf Hall CE, Hall CA (2008) Effect of flaxseed flour and packaging on shelf life of refrigerated pasta. J Food Process Preserv 32:75–87

13.

Mastromatteo M, Danza A, Guida M, Del Nobile MA (2012) Formulation optimization of vegetable flour–loaded functional bread. Part II: effect of the flour hydration on the bread quality. Int Journal Food Sci Technol 47:2109–2116

14.

Meengs JS, Ro LS, Rolls BJ (2012) Vegetable variety: an effective strategy to increase vegetable intake in adults. J Acad Nutr Diet. doi:10.1016/j.jand.2012.05.013

15.

Merrill AL, Watt BK (1973) Energy value of foods: basis and derivation. In: Agriculture handbook, No. 74. United States Department of Agriculture, Washington, pp 2–4

16.

Padalino L, Mastromatteo M, Lecce L, Cozzolino F, Del Nobile MA (2013) Manufacture and characterization of gluten-free spaghetti enriched with vegetable flour. J Cereal Sci. doi:10.1016/j.jcs.2012.12.010

17.

Pagani MA, Lucisano M, Mariotti M (2007) Traditional Italian products from wheat and other starchy flours. In: Hui YH (ed) Handbook of food products manufacturing. Wiley, New York

18.

PHLSG (2008) The microbiological quality of ready-to-eat foods sampled at the point of sale. In: Public health laboratory service guidelines, Brough Council

19.

Rekha MN, Chauhan AS, Prabhasankar P, Ramteke RS, Venkateswara Rao G (2012) Influence of vegetable pastes on quality attributes of pastas made from bread wheat (T. aestivum). CyTA—J Food. doi:10.1080/19476337.2012.708881

20.

Sharma M, Kadam DM, Chadha S, Wilson RA, Gupta RK (2013) Influence of particle size on physical & sensory attributes of mango pulp powder. Int Agrophysics 27:323–328. doi:10.2478/intag-2013-0001

21.

Snedecor GW, Cochran WG (1994) Statistical methods, 8th edn. Lowa State University Press, Ames

22.

Stojceska V, Ainsworth P, Plunkett A, Ibanoglu E, Ibanoglu S (2008) Cauliflower by-products as a new source of dietary fibre, antioxidants and proteins in cereal based ready-to-eat expanded snacks. J Food Eng 87:554–563

23.

Švec I, Hrušková M, Vítová M, Sekerová H (2008) Colour evaluation of different pasta samples. Czech J Food Sci 26:421–427

24.

Tan HZ, Li ZG, Tan B (2008) Starch noodles: history, classification, materials, processing, structure, nutrition, quality evaluating and improving. Food Res Int 42:551–576

25.

Yadav DN, Balasubramanian S, Kaur J, Anand T, Singh AK (2012) Non-wheat pasta based on pearl millet flour containing barley and whey protein concentrate. J Food Sci Technol. doi:10.1007/s13197-012-0772-2

26.

Yadav DN, Kaur J, Anand T, Singh AK (2012) Improved storage stability of pearl millet flour through microwave treatment. Agric Res. doi:10.1007/s40003-012-0040-8

27.

Yadav DN, Kaur J, Anand T, Singh AK (2012) Storage stability and pasting properties of hydrothermally treated pearl millet flour. Int Journal Food Sci Technol. doi:10.1111/j.1365-2621.2012.03131.x
Acknowledgments
The authors thankfully acknowledge the financial support from the World Bank for this work that is part of the NAIP sub-project 'A value chain on composite dairy foods with enhanced health attributes'.
About this article
Cite this article
Yadav, D.N., Sharma, M., Chikara, N. et al. Quality Characteristics of Vegetable-Blended Wheat–Pearl Millet Composite Pasta. Agric Res 3, 263–270 (2014). https://doi.org/10.1007/s40003-014-0117-7
Received:

Accepted:

Published:

Issue Date:
Keywords
Vegetable

Pearl millet

Pasta

Cooking quality