Abstract
We report a human case of infective endocarditis caused by Streptococcus canis. Identification was carried out from positive blood culture using mass spectrometry and SodA gene sequencing. S. canis related zoonotic invasive infections may have been previously underdiagnosed due to inadequate identification of group G Streptococcus species.
This is a preview of subscription content, log in to check access.
Access options
Buy single article
Instant unlimited access to the full article PDF.
US$ 39.95
Price includes VAT for USA
Subscribe to journal
Immediate online access to all issues from 2019. Subscription will auto renew annually.
US$ 99
This is the net price. Taxes to be calculated in checkout.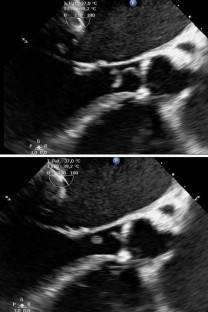 References
1.

Poyart C, Quesne G, Boumaila C, Trieu-Cuot P. Rapid and accurate species-level identification of coagulase-negative staphylococci by using the sodA gene as a target. J Clin Microbiol. 2001;39:4296–301.

2.

Barrau K, Boulamery A, Imbert G, Casalta JP, Habib G, Messana T, Bonnet JL, Rubinstein E, Raoult D. Causative organisms of infective endocarditis according to host status. Clin Microbiol Infect. 2004;10:302–8.

3.

Murdoch DR, Corey GR, Hoen B, Miró JM, Fowler VG Jr, Bayer AS, Karchmer AW, Olaison L, Pappas PA, Moreillon P, Chambers ST, Chu VH, Falcó V, Holland DJ, Jones P, Klein JL, Raymond NJ, Read KM, Tripodi MF, Utili R, Wang A, Woods CW, Cabell CH. Clinical presentation, etiology, and outcome of infective endocarditis in the 21st century: the International Collaboration on Endocarditis-Prospective Cohort Study. Arch Intern Med. 2009;169:463–73.

4.

Lefort A, Lortholary O, Casassus P, Selton-Suty C, Guillevin L, Mainardi JL, Beta-Hemolytic Streptococci Infective Endocarditis Study Group. Comparison between adult endocarditis due to beta-hemolytic streptococci (serogroups A, B, C, and G) and Streptococcus milleri: a multicenter study in France. Arch Intern Med. 2002;162:2450–6.

5.

Habib G, Hoen B, Tornos P, Thuny F, Prendergast B, Vilacosta I, Moreillon P, de Jesus Antunes M, Thilen U, Lekakis J, Lengyel M, Müller L, Naber CK, Nihoyannopoulos P, Moritz A, Zamorano JL, ESC Committee for Practice Guidelines. Guidelines on the prevention, diagnosis, and treatment of infective endocarditis (new version 2009): the Task Force on the prevention, diagnosis, and treatment of infective endocarditis of the European Society of Cardiology (ESC). Eur Heart J. 2009;30:2369–413.

6.

Iversen K, Høst N, Bruun NE, Elming H, Pump B, Christensen JJ, Gill S, Rosenvinge F, Wiggers H, Fuursted K, Holst-Hansen C, Korup E, Schønheyder HC, Hassager C, Høfsten D, Larsen JH, Moser C, Ihlemann N, Bundgaard H. Partial oral treatment of endocarditis. Am Heart J. 2013;165:116–22.

7.

Galloway-Peña J, Sahasrabhojane P, Tarrand J, Han XY, Shelburne SA. GyrB polymorphisms accurately assign invasive viridans group streptococcal species. J Clin Microbiol. 2014;52:2905–12.

8.

Lysková P, Vydržalová M, Královcová D, Mazurová J. Prevalence and characteristics of Streptococcus canis strains isolated from dogs and cats. Acta Vet Brno. 2007;76:619–25.

9.

Lamm CG, Ferguson AC, Lehenbauer TW, Love BC. Streptococcal infection in dogs: a retrospective study of 393 cases. Vet Pathol. 2010;47:387–95.

10.

Kruger EF, Byrne BA, Pesavento P, Hurley KF, Lindsay LL, Sykes JE. Relationship between clinical manifestations and pulsed-field gel profiles of Streptococcus canis isolates from dogs and cats. Vet Microbiol. 2010;146:167–71.

11.

Sykes JE, Kittleson MD, Pesavento PA, Byrne BA, MacDonald KA, Chomel BB. Evaluation of the relationship between causative organisms and clinical characteristics of infective endocarditis in dogs: 71 cases (1992–2005). J Am Vet Med Assoc. 2006;228:1723–34.

12.

Bert F, Lambert-Zechovsky N. Septicemia caused by Streptococcus canis in a human. J Clin Microbiol. 1997;35:777–9.

13.

Takeda N, Kikuchi K, Asano R, Harada T, Totsuka K, Sumiyoshi T, Uchiyama T, Hosoda S. Recurrent septicemia caused by Streptococcus canis after a dog bite. Scand J Infect Dis. 2001;33:927–8.

14.

Pinho MD, Matos SC, Pomba C, Lübke-Becker A, Wieler LH, Preziuso S, Melo-Cristino J, Ramirez M. Multilocus sequence analysis of Streptococcus canis confirms the zoonotic origin of human infections and reveals genetic exchange with Streptococcus dysgalactiae subsp. equisimilis. J Clin Microbiol. 2013;51:1099–109.

15.

Galpérine T, Cazorla C, Blanchard E, Boineau F, Ragnaud JM, Neau D. Streptococcus canis infections in humans: retrospective study of 54 patients. J Infect. 2007;55:23–6.

16.

Broyles LN, Van Beneden C, Beall B, Facklam R, Shewmaker PL, Malpiedi P, Daily P, Reingold A, Farley MM. Population-based study of invasive disease due to beta-hemolytic streptococci of groups other than A and B. Clin Infect Dis Off Publ Infect Dis Soc Am. 2009;48:706–12.

17.

Facklam R. What happened to the streptococci: overview of taxonomic and nomenclature changes. Clin Microbiol Rev. 2002;15:613–30.

18.

Lam MM, Clarridge JE, Young EJ, Mizuki S. The other group G Streptococcus: increased detection of Streptococcus canis ulcer infections in dog owners. J Clin Microbiol. 2007;45:2327–9.

19.

Takamura T, Tanabe M, Onishi K, Yamazato S, Nakamura A, Onoda K, Wada H, Shimpo H, Nobori T, Ito M. Molecular diagnosis of prosthetic valve endocarditis with aorto-right atrial fistula. Int J Cardiol. 2009;135:e13–5.

20.

Amsallem M, Iung B, Bouleti C, Armand-Lefevre L, Eme A-L, Touati A, Kirsch M, Duval X, Vahanian A. First reported human case of native mitral infective endocarditis caused by Streptococcus canis. Can J Cardiol. 2014;30:e1–2.
Acknowledgments
We thank Dr. Julie Cabarrocas for critical reading of the manuscript.
Competing interests
The authors declare that they have no competing interests.
Additional information
G. Lacave and A. Coutard are contributed equally to this work.
Electronic supplementary material
Below is the link to the electronic supplementary material.
Supplementary material 2 (AVI 260168 kb)
About this article
Cite this article
Lacave, G., Coutard, A., Troché, G. et al. Endocarditis caused by Streptococcus canis: an emerging zoonosis?. Infection 44, 111–114 (2016) doi:10.1007/s15010-015-0809-3
Received:

Accepted:

Published:

Issue Date:
Keywords
Endocarditis

Group G streptococci

Streptococcus canis

Zoonosis