Abstract
The dairy industry is considered as one of the most polluting industries due to the presence of a very high percentage of organic matter in the effluent. Advanced oxidation processes, including ultrasonic/persulfate, are efficient processes for wastewater treatment. Therefore, the aim of this study, experimental laboratory research, was to evaluate the efficiency of US/persulfate process for the treatment of real dairy wastewater. In this study, the effects of pH (3, 5, 7, 9 and 11), persulfate concentrations (50, 100, 250, 500 and 750 mg/L), contact time (10, 30, 45, 60 and 90 min) and intensity of US waves (35, 37 and 130 kHz) on the efficiency of process were investigated using chemical oxygen demand (COD) as a dependent variable. According to the results, the efficiency was increased by decreasing the pH value, increasing the concentration of persulfate to an optimal level, and increasing the contact time and ultrasound intensity. The highest efficiency was obtained as 74.5% for real dairy wastewater. The high efficiency in the US/persulfate process was obtained at pH 3, persulfate concentration of 500 mg/L, US intensity of US 130 kHz and contact time of 60 min. The results showed that the sono-activated persulfate process for COD degradation of dairy wastewater follows the pseudo-first-order kinetic. According to the results, it can be concluded that US/persulfate process is an effective method for the removal of organic matter from real dairy wastewater.
This is a preview of subscription content, log in to check access.
Access options
Buy single article
Instant unlimited access to the full article PDF.
US$ 39.95
Price includes VAT for USA
Subscribe to journal
Immediate online access to all issues from 2019. Subscription will auto renew annually.
US$ 99
This is the net price. Taxes to be calculated in checkout.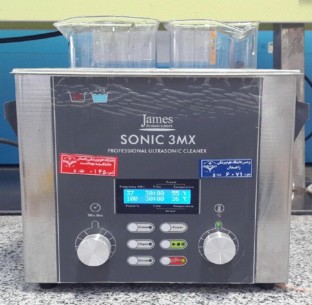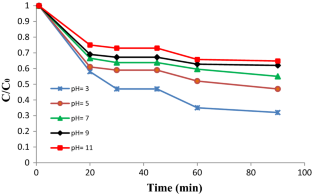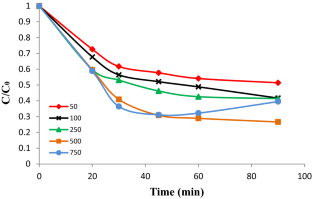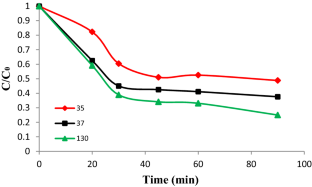 References
Bazrafshan E, Balarak D, Panahi AH, Kamani H, Mahvi AH (2016) Fluoride removal from aqueous solutions by cupricoxide nanoparticles. Fluoride 49(3):233

Chen W-S, Su Y-C (2012) Removal of dinitrotoluenes in wastewater by sono-activated persulfate. Ultrason Sonochem 19(4):921–927

Darsinou B, Frontistis Z, Antonopoulou M, Konstantinou I, Mantzavinos D (2015) Sono-activated persulfate oxidation of bisphenol A: kinetics, pathways and the controversial role of temperature. Chem Eng J 280:623–633

Dehghani MH, Faraji M, Mohammadi A, Kamani H (2017) Optimization of fluoride adsorption onto natural and modified pumice using response surface methodology: isotherm, kinetic and thermodynamic studies. Korean J Chem Eng 34(2):454–462

Hou L, Zhang H, Wang L, Chen L, Xiong Y, Xue X (2013) Removal of sulfamethoxazole from aqueous solution by sono-ozonation in the presence of a magnetic catalyst. Sep Purif Technol 117:46–52

Hussain I, Zhang Y, Huang S, Du X (2012) Degradation of p-chloroaniline by persulfate activated with zero-valent iron. Chem Eng J 203:269–276

Kaewsuk J, Thorasampan W, Thanuttamavong M, Seo GT (2010) Kinetic development and evaluation of membrane sequencing batch reactor (MSBR) with mixed cultures photosynthetic bacteria for dairy wastewater treatment. J Environ Manag 91(5):1161–1168

Kamani H, Nasseri S, Khoobi M, Nodehi RN, Mahvi AH (2016) Sonocatalytic degradation of humic acid by N-doped TiO2 nano-particle in aqueous solution. J Environ Health Sci Eng 14(1):3

Kamani H, Bazrafshan E, Ashrafi SD, Sancholi F (2017) Efficiency of sono-nano-catalytic process of TiO2 nano-particle in removal of erythromycin and metronidazole from aqueous solution. J Mazandaran Univ Med Sci 27(151):140–154

Kang J, Duan X, Zhou L, Sun H, Tadé MO, Wang S (2016) Carbocatalytic activation of persulfate for removal of antibiotics in water solutions. Chem Eng J 288:399–405

Krzeminska D, Neczaj E, Parkitna K (2013) Application of Fenton reaction for supporting biological wastewater treatment from the dairy industry. Roczn Ochrona Srodowiska 15:2381–2397

Lamas Samanamud GR, Izario Filho HJ, Loures CCA et al (2013) The application of a surface response methodology in the solar/UV-induced degradation of dairy wastewater using immobilized ZnO as a semiconductor. Int J Chem Eng 2013:393467. https://doi.org/10.1155/2013/393467

Lee Y-C, Lo S-L, Kuo J, Lin Y-L (2012) Persulfate oxidation of perfluorooctanoic acid under the temperatures of 20–40 C. Chem Eng J 198:27–32

Li B, Li L, Lin K, Zhang W, Lu S, Luo Q (2013) Removal of 1, 1, 1-trichloroethane from aqueous solution by a sono-activated persulfate process. Ultrason Sonochem 20(3):855–863

Mohammadi AS, Attar HM (2011) P-chlorophenol oxidation in industrial effluent by ultrasonic/fenton technology. Water Wastewater 22(4):80

Nasseri S, Mahvi AH, Seyedsalehi M, Yaghmaeian K, Nabizadeh R, Alimohammadi M, Safari GH (2017) Degradation kinetics of tetracycline in aqueous solutions using peroxydisulfate activated by ultrasound irradiation: effect of radical scavenger and water matrix. J Mol Liq 241:704–714

Pi Y, Feng J, Sun J, Sun J (2013) Facile, effective, and environment-friendly degradation of sulfamonomethoxine in aqueous solution with the aid of a UV/oxone oxidative process. Environ Sci Pollut Res 20(12):8621–8628

Rahmani AR, Zarrabi M, Samarghandi MR, Afkhami A, Ghaffari HR (2010) Degradation of Azo Dye reactive black 5 and acid orange 7 by Fenton-like mechanism. Iran J Chem Eng 7:87–94

Romero A, Santos A, Vicente F, González C (2010) Diuron abatement using activated persulphate: effect of pH, Fe (II) and oxidant dosage. Chem Eng J 162(1):257–265

Safari G, Hoseini M, Seyedsalehi M, Kamani H, Jaafari J, Mahvi A (2015a) Photocatalytic degradation of tetracycline using nanosized titanium dioxide in aqueous solution. Int J Environ Sci Technol 12(2):603–616

Saeed W (2011) The effectiveness of persulfate in the oxidation of petroleum contaminants in saline environment at elevated groundwater temperature. UWSpace. http://hdl.handle.net/10012/6396

Safari GH, Nasseri S, Mahvi AH, Yaghmaeian K, Nabizadeh R, Alimohammadi M (2015b) Optimization of sonochemical degradation of tetracycline in aqueous solution using sono-activated persulfate process. J Environ Health Sci Eng 13(1):76

Safari GH, Zarrabi M, Hoseini M, Kamani H, Jaafari J, Mahvi AH (2015c) Trends of natural and acid-engineered pumice onto phosphorus ions in aquatic environment: adsorbent preparation, characterization, and kinetic and equilibrium modeling. Desalin Water Treat 54(11):3031–3043

Sarkar B, Chakrabarti P, Vijaykumar A, Kale V (2006) Wastewater treatment in dairy industries—possibility of reuse. Desalination 195(1–3):141–152

Seidmohammadi A, Asgari G, Torabi L (2016) Removal of metronidazole using ozone activated persulfate from aqua solutions in presence of ultrasound. J Mazandaran Univ Med Sci 26(143):160–173

Shokouhi R, Poureshgh Y, Almasi H, Shabanloo A (2016) Sonochemical oxidation of phenol using persulfate activated by zerovalent iron nanoparticles in aqueous environments. J Occup Environ Health 2(1):7–17

Song S, He Z, Chen J (2007) US/O3 combination degradation of aniline in aqueous solution. Ultrason Sonochem 14(1):84–88. https://doi.org/10.1016/j.ultsonch.2005.11.010

Vourch M, Balannec B, Chaufer B, Dorange G (2008) Treatment of dairy industry wastewater by reverse osmosis for water reuse. Desalination 219(1–3):190–202

Wang S, Zhou N (2016) Removal of carbamazepine from aqueous solution using sono-activated persulfate process. Ultrason Sonochem 29:156–162

Wang X, Wang L, Li J, Qiu J, Cai C, Zhang H (2014) Degradation of acid orange 7 by persulfate activated with zero valent iron in the presence of ultrasonic irradiation. Sep Purif Technol 122:41–46

Zhao D, Liao X, Yan X, Huling SG, Chai T, Tao H (2013) Effect and mechanism of persulfate activated by different methods for PAHs removal in soil. J Hazard Mater 254–255:228–235. https://doi.org/10.1016/j.jhazmat.2013.03.056
Acknowledgements
The authors appreciate the Office of Research and Technology of Zahedan University of Medical Sciences for funding this study with Project code 8610.
Additional information
Editorial responsibility: M. Abbaspour.
About this article
Cite this article
Hossein Panahi, A., Meshkinian, A., Ashrafi, S.D. et al. Survey of sono-activated persulfate process for treatment of real dairy wastewater. Int. J. Environ. Sci. Technol. 17, 93–98 (2020) doi:10.1007/s13762-019-02324-4
Received:

Revised:

Accepted:

Published:

Issue Date:
Keywords
Advanced oxidation process

Ultrasonic/persulfate

Dairy wastewater