Abstract
The jelly coat is the gelatinous layer surrounding the oocyte follicles in most aquatic animals, and it helps in fertilization and provides nutrition and protection to developing oocytes and embryos. In Heteropneustes fossilis, the oocyte jelly coat consists of three layers, outer, middle and inner, as inferred from the optical density measurements. Histochemically, the jelly coat showed positive reactions for carbohydrate, lipid, protein, sialic acid and acidic sulfated mucosubstances. Hexosamine and sialic acid are the aminosugars present in the jelly coat. The gonadotropin treatment resulted in swelling up (hydration) of the jelly coat. The administration of gonadotropin (in vivo) increased the hexosamine and sialic acid concentrations of the jelly coat time-dependently. However, in vitro, incubation of the follicles with gonadotropin resulted in decreases in the hexosamine and sialic acid contents. The differences in the dynamics of the aminosugars after the gonadotropin treatment suggested immediate impact of surrounding and internal environment to the follicles.
This is a preview of subscription content, log in to check access.
Access options
Buy single article
Instant unlimited access to the full article PDF.
US$ 39.95
Price includes VAT for USA
Subscribe to journal
Immediate online access to all issues from 2019. Subscription will auto renew annually.
US$ 99
This is the net price. Taxes to be calculated in checkout.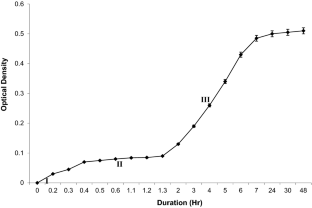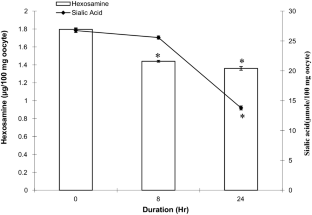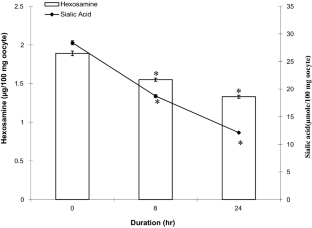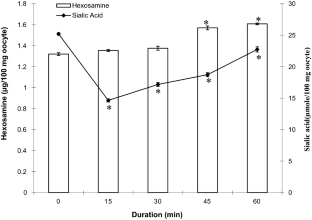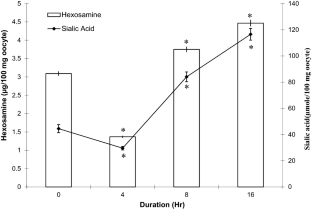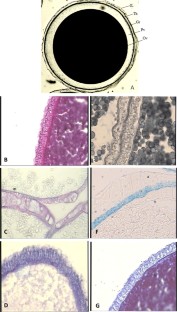 References
Abraham M, Hilge V, Riehl R, Iger Y (1993) Muco-follicle cells of the jelly coat in the oocyte envelope of the sheatfish (Silurus glanis L.). J Morphol 217:37–43

Arranz S, Albertali IE, Carada MO (1997) Bufo arenarum egg jelly coat: purification and characterization of two highly glycosylated proteins. Biochem J 323:307–312

Davidson EA (1966) Analysis of sugars found in mucopolysaccharides. In: Neufeld EF, Ginsburg V (eds) Methods in enzymology, vol VIII. Academic Press, New York, pp 52–60

Elson LA, Morgan WTJ (1933) A colorimetric method for the determination of glucosamine and galactosamine. Biochem J 27:1824–1828

Gallo A, Costantini M (2012) Glycobiology of reproductive processes in marine animals: the state of the art. Mar Drugs 10(12):2861–2892

Goto K, Iritani A (1992) Oocyte maturation and fertilization. Anim Reprod Sci 28(1–4):407–413

Gusseck DJ, Hedrick JL (1971) A molecular approach to fertilization, Disulfide bonds in Xenopus laevis jelly coat and a molecular hypothesis for fertilization. Dev Biol 25:337–347

Hirohashi N, Kamei N, Kubo H, Sawada H, Matsumoto M, Hoshi M (2008) Egg and sperm recognition systems during fertilization. Dev Growth Differ 50(1):S221–S238

Hotta K, Kurokawa M (1973) A novel sialic acid and fucose-containing disaccharide isolated from the jelly coat of sea urchin eggs. J Biol Chem 248:629–631

Leblond CP, Glegg RE, Eidinger D (1957) Presence of carbohydrates with free 1,2-glycol groups in sites stained by the periodic acid-Schiff technique. J Histochem Cytochem 5(5):445–458

Maes E, Florea D, Coppin A, Strecker G (1999) Structural analysis of 20 oligosaccharide-alditols released from the jelly coat of Rana palustris eggs by reductive β-elimination. Characterization of the polymerized sequence [gal(β1,3)GalNAc(a1-4)]n. Eur J Biochem 264:301–313

Mann T, Lutwak-Mann C (1981) Male reproductive function and semen: themes and trends in physiology, biochemistry and investigative andrology. Springer, Berlin, p 495

Mazia D, Brewer PA, Alfert M (1953) The cytochemical staining and measurement of protein with mercuric bromphenol blue. Biol Bull 104(1):56–67

Mishra A, Joy KP (2004) Ovarian monosaccharides (glucose and fructose): hormonal effects and their role in final oocyte maturation and egg quality in catfish Heteropnuestes fossilis, Bloch. Indian J Exp Biol 42:1084–1090

Mishra A, Joy KP (2006a) Effects of gonadotrophin in vivo and 2-hydroxyoestradiol-17β in vitro on follicular steroid hormone profile associated with oocyte maturation in the catfish Heteropneustes fossilis. J Endocrinol 189:341–353

Mishra A, Joy KP (2006b) HPLC-Electrochemical detection of ovarian estradiol-17β and catecholestrogens in the catfish Heteropneustes fossilis: seasonal and periovulatory changes. Gen Comp Endocrinol 145:81–95

Mishra A, Verma S (2017) In vitro effects of chlorpyrifos on gonadotropin-induced oocyte maturation and steroidal interplay of freshwater catfish, Heteropneustes fossilis. Int J Pharma Bio Sci 8(3):912–920

Ravaglia MA, Maggese MC (2003) Ovarian follicle ultrastructure in the teleost Synbranchus marmoratus (Bloch, 1795), with special reference to the vitelline envelope development. Tissue Cell 35:9–17

Riehl R, Appelbaum S (1991) A unique adhesion apparatus on the eggs of the catfish Clarias gariepinus (Teleostei, Clariidae). Jpn J Ichthyol 38(2):191–197

Riehl R, Patzner RA (1998) Minireview: the modes of egg attachment in teleost fishes. Ital J Zool 65(S1):415–420

Rizzo E, Moura TFC, Sato Y, Bazzoli N (1998) Oocyte surface in four teleost fish species postspawning and fertilization. Braz Arch Biol Technol 41(1):37–48

Salustri A, Campagnolo L, Klinger FG, Camaioni A (2018) Molecular organization and mechanical properties of the hyaluronan matrix surrounding the mammalian oocyte. Matrix Biol. https://doi.org/10.1016/j.matbio.2018.02.002

Sano K, Kawaguchi M, Katano K, Tomita K, Inokuchi M, Nagasawa T, Hiroi J, Kaneko T, Kitagawa T, Fujimoto T, Arai K, Tanaka M, Yasumasu S (2017) Comparison of egg envelope thickness in teleosts and its relationship to the sites of ZP protein synthesis. J Exp Zool B Mol Dev Evol 328(3):240–258

Shabanipour N, Heidari B (2004) A histological study of the zona radiata during late oocyte developmental stages in the Caspian sea mugilid, Liza aurata (Risso 1810). Braz J Morphol Sci 21(4):191–195

Simmons LW, Roberts JD, Dziminski MA (2009) Egg jelly influences sperm motility in the externally fertilizing frog, Crinia georgiana. J Evol Biol 22:225–229

Sorvari TE, Sorvari R-M (1968) The specificity of Alcian blue ph 1.0-alcian yellow ph 2.5 staining in the histochemical differentiation of acidic groups in mucosubstances. J Histochem Cytochem 17(4):291–293

Tas J, Frederiks WM, Frank JJ (1980) A new approach to the staining of lipids with Sudan Black B: a study by means of polyacrylamide model films containing liposomes. Acta Histochem Suppl 21:123–129

Ueda T, Fujimori O, Yamada K (1995) A new histochemical method for detection of sialic acids using a physical development procedure. J Histochem Cytochem 43(10):1045–1051

Valle GM, Cinelli LP, Todeschini AR, de Brito-Gitirana L, Vilela-Silva AES, Mourão PAS (2015) Sperm and egg jelly coat from sea urchin Lytechinus variegatus collected in Rio de Janeiro contain distinct sialic acid-rich polysaccharides. Braz Arch Biol Technol 58(4):617–627

Vilela-Silva AC, Alves AP, Valente AP, Vacquier VD, Mourao PA (1999) Structure of the sulfated α-L-fucan from the egg jelly coat of the sea urchin Strongylocentrotus franciscanus: patterns of preferential 2-O- and 4-O-sulfation determine sperm cell recognition. Glycobiology 9(9):927–933

Warren L (1959) The thiobarbituric acid assay of sialic acids. J Biol Chem 234:1971–1975

Wilson TS, McDowell EM, Trump BF (1983) An Alcian blue (pH 2.5)-PAS-keratin immunoperoxidase method for the simultaneous demonstration of keratin and neutral and acidic mucosubstances. Stain Technol 58(4):225–229

Yessilyurt B, Ssahar U, Devec R (2015) Determination of the type and quantity of sialic acid in the egg jelly coat of the sea urchin Paracentrotus lividus using capillary LC-ESI-MS/MS. Mol Reprod Dev 82:115–122
Acknowledgements
Manuscript is duly checked with Grammarly software to avoid errors.
Ethics declarations
Conflict of interest
The authors declare that they have no conflict of interest.
Additional information
Editorial responsibility: Rupali Datta.
About this article
Cite this article
Mishra, A., Joy, K.P. Characterization of gonadotropin-induced oocyte jelly coat from the catfish Heteropneustes fossilis (Bloch). Int. J. Environ. Sci. Technol. 17, 287–294 (2020) doi:10.1007/s13762-019-02299-2
Received:

Revised:

Accepted:

Published:

Issue Date:
Keywords
Gonadotropin

Hexosamine

Histochemistry

Jelly coat

Oocyte

Sialic acid