Evolution of a large intracranial artery dissection on multimodal neuroimaging with spontaneous healing
Case presentation
A previously healthy 17-year-old male adolescent with intermittent mild headache for 4 years and more severe for a week was admitted to our hospital. A previous magnetic resonance imaging (MRI) performed 9 months prior to hospitalisation had shown no abnormalities (Fig.
1
a). On current neuroimaging studies consisting of brain computed tomography (CT), MRI with magnetic resonance angiography (MRA), and digital subtraction angiography (DSA) examination, a large intracranial artery dissection (IAD) was detected. Given the lack of subarachnoid hemorrhage (SAH) or ischemia, and the perceived risk of endovascular or surgical treatment, preference was given to close clinical and radiological observation and antiplatelet medication for the patient and the dissection spontaneously healed over the next 8 months.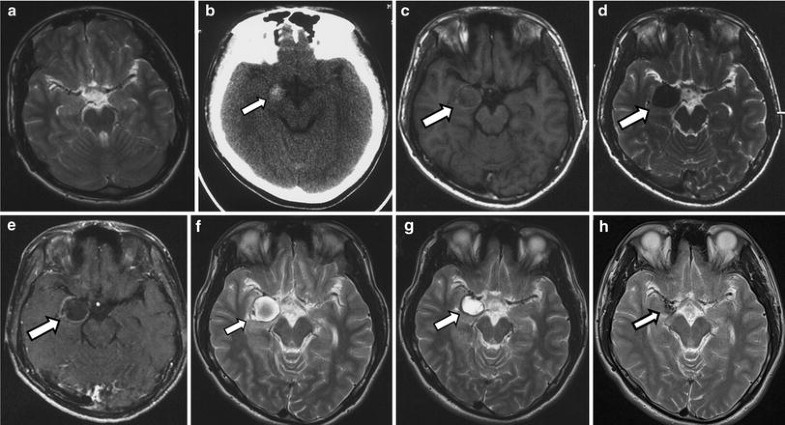 Keywords
Intracranial artery dissection 
Intramural hematoma 
Magnetic resonance imaging 
Magnetic resonance angiography 
Digital subtraction angiography 
Notes
Conflict of interest
The authors declare that they have no conflict of interest.
Ethical standard
This study was approved by the Ethics Committee of Changhai Hospital.
Informed Consent
Informed consent was obtained from all individual participants.
Copyright information
© Belgian Neurological Society 2016