Toward a Macroevolutionary Theory of Human Evolution: The Social Protocell
Abstract
Despite remarkable empirical and methodological advances, our theoretical understanding of the evolutionary processes that made us human remains fragmented and contentious. Here, we make the radical proposition that the cultural communities within which Homo emerged may be understood as a novel exotic form of organism. The argument begins from a deep congruence between robust features of Pan community life cycles and protocell models of the origins of life. We argue that if a cultural tradition, meeting certain requirements, arises in the context of such a "social protocell," the outcome will be an evolutionary transition in individuality whereby traditions and hominins coalesce into a macroscopic bio-socio-technical system, with an organismal organization that is culturally inherited through irreversible fission events on the community level. We refer to the resulting hypothetical evolutionary individual as a "sociont." The social protocell provides a preadapted source of alignment of fitness interests that addresses a number of open questions about the origins of shared adaptive cultural organization, and the derived genetic (and highly unusual) adaptations that support them. Also, social cooperation between hominins is no longer in exclusive focus since cooperation among traditions becomes salient in this model. This provides novel avenues for explanation. We go on to hypothesize that the fate of the hominin in such a setting would be mutualistic coadaptation into a part-whole relation with the sociont, and we propose that the unusual suite of derived features in Homo is consistent with this hypothesis.
Keywords
Cooperation 
Cultural evolution 
Cultural group selection 
Evolutionary transitions in individuality 
Human evolution 
Macroevolutionary theory 
Social protocell 
Sociont 
Introduction
An improving empirical picture of hominin evolution is creating a growing theoretical challenge, namely that of piecing together fragments of insight from a wide variety of disciplines, methodologies, and contexts into coherent explanations—the stories of our deep prehistory. What we seem to observe is a perfect storm of contingent factors and powerful feedback processes that generated an evolutionary episode that biological theory sorely under-describes (e.g., Andersson et al. 2014; Foley 2016; Fuentes 2016; Whiten et al. 2017). Hominin evolution is thereby turning out to demand dedicated and spirited theoretical development. As Maslin et al. (2015) put it, we must create new "meta-narratives"—new stories about how to tell stories.
In this spirit, we develop here a proposition about what fundamental type of macroevolutionary trajectory we are looking at. We propose that human evolution is best understood as an evolutionary transition in individuality (ETI; e.g., Michod 2007; Leigh 2010; Hanschen et al. 2015) that combines evolutionary patterns familiar from earlier ETI but in a radically new type of substrate.
Key to this new theoretical proposition is the argument that the basic kinetics of early hominin communities closely parallels protocell models of the origin of cellular life: incidentally preadapted chemical vesicles that compartmentalized autocatalytic reaction networks, producing macrolevel evolutionary populations (Gánti 1975, 1997; Hanczyc and Szostak 2004; Rasmussen et al. 2004; Filisetti et al. 2010; Serra and Villani 2017). We argue that hominin communities were preadapted to act (under the right set of ecological circumstances) as "social protocells" with regard to heritable cultural traditions and hominins.
The social protocell model paints a "culture first" scenario where the hallmark deep cooperativity and cumulative culture of Homo originated from mutualistic cooperation between simple atomistic cultural traditions (similar to those observed in Pan today). Homo here emerges as the outcome of mutualistic evolution, as a component of the increasingly organismal organization of the novel type of macroscopic and bio-socio-technical evolutionary individual (EI; Lewontin 1970; Sober and Wilson 1994; Maynard-Smith and Szathmáry 1995; Queller 2000; Michod and Roze 2001) that coalesced within the social protocell. We refer to this emergent EI as a "sociont."
By making this theoretical connection, our hypothesis takes a macroevolutionary perspective on human origins (see also Szathmary 2015 and Foley 2016) that, we hold, has the potential to organize the interpretation of empirical evidence and serve as an enveloping theoretical meta-narrative. We see human evolution as fundamentally about the emergence of evolution on a new level of organization, and the evolution of a new set of basic evolutionary mechanisms for heredity, storage, development, and organization. This calls for a shift from "normal evolution" to "transitional evolution" in a new meta-narrative about human evolution (see also Foley 2016).
We also thereby move in the direction of unifying human evolution with the larger issue of major evolutionary transitions in natural history (MET). The dramatic evolutionary, ecological, and environmental impact of the advent of Homo hereby falls more squarely into the larger natural historical pattern of dramatic evolutionary disruptions resulting from bouts of innovation on this fundamental level (e.g., Maynard-Smith and Szathmáry 1995; Calcott and Sterelny 2011; Andersson et al. 2014; Erwin 2015; Szathmáry 2015; West et al. 2015; O'Malley and Powell 2016).1
The proposed hominin ETI would have begun in early Homo communities ca. 2.6 mya, with large game carnivory, we argue, as the kernel around which the initial mutualistic system of traditions coalesced. The dramatic range expansion across the Old World that took place ca. 1.8 mya (Fleagle et al. 2010; Antón et al. 2014; Foley 2016) signals that the ETI had settled into a functioning new evolutionary machinery capable of macroscopic adaptation in previously unseen ways. The equally dramatic and unusual physiological change that followed in Homo (e.g., Antón and Snodgrass 2012), as well as the increasing organizational complexity of Homo societies, we see as evidence of a shift from micro- (hominin) to macrolevel (community) selection, and to a mutualistic evolutionary trajectory between the hominin organism and the exotic sociont host organism that coalesced around it.
We first introduce the social protocell model of the hominin ETI, in the following section. The resulting community-level EI would then harden into a sociont with an internal bio-socio-technical organization—selected and cumulatively adapted on the macrolevel into an organismal organization (the third section). With the term early hominins, we are referring to Australopithecus forms, some of which were ancestral to Homo (before ca. 3.0 mya). By early Homo, we intend pre-erectus forms (e.g., H. habilis; ca. 3.0–1.8 mya).
The Hominin ETI
The community-to-sociont ETI model has two main components: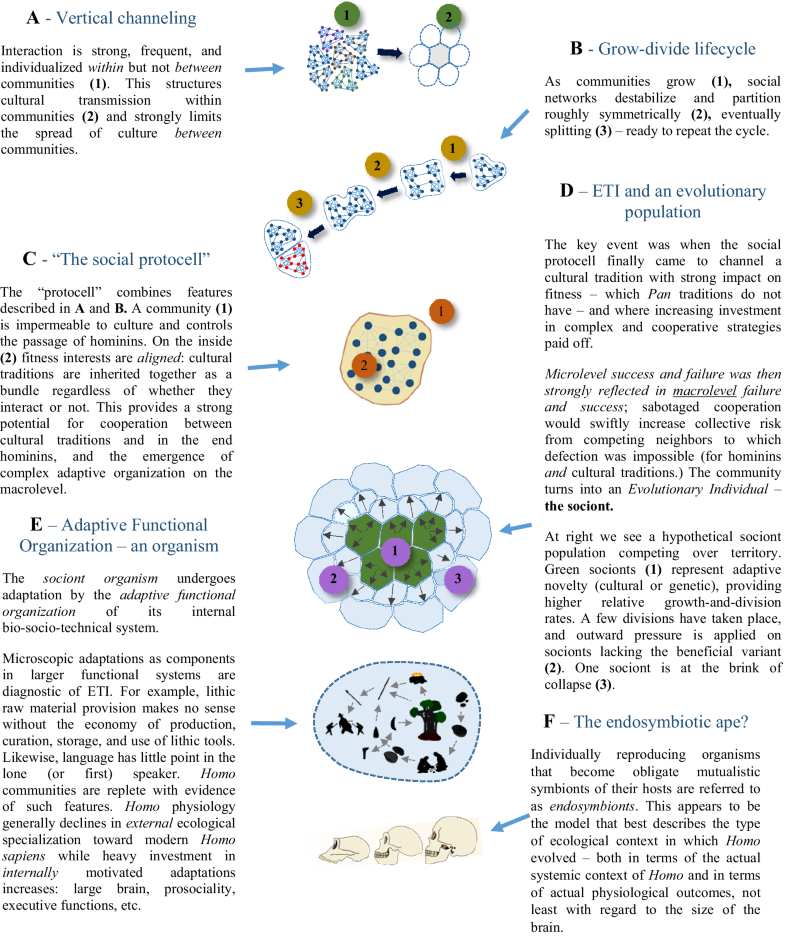 We picture the primordial situation (pre-Oldowan; >2.6 mya) as similar in outline to what we see among present-day Pan, with the "social protocell" arising as a side effect of social group dynamics, containing a "primordial soup" of appearing and disappearing cultural traditions. The key cultural tradition would arise from this creative variability, but only under specific ecological circumstances.
The outcome, we argue, was a macroscopic evolutionary population of group-selected communities—socionts—that seamlessly combined and integrated biological, social, and technical components. The socionts were evolutionary individuals (EI) exhibiting phenotypic variation, differential fitness, and heritable fitness (Lewontin 1970; Sober and Wilson 1994; Maynard-Smith and Szathmáry 1995; Michod and Roze 2001; Godfrey-Smith 2007).
By referring to this hypothetical type of EI as socionta we simultaneously differentiate and indicate continuity with bionta (a defunct taxon denoting all living things). We thereby also differentiate the post-ETI community from precursor communities, where lower forms of nonkin cooperation may be adequately understood in simpler evolutionary terms as the outcome of robust individual benefits (e.g., Dugatkin 1997, 2002; Clutton-Brock 2009).
Organismality and Individuality of the Sociont
In our view cooperation would initially have followed something like the following sequence of phases: (1) Cultural traditions becoming coadapted such that their combined expression, how they prepare the ground for one another, how they stimulate or inhibit the expression of one another, and so on, cause them to perform superiorly together. (2) Larger and more sophisticated adaptive complexes of such cultural traditions taking shape, with (3) "internal" traditions arising whose sole fitness contribution comes from serving (regulating, coordinating, making more efficient, etc.) other traditions, and (4) the formation of modular bio-socio-technical cultural systems.
Notably, we may imagine this without imagining much social coordination and cooperation between hominins at all. We may readily imagine, however, how such a system of traditions would be more powerful if hominins cooperated socially and coordinated their actions—which macroscopic sociont organization potentially could make them do since culture canalizes behavior and cognition (see above). We may furthermore imagine that as the hominins themselves became adapted to comfortably serve their roles in these systems, that would open up for even more powerful macroscopic sociont adaptations to arise—adaptations that again stretched the capabilities of the hominins. Eventually, these systems would come to seamlessly integrate biological, social, and technical components—in some cases, such as language, to an extent that culture and nature partly become fused.
Although social cooperation well beyond what we observe in Pan likely arose early in Homo, the sociont may for a long time have remained tightly cohesive and coordinated, yet relatively socially simple compared to recent human societies. But in particular, to rightly assess the sociont hypothesis we must expand our view of cooperation, from pertaining exclusively to social cooperation between hominins, to also include cooperation among traditions.
So it may not be the birth of strong cooperation, coordination, and cohesion per se that we witness in the much more recent evolution of Homo sapiens (e.g., Hare 2017), but an evolution of sophisticated sociont adaptations to maintain a high level of cohesion between more powerful hominin components (see also Read 2012), capable of developing and maintaining more powerful and flexible bio-socio-technical systems. Again, what we witness from this macroevolutionary perspective would be a familiar pattern in transitional evolution: the emergence of top-down adaptations to expand the evolutionary design space on the macrolevel.
Discussion
We began by arguing the need for new "meta-narratives" and claiming that some variant of our hypothesis potentially may provide one. Meta-narratives—narratives about narratives—in the context of scientific theory mean, essentially, some general set of theoretical principles that scaffolds the construction of explanations and new ideas. It structures the theoretical and empirical search space and helps maintain a measure of unity so that derivative explanations support rather than contradict one another. In the case of historical sciences, the lack of a meta-narrative means that history tends to look like "one damned thing after another"—as Henry Ford reputedly put it.
A meta-narrative is not sufficient in itself, however: it is too abstract to "reach" all the way down to the empirical level. It must be evaluated through the performance of more specialized theoretical embodiments that extend the meta-narrative while remaining consistent with it—models, theory, and arguments about specific phenomena.
The macroevolutionary theoretical search for theory to explain the big patterns in natural history and the phylogeny of life is precisely a search for models to go between foundational Darwinian meta-narrative and the empirical background. A long-standing mystery that neo-Darwinian evolutionary theory says very little about is how major evolutionary transitions have taken place (e.g., Maynard-Smith and Szathmáry 1995; Gould 2002; Szathmáry 2015). How did evolution go from bacteria to protists? From unicellular protists to multicellular organisms? From multicellular organisms to human civilizations?
Such bouts of transitional evolution call for meta-evolutionary theory that explains how these Darwinian principles—embodied in one set of adapted systems—can periodically give rise to sets of new such embodiments and radically new regimes of adapted organization. As we have discussed, a series of evolutionary pathways that explain how such transitions are possible within the constraints of the overarching Darwinian meta-narrative have been identified.
What we do is to adapt and combine insights about such pathways to address the human MET—arguably the most dramatic and inherently interesting one of them all. If human evolution kicked off as something that has recognizable precedents in natural history—which the proposed model hypothesizes was the case—then we would be in a much better shape to understand human evolution.
First, human evolution would be better unified with our overall evolutionary understanding of natural history. That would bode well for future theoretical development. Second, we would have something to begin constructing theory from—something that produces quite specific predictions about what patterns we should and should not expect to see in human evolution.
Our aim with this article has been to argue for plausibility and likelihood to a level where the proposition may be viewed as worthy of further inquiry, which will entail going deeper into literature that we have only sampled here. The first task ought to be to consider the existing but disparate wealth of causally important factors that have been proposed based on close consideration of the expanding empirical field (such as those reviewed by Maslin et al. (2015), as they called for new meta-narratives). Is our proposition consistent with such models, and does it stimulate a unification among such models?
Furthermore, it remains to be explored how our proposition interacts with other proposed meta-level frameworks. For example, niche construction theory (NCT; e.g., Laland and Brown 2006; Smith 2007; Laland and O'Brien 2015), dual-inheritance theory (e.g., Cavalli-Sforza and Feldman 1981; Boyd and Richerson 1985; Whiten et al. 2011), models of bottom-up evolution of stable reciprocal cooperation (e.g., Fehr and Fischbacher 2003; van Schaik and Kappeler 2006; Tomasello 2008; MacKinnon and Fuentes 2011; Nowak and Highfield 2011; Tomasello et al. 2012; Wilson 2012; Burkart et al. 2014), and models emphasizing the role of organization, regulation, and development in cultural evolution (e.g., MacKinnon and Fuentes 2011; Wimsatt 2013; Andersson et al. 2014; Fuentes 2015, 2016; Stiner and Kuhn 2016).
We have furthermore identified a number of domains in terms of the ontology of the proposed model where further work to organize and interpret existing evidence will put the hypothesis to the test and permit its elaboration. We have the ETI itself (see "The Hominin ETI" section), which bears on the kinetics of community life cycles and their primate and human social underpinning. We also have the functional organization of Homo communities (see the "Organismality and Individuality of the Sociont" section) and the evolution of Homo itself, where we hint at a mutualistic evolutionary pathway where Homo actually turns into a component of the sociont. Homo would, for many functional purposes, have become enclosed within the sociont, which may suggest that endosymbiosis could be a fruitful model for understanding human evolution, and possibly also domestication. Finally, we have macroscopic historical and geographical evolutionary patterns, which we have not gone into at all in this article.
Since we are invoking MET models that are extensively worked out in their original settings, quite specific predictions may be developed, and the potential for finding strong tests is thereby promising. In other words, our hypothesis constrains what sorts of patterns it is compatible with quite strongly. We may thereby expect to be able to tell whether this is actually a workable meta-narrative or not.
The only other theoretical framework approaching this scope would be NCT—and it also predicts a structured and organized "layer" between what we traditionally think is the lead character of the story (i.e., the hominin organism) and the backdrop (the ecological and environmental exterior). NCT does appear considerably less theoretically constraining than the sociont model as a meta-narrative; i.e., it is more unclear what critical tests would tell us that we are not looking at niche construction, or, for that matter, that would point uniquely to niche construction.
That said, the sociont is by no means incompatible with NCT. To the contrary, even if the bio-socio-technical "innards" of the sociont arose top-down through internal adaptive organization (ETI), there are potentially interesting points of connection between ETI and niche construction (e.g., Torday 2016). Moreover, the sociont itself is a potential niche constructor on its level, as it interfaces with, and modifies, the environment (see also Fuentes 2016)—inserting itself, as it were, between the hominin and the constructed niche. Its main novel adaptive capacity—which we describe as hyper-adaptability (see above)—may easily be seen as a capacity that vastly expands the potential for, precisely, constructing niches.
Moving forward also entails something that is easy to forget: evolutionary hypotheses make statements about outcomes of historical dynamics. We are exceptionally poor at seeing through emergence and nonlinear dynamics, and so models must be designed to verify that the hypothesis really predicts what is being argued and tested. Models, moreover, permit us to explore theoretical systems by varying them, and they permit us to discover patterns and phenomena that we never could have guessed were entailed by the theory. Simulating hominin/Pan communities on the behavioral microlevel to reproduce their lifecycles may be a first step, to be followed by adding cultural transmission to simulate the predicted vertical channeling and its outcomes. The ETI may be similarly explored as may the evolution of simulated hominins reproducing in this system.
We agree fully with Foley's (2016) view that human evolution has a great potential to push the boundaries of evolutionary theory. In many ways we are looking at a phenomenon that, compared with the rest of natural history, is as exotic as any extraterrestrial type of life could be, and we have it right before us in increasingly fine detail.
From the perspective of anthropology, the proposed model may help to reduce friction between evolutionary and social approaches (Fuentes 2016) by addressing in a fundamental way how an evolutionary view may interface with the immensely complex, integrated, and rich organization of hominin societies. An improved understanding of what would be a correct ontology for understanding how humans, our societies, and nature are related would indeed have very far-reaching consequences.
Notes
Acknowledgements
Funding has been provided by European Commission H2020 FETPROACT-2016 Action ODYCCEUS (Grant No. 732942). We wish to acknowledge fruitful discussions with Mary Stiner, Steven Kuhn, Richard Michod, Dinah Davison, and several others at the University of Arizona. Likewise, we thank Douglas Erwin, Eörs Szathmary, David Lane, and many others, not least an anonymous reviewer, for feedback and discussion.
Copyright information
© The Author(s) 2018
Open AccessThis article is distributed under the terms of the Creative Commons Attribution 4.0 International License (http://creativecommons.org/licenses/by/4.0/), which permits unrestricted use, distribution, and reproduction in any medium, provided you give appropriate credit to the original author(s) and the source, provide a link to the Creative Commons license, and indicate if changes were made.