Abstract
Herein, a novel, fast, green and sensitive surfactant ion pair-switchable solvent dispersive liquid–liquid microextraction (SIP-SS-DLLME) method was developed for the preconcentration of phenazopyridine. Protonated triethylamine bicarbonate is synthesized by the reaction of triethylamine and CO2 in the presence of water. This protonated switchable solvent (soluble in water) easily converted to triethylamine which is insoluble in water. Aliquat 336 was used as an ion-pair agent in this method, which results in the increase of the phenazopyridine extraction into the switchable solvent. Variables affecting the performance of extraction were studied and optimized. The relative standard deviation (RSD) was 3.1% for five repeated determinations containing 20 µg/L of phenazopyridine. The linear range of the method for microextraction and determination of phenazopyridine was found to be 5–180 µg/L with a detection limit of 0.88 µg/L. The presented method was applied successfully for the determination of phenazopyridine in pharmaceutical and biological samples.
This is a preview of subscription content, log in to check access.
Access options
Buy single article
Instant access to the full article PDF.
US$ 39.95
Price includes VAT for USA
Subscribe to journal
Immediate online access to all issues from 2019. Subscription will auto renew annually.
US$ 199
This is the net price. Taxes to be calculated in checkout.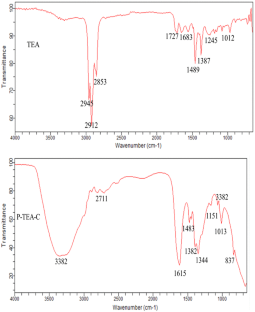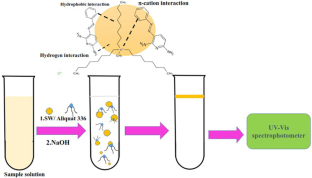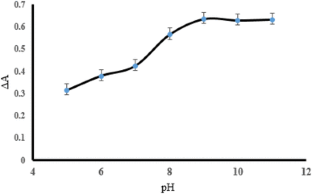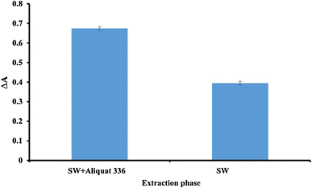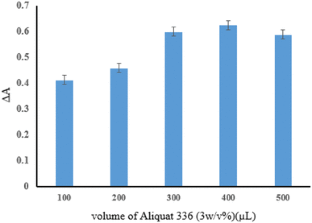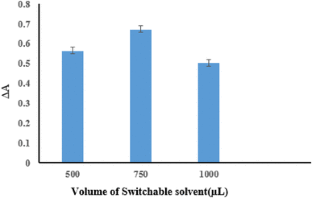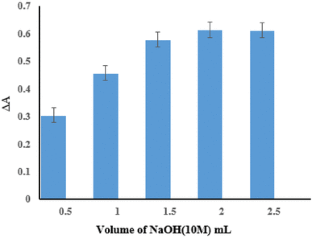 References
1.

M. Taei, F. Hasanpour, M. Movahedi, S. Mohammadian, RSC Adv. 5, 37431–37439 (2015)

2.

F. Hasanpour, M. Taei, M. Movahedi, A. Pazir, J. Mol. Liq. 214, 207–213 (2016)

3.

A.A. Ensafi, B. Arashpour, B. Rezaei, A.R. Allafchian, Colloids Surf B Biointerfaces 111, 270–276 (2013)

4.

F. Nazari Serenjeh, P. Hashemi, M. Safdarian, Z. Kheirollahi, J. Iran. Chem. Soc. 11, 733–739 (2014)

5.

P.F. Pereira, W.P. da Silva, R.A.A. Muñoz, E.M. Richter, J. Electroanal. Chem. 766, 87–93 (2016)

6.

L. Fotouhi, Y. Yamini, R. Hosseini, M. Rezazadeh, Can. J. Chem. 93, 702–707 (2015)

7.

Q. Chen, K. Li, Z. Zhang, P. Li, J. Liu, Q. Li, Biopharm Drug Dispos. 28, 439–444 (2007)

8.

A. Larki, M.R. Nasrabadi, N. Pourreza, Propellants Explos. Pyrotech. 41, 166–171 (2016)

9.

A. Khataee, T.S. Rad, B. Vahid, S. Khorram, Ultrason. Sonochem. 33, 37–46 (2016)

10.

A.N. Anthemidis, K.-I.G. Ioannou, Talanta 80, 413–421 (2009)

11.

B. Peng, Y. Shen, Z. Gao, M. Zhou, Y. Ma, S. Zhao, Food Chem. 176, 288–293 (2015)

12.

M. Soylak, E. Yilmaz, Desalination 275, 297–301 (2011)

13.

Y.E. Unsal, M. Soylak, M. Tuzen, Environ. Monit. Assess. 187, 203 (2015)

14.

M. Akhond, G. Absalan, T. Pourshamsi, A.M. Ramezani, Talanta 154,461–466 (2016)

15.

M. Tuzen, O.Z. Pekiner, Food Chemistry 188, 619–624 (2015)

16.

M. Soylak, M. Khan, E. Yilmaz, Anal. Methods 8, 979–986 (2016)

17.

G. Lasarte-Aragonés, R. Lucena, S. Cárdenas, M. Valcárcel, Talanta 131, 645–649 (2015)

18.

Naeemullah, F. Shah, T.G. Kazi, H.I. Afridi, A.R. Khan, S.S. Arain, M.S. Arain, A.H. Panhwar, Anal. Methods 8, 904–911 (2016)

19.

E. Yilmaz, M. Soylak, Anal. Chim. Acta 886, 75–82 (2015)

20.

C. Vakh, A. Pochivalov, V. Andruch, L. Moskvin, A. Bulatov, Anal. Chim. Acta 907, 54–59 (2016)

21.

H. Parham, S. Saeed, J. Chromatogr. A 1336,34–42 (2014)

22.

Y. Litaiem, M. Dhahbi, J. Dispers. Sci. Technol. 36, 641–651 (2015)

23.

N. Pourreza, S. Rastegarzadeh, A. Larki, Talanta 134, 24–29 (2015)

24.

J. Hassan, N. Zari, K. Tabar-Heydar, S.H. Ahmadi, J. Anal. Sci. Technol. 7, 22 (2016)

25.

M. Ghobadi, Y. Yamini, B. Ebrahimpour, Ecotoxicol. Environ. Saf. 112, 68–73 (2015)

26.

W. Wei, D.H.K. Reddy, J.K. Bediako, Y.-S. Yun, Chem. Eng. J. 289, 413–422 (2016)

27.

M.Reclo,E.Yilmaz,M.Soylak,V.AndruchandY.Bazel,Journal of Molecular Liquids,2017,237,236–241.

28.

N. Lamei, M. Ezoddin, K. Abdi, Talanta 165,176–181 (2017)

29.

M. Saraji, A.A.H. Bidgoli, B. Farajmand, J. Sep. Sci. 34, 1708–1715 (2011)

30.

D. Farin, G. Piva, R. Kitzes-Cohen, Chromatographia 52, 179–180 (2000)
Acknowledgements
We appreciate the research council of Shahid Chamran University for supporting this project.
About this article
Cite this article
Hamid, Y., Fat'hi, M.R. A fast and green preconcentration method based on surfactant ion pair-switchable solvent dispersive liquid–liquid microextraction for determination of phenazopyridine in pharmaceutical and biological samples. J IRAN CHEM SOC 15, 1813–1820 (2018). https://doi.org/10.1007/s13738-018-1378-z
Received:

Accepted:

Published:

Issue Date:
Keywords
Phenazopyridine

Aliquat 336

Surfactant ion pair-switchable solvent dispersive liquid–liquid microextraction

Pharmaceutical and biological samples