Doping of copper (I) oxide onto a solid support as a recyclable catalyst for acetylation of amines/alcohols/phenols and synthesis of trisubstituted imidazole
Abstract
A study of copper-mediated C–heteroatom especially C–N and C–O bond formations using simpler methodologies has been carried out. In the present work, acetylation of various substrates such as amines, phenols and alcohols; synthesis of 2,4,5-trisubstituted imidazole is done using simple and easily available starting materials. Copper (I) oxide was synthesized in situ by the reduction of Fehling's solution with glucose followed by its anchoring onto different supports like silica, HAP, basic alumina and cellulose. Comparison and contrasts between the reactivity of copper (I) oxide supported onto different supports for these reactions are made. The reactivity of copper (I) oxide seems to be largely dependent on the nature of support and the most active catalyst for a particular reaction was further characterized by different spectroscopic techniques such as FTIR, XRD, TGA, XPS, SEM, TEM and AAS. The catalysts were found to be stable, easily recyclable without any significant loss in activity.
Graphical abstract
Applications of solid supported copper (I) oxides (where solid support is silica, HAP, cellulose and basic alumina) are studied for various organic transformations with special emphasis on C–N and C–O bond formation reactions.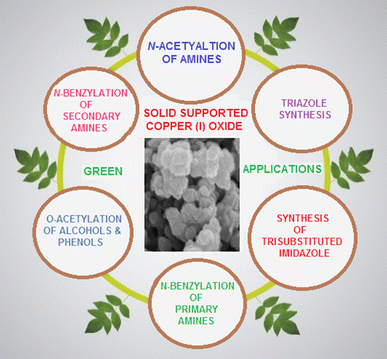 Keywords
Acetylation 
Amines 
C–heteroatom 
Spectroscopic techniques 
Recyclability 
Notes
Acknowledgments
We are grateful to Director, SAIF, Punjab University, Chandigarh, for TEM and XRD and also to Head, SAIF, IIT Bombay, for recording SEM images. We extend our sincere thanks to UGC, New Delhi, for financial support to purchase FTIR; awarding Major Research Project F 41‐281/2012 (SR), and Prof. R.K. Bamezai, Department of Chemistry, University of Jammu, for recording TGA.
Copyright information
© Iranian Chemical Society 2015