Abstract
Metastasectomy is a widely accepted treatment for renal cell carcinoma (RCC) metastasis, and is regarded as the most effective strategy for increasing the rate of cancer-specific survival. However, since bilateral synchronous or metachronous adrenal metastasis of RCC is extremely rare, a standard approach has yet to be established. Partial adrenalectomy may avoid lifelong hormonal supplementation and reduce the risk of Addisonian crisis. A 71-year-old man had a previous history of left nephrectomy and ipsilateral adrenalectomy for metachronous adrenal metastasis. Metachronous contralateral adrenal metastasis was detected 2 years after ipsilateral adrenalectomy, and he underwent retroperitoneoscopic partial adrenalectomy using a vessel sealing device. Although corticosteroid replacement therapy was not prophylactically performed, the patient did not exhibit any symptoms of hypocorticism. Nine months after the surgery, the patient remains well without steroid supplementation, and neither local recurrence nor metastasis has been detected. To the best of our knowledge, this is the first case report of laparoscopic partial adrenalectomy for RCC metastasis. The vessel sealing device was highly effective and suitable for laparoscopic partial adrenalectomy.
This is a preview of subscription content, log in to check access.
Access options
Buy single article
Instant unlimited access to the full article PDF.
US$ 39.95
Price includes VAT for USA
Subscribe to journal
Immediate online access to all issues from 2019. Subscription will auto renew annually.
US$ 99
This is the net price. Taxes to be calculated in checkout.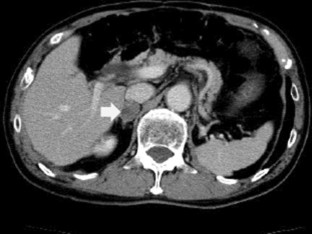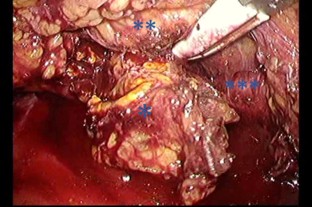 References
1.

McLaughlin JK, Lipworth L (2000) Epidemiologic aspects of renal cell cancer. Semin Oncol 27:115–123

2.

Marshall FF, Stewart AK, Menck HR (1997) The National Cancer Data Base: report on kidney cancers. The American College of Surgeons Commission on Cancer and the American Cancer Society. Cancer 80:2167–2174

3.

Stransky P, Eret V, Urge T, Travnicek I, Chudacek Z, Hes O, Hora M (2013) Laparoscopic adrenalectomy for metachronous ipsilateral metastasis following nephrectomy for renal cell carcinoma. Wideochir Inne Tech Maloinwazyjne 8:221–225

4.

Disick GI, Munver R (2008) Adrenal-preserving minimally invasive surgery: update on the current status of laparoscopic partial adrenalectomy. Curr Urol Rep 9:67–72

5.

Kumar A, Hyams ES, Stifelman MD (2009) Robot-assisted partial adrenalectomy for isolated adrenal metastasis. J Endourol 23:651–654

6.

Schomer NS, Mohler JL (1995) Partial adrenalectomy for renal cell carcinoma with bilateral adrenal metastases. J Urol 153:1196–1198

7.

Pederiva F, Andres A, Sastre A, Alves J, Martinez L, Tovar JA (2007) Bilateral adrenal neuroblastoma is different. Eur J Pediatr Surg 17:393–396

8.

Ozturk H (2015) Bilateral synchronous adrenal metastases of renal cell carcinoma: a case report and review of the literature. Oncol Lett 9:1897–1901

9.

Brauckhoff M, Nguyen Thanh P, Bar A, Dralle H (2003) Subtotal bilateral adrenalectomy preserving adrenocortical function. Chirurg 74:646–651

10.

Walz MK, Peitgen K, Diesing D, Petersenn S, Janssen OE, Philipp T, Metz KA, Mann K, Schmid KW, Neumann HP (2004) Partial versus total adrenalectomy by the posterior retroperitoneoscopic approach: early and long-term results of 325 consecutive procedures in primary adrenal neoplasias. World J Surg 28:1323–1329
Acknowledgements
We thank the anesthesiologists and operating room staff at Kawasaki municipal hospital for their surgical support.
Funding
There is no funding to disclose.
Ethics declarations
Conflict of interest
The authors declare that they have no conflicts of interest.
Ethical approval
All procedures performed herein involving the patient were in accordance with the ethical standards of the institutional and/or national research committee and with the 1964 Helsinki Declaration and its later amendments or comparable ethical standards.
Informed consent
Informed consent was obtained from the patient.
Additional information
Publisher's Note
Springer Nature remains neutral with regard to jurisdictional claims in published maps and institutional affiliations.
Electronic supplementary material
Below is the link to the electronic supplementary material.
Supplementary material 2 (MP4 35733 kb)
About this article
Cite this article
Kaneko, G., Katsui, M., Orikasa, H. et al. Retroperitoneoscopic partial adrenalectomy for metachronous renal cell carcinoma metastasis to solitary adrenal gland. Int Canc Conf J 9, 1–4 (2020). https://doi.org/10.1007/s13691-019-00383-5
Received:

Accepted:

Published:

Issue Date:
Keywords
Renal cell carcinoma

Adrenal metastasis

Metachronous

Partial adrenalectomy

Laparoscope