Abstract
Afferent loop obstruction (ALO) caused by cancer recurrence after total gastrectomy (TG) can be managed by either surgical or non-surgical treatment. The general condition of patients with recurrent gastric cancer is often poor, so a less invasive non-surgical treatment is desirable. We report the case of a 75-year-old male who had undergone TG for gastric cancer 6 months previously and who presented at our hospital with abdominal pain and vomiting. Abdominal computed tomography scan showed a dilated afferent loop, and additionally a low-density lesion around jejunojejunal anastomosis, suggesting that ALO is associated with peritoneal recurrence. A self-expandable metal stent (SEMS) was endoscopically placed to treat ALO after decompression of the dilated afferent loop using an intestinal tube. He retained a good quality of life until his death due to cancer progression 5 months after the SEMS placement. Our case indicates that SEMS could be a less invasive alternative to surgery, and may confer a better quality of life for patients with ALO due to cancer recurrence after TG. This is the valuable report of case in which endoscopic metallic stent placement succeeded for ALO caused by peritoneal recurrence after TG.
This is a preview of subscription content, log in to check access.
Access options
Buy single article
Instant unlimited access to the full article PDF.
US$ 39.95
Price includes VAT for USA
Subscribe to journal
Immediate online access to all issues from 2019. Subscription will auto renew annually.
US$ 99
This is the net price. Taxes to be calculated in checkout.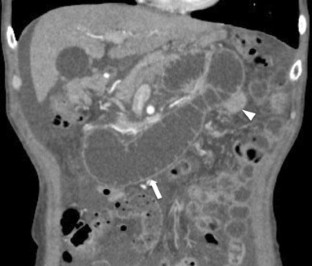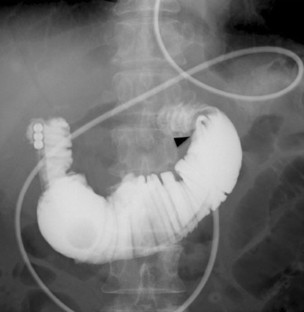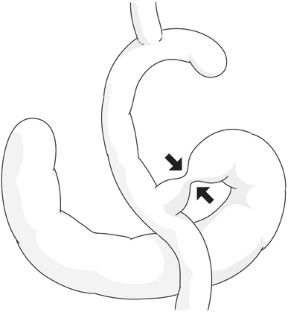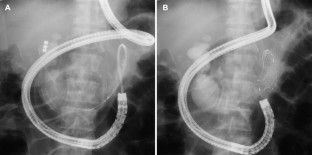 References
1.

Fujii M, Ishiyama S, Saito H et al (2015) Metallic stent insertion with double-balloon endoscopy for malignant afferent loop obstruction. World J Gastrointest Endosc 7:665–669

2.

Huang J, Hao S, Yang F et al (2015) Endoscopic metal enteral stent placement for malignant afferent loop syndrome after pancreatoduodenectomy. Videosurg Other Miniinvasive Tech 10:257–265

3.

Sakai A, Shiomi H, Okada Y et al (2015) Effectiveness of endoscopic self-expandable metal stent placement for afferent loop obstruction caused by pancreatic cancer recurrence after pancreaticoduodenectomy. Clin J Gastroenterol 8:103–107

4.

Blouhos K, Boulas KA, Tsalis K et al (2015) Management of afferent loop obstruction: reoperation or endoscopic and percutaneous interventions? World J Gastrointest Surg 27:190–195

5.

Sasaki T, Isayama H, Kogure H et al (2014) Double-balloon enteroscope-assisted enteral stent placement for malignant afferent-loop obstruction after Roux-en-Y reconstruction. Endoscopy 46(Suppl 1 UCTN):E541–E542

6.

Kim J, Choi IJ, Kim CG et al (2011) Self-expandable metallic stent placement for malignant obstruction in patients with locally recurrent gastric cancer. Surg Endosc 25:1503–1513

7.

Han K, Song HY, Kim JH et al (2012) Afferent loop syndrome: treatment by means of the placement of dual stents. Am J Roentgenol 199:W761–W766

8.

Aoki M, Saka M, Morita S et al (2010) Afferent loop obstruction after distal gastrectomy with Roux-en-Y reconstruction. World J Surg 34:2389–2392

9.

Lee KD, Liu TW, Wu CW et al (2002) Non-surgical treatment for afferent loop syndrome in recurrent gastric cancer complicated by peritoneal carcinomatosis: percutaneous transhepatic duodenal drainage followed by 24-hour infusion of high-dose fluorouracil and leucovorin. Ann Oncol 13:1151–1155

10.

Morita S, Takemura T, Matsumoto S et al (1989) Septic shock after percutaneous transhepatic drainage of obstructed afferent loop: case report. Cardiovasc Interv Radiol 12:66–68

11.

Japanese Gastric Cancer Association (2011) Japanese classification of gastric carcinoma (3rd English edition). Gastric Cancer 3:101–112
Ethics declarations
Conflict of interest
The authors declare that they have no conflict of interest. No financial support was received for the work described in this manuscript.
Ethical approval
All procedures performed in studies involving human participants were in accordance with the ethical standards of the institutional and/or national research committee and with the 1964 Helsinki declaration and its later amendments or comparable ethical standards.
Informed consent
Informed consent was obtained from all individual participants to be included in the study.
Electronic supplementary material
Below is the link to the electronic supplementary material.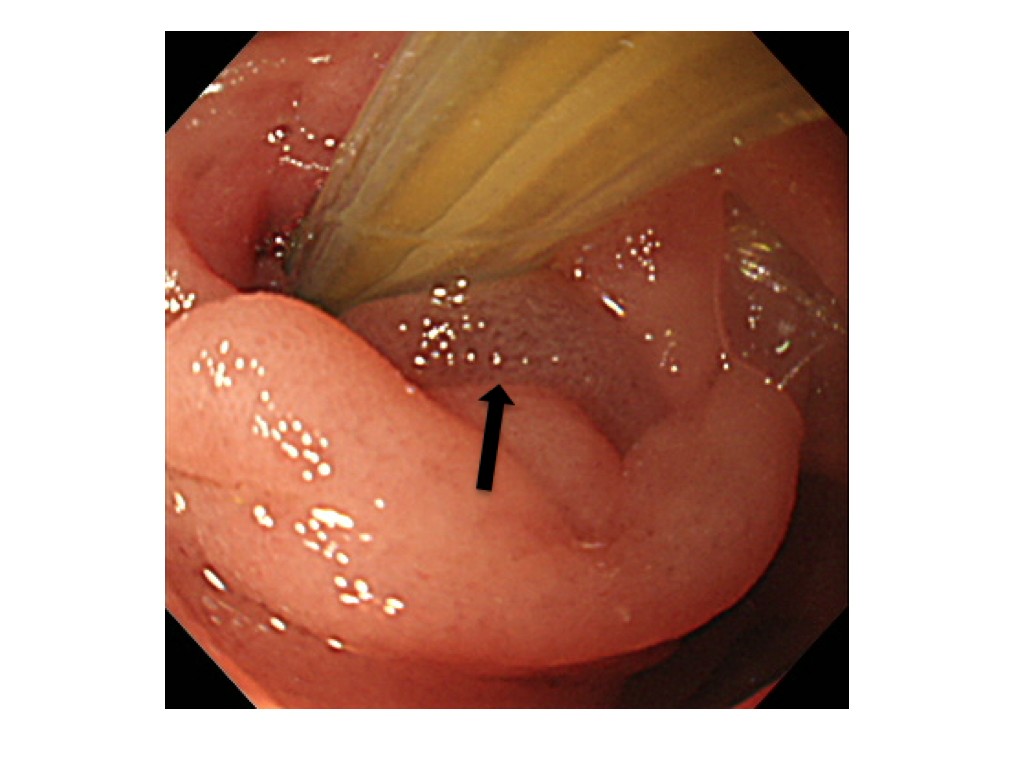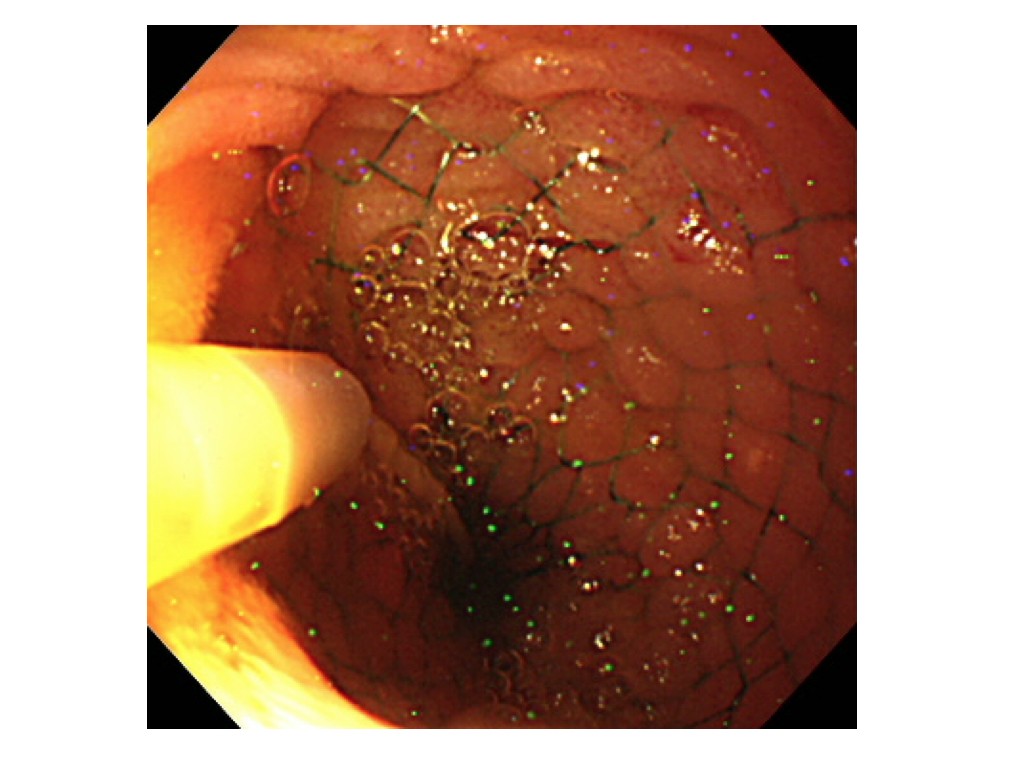 Video 1 (Suppl): The long intestinal tube was inserted into the dilated afferent loop (MP4 20915 KB)
About this article
Cite this article
Takeuchi, H., Abe, N., Kondou, E. et al. Endoscopic self-expandable metal stent placement for malignant afferent loop obstruction caused by peritoneal recurrence after total gastrectomy. Int Canc Conf J 7, 98–102 (2018) doi:10.1007/s13691-018-0328-z
Received:

Accepted:

Published:

Issue Date:
Keywords
Gastric cancer

Total gastrectomy

Recurrence

Afferent loop obstruction

Self-expandable metal stent (SEMS)