Behavioural Susceptibility Theory: Professor Jane Wardle and the Role of Appetite in Genetic Risk of Obesity
Open Access
Psychological Issues (M Hetherington and V Drapeau, Section Editors)
Part of the following topical collections:
Abstract
Purpose of Review
There is considerable variability in human body weight, despite the ubiquity of the 'obesogenic' environment. Human body weight has a strong genetic basis and it has been hypothesised that genetic susceptibility to the environment explains variation in human body weight, with differences in appetite being implicated as the mediating mechanism; so-called 'behavioural susceptibility theory' (BST), first described by Professor Jane Wardle. This review summarises the evidence for the role of appetite as a mediator of genetic risk of obesity.
Recent Findings
Variation in appetitive traits is observable from infancy, drives early weight gain and is highly heritable in infancy and childhood. Obesity-related common genetic variants identified through genome-wide association studies show associations with appetitive traits, and appetite mediates part of the observed association between genetic risk and adiposity.
Summary
Obesity results from an interaction between genetic susceptibility to overeating and exposure to an 'obesogenic' food environment.
Keywords
Obesity 
Genetic 
Heritability 
Appetite 
Eating behaviour 
Behavioural susceptibility 
Introduction
A century ago, no more than 1 in 20 of the population were obese, the figure had risen to more than 1 in 10 by 1990, and currently it is 1 in 4 (Health Survey for England). Combining overweight and obesity together, almost three in four UK adults carry too much body fat (Health Survey for England) and one in three children (National Child Measurement Programme 2014/15). The rapid increases in weight are widely believed to have been caused by changes in lifestyle and the food supply, creating what is often called an 'obesogenic' environment. Changes in transportation and mechanisation have reduced the amount of energy expenditure required to perform a variety of tasks on a day-to-day basis [1]. At the same time, the range of sedentary screen-based entertainments has also increased, further reducing activity levels [1]. Developments in food production, processing, storage and preparation have resulted in highly palatable and energy-dense foods becoming more accessible and cheaper [2]. The food environment does not force us to overeat, but the opportunities and incentive structures have changed making it easy—consciously or unconsciously—to end up in positive energy imbalance, leading to weight gain.
However, despite the ubiquity of the 'obesogenic' environment, not everyone is overweight. Even within the same family, there can be striking differences between the weights of siblings living in the same household. It is clear that there is substantial variation in susceptibility to the 'obesogenic' environment, and the basis of this variation has been of great interest to obesity researchers. One hypothesis put forward is that differential susceptibility to obesity has a genetic basis, and excess weight gain arises from a combination of genetic risk and environmental exposure. Professor Jane Wardle developed the behavioural susceptibility theory (BST) to explain how this interaction between genetic risk and environmental exposure results in weight gain, proposing genetically determined differences in appetite as the mediating mechanism [3].
BST has important implications for the prevention and management of obesity and public health policy. Genes set our potential for becoming obese, but the environment determines the outcome. George Bray put it well when he said: 'Genes load the gun, and the environment pulls the trigger' [4]. This review summarises evidence for gene-environment interplay in human body weight and the role of appetite as a mediator of genetic risk. The implications of BST for prevention, management and policy are discussed.
Gene-Environment Interplay in Human Body Weight
For over a century, researchers have studied twins to estimate the extent to which variability in human body weight is influenced by genes and the environment. Twin designs allow researchers to establish this because identical twins (monozygotic, MZs) are 100% genetically identical, while non-identical twins (dizygotic, DZs) share on average only 50% of their segregating genes, but importantly, both types of twins share their environments to a very similar extent (e.g. they are gestated in the same mother for the same period of time, grow up in the same household and are of the same socioeconomic status). Resemblance between both types of twins can therefore be compared to estimate genetic and environmental influence on body weight (or any other measured characteristic of interest). Greater similarity between the body weights of MZ versus DZ pairs indicates a genetic contribution to body weight. The statistic derived is 'heritability' which quantifies the proportion of variation in a trait (e.g. body weight) attributable to genetic variation and ranges from 0% (genetic variation plays no role in explaining variability in a trait) to 100% (genetic variation entirely explains variability in a trait). But twins also provide important insight into different sources of environmental influence, because aspects of environmental variation are partitioned out into those completely shared by two twins in a pair, contributing to within pair similarity (the 'shared environment', e.g. maternal gestational weight gain), and aspects that are unique to each individual twin, contributing to differences within pairs (the 'non-shared environment', e.g. illness).
Nearly a century of research with twins has established that human body weight (indexed using body mass index (BMI)) is highly heritable [5, 6], but heritability estimates vary considerably. In a review of 32 studies [7], the median heritability estimate was 73% but ranged from 32 [8] to 90% [9]. Gene-environment interplay seems to explain much of this variability. The review found that heritability estimates were higher in populations living in more 'obesogenic' environments characterised by those with a higher average BMI and those from countries with a higher average gross domestic product. Obesity prevalence tends to be higher in families of lower socioeconomic status (SES) in Western countries, making lower SES another marker of a more 'obesogenic' environment. A large longitudinal study of 16,646 Dutch twin pairs from 1 to 20 years of age found significantly higher genetic variance in BMI for children with less educated parents and lower genetic variance in children with better educated parents [10]. The modifying effect of SES on genetic variance in BMI has been replicated in adult populations, using their own education level [11, 12].
Another way to capture exposure to the 'obesogenic' environment is to estimate the heritability of BMI at a particular age, by year-of-birth, the assumption being that those born later have spent a greater proportion of their life in a more 'obesogenic' environment. A large Swedish study of around 2000 twin pairs and 115,000 siblings born between 1951 and 1983 showed that genetic variance in BMI at age 18 was higher for those born later, and by implication living in a more 'obesogenic' environment [13]. Together, these findings suggest that genetic influence depends to some extent on environmental exposure—the more 'obesogenic' the environment, the greater the genetic influence on weight.
The Collaborative Project of Development of Anthropometrical Measures in Twins (CODATwins) is a large-scale initiative of pooled twin studies that includes 434,723 twin individuals (201,192 twin pairs) from 48 studies across 22 countries [14]. This study showed profound developmental variation in genetic influence, which increased from a moderate 40% at 4 years of age to 75% by 19 years of age [15]. At the same time, an important influence of the shared environment was observed in middle childhood, but decreased steadily with age (in parallel with increasing genetic risk) such that by 15 years of age, it had disappeared entirely. While it may seem counterintuitive for genetic influence to strengthen (and shared environmental influence to diminish) as children mature, the gain in independence means increasing exposure to the wider 'obesogenic' environment. This observation is consistent with a model of gene expression depending on environmental exposure.
The high heritability estimates observed for human body weight made it a promising phenotype for genome-wide association studies to identify common genetic variants contributing to variation. A variant in the fat mass and obesity-associated gene (FTO) was the first to be discovered and has the largest effect size of all known variants to date [16]. Adults of average height who carry two copies of the high-risk variant (homozygotes) are approximately 3 kg heavier than adults who carry two copies of the low-risk variant. FTO was an important discovery, not only because about half of the population carries at least one of the high-risk variants, but also because the effect size was large enough for researchers to explore its mechanisms. Currently, 97 common variants have been robustly associated with body mass index (BMI) in genome-wide meta-analyses [17••]. These can be aggregated into a composite genetic risk score that is quantitatively associated with BMI, explaining approximately 3% of variation among adults and children.
As is observed with twin studies, the environment also modifies the impact of measured genetic risk of obesity. In a large European sample of children (n = 4406), low parental socioeconomic position accentuated the effect of FTO on adiposity [18], and in an adult sample, the higher risk variant of FTO was only associated with obesity risk in participants with no university education [19]. Age-related increases in the magnitude of the association between measured genetic risk of obesity (indexed using FTO and composite genetic risk scores) and BMI have also been observed [20, 21, 22, 23], in line with patterns of heritability from twin data. The strongest evidence yet has come from a recent study showing that the association between measured genetic risk of obesity (using a composite score) and BMI was significantly larger for more recent birth cohorts, i.e. those with who had had greater overall exposure to the 'obesogenic' environment [24].
Together, these studies provide convincing evidence that genetic risk of obesity depends on exposure to an 'obesogenic' environment. The question is how 'obesogenic' environments accentuate the effects of genes to maximise genetic expression. Jane Wardle proposed that the basis of the interaction is inherited differences in appetite, which make some individuals more likely to overeat in response to the many opportunities offered by the current food environment, so-called behavioural susceptibility theory (BST) [3].
Behavioural Susceptibility Theory: Appetite Mediates Genetic Risk of Obesity
BST hypothesises that genes influence weight at least partly through their effects on appetite—i.e. there is variation in appetite that has a strong genetic basis, and variation in appetite causes differences in body weight. The idea that appetite plays a causal role in obesity is not new; it was first proposed by Stanley Schachter in 1968 [25]. In a series of innovative experiments, he observed that obese adults ate significantly more than healthy weight adults when the food on offer was highly palatable, but showed no difference in intake in response to bland foods. At the same time, obese adults did not show the same compensatory down-regulation of food intake following a high-calorie snack as normal-weight adults, indicating blunted satiety (fullness) or an overriding of satiety. Schachter came up with externality theory to explain these observations. He proposed that obese individuals have two distinct aberrations in appetite regulation that lead to overeating; they are overly responsive to highly palatable food cues (wanting to eat (or eat more) in response to the sight, smell and taste of palatable food) and are under-responsive to internal satiety mechanisms (fullness).
Wardle was the first to make the link between these appetitive characteristics identified by Schachter and genetic risk of obesity. She developed the BST in which she hypothesised that genes influence weight at least partly via biological mechanisms that control appetite regulation [
26
]. The BST explains how human body weight can have
both
genetic
and
environmental drivers at the same time and why genetic expression on weight is likely to be stronger in more 'obesogenic' environments (see Fig. 
1
). Individuals who are genetically predisposed to be highly responsive to food cues are more likely to overeat in an environment in which food cues pervade every aspect of daily living. Those predisposed to weaker satiety signals are more likely to overeat in response to larger portion sizes and multiple opportunities to eat.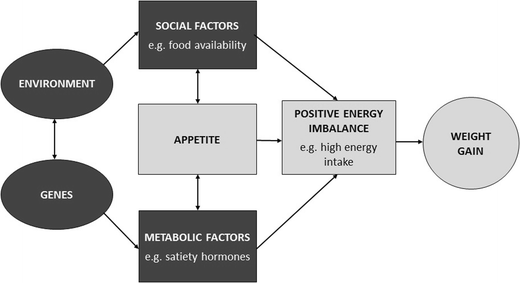 Conclusions
The BST has revolutionised our understanding of the genetic and environmental drivers of human body weight. It is clear that some individuals face a double onslaught of both biological and environmental pressures. Established psychometric measures have revealed that differences in food cue responsiveness and satiety sensitivity begin to emerge after birth and persist across the life-course. Variation in these appetitive traits has a strong genetic basis and impacts early weight gain profoundly. Research into the BST has shown that individuals who inherit a more avid appetite are more susceptible to taking advantage of the many temptations and opportunities offered by the 'obesogenic' food environment and to gain excessive weight as a consequence. The behavioural expressions of an avid appetite are eating too often throughout the day (greater food cue responsiveness) and eating too much each time (weakened satiety sensitivity).
BST points very strongly to the likelihood that obesity rates would diminish should the wider food environment change dramatically. The reality is that large-scale government regulation of the food supply is unlikely to happen in the near future, given that public support for making food less accessible, palatable or affordable would probably be low. In the meantime, the development of pharmacological and behavioural treatments that target over-responsiveness to food cues and impaired satiety might provide an avenue for success. Strategies such as careful portion control and slow eating are already used to circumvent poor satiety responsiveness, and there may be other opportunities to attenuate responsiveness to food cues, such as attention control or self-regulation training.
Given that variation in appetite is observable and measurable from early postnatal life, this might provide a useful marker of obesity risk for public health obesity prevention initiatives. Wardle's work on the BST has also provided a firm conceptual framework for the development and testing of early life interventions to attenuate food cue responsiveness and upregulate satiety sensitivity.
Notes
Compliance with Ethical Standards
Conflict of Interest
Clare H. Llewellyn and Alison Fildes declare that they have no conflict of interest.
Human and Animal Rights and Informed Consent
This article does not contain any studies with human or animal subjects performed by any of the authors.
References
Papers of particular interest, published recently, have been highlighted as: • Of importance •• Of major importance
Copyright information
© The Author(s) 2017
Open Access This article is distributed under the terms of the Creative Commons Attribution 4.0 International License (http://creativecommons.org/licenses/by/4.0/), which permits unrestricted use, distribution, and reproduction in any medium, provided you give appropriate credit to the original author(s) and the source, provide a link to the Creative Commons license, and indicate if changes were made.