Endophytes as Producers of Peptides: An Overview About the Recently Discovered Peptides from Endophytic Microbes
Abstract
An endophyte is a fungus or bacterium that lives within a plant in a symbiotic relationship. Extensive colonization of the plant tissue by endophytes creates a barrier effect, where they outcompete and prevent pathogenic organisms from taking hold. This happens by producing secondary metabolites that inhibit the growth of the competitors or pathogens. In this way they play a very important role in the plant defence mechanisms. The metabolites produced by these endophytes fall within a wide range of classes of compounds that include peptides which are the focus of this review. Peptides are increasingly being selected for drug development because they are specific for their targets and have a higher degree of interactions. There have been quite a number of endophytic peptides reported in the recent past indicating that endophytes can be used for the production of peptide based drugs. Molecular screening for NRPS, which shows peptide producing capability, has also shown that endophytes are potential producers of peptides. The presence of NRPS also offers the possibility of genetic modifications which may generate peptides with high pharmacological activities. This review, therefore, aims to show the current status of peptides isolated from endophytic bacteria and fungi in the recent decade. Endophytes as potential sources of peptides according to NRPS studies will also be discussed.
Keywords
Peptides 
Endophytes 
NRPS 
Bioactivities 
Genetic engineering 
1

Introduction

An endophyte which is predominantly a bacterium or fungus has an endosymbiotic relationship with the plant host [1, 2]. Endosymbiosis can be defined as a type of symbiosis in which one organism lives inside the other each benefiting from the relationship [3, 4]. Although endophytes were found in all studied plant species, the endophyte/host plant relationship is not yet well understood [5, 6, 7]. This may involve competition among endophytic species in the host tissue interposed by production of antifungal metabolites and detoxification of such inhibitors produced by endophytes [8]. Although mycorrhizal fungi colonize plant roots and reside into the rhizosphere, endophytes live entirely within plant tissues and may develop within roots, stems and leaves, sporulate at plant or host-tissue senescence [9, 10, 11].
2

Recently Discovered Endophytic Peptides

This section describes endophytic peptides isolated in the last decade. The number of the isolated endophytic peptides was limited compared to other groups of natural products, such as polyketides from endophytic origin. On the other hand we observed that there are no differences concerning peptide structures isolated from endophytic and non endophtyic microorganisms. The endophytic peptides have the same amino acids, which can be found in the non endophytic bacteria and fungi. That means the endophytes used the same biosynthetic machinery, which are used by the non endophytes to produce peptides.

Two cyclotetrapeptides designated as cyclo-(L-Val-L-Leu-L-Val-L-Leu) and cyclo-(L-Leu-L-Ala-L-Leu-L-Ala) were isolated from the endophytic fungus (No. 2221) isolated from Castaniopsisfissa [47, 48]. Open image in new window
The chemical characterization of the endophytic fungus Talaromyces wortmannii, isolated from Aloe vera, obtained two new cyclic peptides, talaromins A and B. Their structures were established on the basis of extensive NMR spectroscopic and mass spectrometric analysis [49]. Open image in new window
Lane and coworkers identified a number of genes encoding non-ribosomal peptide synthetases (NRPSs) in mutualistic grass endophyte Epichloë festucae, and putatively encoding a ferrichrome siderophore-synthesizing NRPS [50, 51]. A non-ribosomal peptide synthetase gene (sidN) was characterized. A novel extracellular siderophore was elucidated as epichloënin A and found to be the major product of the SidN enzyme complex [52, 53]. Additionally, epichloënin B was identified as a triglycine variant along with epichloëamide and ferriepichloënin A in guttation fluid from ryegrass (Lolium perenne) plants infected with wild-type E. festucae and also detected at trace levels in wild-type E. festucae fungal culture. Open image in new window
The nutritional iron sources for Herbaspirillum seropedicae were the first structurally described serobactin A, B and C siderophores produced by endophytic bacteria [54]. Open image in new window
Siderophores are small high affinity chelating molecules with masses below 2000 Da secreted by microorganisms [55]. Iron is a requisite nutrient for the growth and proliferation of bacteria and fungi. The most important property of siderophores is their high affinity for the ferric ion [56, 57]. Therefore, their main role is to provide the cell with nutritional iron [58, 59]. The production of siderophores is widespread among bacteria and fungi and is found even in higher plants. The structures of siderophores can differ depending on the major Fe3+ ligands in bacteria and fungi, which can be catecholates, hydroxamic acids, and α-hydroxycarboxylic acids [60]. According to the biosynthetic pathways, siderophores are classified as non-ribosomal peptide synthetases (NRPS)-dependent or NRPS-independent [61].
3

Endophytes as Potential Producers of Peptides

Nonribosomal peptide synthetases (NRPSs) a large database of novel NRPS gene sequences are present in microbial genomes and metagenomes [101]. They are large multimodular biocatalysts that utilize complex regiospecific and stereospecific reactions to assemble structurally and functionally diverse peptides compared to the ribosomal system [102]. These peptides have important medicinal applications such as antibiotics, anticancer agents, immunosuppressants, enzyme inhibitors, siderophores, herbicides, antifungals, insecticides, and anthelmintics [103]. Normally, the catalytic domains of NRPS select, activate or modify the covalently tethered reaction intermediates to control the iterative chain elongation process and product release, which occur during the ribosome-independent peptide synthesis [104]. It is important to mention that one NRPS gene cluster was discovered bearing a 30-kb DNA fragment, containing four genes (lchAA, lchAB, lchAC, and lchAD) involved in the biosynthesis of surface-active lipopeptides, such as lichenysin [105, 106].
3.1

Current Molecular Screenings for NRPS in Endophytes

Currently, molecular screening for (NRPSs) in endophytes is being performed to assess the peptide-producing capability of isolated fungi or bacteria, which are important natural product targets nowadays. Moreover, the presence of NRPS could offer further genetic modifications, which may generate novel genetically modified peptides in the future with high pharmacological importance. In parallel, anticancer as well as antimicrobial bioassays were obtained for the crude extracts to determine the most active strains. In this respect we summarized the recent data concerning NRPSs screening in endophytes. NRPSs of unknown function were targeted in the fungal endophytes (genera Neotyphodium and Epichloë) in addition to these some novel endophytic NRPS genes have been characterized such as NRPS5 using a degenerate PCR screen [107].

Examples of genetic screening for NRPS and biological activities of the endophytes were reported from Chinese herbs. Most of the NRPS screening was afforded by Chinese research groups, hence the Chinese flora is very rich with medicinal plants, and this can be a suitable opportunity to focus on endophytes isolation, bioactivities study and screening of the NRPSs. Although the PKSs were also screened in parallel, we preferred to concentrate on the NRPS as an indicator of the potentiality of the isolated endophytes to produce peptides. Endophytic Streptomycetes associated with pharmaceutical plants from the rainforest in Yunnan province, China, displayed remarkable antitumour and antimicrobial activities. Additionally high frequencies of positive PCR amplification were obtained for NRPS (61.0 %) biosynthetic systems [108]. Camptotheca acuminata Decne collected from Yunnan University afforded ninety endophytic actinomycetes. The results of 16S rRNA gene sequences confirmed that the isolates belonged to 10 genera and 6 families. Around 33.4 % of the endophytic actinomycete cultures demonstrated antimicrobial activity. The non-ribosomal peptide synthetase (NRPS) sequences were detected by PCR in 45.6 % of studied strains [109]. Tropical plants collected from several locations in Papua New Guinea and Mborokua Island, Solomon Islands afforded 123 endophytic actinomycetes. All isolates were characterized by 16S rRNA gene sequencing to deliver 17 different genera. Rare genera, such as Sphaerisporangium and Planotetraspora were detected; they have never been previously reported to be endophytic. About 60 % of the extracts demonstrated bioactivity or displayed LC–MS profiles with spectra indicative of secondary metabolites. The 29 nonproductive strains were further investigated by the detection of putative nonribosomal peptide synthetase (NRPS) genes and all were positive [110].

An endophytic actinomycetes strain LCB-0297 isolated from Yew Podocarpus (

Podocarpus macrophyllus

) was characterized primarily as a genus of Streptomyces. It exhibited strong antimicrobial and anticancer activities. PCR check-screening of its antibiotic biosynthesis genes afforded non-ribosomal polypeptide synthetase (NRPS) genes confirmed that its potentiality for antibiotic biosynthesis genes [

111

]. The ethnomedical plants,

Forsythia suspensa

and

Solanum torvum

, collected in Chengdu, China afforded 14 Strains of endophytic actinomycetes. Ten of the strains showed inhibition to HepG2 cancer cell line in varied degrees, accounting for 71 % of total isolates, 3 strains exhibited antibacterial activity and one showed acute cytotoxicity and wide-spectrum of antibacterial activities. Based on 16S rRNA gene partial sequences, one strain was identified to genus

Kribbella,

and the remaining 13 strains belonged to genus

Streptomyces

. PCR screening of biosynthesis genes afforded 5 strains possessing NRPS genes. Endophytic actinomycetes are known to be potential for producing prolific bioactive compounds [

112

]. Panxi plateau in South-west Sichuan in China with its unique geographical and climatological characteristics is a habitat to a great variety of medicinal plants. It was reported that 560 endophytic actinomycetes were isolated from 26 medicinal plant species in Panxi plateau. 60 isolates were selected for 16S rDNA-RFLP analysis and 14 representative strains were chosen for 16S rDNA sequencing. According to the phylogenetic analysis, seven isolates were

Streptomyces

sp., while the remainder belonged to genera

Micromonospora

,

Oerskovia

,

Nonomuraea

,

Promicromonospora

and

Rhodococcus

. Antimicrobial activity analysis combined with the results of amplifying genes coding for nonribosomal peptide synthetase (NRPS) showed that endophytic actinomycetes had broad-spectrum antimicrobial activity and potential natural product diversity [

113

]. The total DNA extracts of 30 traditional Chinese herbs, which were screened to study the potential of endophytes to produce bioactive peptides, by the presence of NRPS genes. Six bacterial NRPS and three fungal NRPS gene fragments were successful identified by the four PCR screens. Analysis of the detected endophyte gene fragments afforded consideration of the possible bioactivity of the peptides produced by endophytes in medicinal herbs [

114

]. Eighteen actinomycete isolates from 6 Stemona earthnut samples were screened for NRPS and biological activity. It was found that the isolates belonged to 4 genera,

Streptomyces

,

Pseudonocardia

,

Micromonospora

and

Methylobacterium

. The isolates also showed distinguished antibacterial activities among them 13 strains showed antimicrobial activity against

Staphylococcus aureus

and/or

Pseudomonas aeruginosa

. Seventeen isolates were positive for NRPS genes. It was reported based on the results of study that endophytic actinomycetes from Stemona, dominated by

Streptomyces

and

Micromonospora

, have good secondary metabolic potential including peptides and could act as a promising resource for bioactive metabolite discovery in the future [

115

]. A survey for endophytic fungi was carried out in 12 different regions of 7 provinces in China, delivered 2

Epichloe

species and 4

Neotyphodium

species. An improved method was used for genomic DNA of the slow-growing fungal endophytes. The DNA was used as template to detect the NRPS genes of the endophytes. The resulting sequences afforded a high sequence similarity with the NRPS gene [

116

]. Endophytes were isolated from eight different anticancer plants collected in China. A functional gene-based molecular screening strategy was used to target nonribosomal peptide synthetase (NRPS) in endophytes, it was found that the isolated endophytes are capable of producing a plethora of peptides. Moreover, all of the endophytic culture broth extracts exhibited antiproliferative effects in at least one test assay, cytotoxic, antibacterial or antifungal [

117

]. Endophytic actinobacteria were obtained from

Artemisia annua

. A round 228 isolates were represented at least 19 different genera of actinobacteria were characterized. Concerning the antimicrobial bioassay, many of the isolates demonstrated activity against plant pathogens. Screening for NRPS by high frequencies of PCR amplification was performed and it was available in 32.5 % of the tested isolates. The herbicidal activity indicated that 19 out of 117 samples of fermentation broths totally inhibited the germination of

Echinochloa crusgalli

[

118

]. The above mentioned NRPS screening in endophytes is summarized in Table 

1

.

Table 1

Recent NRPS screening studies in endophytes
| No | Name of the endophyte | Area | Host | Year | Ref. |
| --- | --- | --- | --- | --- | --- |
| 1 | Neotyphodium & Epichloë | New Zealand | Ryegrass | 2007 | [107] |
| 2 | Streptomycetes | Yunnan province, China | Chinese pharmaceutical plants | 2008 | [108] |
| 3 | Actinomycetes | China | Camptotheca acuminata Decne | 2010 | [109] |
| 4 | Actinomycetes | New york | Tropical plants | 2010 | [110] |
| 5 | Streptomyces | China | Yew Podocarpus | 2011 | [111] |
| 6 | Actinomycetes | Chengdu, China | Forsythia suspensa & Solanum torvum | 2011 | [112] |
| 7 | Actinomycetes | Panxi plateau, China | Chinese medicinal plant | 2011 | [113] |
| 8 | Different species of bacteria and fungi | China | Traditional Chinese herbs | 2012 | [114] |
| 9 | Actinomycete | Xishuangbanna, Yunnan Province, | Stemona earthnut samples | 2012 | [115] |
| 10 | Epichloë and Neotyphodium | 7 provinces, China | Traditional Chinese herbs | 2012 | [116] |
| 11 | Different species of bacteria and fungi | China | Anticancer plants | 2012 | [117] |
| 12 | Actinobacteria | China | Artemisia annua | 2012 | [118] |
4

Engineering of Peptides: The Future Potential Drugs

NRPS enzymes are capable of synthesizing many peptide derivatives using just one enzyme complex. The non-ribosomal peptides are linear, cyclic, or branched cyclic and can be modified by glycosylation, N-methylation, or acylation [119, 120]. Several antibiotic, anticancer and immunosuppressive agents have been synthesized [121]. The most famous classical example is the immunosuppressant cyclosporine and new insecticidal inniatin derivatives [122]. Generally, it was reported recently that rather than using combinatorial chemistry to synthesize natural products derivatives, their biosynthetic pathways can be investigated at the genetic level. The biosynthesis of most of these natural products is controlled by single gene clusters. Research groups characterize these clusters and employ genetic engineering to synthesize the native compounds and their derivatives. One of most important candidates are non ribosomal peptides [123, 124].

Looking to the current achievements in peptides engineering as a powerful tool, we can conclude that the production of new novel peptide derivatives with pharmaceutical applications could be generated in vitro and in vivo using the NRPS [122, 125]. It has been reported previously of novel analogs of fungal cyclooligomer depsipeptide synthetase, which were obtained by a variety of combinatorial biosynthetic methods, including precursor-directed biosynthesis, mutasynthesis, combinatorial mutasynthesis, and total biosynthesis [17]. Recently, seven new beauvericin derivatives synthesized using the nonribosomal peptide synthetase BbBEAS from the entomopathogenic fungus Beauveria bassiana were discovered. Chemical diversity was generated by in vitro chemoenzymatic and in vivo whole cell biocatalytic syntheses using either a B. bassiana mutant or an E. coli strain expressing the bbBeas gene [126].

Peptides are giving rise to a push in chemodiversity approaches, which could be a fascinating route to novel medicinally and agriculturally important therapeutic agents for management of human and plant health [127, 128]. With rise in cancer patients and metabolic diseases like diabetes, large pharmaceutical and biotechnological companies are actively investing in the development of newer peptides for various applications and are also opting for newer technologies for the synthesis of peptides. A direction in peptide generation has been assessed, since cancer chemotherapy is facing major challenges due to its inability to deliver the correct amount of drug directly. In addition, it affects the normal cells in the body.

Looking to the longer term, we can speculate that methods of production and generation of peptide-based drugs will be more common in the future and considering the history of drug discovery, we can say that classical natural products and small compounds will be replaced by peptides generated by means of a combination of combinatorial biosynthesis, sophisticated genomic, proteomic and transcriptomic methodologies. The era of peptides and proteins as potential is already here before the expected 2020s (Fig. 

2

) [

129

,

130

,

131

,

132

].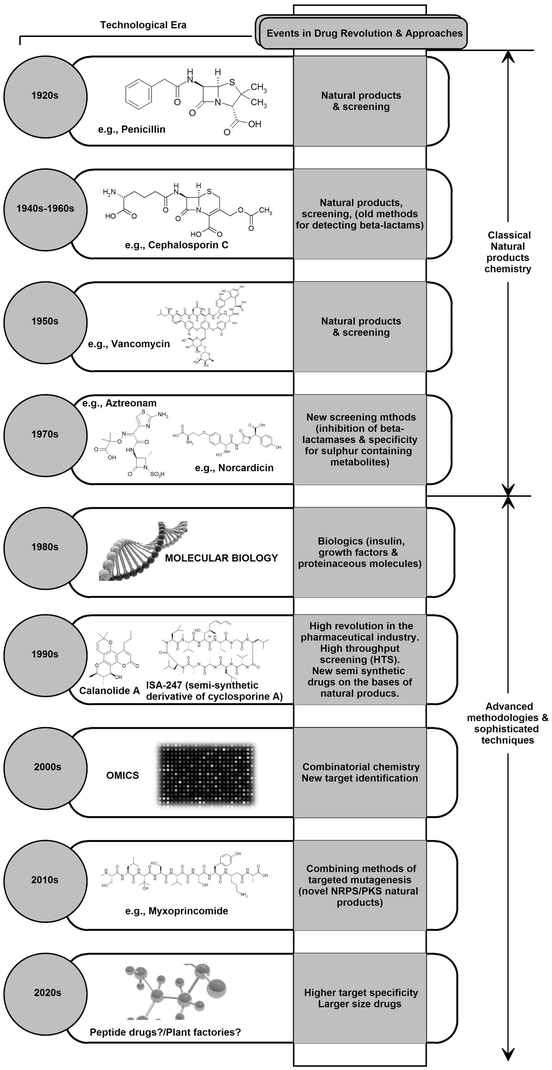 5

Conclusion

In conclusion, peptides will play a very important role in drug development as microbes increasingly show resistance to the current classes of antibiotics. The use of NRPS studies will also play a crucial role in the preparation of peptide based drugs because endophytes with the potential to produce peptides will be easily identified. Since endophytes from many parts of the world has not been studied, there is need to screen them using NRPS studies in order to create a database of these peptide producing microorganisms. Some of them may not produce peptides because their NRPS gene clusters are silent but a higher percentage will definitely be successful in peptide production. The research community should, therefore, focus their efforts on the biosynthetic mechanisms used by the non-ribosomal peptide synthetases of endophytes, which could lead to optimization of the production of peptides for biotechnological and pharmacological studies.
Notes
Acknowledgments
We thank the German Academic Exchange Service (DAAD), for the PHD grants and the Alexander von Humboldt Foundation, Germany, for the Georg Forster Postdoctoral fellowships to the authors.
Conflict of interest
The authors declare no conflict of interest.
Copyright information
© The Author(s) 2014
This article is published under license to BioMed Central Ltd. Open Access This article is distributed under the terms of the Creative Commons Attribution License which permits any use, distribution, and reproduction in any medium, provided the original author(s) and the source are credited.