Manuka honey: an emerging natural food with medicinal use
Abstract
The health value of honey is universally acknowledged from time immemorial. Manuka (
Leptospermum scoparium
) is a tree, indigenous to New Zealand and South East Australia, and from the myrtle family, Myrtaceae. The honey produced from its flowers is a uni-floral honey largely produced in New Zealand. It is becoming increasingly popular as a functional food, seen in the aisles of health stores as its displays superior nutritional and phytochemistry profile over other varieties of honey. Examining existing research databases revealed its biological properties ranging from anti-oxidant, anti-inflammatory, anti-bacterial, anti-viral, anti-biotic and wound healing to immune-stimulatory properties. Methylglyoxal is the unique compound in the honey responsible for some of its potent anti-microbial properties. Further, propolis another component of honey contains chiefly flavonoids (i.e. galangin, pinocembrin), phenolic acids and their esters that may also contribute to its immuno-stimulant properties. Recent findings of the biological roles have been discussed with emphasis on the underlying mechanisms. The hurdles associated in its development as a functional food and also nutraceutical with future scopes have also been mentioned. Relevant data published in MEDLINE, Cochrane library, and EMBASE in the past decade have been gathered to formulate this review.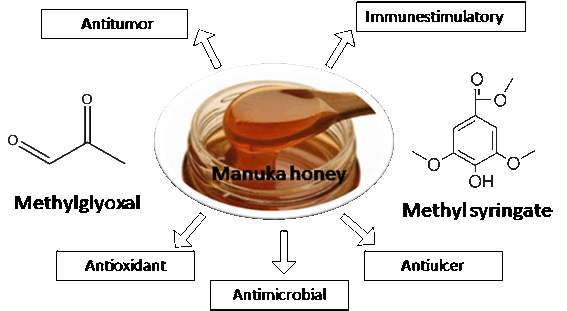 Keywords
manuka honey 
methylglyoxal 
antimicrobial 
wound therapy 
anti-ulcer agent 
Copyright information
© The Author(s) 2013
This article is published under license to BioMed Central Ltd. Open Access This article is distributed under the terms of the Creative Commons Attribution License which permits any use, distribution and reproduction in any medium, provided the original author(s) and source are credited.