Abstract
In the current investigation, we have compared the potential of statin drugs (Simvastatin, Rosuvastatin and Fluvastatin) as potential anti-bacterial agent by conducting in silico, in vitro and ex vivo studies. In silico study was conducted to check the interaction of statin drugs towards various targets of bacteria. The percentage growth retardation, bacterial growth kinetics, MIC determination, post antibiotic effect and biofilm formation assay were conducted to check the anti-bacterial effect of statin drugs under in vitro conditions. Finally, MTT assay was used to check the percentage of immune cell viability after Simvastatin treatment. Docking studies have revealed good interaction of Simvastatin, Rosuvastatin and Fluvastatin towards various targets of bacterial strains as that of the internal ligand. Simvastatin has shown good antibacterial activity against S. aureus, B. pumilus, P. aeruginosa and S. enterica as compared to Rosuvastatin and Fluvastatin. In vitro results have shown concentration and time dependent inhibition of bacterial growth by Simvastatin in concentration range of 64–256 μg/ml. Finally, MTT assay have shown non-cytotoxic effect of Simvastatin against adaptive immune system. In conclusion, Simvastatin could be a potential candidate as an anti-bacterial agent against a wide range of bacterial infections. However, further studies are required to check its complete role before starting phase I clinical trial.
This is a preview of subscription content, log in to check access.
Access options
Buy single article
Instant access to the full article PDF.
US$ 39.95
Price includes VAT for USA
Subscribe to journal
Immediate online access to all issues from 2019. Subscription will auto renew annually.
US$ 99
This is the net price. Taxes to be calculated in checkout.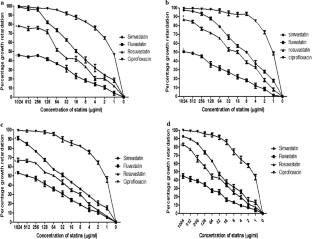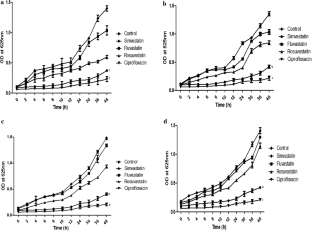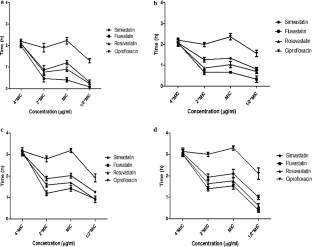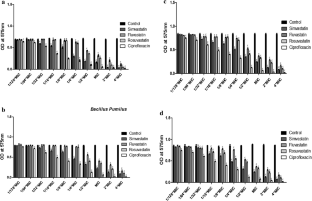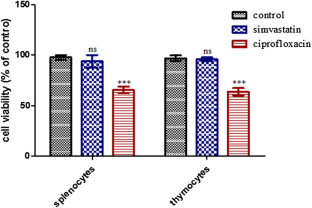 References
Bannister RM, Wanderlay WC, Brew J (2010) Treatment of microbial infections. Biocopea Limited. U.S. Patent Application. 13/509:534

Bradbury BJ, Pucci MJ (2008) Recent advances in bacterial topoisomerase inhibitors. Curr Opin Pharmacol 8:574–581. https://doi.org/10.1016/j.coph.2008.04.009

Caldwell JR, Cluff LE (1974) Adverse reactions to antimicrobial agents. JAMA 230:77–80. https://doi.org/10.1001/jama.1974.03240010045029

Chow OA, von Köckritz-Blickwede M, Bright AT, Hensler ME, Zinkernagel AS, Cogen AL (2010) Statins enhance formation of phagocyte extracellular traps. Cell Host Microbe 8:445–454. https://doi.org/10.1016/j.chom.2010.10.005

Cohen ML (1992) Epidemiology of drug resistance: implications for a post-antimicrobial era. Science 257:1050–1055. https://doi.org/10.1126/science.257.5073.1050

Craig WA (1996) Post-antibiotic effect. Antibiotics in laboratory medicine, 4th edn. Williams and Wilkins Co., Baltimore

Davignon J, Jacob RF, Mason RP (2004) The antioxidant effects of statins. Coron Artery Dis 15:251–258. https://doi.org/10.1097/01.mca.0000131573.31966.34

Donowitz GR, Mandell GL (1988) Beta-lactam antibiotics. N Engl J Med 318:490–500. https://doi.org/10.1056/NEJM198802183180706

Eliopoulos GM, Roberts MC (2003) Tetracycline therapy: update. Clin Infect Dis 36:462–467. https://doi.org/10.1086/367622

Graziano TS, Cuzzullin MC, Franco GC, Schwartz-Filho HO, de Andrade ED, Groppo FC (2015) Statins and antimicrobial effects: simvastatin as a potential drug against Staphylococcus aureus biofilm. PLoS ONE 10:0128098. https://doi.org/10.1371/journal.pone.0128098

Grewal GK, Rawal RK (2014) Molecular docking studies on (hetero) arlylidene (4-substituted-thiazol-2-yl) hydrazines as MAO-B inhibitors. Asian J Biomed Pharm Sci 4:56

Gupta M, Kumar A (2019) Comparison of minimum inhibitory concentration (MIC) value of statin drugs: a systematic review. Anti-Infect Agents. https://doi.org/10.2174/2211352516666180629124433

Gupta M, Sharma R, Kumar A (2018a) Docking techniques in pharmacology: how much promising? Comput Biol Chem 76:210–217. https://doi.org/10.1016/j.compbiolchem.2018.06.005

Gupta M, Kant K, Sharma R, Kumar A (2018b) Evaluation of in silico anti-parkinson potential of β-asarone. Cent Nerv Syst Agents Med Chem 18:128–135. https://doi.org/10.2174/1871524918666180416153742

Hawser S, Lociuro S, Islam K (2006) Dihydrofolate reductase inhibitors as antibacterial agents. Biochem Pharmacol 71:41–948. https://doi.org/10.1016/j.bcp.2005.10.052

Hennessy E, Adams C, Reen FJ, O'Gara F (2016) Is there potential for repurposing statins as novel antimicrobials? Antimicrob Agents Chemother 60:5111–5121. https://doi.org/10.1128/AAC.00192-16

Jacobson TA (2006) Statin safety: lessons from new drug applications for marketed statins. Am J Cardiol 97:S44–S51. https://doi.org/10.1016/j.amjcard.2005.12.009

Jaiswal S, Duffy B, Jaiswal AK, Stobie N, McHale P (2010) Enhancement of the antibacterial properties of silver nanoparticles using β-cyclodextrin as a capping agent. Int J Antimicrob Agents 36:280–283. https://doi.org/10.1016/j.ijantimicag.2010.05.006

Jouneau S, Bonizec M, Belleguic C, Desrues B, Brinchault G, Galaine J (2011) Anti-inflammatory effect of fluvastatin on IL-8 production induced by Pseudomonas aeruginosa and Aspergillus fumigatus antigens in cystic fibrosis. PLoS ONE 6:22655. https://doi.org/10.1371/journal.pone.0022655

Kamińska M, Aliko A, Hellvard A, Marczyk A, Mydel P (2017) Effects of statins on multispecies oral biofilm. J Oral Microbiol 9:1325249. https://doi.org/10.1080/20002297.2017.1325249

Kohanski MA, Dwyer DJ, Collins JJ (2010) How antibiotics kill bacteria: from targets to networks. Nat Rev Microbiol 8:423

Kumar A, Sasmal D, Sharma N (2014) Deltamethrin induced an apoptogenic signalling pathway in murine thymocytes: exploring the molecular mechanism. J Appl Toxicol 34:1303–1310. https://doi.org/10.1002/jat.2948

Kumar A, Sasmal D, Sharma N (2018) Mechanism of deltamethrin induced thymic and splenic toxicity in mice and its protection by piperine and curcumin: in vivo study. Drug Chem Toxicol 41:33–41. https://doi.org/10.1080/01480545.2017.1286352

Langfield RD, Scarano FJ, Heitzman ME, Kondo M, Hammond GB, Neto C (2004) Use of a modified microplate bioassay method to investigate antibacterial activity in the Peruvian medicinal plant Peperomiagalioides. J Ethnopharmacol 94:279–281. https://doi.org/10.1016/j.jep.2004.06.013

Lefer DJ (2011) Statins as potent anti-inflammatory drugs. Circ Res 106:2041–2042. https://doi.org/10.1161/01.CIR.0000033635.42612.88

Mach F (2002) Toward a role for statins in immunomodulation. Mol Interv 2:478. https://doi.org/10.1124/mi.2.8.478

Masadeh M, Mhaidat N, Alzoubi K, Al-azzam S, Alnasser Z (2012) Antibacterial activity of statins: a comparative study of atorvastatin, Simvastatin, and rosuvastatin. Ann Clin Microbiol Antimicrob 11:13–18. https://doi.org/10.1186/1476-0711-11-13

Morgan S, Grootendorst P, Lexchin J, Cunningham C, Greyson D (2011) The cost of drug development: a systematic review. Health Policy 100:4–17. https://doi.org/10.1016/j.healthpol.2010.12.002

Mullin R (2014) Cost to develop new pharmaceutical drug now exceeds $2.5 B. Sci Am 24:1–2

NCCLS (2006) Methods for dilution antimicrobial susceptibility tests for bacteria that grow aerobically. Approved standard M7eA7. Clinical and laboratory Standards Institute, Wayne

Oprea TI, Mestres J (2012) Drug repurposing: far beyond new targets for old drugs. AAPS J 14:759–763. https://doi.org/10.1208/s12248-012-9390-1

Raja AF, Ali F, Khan IA, Shawl AS, Arora DS, Shah BA (2011) Antistaphylococcal and biofilm inhibitory activities of acetyl-11-keto-beta-boswellic acid from Boswelliaserrata. BMC Microbial 11:54. https://doi.org/10.1186/1471-2180-11-54

Stancu C, Sima A (2001) Statins: mechanism of action and effects. J Cell Mol Med 25:378–387. https://doi.org/10.1111/j.1582-4934.2001.tb00172.x

Tabish SA, Syed N (2015) The future of humanity and microbes: impact of emerging infectious diseases on global health and economies. Int J Pharm Sci Res 4:2427–2442

Taylor F, Ward K, Moore TH, Burke M, Davey Smith G, Casas JP (2011) Statins for the primary prevention of cardiovascular disease. Cochrane Database Syst Rev. https://doi.org/10.1002/14651858.cd004816.pub4

Thangamani S, Mohammad H, Abushahba MF, Hamed MI, Sobreira TJ, Hedrick VE (2015) Exploring Simvastatin, an antihyperlipidemic drug, as a potential topical antibacterial agent. Sci Rep 5:16407

Tobinick EL (2009) The value of drug repositioning in the current pharmaceutical market. Drug News Perspect 22:119–125

Verdonk ML, Cole JC, Hartshorn MJ, Murray CW, Taylor RD (2003) Improved protein–ligand docking using GOLD. Proteins Struct Funct Bioinf 52:609–623. https://doi.org/10.1002/prot.10465

Who G (2013) WHO methods and data sources for global burden of disease estimates 2000–2011. Department of Health Statistics and Information Systems, Geneva

Wu WS, Chen CC, Chuang YC, Su BA, Chiu YH, Hsu HJ (2013) Efficacy of combination oral antimicrobial agents against biofilm-embedded methicillin-resistant Staphylococcus aureus. J Microbiol Immunol Infect 46:89–95. https://doi.org/10.1016/j.jmii.2012.03.009

Yang JH, Bhargava P, McCloskey D, Mao N, Palsson BO, Collins JJ (2017) Antibiotic-induced changes to the host metabolic environment inhibit drug efficacy and alter immune function. Cell Host Microbe 22:757–765. https://doi.org/10.1016/j.chom.2017.10.020
Acknowledgments
Authors are thankful to Shri. Parveen Garg, Chairman, ISFCP, for providing research facility. Authors are thankful to Mr. Saurabh Bhandari, Assistant Professor, Microbiology Division, ISFCP, Moga for providing support in completion of this research work. Authors are also thankful to Mr. Anshul Ruhela, B.Tech., Ansal University, for graphic enhancement of images. Author, Anoop Kumar is also thankful to Dr. S.J.S. Flora, Director, NIPER, Raebareli for their constant support and motivation.
Ethics declarations
Ethical statement
Animal house is registered with the Committee for the Purpose of Control and Supervision of Experiments on Animals (CPCSEA), Government of India. Registration number: 816/Po/Re/S/04/CPCSEA.
Conflict of interest
This manuscript described has not been published before; not under consideration for publication anywhere else; and has been approved by all co-authors.
Additional information
Publisher's Note
Springer Nature remains neutral with regard to jurisdictional claims in published maps and institutional affiliations.
About this article
Cite this article
Gupta, M., Sharma, R. & Kumar, A. Comparative potential of Simvastatin, Rosuvastatin and Fluvastatin against bacterial infection: an in silico and in vitro study. Orient Pharm Exp Med 19, 259–275 (2019). https://doi.org/10.1007/s13596-019-00359-z
Received:

Accepted:

Published:

Issue Date:
Keywords
Simvastatin

Rosuvastatin

Fluvastatin

Docking study

Bacterial infections

Antibiotics