Here to stay. Recent advances and perspectives about Acacia invasion in Mediterranean areas
Part of the following topical collections:
Abstract
• Key message The above- and belowground impacts due to Acacia invasions have been described in detail over the last 25 years. Future research should focus on the early detection and prevention of new Acacia introductions and on a cost-effective and sustainable management of the novel ecosystems resulting from invasions.
• Context Invasive alien plants (IAPs) strongly alter ecosystems reducing biodiversity, modifying ecosystem services and increasing negative impacts at social and economic level. Among invasive taxa, Acacia is a highly problematic genus worldwide. In fact, almost 500 papers have been published on several aspects of Acacia invasions for the last 25 years.
• Aims We aim at reviewing the current knowledge on the consequences of the invasion by Acacia genus in Mediterranean ecosystems. We also collect and propose different approaches for the management and recovery of invaded areas and suggest future perspectives on Acacia research.
• Methods We compile, summarise and discuss recent findings on physicochemical, ecological, microbiological and socioeconomic aspects of invasion related to Australian acacias (Acacia dealbata, Acacia longifolia, Acacia mearnsii, Acacia saligna and Acacia melanoxylon) focusing on Mediterranean areas.
• Results Acacia invasion generally entails soil physicochemical alterations and changes in microbial function and structure. Consequences such as the decreased biodiversity, altered ecosystem structure, larger seed banks dominated by invasive species, new biotrophic relationships or alterations in water availability and fire regimes suggest that acacias are locally creating novel ecosystems.
• Conclusions Forecasting invasions, modelling and managing ecosystems dominated by acacias are challenging tasks that should be addressed in the future, since climatic conditions and intensification in land uses are increasing the likelihood of Acacia invasions in Mediterranean areas. Unsuccessful management actions suggest that restoration should be meticulously monitored, but the magnitude of invasion or the inconsistency of economic investment indicate that eradication is often unfeasible. Alternatively, novel integrative and cost-effective solutions including the collaboration of society, politicians and stakeholders are necessary to prevent new introductions and achieve sustainable control of acacias. There is a growing interest in applied research on the valorisation or novel uses for acacias and their residues that result in economic benefits.
Keywords
Invasive alien plants 
Biodiversity 
Ecosystem changes 
Seed production 
Soil microorganisms 
Acacia management 
1

Introduction

Humans induce rapid changes to the environment, including the alteration of major biogeochemical cycles, land surface transformation, changed atmospheric composition and evolution patterns. Such changes are currently taking place at unprecedented rates in the period recently defined as the Anthropocene (Steffen et al. 2007; Lewis and Maslin 2015). Numerous human activities act as driving forces of environmental change by removing physical, biotic and geographical barriers that facilitate plant species movement, which is a main risk factor for biodiversity. Invasive alien plants (IAPs), defined as plant species producing large reproductive progeny that spread over considerable distances from parent plants (Richardson et al. 2000a), are currently a priority research objective of the European Commission (EC Regulation 1143/2014).

Along the wide range of genera containing species classified as invaders,

Acacia

is one of the most controversial and studied genus across the world (Murphy

2008

). Currently, 24

Acacia

species are confirmed as invasive worldwide (Richardson and Rejmánek

2011

; Lorenzo and Rodríguez-Echeverría

2015

).

Acacia sensu lato

is a cosmopolitan genus with polyphyletic origin, but in this paper, we exclusively focus on the Australian Acacia subgenus

Phyllodineae

-

Acacia s.s.-

(Kyalangalilwa et al.

2013

) due to their invasiveness. The movement of acacias to other continents began in the late 1700s (Carruthers et al.

2011

), but unprecedented dispersal rates have occurred in the latest two centuries. Albeit Australian acacias are now occurring worldwide, they are more frequently invasive in Mediterranean areas (Fig.

1

). Studies on

Acacia

invasions were compiled in a special issue covering not only biological and ecological but also social, economic and ethical perspectives (human-mediated introductions of Australian acacias—a global experiment in biogeography, Diversity and Distributions 2011). At the same time, Lorenzo et al. (

2010a

) published a review mainly focused on hypotheses explaining the invasive success of

Acacia dealbata

in Europe. These authors suggest that

A. dealbata

not only takes advantage from environmental disturbances, but also possesses high clonal growth and allelopathic ability that reduce native biodiversity in the understory. However, due to the increasing number of studies recently conducted in Mediterranean areas (see also Fig.

1

), we consider that an update of the current knowledge on the consequences of

Acacia

invasion at these regions is required. Here, our objective is to not only summarise recent findings (including biological, ecological, physicochemical, microbiological or socioeconomic aspects of invasion) but also to complement and extend previous information related to the most problematic acacias in Mediterranean areas. We also discuss future perspectives on research, management and recovery of invaded areas.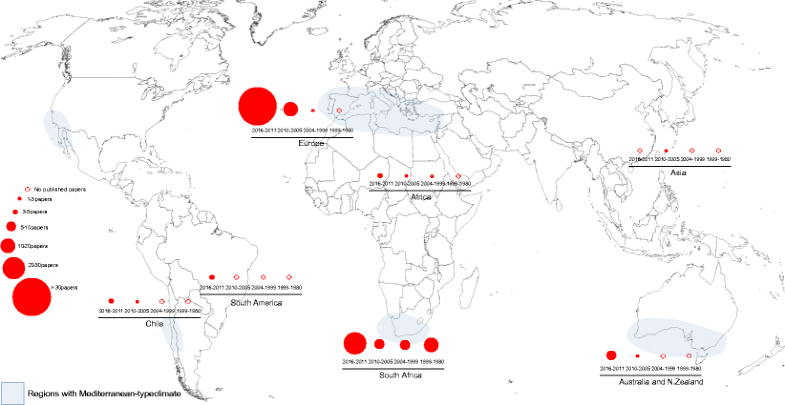 1.1

Major problematic acacia species, introduction and current distribution

Although there is an important number of invasive species within Acacia genus, we focused on Acacia dealbata Link, Acacia longifolia (Andrews) Willd., Acacia mearnsii De Wild., Acacia saligna (Labill) H. L. Wendl. and Acacia melanoxylon R. Br. due to their impacts worldwide (Richardson and Rejmánek, 2011; Lorenzo and Rodríguez-Echeverría 2015). Acacia cyclops, also considered as an IAP, was not included since available data is almost exclusively based on information from the Cape Region, South Africa (Higgins et al. 1999, 2001).

Specific characteristics of these acacias, such as adaptability to many environmental conditions, easy germination and growth, good survival and rapid growth rates, ornamental value or wood quality, have determined their current distribution (Maslin and McDonald, 2004). In Europe and other Mediterranean areas, some uses of acacias as wood and timber production (Griffin et al. 2011), the perfume industry (Perriot et al. 2010; Kull et al. 2011), stabilisation of dunes and avoidance of sand erosion (Marchante et al. 2003; Cohen et al. 2008; Del Vecchio et al. 2013) or to stabilise slopes derived from the railway construction (Kull et al. 2007), played a significant role in their introduction. Consequently, a wide range of Mediterranean biomes are currently threatened by acacias, such as riparian habitats, shrublands, fynbos, sclerophyllous forests, mixed forests, grasslands and prairies, coastal areas and sand dunes, riverlands and watercourses, islands, agricultural fields or tree plantations (Le Maitre et al. 2000; Marchante et al. 2003; Rodríguez-Echeverría et al. 2009; Lorenzo et al. 2010a, b; Crous et al. 2012; Boudiaf et al. 2013; Hernández et al. 2014; Lazzaro et al. 2014; Celesti-Grapow et al. 2016). In fact, invasive acacias have been also defined as transformers, those species that "substantially change the character, condition, form or nature of ecosystems, becoming active agents in region-forming processes" (Richardson et al. 2000a; Marchante et al. 2011a).
1.2

Human perception of invasive acacias

"A fascinating story to be told regarding what transpires when an environmental scientist's problem is a rural community's livelihood" is how Kull et al. (2011) summarises the contradictory perception of exotic acacias when they represent an economic resource and, at the same time, an ecological threat in the introduced ranges. Human perception of invasive acacias is strongly influenced by biophysical, familiarity, social variables and socioeconomic circumstances (Tassin et al. 2009a; Kull et al. 2011, 2007). In many countries, large parts of the population have positive perceptions about invasive acacias that are largely cultivated with profitable uses such as construction materials, heat source or medicinal compounds for rural communities (de Neergaard et al. 2005; Wintola et al. 2017). For example, A. dealbata is highly valued by local communities of Spain, Portugal and France, where festivals have been celebrated in its honour for almost 50 years (Afonso 2012). In France, some villages such as Mandelieu-la-Napoule or Biot, both at the Côte d'Azur, have celebrations of A. dealbata that have continued for more than 80 and 60 years, respectively. On the other hand, when economic activities are affected by Acacia invasion, such as forestry or citrus cultivation (Kull et al. 2011), these species are being recognised as problematic.
2

New insights into traits that promote invasion
3

Effects on ecosystems

Invasive acacias affect both above- and belowground compartments as well as ecosystem services such as soil formation, water flow, nutrient cycling, wood or fibre production and recreation or educational opportunities that sustain human well-being (Le Maitre et al.

2011

). The main characteristics of

Acacia

invasions are represented in Fig.

2

. Nevertheless, the invasion of acacias presents geographical differences across Mediterranean regions.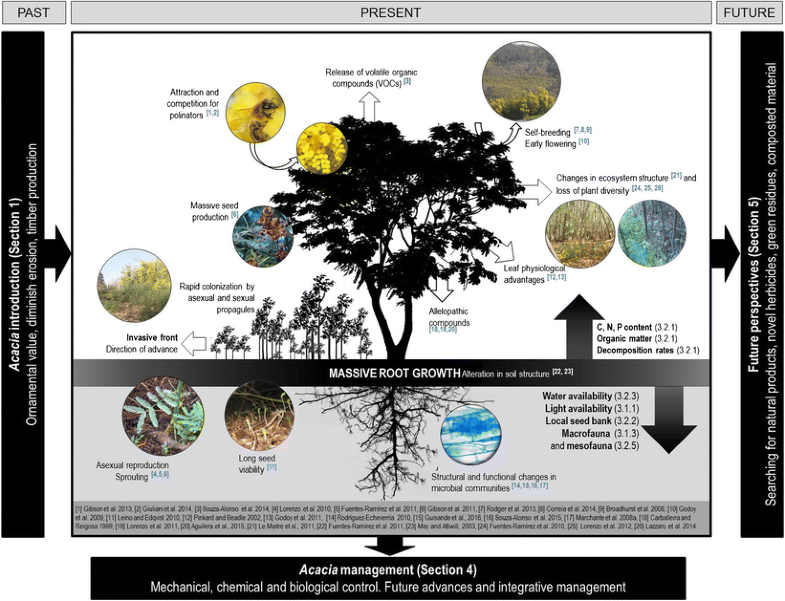 3.1

Aboveground effects
3.1.1

Structural changes

Invasive acacias create homogeneous and dense-vegetation formations (Le Maitre et al. 2011), which drastically decrease light availability for understory plants hindering their establishment (Lorenzo et al. 2010a; Rascher et al. 2011a; Lorenzo et al. 2016a). In fact, Fuentes-Ramírez et al. (2011) found a lower survival of light-demanding native forest species vs. shade-tolerant species under A. dealbata. The reduced light availability also leads to lower grass productivity through the reduction of specific leaf area index (LAI) thresholds (Gwate et al. 2016). However, A. dealbata did not reduce the light availability in broad-leaf native forests (González-Muñoz et al. 2012). This fact reveals that the influence of A. dealbata on light conditions is severe in native open canopies, but with slight effect in closed-canopy ecosystems.

Changes in the dominant tree species entail subsidiary consequences. Dense Acacia canopies lead to the accumulation of high quantity of biomass and litter, which increases the occurrence and intensity of fires in invaded ranges. Fires, in turn, stimulate the germination of acacia seeds and reduce the viability of native seeds favouring the invasive process (Richardson and Kluge 2008; Le Maitre et al. 2011). However, this fact has more ecological relevance in ecosystems without dominant species reliant on fire to germinate. In some Mediterranean areas, such as in central Chile, model projections predict the dispersion of A. dealbata only in the presence of fire when combined with browsing and/or cutting (Newton et al. 2011).
3.1.2

Plant biodiversity

In general, Acacia invasions significantly reduce plant cover, species richness and diversity (Holmes and Cowling 1997; Marchante et al. 2003; Tassin et al. 2009b; Fuentes-Ramírez et al. 2011; Lorenzo et al. 2012; Lazzaro et al. 2014). Biodiversity reduction due to A. dealbata invasion results in the replacement of native species by other natives or exotic plants (Fuentes-Ramírez et al., 2011; Lorenzo et al. 2012; Marchante et al. 2011b; González-Muñoz et al. 2012). In comparison with other invasive species, plantations of A. saligna have demonstrated a higher capacity to affect plant diversity (Manor et al. 2008). Surprisingly, A. saligna selectively increased the presence of ruderal grass species without reducing total richness (Del Vecchio et al. 2013). The identification of changes in plant species composition along invaded areas provides highly valuable information. Nonetheless, to our knowledge, whether modified native communities are accompanied by alterations in functional and phylogenetic diversity of invaded plant communities remains unknown.
3.1.3

Macrofauna

The presence of invasive acacias also modifies habitat suitability for animals and establishes novel ecological networks. Van der Colff et al. (2015) found a different trend of arthropod community composition between native and invaded areas by A. mearnsii; arthropods could be using exotic trees as a pathway to reach isolated habitats. In this sense, leaf N content is an important driver of arthropod population dynamics in A. mearnsii stands (Maoela et al. 2016a). Nevertheless, arthropod assemblages in the native community can be progressively recovered after the removal of the exotic (Maoela et al. 2016b). On the other hand, Eichhorn et al. (2011) indicated that the artificial damage induced to the leaves of A. dealbata activated the production of extra-floral nectaries. After damage, leaves were only visited by the invasive Argentine ant Linepithema humile, which could imply an interspecific positive feedback between invasive species. Moreover, larger animals are also affected by acacia invasions. The tree density of A. saligna stands, together with other factors such as urban density or vegetation structure, contributed to the decline of birds diversity (Dures and Cummings 2010) and species of small mammals (Manor et al. 2008), linking the decrease in biodiversity with a reduction in habitat quality or ecosystem integrity. Additionally, seeds of A. mearnsii are used as a nutrient source by the specialist primate Cercopithecus albogularis labiatus, altering its feeding behaviour and probably leading to consequences for A. mearnsii dispersion (Wimberger et al. 2017).
5

Future research and perspectives

Here to stay? Was a rhetorical question proposed by Richardson et al. (2011) exploring the human dimension—historical, scientific, social—of introduced acacias. In our opinion, Acacia invasions are far from being fully understood and foreseeable, becoming a challenging task for the next decades. In a context of climate change and land use alterations, Mediterranean ecosystems are under the pressure of new invasions by Acacia species. Wilson et al. (2011) recommended key topics of short- and long-term research to understand and manage potential invasiveness of invasive acacias, highlighting the importance of seed bank dynamics and seed dispersal, biogeographical comparisons to understand successful introductions, control and responsible actions (including public awareness). In this sense, emerging tools such as modelling, genomics, remote sensing and new imaging tools, the elaboration of improved ecological databases or the application and amelioration of allometric equations for biomass estimation based on larger forestry datasets will contribute to answer past and future questions regarding Acacia invasions. According to our experience, acacia stands should be considered as an entity instead of a group of individuals due to the massive vegetative reproduction. Thus, the clonality, physiological integration or resource allocation are topics that remain poorly understood for invasive acacias.

Acacias are catalogued as undesirable plants while, at the same time, their cultivation also provides profitable resources in different countries. It is therefore fundamental to determine the trade-off between the commercial value and related environmental problems. To avoid the undesirable impacts without interfering with industry purposes, the implementation of sterile lineages of acacias is under investigation (Beck and Fossey 2007; Beck-Pay 2013). We also suggest that forest managers, industries or land owners that benefit from the cultivation of exotic acacias should be economically responsible for the problems derived from their plantations. Law reinforcement to unify forest regulations, especially among countries in the Mediterranean basin such as Spain, Portugal or Italy, is necessary to avoid further introduction of invasive acacias.

Current socioeconomic conditions are unstable in many countries, which imply that cost-effective management investments should be preferred instead of those which uniquely imply costs. Large management actions are probably unsustainable in the long term, whether they are entirely dependent on external funding (de Neergaard et al.

2005

). In this line, we suggest that obtaining benefits of residues obtained from the management of acacias could alleviate the cost of the management. Therefore, we compiled several incipient research areas where acacias could be useful:
6

Conclusions

Substantial efforts have been carried out during the last years to address the consequences of the invasion of Mediterranean ecosystems by acacias. Nowadays, having left behind the consideration of emerging threats, acacias are recognised as severe menaces to Mediterranean ecosystems and the reinforcement of transnational regulations, together with the development of crossing-information platforms, seems crucial to prevent novel Acacia introductions. Under a future scenario of climate change, these ecosystems are expected to be largely occupied by invasive acacias due to their increased growth under higher CO2 conditions, seed production and fire resistance. Changes in hydrological dynamics by acacia invasions may also exacerbate droughts in Mediterranean areas under expected extreme climatic events.

Invasions by acacias usually lead to changes in ecosystem services as water and fire regimes, reduction in plant biodiversity and alteration in soil physicochemical properties and function. Modified soil microbial communities may have negative implications for nutrient cycling, ecosystem processes and native vegetation that rely on them, which, in turn, might favour acacia invasion and increase the vulnerability of affected ecosystems. In terms of the assessment of native plant communities, a deeper knowledge of the functional and phylogenetic diversity, rather than the use of classic diversity indices, should be considered to evaluate the extent of the ecological impacts produced. Further work is also needed to elucidate the proportion of sexual vs. vegetative reproduction during the invasion process to design adequate control strategies.

We consider that the management of acacias should be focused on prioritising the preservation of non-invaded habitats and the identification of areas with potential to host invasive acacias. Risk assessment studies, based on recently developed frameworks and more focused on forecasting and preventing future introductions rather than evaluate changes in already invaded areas, are also desirable. It is also time to communicate and to engage social, politician and stakeholder perceptions to provide integrative, sustainable and adapted solutions to Acacia invasion, since high economic investments do not necessarily assure the success in the control of Acacia invasions. The search of potential uses for acacia residues could possibly bring solutions to partially alleviate the economic resources allocated to their management and, at the same time, reduce the extension of invasive populations. Therefore, applied research on profitable uses for acacia residues seems to be highly relevant in the future.

After two centuries of introduction, rapid evolutionary processes could be occurring and should be an interesting point of future works. Ecologists and evolutionary biologists are at the forefront of a model group, with challenging research possibilities. In the same line, novel relationships between plant pollinators, plant-seed dispersers or plant herbivores and acacias can produce novel ecological interactions that could alter or displace well-established ecological networks. In this sense, the rhetorical question raised 6 years ago here to stay? should be currently transformed—as the title of our review indicates—into an affirmative sentence. The emerging assumption that the complete eradication of acacias seems, in some cases, unfeasible provides a new context in which the study of the ecological role of Acacia formations—as novel ecosystems—emerges relevant.
Notes
Acknowledgements
Paula Lorenzo is supported by a post-doctoral grant (SFRH/BPD/88504/2012) from the FCT and the European Social Fund. We sincerely thank the constructive comments provided by editors and two anonymous reviewers that substantially improve the final version of the manuscript.
Compliance with ethical standards
Funding
Paula Lorenzo was supported by a posdoctoral fellowship from Fundação para a Ciência e Tecnologia (SFRH/BPD/88504/2012, Portugal).
Copyright information
© INRA and Springer-Verlag France SAS 2017