Alley coppice—a new system with ancient roots
Abstract
Context
Current production from natural forests will not satisfy future world demand for timber and fuel wood, and new land management options are required.
Aims
We explore an innovative production system that combines the production of short rotation coppice in wide alleys with the production of high-value trees on narrow strips of land; it is an alternative form of alley cropping which we propose to call 'alley coppice'. The aim is to describe this alley coppice system and to illustrate its potential for producing two diverse products, namely high-value timber and energy wood on the same land unit.
Methods
Based on a comprehensive literature review, we compare the advantages and disadvantages of the alley coppice system and contrast the features with well-known existing or past systems of biomass and wood production.
Results
We describe and discuss the basic aspects of alley coppice, its design and dynamics, the processes of competition and facilitation, issues of ecology, and areas that are open for future research.
Conclusion
Based on existing knowledge, a solid foundation for the implementation of alley coppice on suitable land is presented, and the high potential of this system could be shown.
Keywords
High-value timber production 
Short-rotation coppice 
Alley cropping 
Agroforestry 
Coppice with standards 
Biodiversity 
Biomass 
SRC 
1

Introduction

It is predicted that by the middle of the twenty-first century, the greatest proportion of human wood consumption will come from planted forests, most of them intensively managed (Sedjo 2001). It has been shown that the natural forests of the world do not have the capacity to sustainably meet the current demand for timber and for fuel wood (Fenning and Gershenzon 2002). Additionally, in recent decades, the interest in renewable energy has grown, and thousands of hectares of short-rotation coppice (SRC) have been planted worldwide to satisfy biomass requirements (Fiala and Bacenetti 2012; Schweier and Becker 2012). At the same time, the demand for high-quality timber, such as common ash (Fraxinus excelsior L.) and sycamore (Acer pseudoplatanus L.), has outstripped supply and needs to be increased (Becker and Klädtke 2009). An innovative approach to boost capacity is to combine the production of SRC and valuable timber trees on the same land unit so as to capture all available light more efficiently. Much has been written about the management and environmental effects of SRC and agroforestry as separate land management systems. However, the combined approach of alley coppice has so far received much less attention both in theory and in practice (Unseld 2007; 2009; Clinch et al. 2009; Morhart et al. 2010; Cardinael et al. 2012). Such a combined production system has similarities with several systems which are well known in conventional forestry (mixed plantations and coppice-with-standards), in biomass forestry (SRC) and in agroforestry (alley cropping). We discuss the main features of these known systems separately, and we evaluate the characteristics which may apply in a system of alley coppice.
2

Designing an alley coppice system
2.1

High-value timber production between alley coppice

The goal of high-value timber production is a straight and branch-free bole of sufficient quality for use as veneer wood. The crop tree species proposed for this purpose should be capable of producing a high-value product and include wild cherry, common ash, sycamore, sweet chestnut (Castanea sativa Mill.), walnut (including Juglans nigra L. and hybrids), alder (Alnus spp.) and Sorbus spp. To be able to produce valuable timber trees in combination with SRC, it is essential that the trees be given appropriate space for crown development. The required spacing for a given final target diameter of the tree stem can be calculated from the crown projection area, based on the close correlation that exists between stem diameter at breast height and crown width. This can serve as the basis for calculating an appropriate spacing for trees within the tree rows and the width of the coppice alleys which are between the rows of crop trees. Hein and Spiecker (2009) suggest a simple species-based thinning rule utilising a constant value based on the arithmetic mean of trees with a diameter at breast height of 30 and 60 cm, assuming crown cover of 70 % for ash and sycamore, and 50 % for wild cherry. The mean distance between crop trees or standards is dependent on the mean radial increment. It should be set at between 20 and 28 times the target diameter at breast height (ash, sycamore and wild cherry). For example, for a target diameter of 50 cm at breast height for wild cherry, this rule dictates a final distance of 12.5 m between trees. Dupraz and Liagre (2008) agree that trees should not be planted too closely on the tree line and recommend distances between 4 and 10 m depending on the expected tree canopy size of mature trees. Using an optimal spacing as described above, high annual diameter increments of 1 cm per year can be achieved (Spiecker 2006). Adequate spacing of trees ensures that tree canopies do not close or shade each other out until the point of harvest; this minimises dead branches and the potential for fungal infection (Oosterbaan et al. 2009). To ensure a high success rate of the timber trees, we advocate the planting of trees in groups of two or three at a 2-m spacing within the rows so that poor trees can be removed and only the best trees can be chosen as future crop trees. Nevertheless, the initial tree density is comparable with other agroforestry systems and should be as low as possible consistent with a final harvest of 50 to 80 mature trees per hectare (Balandier and Dupraz 1998). It is also desirable to plant the timber trees in advance or at the same time as establishing the coppice crop. This should facilitate an early establishment of the timber trees with minimal early competition. The fast-growing SRC may dominate the high-value timber trees initially, so we suggest a managed crop-free strip of 3 m on both sides of the high-value timber trees. The production of high-quality timber is the ultimate goal for the timber tree strips, so pruning is of absolute necessity and should be performed until the required branch-free bole length has been reached (Balandier 1997; Balandier and Dupraz 1998). This part of the tree accounts for 90 % of the total tree value (Dupraz and Liagre 2008), and the application of a pruning treatment has been observed to more than double the value of the final timber crop (Pryor 1988). The aim is to produce logs for the veneer industry that are a multiple of the required veneer length of 2.5 m. The target branch-free bole length should be between 5 and 10 m, but this will be dependent on site quality. The distance between the strips stocked with valuable timber trees should be wide enough so as not to reduce the growth of the SRC component. It has been shown that a spacing between the tree rows equal to twice the final height of the timber trees allows crop yields to remain profitable until final tree harvest (Talbot 2011). If the height of the timber trees exceeds the width of the alley, it is very possible that most crops will no longer be profitable. However, it should be noted that these results, obtained for winter annual crops, should not be extrapolated to SRC. It is likely that SRC production will in fact be more adversely affected by light competition from the trees than most winter cereals, since these have a significant portion of their growth cycle when the trees are leafless. Nevertheless, Clinch et al. (2009) showed that some shading from bigger trees can also be beneficial to the growth of SRC, probably because it lowers evapotranspiration, thus increasing soil moisture content.
2.2

Short-rotation coppice production in alley coppice

The proposed alley coppice system is flexible and can be designed to suit the land manager's needs. If SRC is the primary production goal, the tree rows can be widely spaced to maximise the SRC cropping area. The ideal orientation of the tree rows is north–south to allow maximum sun penetration to the coppice crop and minimal shading by trees. However, specific site characteristics, such as slope, contours and field layout, that could change the optimal row orientation should be accounted for in the planning stages of the alley coppice system. The cropping area must be designed to allow for mechanical harvesters, and the system should incorporate a tree strip with a minimal width of 3 m to accommodate the high-value timber trees. The coppice species of choice depends on geographic location and soil parameters. Poplar cultivars are mostly used in south and central Europe (e.g. Italy, Spain and Germany), whereas willow (

Salix

spp.) is more adapted to northern latitudes (e.g. Sweden, UK, Ireland and northern Poland). Other tree species suitable for SRC include

Eucalyptus

spp. and

R. pseudoacacia

, which are currently used less frequently, but seen in countries such as Portugal (Reede et al.

2003

) and Hungary (Rédei

1998

).

Miscanthus

may also be an option. Planting density of coppice is generally higher than 5,000 stems per hectare, and management operations are fully mechanised from establishment to harvest. Management operations include herbicide treatments during the establishment phase, fertiliser application between the SRC cycles, irrigation in southern latitudes and occasional pesticides application when necessary. On soils with low nutrient content, fertilisation can be critical as the frequent harvest of large quantities of biomass deplete the soil of nutrients (Lars

2002

; Guidi et al.

2008a

; Morhart et al.

2013a

). Where necessary, fertiliser should be applied at least once during each rotation, usually in the spring following each harvest of the SRC crop. Fertiliser can take the form of organic sewage sludge, chemical input or material for phytoremediation purposes. Moreover, the availability of soil water plays a decisive role in determining SRC yield (e.g. Murach et al.

2008

). Hence, irrigation is essential for stabilising yields in areas of southern Europe prone to unreliable precipitation (Guidi et al.

2008b

; Pistocchi et al.

2009

). Drip irrigation is generally recommended for alley cropping and for SRC intercrop systems in southern European and is considered to be a less expensive and more efficient form of irrigation (Ayars et al.

1999

; Wie et al.

2008

). The alley areas being used for SRC can be designed in the same way as for the pure SRC plantations as described above. Harvesting cycles for the SRC component are generally 2–3 years, but can be more. Direct chipping in the field is the prevalent form of harvest. Wood chips, often with a high moisture content (50 % and more) must undergo artificial drying since direct combustion of fresh biomass is not desirable. Alternatively, harvested stems can be left in situ for field drying, with subsequent collection, transportation and chipping of the dry biomass. This harvesting system requires lighter and smaller machines. The number of SRC rotations with profitable yields is generally limited to 4–6 rotations (Geyer

2006

; Al Afas et al.

2008

), and restoring land from SRC to agricultural land use can be accomplished by stump removal. An overview of the main advantages and disadvantages of the alley coppice system in comparison with traditional SRC can be found in Table 

2

.

Table 2

The main advantages and disadvantages of the alley coppice system in comparison with traditional SRC
Advantages

Disadvantages

Economic advantages

Economic disadvantages

 • Increased productivity (LER >1)

 • Production of high-quality wood with a high market value

 • Combination of short and long-term returns

 • Product diversification

 • Decreased economic risk

• Potentially lower productivity of the SRC areas

• Reduced land area for SRC

• Long-term engagement in one system

• Uncertainty of future market for valuable timber

• Relatively expensive planting material

• Lack of good planting material with improved stem form

• Need for prolonged and more intensive management operations (weed control, tree pruning)

• Thinning is often unprofitable and difficult to mechanise

Environmental advantages

 • Lower chemical inputs in comparison to SRC

 • Provision of additional environmental services (carbon sequestration, water filtration, biodiversity, landscape amelioration)

 • Increased biodiversity

 • Improved habitat structure

 • Reduced erosion and improved nutrient recycling

 • Labour extensive

 • Possibility of supporting rare light-demanding tree species

 • Higher acceptance of the public
3

Dynamics of an alley coppice system
3.1

Description of developmental stages over 60 years in an alley coppice plantation using poplar as the short-rotation coppice and with wild cherry as the valuable hardwood

To provide an example scenario, wild cherry was chosen as a common species producing a high-value timber product, in combination with poplar which is frequently employed within SRC plantations in central and southern Europe. In this scenario, four important development stages of an alley coppice plantation have been characterised. Figure 

2

illustrates wild cherry grown for timber production in strips and poplar clones in wide alleys for SRC biomass production. Each stage is shown using a proportional scale, with wild cherries assumed to be 2 m high at planting, and poplar SRC cuttings assumed to be 20 cm high at planting. The main objective for the high-value wood production is a branch-free bole length of 10 m and a target diameter of 60 cm. The growth rates and development of diameter, height and crown expansion for the valuable timber trees and SRC have been deduced from the literature (Röös

1993

; Spiecker

1994

; Ali

2007

; Hein and Spiecker

2009

).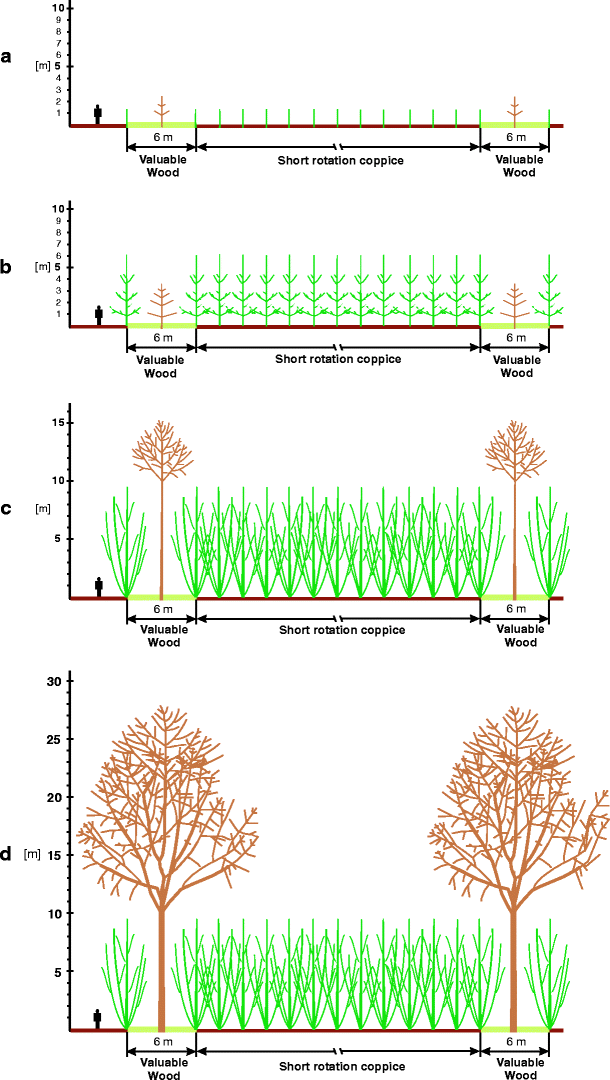 3.2

Growth stages and management operations of alley coppice

It should be noted that many modification of the species used and the temporal and spatial aspects of the alley coppice system are possible, thus providing many different system variants. Alternatives also exist to the establishment of the alley coppice system. For example, this could include the introduction of a SRC component into an already-established alley cropping system that includes mature or semi-mature timber trees. Alternatively, it could include the planting of valuable timber trees within a pre-existing SRC plantation, through the removal of an appropriate number of SRC rows.
4

Competition and facilitation processes in alley coppice systems

The inter-species relationships in plant mixtures vary in time and space, and the ability to evaluate all aspects in the alley coppice system requires modelling solutions. However, the modelling tools currently used in agronomy and forestry are not adapted to simulating multi-species systems, and whilst some agroforestry models are available (Van Noordwijk and Lusiana 1999; Van der Werf et al. 2007; Graves et al. 2010b), validated computer-based models of alley coppice systems are not widely distributed for temperate conditions.
5

Conclusion

In this review, we have introduced and summarised the current knowledge from existing systems in forestry, SRC and agroforestry that may be applicable to alley coppice systems. The implementation of alley coppice on suitable land appears to hold some advantages compared to traditional land use concepts such as pure SRC plantations or agroforestry. Furthermore, it could provide additional biomass for both the energy and the material wood industry, contribute to the diversification of farmers' product lines, and increase biodiversity, soil quality, and ecosystem services. However, potential disadvantages may be the increased water demand of alley coppice systems, the danger of devaluing sunburn on the stems of the high-value timber trees and the long management cycles that might dissuade farmers from establishing alley coppice systems on their fields. At present, only a few alley coppice systems are in existence, and knowledge on their management, productivity and biological aspects are poorly understood. In particular, the interaction between high-value timber trees and SRC has undergone little research. Given the many positive effects that can be expected from establishing alley coppice systems, we recommend future research should be undertaken to identify potentially problematic aspects, and to develop optimised designs and management strategies to cope with them.
Notes
Funding
The European research project AGROCOP is funded by a joint WOODWISDOM and ERANET programme including the following national funding organisations: the Federal Ministry of Education and Research (BMBF; Germany), Project Management Jülich (PtJ), Ministère de l'Agriculture, de l'Ali-mentation de la Peche, de la Ruralité, et de l'Aménagement du Territoire (MAAPRAT; France), Ministry of Agricultural, Food and Forestry Policies (MIPAAF; Italy) and Department of Agriculture, Fisheries and Food (Ireland).
Copyright information
© INRA and Springer-Verlag France 2014
Open Access This article is distributed under the terms of the Creative Commons Attribution License which permits any use, distribution, and reproduction in any medium, provided the original author(s) and the source are credited.