Rapid particle size measurements used as a proxy to control instant whole milk powder dispersibility
Abstract
Dispersibility is a key quality variable for instant whole milk powder (IWMP) measured manually using a complex and laborious dissolution method post-production. Consequently, the lack of timely feedback means that the functional quality cannot be controlled in real time. This work proposes the idea of applying a simpler, surrogate measurement that can be implemented in the plant in order to have useful real-time information regarding the quality of the product being produced. This, we term, is a proxy measurement. The functional property dispersibility was used as a case study, with particle size being investigated as a proxy at an industrial IWMP plant. It was found that particle sizing could be used to provide useful information regarding the powder, with the proxy measurement being able to predict in-specification powder 97% of the time. Although the test was not as effective for predicting out-of-specification results, with a false-positive rate of 50%, the fact that out-of-specification events are rare in the industry setting means that the overall proxy measurement is still between 78 and 87% accurate and thus useful for predicting the dispersibility quality of the IWMP. Furthermore, these proxy measurements can then be combined with on-line plant information using multivariate techniques to further improve their accuracy and understand how the quality can be controlled by changing the plant processing conditions.
Keywords
Quality 
Dairy 
Real time 
Proxy measurement 
Functional properties 
1

Introduction

Process analytical technology (PAT) conveys the concept of systems and tools used for achieving end product quality (Munir et al. 2015; Hunter et al. 2012). Historically, much of the focus has been on spectroscopic measurement and the associated modelling of the results, without necessarily closing the feedback loop to ensure this information reaches the process in real time (Munir et al. 2015). However, there are many challenging aspects that need to be addressed in order to be able to close the loop and control the quality during manufacture, when process adjustments can still be made. These key challenges are defining the term 'quality', being able to measure the relevant quality variables, and linking these back to manipulated process variables for control.

What constitutes a quality product is not always straight forward, and this is especially true of food products where a multitude of variables are measured. For example, dairy powders have a number of physical, microbiological, functional and sensory characteristics that are all important in determining the final product quality. A failure in any one of these categories can mean a failure of the product to meet customer specifications, and having individual tests for measuring all possible quality tests on-line is unlikely to be industrially feasible, if it were even technically possible. This means many tests are carried out post-production, at an external laboratory, once the product quality is fixed.

The consequence of this delayed feedback and the system being sufficiently complex and multi-variable in nature is that it is not immediately obvious what plant inputs affect the different quality outputs. It makes it difficult to correlate cause and effect, especially when data is either missing or incomplete, or the processing and quality data are not time-aligned and stored in separate databases.

Some measurements, such as composition, can be potentially made on-line or at at-line, using sophisticated instruments such as near infra-red spectroscopes (NIR) (Hunag et al. 2014, Porep et al. 2015). However, other quality attributes can be very complex and determined by the interaction of both physical and chemical properties. For example, the dissolution properties of dairy powders (e.g. wettability, dispersibility, solubility) are driven by both composition and surface chemistry, as well as physical properties such as the particle size distribution and particle density (Pisecky 2012; Sharma et al. 2012; Schuck 2011). Such tests tend to be highly dependent on the measurement technique and grading scale (Neff and Morris 1967), with industry often using their own modified methods for manufacturing purposes or as per customer requirements.

Thus, this work looks at using an alternate, or proxy, measurement for a complex quality functional test. Such an alternative should be easier to implement and thus lower the barrier to implementation in the plant. Although a proxy measurement would be imperfect (as by definition, it is not the actual test result), it can still be useful. This works towards the concept of real-time quality, where the product quality can be measured or inferred at the time of manufacture, so that timely process adjustments can be made immediately, as needed (Hunter et al. 2012). This work was carried out at an industrial instant whole milk dryer which manufactures a narrow specification commodity product. Although routine measurements of the functional properties is carried out throughout production, this is not done in real time, or hourly. Furthermore, on-line measurement of most functional properties is not possible. However, a similar approach could be applied at factories which manufacture a range of powders and where routine off-line hourly measurements of functional properties and particle size are already done, as on-line measurements could replace and lower the manual testing load and provide real-time information.

The 'instant' property in instant whole milk powder (IWMP) is designed to reconstitute rapidly in cold water and is achieved using two additional processing steps over the traditional WMP manufacturing process: agglomeration and the addition of lecithin. The agglomerated powder is obtained by recycling fines to the top of the dryer in order to incorporate them into larger particles, which are more easily penetrable by water. As WMP contains a large hydrophobic fat fraction, a small quantity of the emulsifier lecithin is added in order to make the surface of particles hydrophilic (Pisecky 2012). This improves the dissolution properties, which include wettability, dispersibility and solubility.

One of the instant dissolution properties of IWMP is termed dispersibility which is a measure of how quickly the powder particles break up and dissolve without leaving a residue, and this will be the focus of this study. This case study considers an industrial plant manufacturing IWMP with premium dispersibility performance. This plant failed to consistently meet the dispersibility specification, and due to the lack of immediate feedback, it was not obvious what caused the problem or how to rectify it. Consequently, a proxy measurement of the dispersibility of IWMP using particle size measurements will be used as a case study in order to infer a complex quality variable, dispersibility, which is currently only measured post-production, and cannot be measured on-line. The novelty of this work is in showing that a measurement that can be carried out on-line, particle sizing, can be used to infer a complex quality result, dispersibility, for real-time quality control at an industrial IWMP plant. Only IWMP was tested, as the industrial plant in question produced whole milk powder exclusively. This approach could be applied to other products; however, testing would have to be carried out for each product to re-specify the correlation, and it would be specific to the manufacturing plant.
3

Results and discussion

Initially, the particle size was measured across five different plants, and it was found that all of the plants manufactured powder within different particle size ranges. The plant used for manufacturing premium product and achieving the specification consistently manufactured powder with the lowest fines content (particles <125 μm), varying between 5 and 13 wt%; meanwhile, the plant of interest for implementation of the proxy measurement had 15–24 wt% fines. Yet another plant that could not be used to manufacture premium grade product had a fines content of approximately 30 wt%. Since only the operating conditions at the plants can really be modified (as opposed to the mechanical design of the dryers once built for example), therefore, it is unlikely to be possible to shift the average particle size produced by one plant into the range produced by another; it can only be shifted within a more limited range. This means that the measurement has to be sufficiently sensitive, and repeatable, to pick up meaningful changes in the particle size within powder produced at a single plant.

The particle size of samples taken at the plant of interest measured using sieving and laser diffraction is shown in Fig.

1

a, b respectively. Hatched lines have been overlaid to isolate areas where the off-specification product is most concentrated, and these limits are different depending on the measurement. For sieving, in order to isolate off-specification results, it is best to have both an upper fines limit, of 21 wt%, and a lower coarse particle limit, of 16.5 wt%. When using laser diffraction, only one limit was necessary, of maximum 18 vol% fine particles. The recommendations around the maximum amount of fine particles to meet specification are similar to those discussed in Section 3.2 for powder having good instant properties. However, the exact value varies based on the measurement.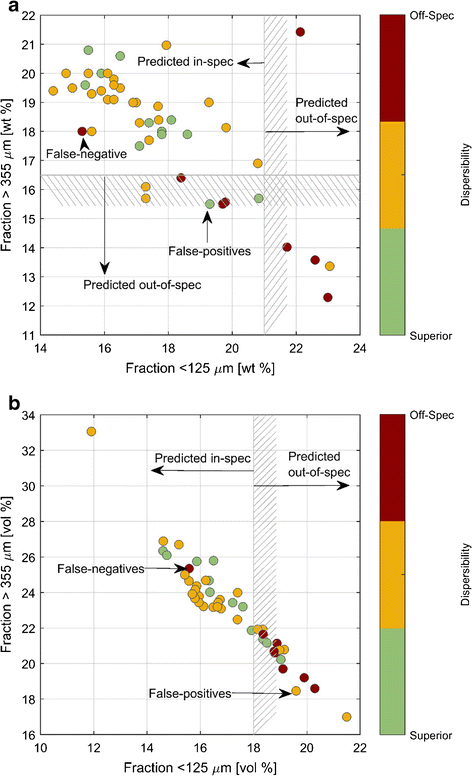 Table
2
shows the false-positive and false-negative rates of using particle size as a proxy for the dispersibility. It can be seen that if the powder is within the particle size recommendations, then it is almost guaranteed to be within specification for dispersibility. There is only a small chance of it not meeting specification, given the samples analysed.
Table 2
Estimated false-positive and false-negative rates for using (a) sieving or (b) laser diffraction as a proxy for dispersibility test results (see also Fig. 1)
(a) Sieving

Dispersibility

<21 wt% fines and >16.5 wt% coarse particles

≥21 wt% fines or ≤16.5 wt% coarse particles

In-specification

Positive-positive

97%

False-positive

42%

Out-of-specification

False-negative

3%

Negative-negative

58%

(b) Laser diffraction

Dispersibility

<18 vol% fines and >16.5 wt% coarse particles

≥18 vol% fines and ≤16.5 wt% coarse particles

In-specification

Positive-positive

97%

False-positive

56%

Out-of-specification

False-negative

3%

Negative-negative

44%
If the powder is predicted to be out-of-specification using the particle size criteria, then there is still roughly a 50% chance of it being within specification. It would be advantageous to reduce this false-positive rate, i.e. reducing the results that are expected to fail the specification, when they will likely pass the actual test. This is important when considering making changes to the operational conditions, because they may not be necessary if the powder still has a large chance of being within specification. Furthermore, this may divert attention away from other more pertinent plant issues.
Out-of-specification powder occurs infrequently, which means that the proxy test is expected to be accurate 87% of the time with sieving and 78% of the time with laser diffraction. Again, the fact that there is a 10% difference shows that the exact instrument type is important for the measurement and thus should be chosen carefully.
The accuracy of the investigated proxy measurement is sufficiently high to provide useful information regarding the dispersibility of IWMP: if the proxy indicates that the powder being produced is within specification, then there can be confidence in the dryer operating conditions for producing well dispersing powder. Therefore, this approach offers a route for inferring a complex quality variable in real time that otherwise cannot be measured at the time of production. This approach was applied to the same type of powder manufactured from the same plant, where other physiochemical properties were relatively constant. However, this approach can be applied for other products at other plants, with testing to obtain the model for that plant and product combination.
Furthermore, these proxy measurements when done in real time can then be combined with process data using multivariate techniques to both increase the accuracy of the method and understand how the quality is affected by the operating conditions. Measurement is only one of the first steps in working towards real-time quality, as one first needs to know if one is achieving the product specifications before knowing whether corrective action needs to be taken.
4

Conclusions

This work shows how a proxy measurement (an alternative simpler measurement) can be used to infer a complex product quality variable for application in industry in real time. The measurement of instant whole milk powder (IWMP) dispersibility is only measurable via a manual and laborious test and was used as a case study. Dispersibility measurement is normally carried out post-production at industrial dryers, resulting in no immediate feedback regarding the manufactured powder, and thus difficulty in linking the powder quality to the processing conditions and an inability to control the powder quality in real time. Particle size was tested as a proxy measurement for inferring the dispersibility of IWMP at an industrial plant. It was found that it could be applied in industry to predict the quality of the powder with high confidence, of 97% given the data, for predicting in-specification product. Although the predictability of out-of-specification product was not as high, ~50%, the low frequency of such events meant that the proxy measurement still had a relatively high accuracy overall. The ability to implement a measurement during production allows for feedback regarding the process to occur in real time, and enables the development of understanding of what processing conditions affect the quality of the product.
Notes
Acknowledgments
The authors would like to acknowledge the Primary Growth Partnership program from the New Zealand Ministry of Primary Industries for funding the project and would also like to thank the Fonterra staff, specifically James Winchester, Richard Croy, Hong Chen, Nigel Russell and Steve Holroyd, for providing resources and support throughout the project.
Copyright information
© INRA and Springer-Verlag France 2016