Abstract
The objective of the study was to realize whether specific signatures for high-risk human papilloma virus (HPV) infection exist in the cytologic specimens with ASC-US judgement or not. The materials are 132 cytologic specimens with the diagnosis of ASC-US, including 56 cases with positive and 76 cases with negative HPV infection. Cytological findings are compared between two groups. Immature squamous metaplastic cells with nuclear atypia, SFT/IMT dyskaryotic cells, atypical parakeratosis, smudgy nuclei and multinucleated cells are the signature of high-risk HPV infection, whereas in the HPV(−) group immature metaplastic cells without atypia, moderately mature metaplastic cells without nuclear atypia and atrophic background are more popular. Instead, there are no differences on SFT/IMT background, microorganism infection and koilocytosis with or without nuclear atypia in both groups. The specific findings to confirm high-risk HPV infection are realized and the present results will contribute to decrease an unnecessary ASC-US judgement.
This is a preview of subscription content, log in to check access.
Access options
Buy single article
Instant unlimited access to the full article PDF.
US$ 39.95
Price includes VAT for USA
Subscribe to journal
Immediate online access to all issues from 2019. Subscription will auto renew annually.
US$ 99
This is the net price. Taxes to be calculated in checkout.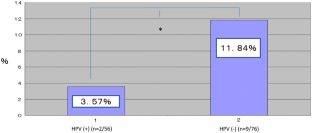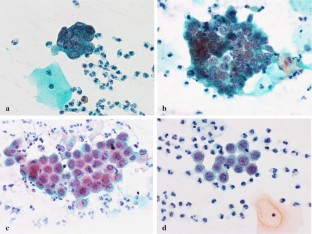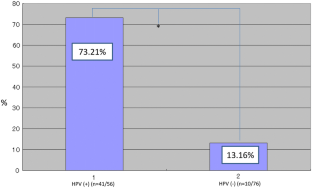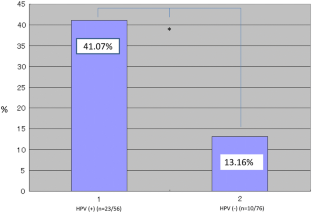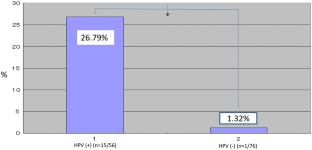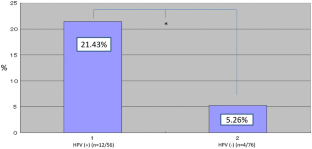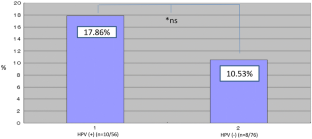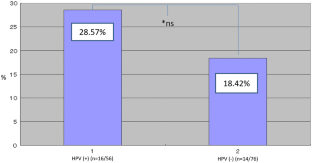 References
1.

Suzuki M, Konno R, Hirai Y, Ohomura M. Understanding the reporting method of cervical cytology based on the Bethesda system. Japanese Society of Obstetricians and Gynecologists, Tokyo, Chugai Med. (2008) (in Japanese).

2.

Solomon D, Nayar R. The Bethesda system for reporting cervical cytology: definitions, criteria, and explanatory notes. 2nd ed. New York: Springer; 2004.

3.

Stoler MH, Schiffman M, ALTS Group. Interobserver reproducibility of cervical cytologic and histologic interpretations: realistic estimates from ASCUS LSIL triage study. JAMA. 2001;285:1500–5.

4.

Nayar R, Wilbur DC. The Bethesda system for reporting cervical cytology: definitions, criteria, and explanatory notes. 3rd ed. Switzerland: Springer; 2015. p. 105.

5.

Kurman J, Henson DE, Herbst AL, Nolier KL, Schiffman MH. The 1992 National Cancer Institute workshop. Interim guidelines for management of abnormal cervical cytology. JAMA. 1994;271:1866–9.

6.

The ALTS Group. Results of a randomized trial on the management of cytology interpretations of atypical squamous cells of undetermined significance. Am J Obstet Gynecol. 2003;188(6):1383–92.

7.

Nayar R, Wilbur DC. The Bethesda system for reporting cervical cytology. In: Bibbo M, Wilbur DC, editors. Comprehensive cytopathology. 4th ed. London: Elsevier; 2015.

8.

Ho GY, Bierman R, Beardsley L, Chang CJ, Burk RD. Natural history of cervicovaginal papillomavirus infection in young women. N Engl J Med. 1998;338:423–8.

9.

Crum CP, Egawa K, Fu YS, et al. Atypical immature metaplasia (AIM). A subset of human papilloma virus infection of the cervix. Cancer. 1983;51(12):2214–9.

10.

Iaconis L, Hyjek E, Ellenson LH, Pirog EC. P16 and Ki-67 immunostaining in atypical immature squamous metaplasia of the uterine cervix: correlation with human papillomavirus detection. Arch Pathol Lab Med. 2007;131(9):1343–9.

11.

Furuta R, Akiyama F, Hirai Y, Yoshikawa H, Kitagawa T. Risk evaluation of atypical immature metaplasia (AIM) at the transformation zone of the cervix that was infected by HPV. Jpn J Pathol. 2010;99:205 (in Japanese).

12.

Furuta R, Yamada M, Ikehata, et al. Histological background for diagnosis ASC-H—a present state and problems. J Jpn Soc Clin Cytol. 2016;55(3):180–8 (in Japanese).
Ethics declarations
Conflict of interest
The authors have no conflict of interests to declare.
Ethical approval
Written approvals were obtained from the screening recipients following national guidelines for privacy preservation and medical research using human materials.
Additional information
Publisher's Note
Springer Nature remains neutral with regard to jurisdictional claims in published maps and institutional affiliations.
About this article
Cite this article
Kuramoto, H., Banno, M., Sugimoto, N. et al. Comparison of cytologic findings between specimens with and without high-risk HPV infection in those with ASC-US judgement. Human Cell (2020) doi:10.1007/s13577-019-00307-8
Received:

Accepted:

Published:
Keywords
ASC-US

Bethesda system

HPV

Hybrid capture II

Screening for cervical cancer