Abstract
Increasing evidence demonstrates that long noncoding RNAs (lncRNAs) play an important role in the development and progression of human cancers. LncRNA LINC00470 has been reported to function as an oncogene in glioblastoma. Until now, the roles and underlying mechanisms of LINC00470 in the progression of hepatocellular carcinoma (HCC) remain unclear. Here, we found that LINC00470 was upregulated in HCC cells and tissues. High-level LINC00470 was significantly correlated with bigger tumor size, advanced TNM stage and poor prognosis in patients with HCC. Functional studies showed that knockdown of LINC00470 expression inhibited HCC cell proliferation and cell cycle progression, while overexpression of LINC00470 showed the opposite effects. Further investigation suggested that LINC00470 was associated with NF45/NF90 complex and increased its interaction with cyclin E1 mRNA, thus inhibiting the degradation of cyclin E1 mRNA. Additionally, knockdown of cyclin E1 in LINC00470-overexpressed cells abolished its promotive effects on HCC cell proliferation. In summary, our findings suggest that targeting LINC00470 could be a potential therapeutic approach in treating HCC patients.
This is a preview of subscription content, log in to check access.
Access options
Buy single article
Instant unlimited access to the full article PDF.
US$ 39.95
Price includes VAT for USA
Subscribe to journal
Immediate online access to all issues from 2019. Subscription will auto renew annually.
US$ 99
This is the net price. Taxes to be calculated in checkout.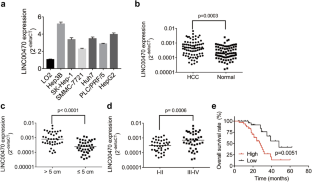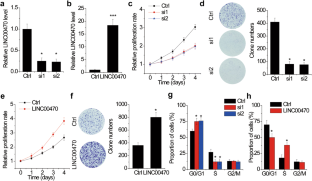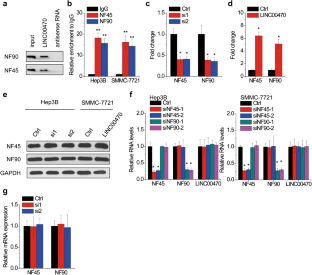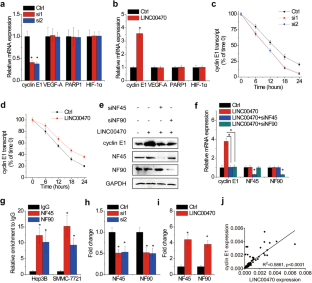 Availability of data and materials
The data used in this research are available.
References
1.

Siegel RL, Miller KD, Jemal A. Cancer statistics, 2019. CA Cancer J Clin. 2019;69(1):7–34. https://doi.org/10.3322/caac.21551.

2.

Ulitsky I, Bartel DP. lincRNAs: genomics, evolution, and mechanisms. Cell. 2013;154(1):26–46. https://doi.org/10.1016/j.cell.2013.06.020.

3.

Wei L, Wang X, Lv L, Zheng Y, Zhang N, Yang M. The emerging role of noncoding RNAs in colorectal cancer chemoresistance. Cell Oncol. 2019. https://doi.org/10.1007/s13402-019-00466-8.

4.

Bhan A, Soleimani M, Mandal SS. Long noncoding RNA and cancer: a new paradigm. Can Res. 2017;77(15):3965–81. https://doi.org/10.1158/0008-5472.CAN-16-2634.

5.

Zhao J, Li L, Han ZY, Wang ZX, Qin LX. Long noncoding RNAs, emerging and versatile regulators of tumor-induced angiogenesis. Am J Cancer Res. 2019;9(7):1367–81.

6.

Liu Y, Feng J, Sun M, Yang G, Yuan H, Wang Y, et al. Long non-coding RNA HULC activates HBV by modulating HBx/STAT3/miR-539/APOBEC3B signaling in HBV-related hepatocellular carcinoma. Cancer Lett. 2019;454:158–70. https://doi.org/10.1016/j.canlet.2019.04.008.

7.

Schultheiss CS, Laggai S, Czepukojc B, Hussein UK, List M, Barghash A, et al. The long non-coding RNA H19 suppresses carcinogenesis and chemoresistance in hepatocellular carcinoma. Cell Stress. 2017;1(1):37–54. https://doi.org/10.15698/cst2017.10.105.

8.

Cheng D, Deng J, Zhang B, He X, Meng Z, Li G, et al. LncRNA HOTAIR epigenetically suppresses miR-122 expression in hepatocellular carcinoma via DNA methylation. EBioMedicine. 2018;36:159–70. https://doi.org/10.1016/j.ebiom.2018.08.055.

9.

Pan Y, Li C, Chen J, Zhang K, Chu X, Wang R, et al. The emerging roles of long noncoding RNA ROR (lincRNA-ROR) and its possible mechanisms in human cancers. Cell Physiol Biochem. 2016;40(1–2):219–29. https://doi.org/10.1159/000452539.

10.

Zhuang LK, Yang YT, Ma X, Han B, Wang ZS, Zhao QY, et al. MicroRNA-92b promotes hepatocellular carcinoma progression by targeting Smad7 and is mediated by long non-coding RNA XIST. Cell Death Dis. 2016;7:e2203. https://doi.org/10.1038/cddis.2016.100.

11.

Yuan JH, Yang F, Wang F, Ma JZ, Guo YJ, Tao QF, et al. A long noncoding RNA activated by TGF-beta promotes the invasion-metastasis cascade in hepatocellular carcinoma. Cancer Cell. 2014;25(5):666–81. https://doi.org/10.1016/j.ccr.2014.03.010.

12.

Liu C, Zhang Y, She X, Fan L, Li P, Feng J, et al. A cytoplasmic long noncoding RNA LINC00470 as a new AKT activator to mediate glioblastoma cell autophagy. J Hematol Oncol. 2018;11(1):77. https://doi.org/10.1186/s13045-018-0619-z.

13.

Liu C, Fu H, Liu X, Lei Q, Zhang Y, She X, et al. LINC00470 coordinates the epigenetic regulation of ELFN2 to distract GBM cell autophagy. Mol Ther. 2018;26(9):2267–81. https://doi.org/10.1016/j.ymthe.2018.06.019.

14.

Lim LJ, Wong SYS, Huang F, Lim S, Chong SS, Ooi LL, et al. Roles and regulation of long noncoding RNAs in hepatocellular carcinoma. Can Res. 2019. https://doi.org/10.1158/0008-5472.CAN-19-0255.

15.

Wen X, Liu X, Mao YP, Yang XJ, Wang YQ, Zhang PP, et al. Long non-coding RNA DANCR stabilizes HIF-1alpha and promotes metastasis by interacting with NF90/NF45 complex in nasopharyngeal carcinoma. Theranostics. 2018;8(20):5676–89. https://doi.org/10.7150/thno.28538.

16.

Zhang W, Xiong Z, Wei T, Li Q, Tan Y, Ling L, et al. Nuclear factor 90 promotes angiogenesis by regulating HIF-1alpha/VEGF-A expression through the PI3 K/Akt signaling pathway in human cervical cancer. Cell Death Dis. 2018;9(3):276. https://doi.org/10.1038/s41419-018-0334-2.

17.

Song D, Huang H, Wang J, Zhao Y, Hu X, He F, et al. NF90 regulates PARP1 mRNA stability in hepatocellular carcinoma. Biochem Biophys Res Commun. 2017;488(1):211–7. https://doi.org/10.1016/j.bbrc.2017.05.037.

18.

Jiang W, Huang H, Ding L, Zhu P, Saiyin H, Ji G, et al. Regulation of cell cycle of hepatocellular carcinoma by NF90 through modulation of cyclin E1 mRNA stability. Oncogene. 2015;34(34):4460–70. https://doi.org/10.1038/onc.2014.373.

19.

Liu YR, Jiang YZ, Xu XE, Hu X, Yu KD, Shao ZM. Comprehensive transcriptome profiling reveals multigene signatures in triple-negative breast cancer. Clin Cancer Res. 2016;22(7):1653–62. https://doi.org/10.1158/1078-0432.CCR-15-1555.

20.

Zhang W, Wu Y, Hou B, Wang Y, Deng D, Fu Z, et al. A SOX9-AS1/miR-5590-3p/SOX9 positive feedback loop drives tumor growth and metastasis in hepatocellular carcinoma through the Wnt/beta-catenin pathway. Mol Oncol. 2019. https://doi.org/10.1002/1878-0261.12560.

21.

Chen Z, Yu W, Zhou Q, Zhang J, Jiang H, Hao D, et al. A novel lncRNA IHS promotes tumor proliferation and metastasis in HCC by regulating the ERK- and AKT/GSK-3beta-signaling pathways. Mol Ther Nucleic Acids. 2019;16:707–20. https://doi.org/10.1016/j.omtn.2019.04.021.

22.

Wang X, Sun W, Shen W, Xia M, Chen C, Xiang D, et al. Long non-coding RNA DILC regulates liver cancer stem cells via IL-6/STAT3 axis. J Hepatol. 2016;64(6):1283–94. https://doi.org/10.1016/j.jhep.2016.01.019.

23.

Castella S, Bernard R, Corno M, Fradin A, Larcher JC. Ilf3 and NF90 functions in RNA biology. Wiley Interdiscip Rev RNA. 2015;6(2):243–56. https://doi.org/10.1002/wrna.1270.

24.

Higuchi T, Todaka H, Sugiyama Y, Ono M, Tamaki N, Hatano E, et al. Suppression of MicroRNA-7 (miR-7) biogenesis by nuclear factor 90-nuclear factor 45 complex (NF90-NF45) controls cell proliferation in hepatocellular carcinoma. J Biol Chem. 2016;291(40):21074–84. https://doi.org/10.1074/jbc.M116.748210.

25.

Zhuang J, Shen L, Yang L, Huang X, Lu Q, Cui Y, et al. TGFbeta1 promotes gemcitabine resistance through regulating the LncRNA-LET/NF90/miR-145 signaling axis in bladder cancer. Theranostics. 2017;7(12):3053–67. https://doi.org/10.7150/thno.19542.
Ethics declarations
Conflict of interest
All the authors declare that they have no conflict of interest.
Ethical approval
The study was approved by the research ethics committee of Hanchuan People's Hospital and conducted in accordance with the Declaration of Helsinki (approval number: 2019082301). Written informed consent was obtained from all HCC patients.
Additional information
Publisher's Note
Springer Nature remains neutral with regard to jurisdictional claims in published maps and institutional affiliations.
Electronic supplementary material
Below is the link to the electronic supplementary material.
About this article
Cite this article
Huang, W., Liu, J., Yan, J. et al. LncRNA LINC00470 promotes proliferation through association with NF45/NF90 complex in hepatocellular carcinoma. Human Cell 33, 131–139 (2020). https://doi.org/10.1007/s13577-019-00288-8
Received:

Accepted:

Published:

Issue Date:
Keywords
Cyclin E1

mRNA stability

RNA-binding protein

Cell cycle