Abstract
Cardiotoxicity largely limits the application of doxorubicin (Dox) for cancer treatment. Dexmedetomidine (Dex), a selective agonist of α2-adrenergic receptor, has been suggested to exert cardioprotection against myocardial injury. However, the effect and underlying mechanisms of Dex on Dox cardiotoxicity remain unknown. In this study, C57BL/6 mice were treated with Dox followed by Dex administration. Cardiomyocytes were co-incubated with Dox and Dex in vitro. The results showed that Dex markedly attenuated cardiac dysfunction induced by Dox. TUNEL staining exhibited that Dex inhibited Dox-induced cardiomyocyte apoptosis in myocardium. Moreover, the expression of anti-apoptotic protein Bcl-2 was increased, whereas the expression of pro-apoptotic protein Bax was decreased by Dex. Dox-induced the increase of reactive oxygen species (ROS), superoxide anion, and mitochondrial ROS (mROS) generation in myocardial tissues were significantly inhibited after Dex administration. In in vitro study, it was further confirmed that Dex prevented Dox-induced cardiomyocyte apoptosis and injury. However, the stimulation of mROS generation reversed the effect of Dex in cardiomyocytes. Mechanically, Dex blocked Dox-induced the ubiquitination of peroxisome proliferator-activated receptor gamma coactivator 1-α (PGC-1α), leading to the restoration of PGC-1α and downstream oxidative stress-protective molecules uncoupling protein 2 and manganese-dependent superoxide dismutase expression. Taken together, this study demonstrates that Dex exerts cardioprotection against Dox cardiotoxicity by attenuating mitochondrial dysfunction, oxidative stress, and cardiomyocyte apoptosis via inhibiting PGC-1α-signaling pathway inactivation. This suggests that Dex may be a potential therapeutic strategy for Dox cardiotoxicity treatment.
This is a preview of subscription content, log in to check access.
Access options
Buy single article
Instant unlimited access to the full article PDF.
US$ 39.95
Price includes VAT for USA
Subscribe to journal
Immediate online access to all issues from 2019. Subscription will auto renew annually.
US$ 99
This is the net price. Taxes to be calculated in checkout.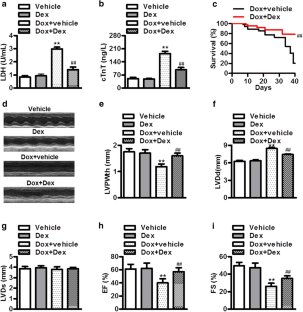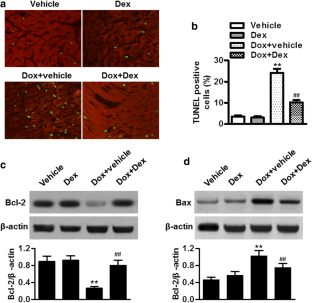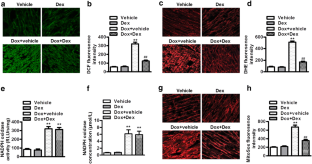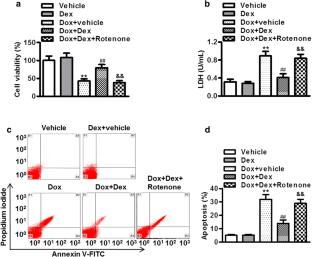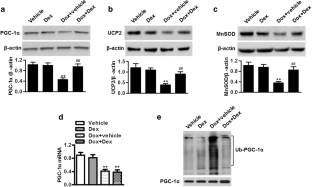 References
1.

Yeh ET, Tong AT, Lenihan DJ, Yusuf SW, Swafford J, Champion C, Durand JB, Gibbs H, Zafarmand AA, Ewer MS. Cardiovascular complications of cancer therapy: diagnosis, pathogenesis, and management. Circulation. 2004;109(25):3122–31. https://doi.org/10.1161/01.CIR.0000133187.74800.B9.

2.

Khaliq NU, Sandra FC, Park DY, Lee JY, Oh KS, Kim D, Byun Y, Kim IS, Kwon IC, Kim SY, Yuk SH. Doxorubicin/heparin composite nanoparticles for caspase-activated prodrug chemotherapy. Biomaterials. 2016;101:131–42. https://doi.org/10.1016/j.biomaterials.2016.05.056.

3.

Kern P, Kalisch A, von Minckwitz G, Putter C, Kolberg HC, Pott D, Kurbacher C, Rezai M, Kimmig R. Neoadjuvant, anthracycline-free chemotherapy with carboplatin and docetaxel in triple-negative, early-stage breast cancer: a multicentric analysis of rates of pathologic complete response and survival. J Chemother. 2016;28(3):210–7. https://doi.org/10.1179/1973947815Y.0000000061.

4.

Nitobe J, Yamaguchi S, Okuyama M, Nozaki N, Sata M, Miyamoto T, Takeishi Y, Kubota I, Tomoike H. Reactive oxygen species regulate FLICE inhibitory protein (FLIP) and susceptibility to Fas-mediated apoptosis in cardiac myocytes. Cardiovasc Res. 2003;57(1):119–28.

5.

Chiong M, Wang ZV, Pedrozo Z, Cao DJ, Troncoso R, Ibacache M, Criollo A, Nemchenko A, Hill JA, Lavandero S. Cardiomyocyte death: mechanisms and translational implications. Cell Death Dis. 2011;2:e244. https://doi.org/10.1038/cddis.2011.130.

6.

Zhang YW, Shi J, Li YJ, Wei L. Cardiomyocyte death in doxorubicin-induced cardiotoxicity. Arch Immunol Ther Exp. 2009;57(6):435–45. https://doi.org/10.1007/s00005-009-0051-8.

7.

Zhang S, Liu X, Bawa-Khalfe T, Lu LS, Lyu YL, Liu LF, Yeh ET. Identification of the molecular basis of doxorubicin-induced cardiotoxicity. Nat Med. 2012;18(11):1639–42. https://doi.org/10.1038/nm.2919.

8.

Jing X, Yang J, Jiang L, Chen J, Wang H. MicroRNA-29b regulates the mitochondria-dependent apoptotic pathway by targeting Bax in doxorubicin cardiotoxicity. Cell Physiol Biochem. 2018;48(2):692–704. https://doi.org/10.1159/000491896.

9.

Huang J, Jiang Q. Dexmedetomidine protects against neurological dysfunction in a mouse intracerebral hemorrhage model by inhibiting mitochondrial dysfunction-derived oxidative stress. J Stroke Cerebrovasc Dis. 2019;28(5):1281–9. https://doi.org/10.1016/j.jstrokecerebrovasdis.2019.01.016.

10.

Kong W, Kang K, Gao Y, Liu H, Meng X, Yang S, Yu K, Zhao M. Dexmedetomidine alleviates LPS-induced septic cardiomyopathy via the cholinergic anti-inflammatory pathway in mice. Am J Transl Res. 2017;9(11):5040–7.

11.

Xie C, Li Y, Liang J, Xiao J, Zhao Z, Li T. The effect of dexmedetomidine on autophagy and apoptosis in intestinal ischemia reperfusion-induced lung injury. Chin J Tuberc Respir Dis. 2015;38(10):761–4.

12.

Liang H, Liu HZ, Wang HB, Zhong JY, Yang CX, Zhang B. Dexmedetomidine protects against cisplatin-induced acute kidney injury in mice through regulating apoptosis and inflammation. Inflamm Res. 2017;66(5):399–411. https://doi.org/10.1007/s00011-017-1023-9.

13.

Fu C, Dai X, Yang Y, Lin M, Cai Y, Cai S. Dexmedetomidine attenuates lipopolysaccharide-induced acute lung injury by inhibiting oxidative stress, mitochondrial dysfunction and apoptosis in rats. Mol Med Rep. 2017;15(1):131–8. https://doi.org/10.3892/mmr.2016.6012.

14.

Ji F, Li Z, Nguyen H, Young N, Shi P, Fleming N, Liu H. Perioperative dexmedetomidine improves outcomes of cardiac surgery. Circulation. 2013;127(15):1576–84. https://doi.org/10.1161/CIRCULATIONAHA.112.000936.

15.

Yoshitomi O, Cho S, Hara T, Shibata I, Maekawa T, Ureshino H, Sumikawa K. Direct protective effects of dexmedetomidine against myocardial ischemia-reperfusion injury in anesthetized pigs. Shock. 2012;38(1):92–7. https://doi.org/10.1097/SHK.0b013e318254d3fb.

16.

Cheng X, Hu J, Wang Y, Ye H, Li X, Gao Q, Li Z. Effects of dexmedetomidine postconditioning on myocardial ischemia/reperfusion injury in diabetic rats: role of the PI3K/Akt-dependent signaling pathway. J Diabetes Res. 2018;2018:3071959. https://doi.org/10.1155/2018/3071959.

17.

Hanci V, Karakaya K, Yurtlu S, Hakimoglu S, Can M, Ayoglu H, Erdogan G, Okyay RD, Turan IO. Effects of dexmedetomidine pretreatment on bupivacaine cardiotoxicity in rats. Reg Anesth Pain Med. 2009;34(6):565–8.

18.

Cao Y, Ruan Y, Shen T, Huang X, Li M, Yu W, Zhu Y, Man Y, Wang S, Li J. Astragalus polysaccharide suppresses doxorubicin-induced cardiotoxicity by regulating the PI3k/Akt and p38MAPK pathways. Oxid Med Cell Longev. 2014;2014:674219. https://doi.org/10.1155/2014/674219.

19.

Zhao Q, Zhang J, Wang H. PGC-1alpha limits angiotensin II-induced rat vascular smooth muscle cells proliferation via attenuating NOX1-mediated generation of reactive oxygen species. Biosci Rep. 2015. https://doi.org/10.1042/bsr20150112.

20.

Forstermann U. Oxidative stress in vascular disease: causes, defense mechanisms and potential therapies. Nat Clin Pract Cardiovasc Med. 2008;5(6):338–49. https://doi.org/10.1038/ncpcardio1211.

21.

Liu XR, Li T, Cao L, Yu YY, Chen LL, Fan XH, Yang BB, Tan XQ. Dexmedetomidine attenuates H2O2-induced neonatal rat cardiomyocytes apoptosis through mitochondria- and ER-medicated oxidative stress pathways. Mol Med Rep. 2018;17(5):7258–64. https://doi.org/10.3892/mmr.2018.8751.

22.

St-Pierre J, Drori S, Uldry M, Silvaggi JM, Rhee J, Jager S, Handschin C, Zheng K, Lin J, Yang W, Simon DK, Bachoo R, Spiegelman BM. Suppression of reactive oxygen species and neurodegeneration by the PGC-1 transcriptional coactivators. Cell. 2006;127(2):397–408. https://doi.org/10.1016/j.cell.2006.09.024.

23.

Wei P, Pan D, Mao C, Wang YX. RNF34 is a cold-regulated E3 ubiquitin ligase for PGC-1alpha and modulates brown fat cell metabolism. Mol Cell Biol. 2012;32(2):266–75. https://doi.org/10.1128/MCB.05674-11.

24.

Kroller-Schon S, Jansen T, Schuler A, Oelze M, Wenzel P, Hausding M, Kerahrodi JG, Beisele M, Lackner KJ, Daiber A, Munzel T, Schulz E. Peroxisome proliferator-activated receptor gamma, coactivator 1alpha deletion induces angiotensin II-associated vascular dysfunction by increasing mitochondrial oxidative stress and vascular inflammation. Arterioscler Thromb Vasc Biol. 2013;33(8):1928–35. https://doi.org/10.1161/ATVBAHA.113.301717.

25.

Addabbo F, Montagnani M, Goligorsky MS. Mitochondria and reactive oxygen species. Hypertension. 2009;53(6):885–92. https://doi.org/10.1161/HYPERTENSIONAHA.109.130054.

26.

Shoukry HS, Ammar HI, Rashed LA, Zikri MB, Shamaa AA, Abou Elfadl SG, Rub EA, Saravanan S, Dhingra S. Prophylactic supplementation of resveratrol is more effective than its therapeutic use against doxorubicin induced cardiotoxicity. PLoS One. 2017;12(7):e0181535. https://doi.org/10.1371/journal.pone.0181535.

27.

Arafa MH, Mohammad NS, Atteia HH, Abd-Elaziz HR. Protective effect of resveratrol against doxorubicin-induced cardiac toxicity and fibrosis in male experimental rats. J Physiol Biochem. 2014;70(3):701–11. https://doi.org/10.1007/s13105-014-0339-y.

28.

Cai Y, Xu H, Yan J, Zhang L, Lu Y. Molecular targets and mechanism of action of dexmedetomidine in treatment of ischemia/reperfusion injury. Mol Med Rep. 2014;9(5):1542–50. https://doi.org/10.3892/mmr.2014.2034.

29.

Zhang JJ, Peng K, Zhang J, Meng XW, Ji FH. Dexmedetomidine preconditioning may attenuate myocardial ischemia/reperfusion injury by down-regulating the HMGB1-TLR4-MyD88-NF-small ka, CyrillicB signaling pathway. PloS One. 2017;12(2):e0172006. https://doi.org/10.1371/journal.pone.0172006.

30.

Li F, Wang X, Deng Z, Zhang X, Gao P, Liu H. Dexmedetomidine reduces oxidative stress and provides neuroprotection in a model of traumatic brain injury via the PGC-1alpha signaling pathway. Neuropeptides. 2018;72:58–64. https://doi.org/10.1016/j.npep.2018.10.004.

31.

Chen Y, Feng X, Hu X, Sha J, Li B, Zhang H, Fan H. Dexmedetomidine ameliorates acute stress-induced kidney injury by attenuating oxidative stress and apoptosis through inhibition of the ROS/JNK signaling pathway. Oxid Med Cell Longev. 2018;2018:4035310. https://doi.org/10.1155/2018/4035310.
Ethics declarations
Conflict of interest
The authors declare that they have no conflict of interest.
Ethical approval
All mice experiments were performed according to the guidelines by the Association for Assessment and Accreditation of Laboratory Animal Care International and approved by the Institutional Animal Ethics Committee of Tongji University.
Additional information
Publisher's Note
Springer Nature remains neutral with regard to jurisdictional claims in published maps and institutional affiliations.
Jie-Lu Yu and Yi Jin contributed equally to the work.
About this article
Cite this article
Yu, J., Jin, Y., Cao, X. et al. Dexmedetomidine alleviates doxorubicin cardiotoxicity by inhibiting mitochondrial reactive oxygen species generation. Human Cell 33, 47–56 (2020) doi:10.1007/s13577-019-00282-0
Received:

Accepted:

Published:

Issue Date:
Keywords
Dexmedetomidine

Doxorubicin

Cardiotoxicity

Cardiomyocyte apoptosis

Oxidative stress

PGC-1α