Abstract
Human endogenous retrovirus-H long terminal repeat-associating protein 2 (HHLA2) is a newly identified member of B7 family; HHLA2 protein expression has been suggested to be increased levels in many kinds of human cancers. However, HHLA2 protein expression in gastric cancer tissues and its clinical significance are still unknown. The purpose of this study was to investigate the HHLA2 protein expression pattern in gastric cancer tissues and the correlation between HHLA2 protein expression and clinicopathological characteristics including clinical outcome in gastric cancer patients. In our results, we observed HHLA2 expression was increased in gastric cancer tissue specimens compared with normal stomach tissue specimens through analyzing HHLA2 expression data from 408 gastric cancer tissue specimens and 211 normal stomach tissue specimens at databases. Furthermore, we, respectively, performed quantitative reverse transcriptase polymerase chain reaction (qRT-PCR) and immunohistochemistry to verify HHLA2 mRNA and protein expressions in gastric cancer tissues and normal stomach tissues, and found HHLA2 mRNA and protein expressions were up-regulated in gastric cancer tissues. Moreover, we found high HHLA2 expression was correlated with advanced clinical stage, deep tumor invasion, lymph node metastasis, distant metastasis and short overall survival in gastric cancer. The multivariable Cox's proportional hazard models indicated high HHLA2 expression was a poor independent prognostic factor for overall survival in patients with gastric cancer. In conclusion, HHLA2 protein overexpression in gastric cancer tissue is potential risk factor for malignant status and poor prognosis.
This is a preview of subscription content, log in to check access.
Access options
Buy single article
Instant unlimited access to the full article PDF.
US$ 39.95
Price includes VAT for USA
Subscribe to journal
Immediate online access to all issues from 2019. Subscription will auto renew annually.
US$ 99
This is the net price. Taxes to be calculated in checkout.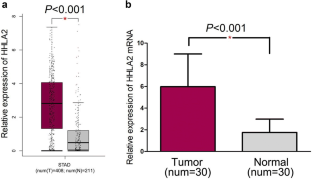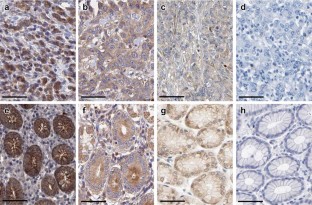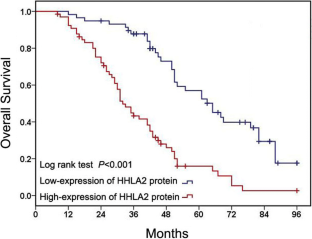 References
1.

Chen W, Sun K, Zheng R, Zeng H, Zhang S, Xia C, et al. Cancer incidence and mortality in China, 2014. Chin J Cancer Res. 2018;30(1):1–12.

2.

Chen W, Zheng R, Baade PD, Zhang S, Zeng H, Bray F, et al. Cancer statistics in China, 2015. CA Cancer J Clin. 2016;66(2):115–32.

3.

Chen W, Zheng R, Zeng H, Zhang S. The updated incidences and mortalities of major cancers in China, 2011. Chin J Cancer. 2015;34(11):502–7.

4.

Pan R, Zhu M, Yu C, Lv J, Guo Y, Bian Z, et al. Cancer incidence and mortality: a cohort study in China, 2008–2013. Int J Cancer. 2017;141(7):1315–23.

5.

Marques-Lespier JM, Gonzalez-Pons M, Cruz-Correa M. Current perspectives on gastric cancer. Gastroenterol Clin N Am. 2016;45(3):413–28.

6.

Balakrishnan M, George R, Sharma A, Graham DY. changing trends in stomach cancer throughout the world. Curr Gastroenterol Rep. 2017;19(8):36.

7.

Yuan DD, Zhu ZX, Zhang X, Liu J. Targeted therapy for gastric cancer: current status and future directions (review). Oncol Rep. 2016;35(3):1245–54.

8.

Janakiram M, Chinai JM, Zhao A, Sparano JA, Zang X. HHLA2 and TMIGD2: new immunotherapeutic targets of the B7 and CD28 families. Oncoimmunology. 2015;4(8):e1026534.

9.

Janakiram M, Chinai JM, Fineberg S, Fiser A, Montagna C, Medavarapu R, et al. Expression, clinical significance, and receptor identification of the newest B7 family member HHLA2 protein. Clin Cancer Res. 2015;21(10):2359–66.

10.

Shimonosono M, Arigami T, Yanagita S, Matsushita D, Uchikado Y, Kijima Y, et al. The association of human endogenous retrovirus-H long terminal repeat-associating protein 2 (HHLA2) expression with gastric cancer prognosis. Oncotarget. 2018;9(31):22069–78.

11.

Zhao R, Chinai JM, Buhl S, Scandiuzzi L, Ray A, Jeon H, et al. HHLA2 is a member of the B7 family and inhibits human CD4 and CD8 T-cell function. Proc Natl Acad Sci USA. 2013;110(24):9879–84.

12.

Flajnik MF, Tlapakova T, Criscitiello MF, Krylov V, Ohta Y. Evolution of the B7 family: co-evolution of B7H6 and NKp30, identification of a new B7 family member, B7H7, and of B7's historical relationship with the MHC. Immunogenetics. 2012;64(8):571–90.

13.

Mager DL, Hunter DG, Schertzer M, Freeman JD. Endogenous retroviruses provide the primary polyadenylation signal for two new human genes (HHLA2 and HHLA3). Genomics. 1999;59(3):255–63.

14.

Cheng H, Janakiram M, Borczuk A, Lin J, Qiu W, Liu H, et al. HHLA2, a new immune checkpoint member of the B7 family, is widely expressed in human lung cancer and associated with EGFR mutational status. Clin Cancer Res. 2017;23(3):825–32.

15.

Cheng H, Borczuk A, Janakiram M, Ren X, Lin J, Assal A, et al. Wide expression and significance of alternative immune checkpoint molecules, B7x and HHLA2, in PD-L1-negative human lung cancers. Clin Cancer Res. 2018;24(8):1954–64.

16.

Zhu Z, Dong W. Overexpression of HHLA2, a member of the B7 family, is associated with worse survival in human colorectal carcinoma. Onco Targets Ther. 2018;11:1563–70.

17.

Chen Q, Wang J, Chen W, Zhang Q, Wei T, Zhou Y, et al. B7-H5/CD28H is a co-stimulatory pathway and correlates with improved prognosis in pancreatic ductal adenocarcinoma. Cancer Sci. 2019;110(2):530–9.

18.

Yan H, Qiu W, Koehne de Gonzalez AK, Wei JS, Tu M, Xi CH, et al. HHLA2 is a novel immune checkpoint protein in pancreatic ductal adenocarcinoma and predicts post-surgical survival. Cancer Lett. 2019;442:333–40.

19.

Lin G, Ye H, Wang J, Chen S, Chen X, Zhang C. Immune checkpoint human endogenous retrovirus-H long terminal repeat-associating protein 2 is upregulated and independently predicts unfavorable prognosis in bladder urothelial carcinoma. Nephron. 2019;141(4):256–64.

20.

Koirala P, Roth ME, Gill J, Chinai JM, Ewart MR, Piperdi S, et al. HHLA2, a member of the B7 family, is expressed in human osteosarcoma and is associated with metastases and worse survival. Sci Rep. 2016;6:31154.

21.

Jing CY, Fu YP, Yi Y, Zhang MX, Zheng SS, Huang JL, et al. HHLA2 in intrahepatic cholangiocarcinoma: an immune checkpoint with prognostic significance and wider expression compared with PD-L1. J Immunother Cancer. 2019;7(1):77.

22.

Chen D, Chen W, Xu Y, Zhu M, Xiao Y, Shen Y, et al. Upregulated immune checkpoint HHLA2 in clear cell renal cell carcinoma: a novel prognostic biomarker and potential therapeutic target. J Med Genet. 2019;56(1):43–9.
Ethics declarations
Conflict of interest
The authors declare no conflict of interest.
Ethical approval
This research complied with the Helsinki Declaration and was approved by the Ethics Committee of Jining No. 1 People's Hospital (No. 20150013) and Affiliated Hospital of Jining Medical University (No. C-15042). Informed consent was gained from the study participants prior to their participation.
Additional information
Publisher's Note
Springer Nature remains neutral with regard to jurisdictional claims in published maps and institutional affiliations.
Electronic supplementary material
About this article
Cite this article
Wei, L., Tang, L., Chang, H. et al. HHLA2 overexpression is a novel biomarker of malignant status and poor prognosis in gastric cancer. Human Cell 33, 116–122 (2020). https://doi.org/10.1007/s13577-019-00280-2
Received:

Accepted:

Published:

Issue Date:
Keywords
HHLA2

Gastric cancer

Biomarker

Prognosis